Welcome to the 676th Metamorphosis Monday!
Every year I love to share a few of my winter favorites with you, those things that help me transition through the cold winter months a little easier. Before I share my winter faves, for those who commented or emailed after I shared this lamp update in the guest room, I noticed a few days ago that they finally have the lamp back in stock. I've been tempted to order a second one because of all the lamps I have purchased over the past few months, this one is my favorite.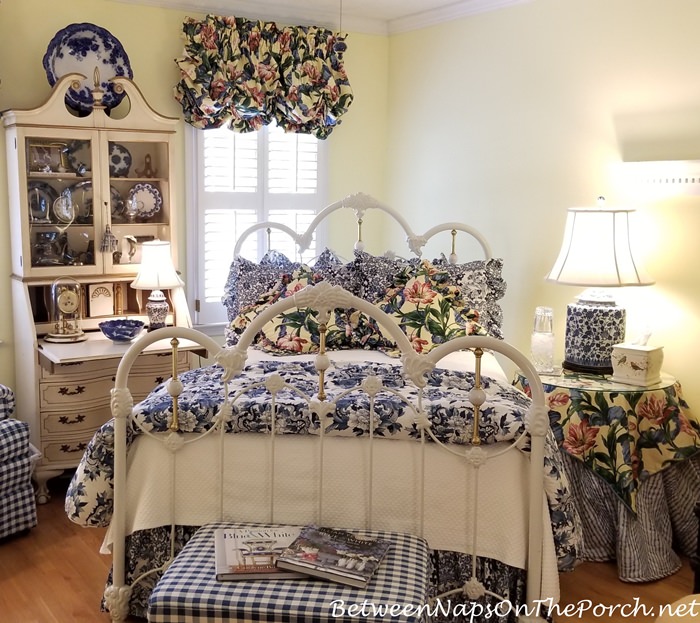 I love everything about it–the shape, the color, as well as the quality of the shade. If you missed getting it the first time it was available, you'll find it here: Blue and White Lamp. I wish I had an excuse to buy a second one, I may end up doing that anyway–it's such a beautiful lamp!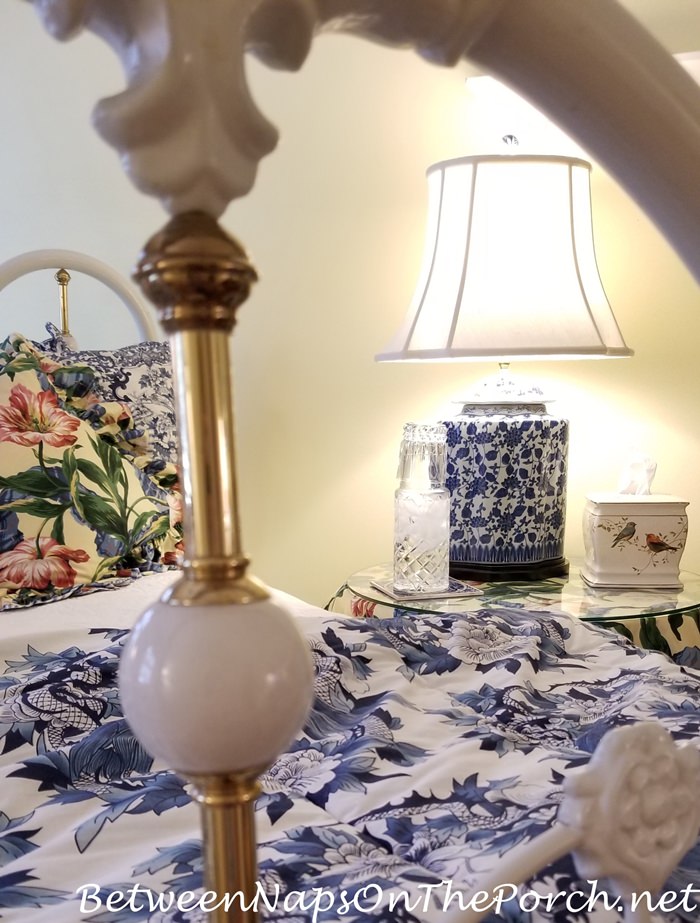 Okay, let's talk winter survival! I was talking with my son recently and during our conversation, he mentioned being cold. His home office is in the basement of their home and the temps in Ohio have been really cold over the past couple of weeks so it was extra cold in his office that day. I ordered these sherpa-lined pants for him thinking he could wear them while working at home. While I was at it, I decided to order a pair for myself.
Oh my gosh, they are life-changing! They are so incredibly warm… the best way I can describe them is they feel like the equivalent of the Ugg boot for pants. Since they arrived and I've been wearing them during the day while at home, I've bumped my thermostat down a few degrees because the cold just doesn't get through these pants!
I think they run a tad small. I purchased them in both medium and large since I wasn't sure how they would fit. The medium was just a hair snugger than I like, although if I keep them and wear them, they will probably loosen up because the large size has done that a little since I started wearing them. Update: The mediums did loosen up a little so I prefer those over the Large size. I wish I had known about these long ago, they are so warm and comfortable! They are available here: Sherpa Lined Sweatpants. They also make a hoodie and a long tunic that I'm super tempted to order. You can see those here: Sherpa-Lined Hoodie AND here: Sherpa-Lined Long Tunic.
This is the sweater I love pairing with these pants. I just purchased it this fall and it is sooo warm, just like the pants. The sherpa-lined pants and this cozy pullover are my go-to outfit for when I'm home during these cold months, although they could easily be worn out, too. This top is currently on sale here: Fair Isle Fleece Pullover.
I shared these a few weeks back but have to mention them again. I've worn them several times and they have become my favorite jeans. The little bows are subtle but they are so cute when I look down and notice them or feel them. I just love, love, love these! You'll find them on sale here: Jeggings with Flocked Bows.
I purchased a pair of these fingerless gloves/hand warmers recently for both my daughter-in-law and myself. She wanted the blue ones and I went with the gray. They come down pretty low on the hands/fingers so it's only the lower part of your fingers that are exposed. I like that for using my phone, driving, etc… They may still be on sale, if they are, you'll find them here: Handwarmers.
No winter favorites list would be complete without mentioning Cutemol. My daughter-in-law and I couldn't survive winter without it since it's the only thing that saves our fingers from cracking during the winter months. Cutemol is also excellent for dry feet/heels, transforms them almost overnight. Can't say enough good things about it! Def a must on my winter survival list every year! You'll find it here: Cutemol.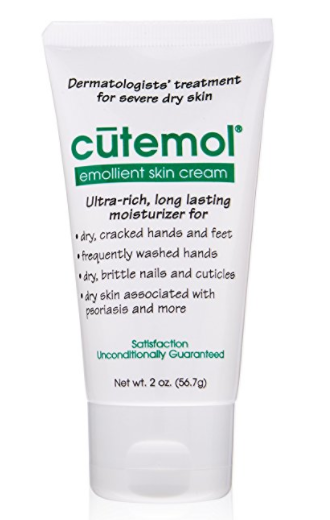 I'm still wearing and loving my favorite merino wool socks that I've shared in the past. They are incredibly warm and I live in them all winter. You'll find them here: Merino Wool Socks. You'll find the men's version that I gave my son for Christmas here: Men's Merino Wool Socks.
Love, love, love these adorable chickadee and pine flannel sheets I ordered a few months ago!
They are from Garnet Hill and rather than give you the link, it's better to "Google" for them because, in the past, there was a link that popped up during the search that gave a discount. But if you have trouble finding them, here's a link to the page where you'll find them: Chickadee/Pine Flannel Sheets.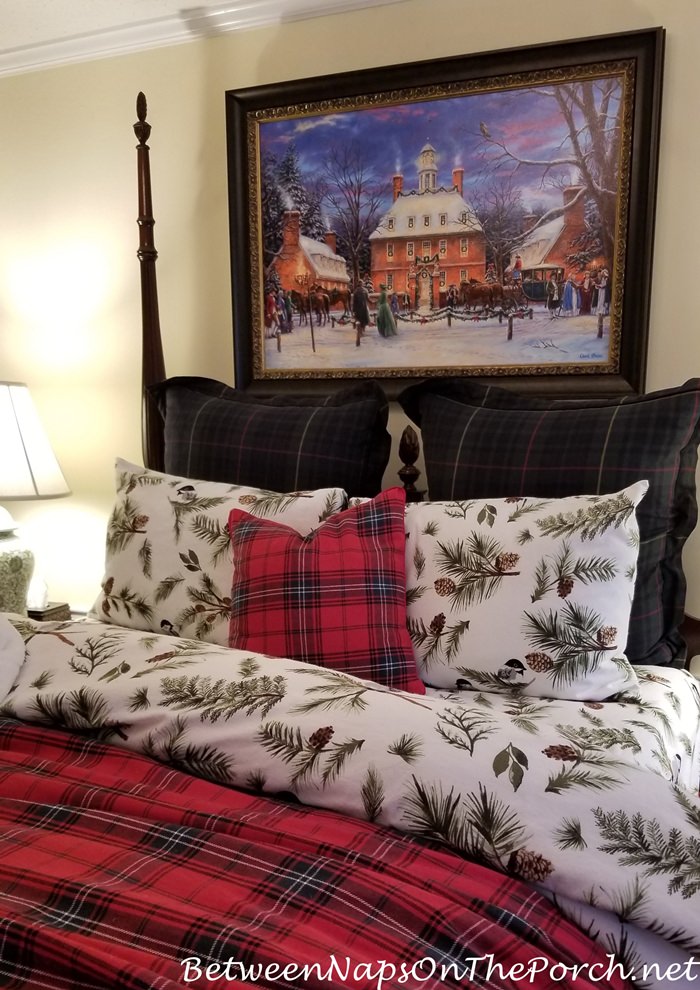 Though not really winter-related, I wanted to mention how much I love these button covers I purchased a few months back. I just ordered more for my new bow-flocked jeans. I love how these protect shirts and sweaters from the metal buttons on jeans. When I put these on the buttons of my shorts last summer, it seemed to help prevent more holes from happening in all my Lilly Pulitzer tops. The first time I bought them, I purchased them in the clear color. This time I bought the package that has both clear and black covers since my new jeans have a really dark button.
They can be a little tricky to get on the button, but once you know how to do it, it's not that difficult. I turn the cover completely inside out, place it on top of the button and then work it/stretch it over the button. That's the best method I've found. Once they are on, you don't have to ever take them off–they do great in the wash. You'll find these available here: Button Covers.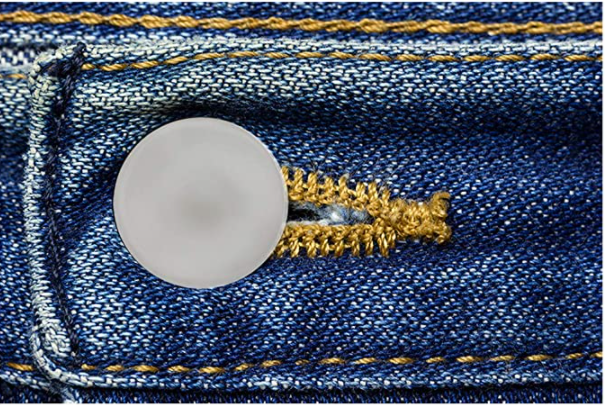 Recently, Pam, a BNOTP reader, shared how much she loves this throw that she bought a while back. I love throws and have them all over my home during the fall and winter months. I even keep a few out during the summer months. In her email, Pam mentioned how well it washes, saying that it didn't fade and the sherpa fringe even came out great. It comes in several colors–Pam has it in red. Thanks, Pam for telling me about it! I love how it looks! You'll find it available here: Sherpa Throw in 4 Colors.
Another throw I'm eyeing is this adorable deer throw. I haven't purchased it yet, but I love the design. It's available here: Sherpa/Fleece Deer Throw.
Happy Winter! I hope you are staying snuggly warm this winter!
Looking forward to all the wonderful Before and Afters linked for this week's Met Monday!
Pssst: Did you know Between Naps On The Porch is on Instagram? You'll find me on Instagram here: Between Naps On The Porch.
Like to know when a new blog post is up and available to read? Subscribe for email updates, it's free and your email will never be shared.
Subscribe for free post updates via email here: Subscribe.
Metamorphosis Monday
Metamorphosis Monday is a party that's all about Before and Afters. Please link up your Before and After projects like DIY projects, room makeovers, craft projects even recipes. Any Before and After is great! Please do not link up Table Settings, save those for our Tablescape Thursday party on Thursday.
If you are participating in Met Monday, please link up using the "permalink" to your MM post and not your general blog address. To get your permalink, click on your post name, then just copy and paste the address that shows up in the address bar at the top of your blog, into the "url" box for InLinkz when prompted.
In order to link up, you'll need to include a link in your MM post back to the party so the other participants will have an opportunity to receive visits from your wonderful blog readers.
This party has ended, click button below for the links to all who participated.
*If a post is sponsored or a product was provided at no charge, it will be stated in post. Some links may be affiliate links and as an Amazon Associate, I may earn from qualifying purchases. *