We all have 'em–those dreaded chores around the house that we just don't want to do. We delay, finding other stuff to do that makes us feel productive while those "other" things wait, mocking us like the proverbial elephant in the room.
Okay, maybe I'm being a bit dramatic, but I thought it would be fun today to share a few of the ways I trick myself into doing those non-fun things I don't feel like doing, but that really, really need to get done. Some of these sneaky tactics may be pretty obvious and ones you already employ, but hopefully, you'll find a couple in this post that will come in handy the next time you're faced with a not-so-enjoyable task.
1. Do Something You Enjoy While Doing the Dreaded Chore
When possible, I try to incorporate an activity I do love into the chore that I dread doing. Folding laundry is a great example. I tend to wash clothes and linens whenever I have a basket full so normally I don't have a lot to fold at once. But for those times when I do, I'll sometimes bring the basket into the office and watch a video on YouTube or Acorn while folding. I bet you do this, too–fold clothes while watching TV or maybe while chatting on the phone with a friend. I've found vacuuming and dusting are a lot more fun if I stick my phone in my back pocket, don my noise-canceling headphones, and vacuum while listening to a book on Audible.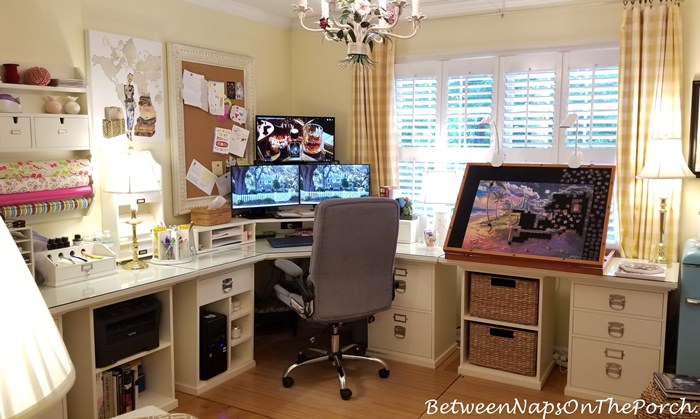 Listening to a funny book on Audible definitely helped me get through the chore of vacuuming up the gazillion acorns that fell and threatened to ruin my lawn one year. (Read more about that wacky process here: Erma Bombeck Would Have Loved This!)
2. Make It a Game
One of the things I least enjoy doing is unpacking my suitcase after a trip, especially a long trip where I wasn't sure what I'd need, thus packed/overpacked a ton of clothes and stuff. I dislike the whole process of sorting through the suitcase, trying to figure out what needs to go in the wash and what never got worn and can be hung back up.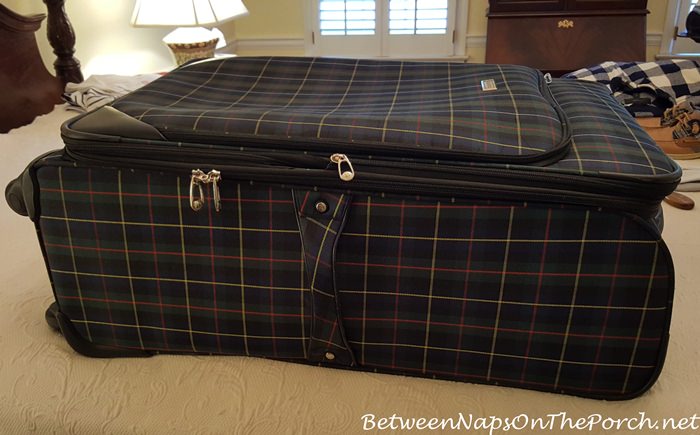 Then there's the process of putting away the toiletries, the souvenirs, the shoes and finally, putting away the suitcases themselves. Ugh.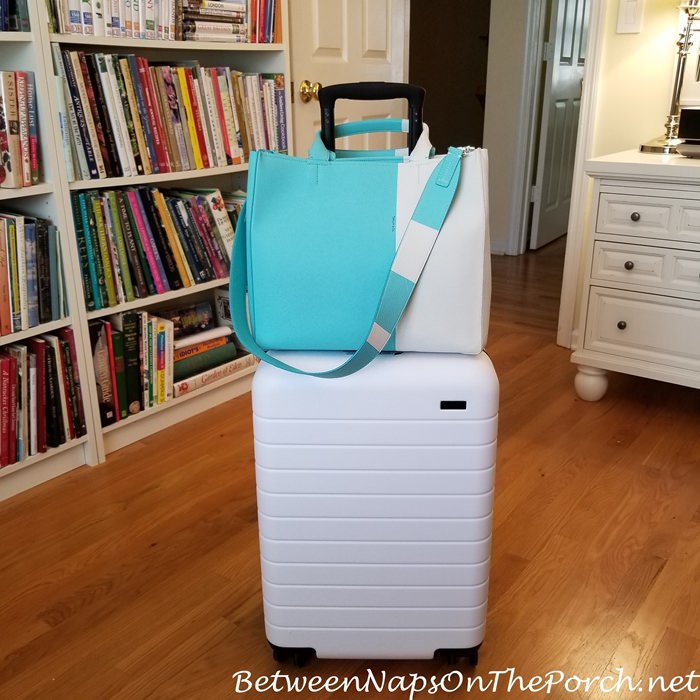 To make the process less tedious, one trick I'll often use is to make a game of it. I'll tell myself, you can only do this chore (whatever the dreaded chore is) for 15 minutes, then you have to stop. The goal is to see how much I can put away during those 15 minutes! This tactic does two things: it makes the process fun because I'm racing against the clock to see how much I can get done in the allotted time I have, AND I know mentally that I'm only stuck doing this yucky chore for a period of 15 minutes, then I get to stop and go do something else, something I want to do that's fun. Later in the day, I'll play the 15-minute game again. I almost look forward to it when I make it into a game.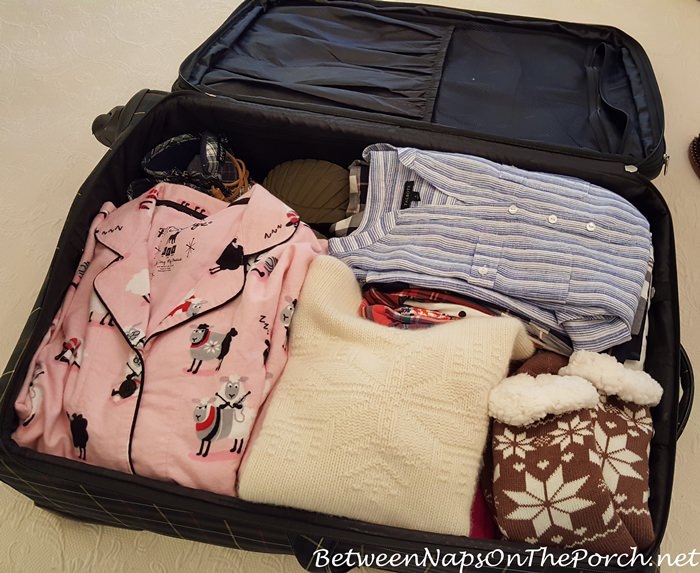 Another game I've played with myself when I've had a ton of clothes and stuff to sort through and put up after a trip is the "15-Things Game." The rules of that game are, you're only allowed to hang up or put away 15 things, then you have to stop and go do something else. You can make the number anything you want.
When you turn a dreaded chore into a game that has a limited time or end-time incorporated, not only does it make it less of a chore, but mentally it doesn't feel so overwhelming because you know you only have to do that thing (whatever it is) for a very limited amount of time and then you're free!
And here's the really interesting part: when you limit yourself to how long you can work on a particular chore, you may find that you don't want to stop once you're into it. Often once I get started sorting through clothes and putting them away, I find it really hard to stop after 15 minutes or after a set # of items are put away. Sometimes the hardest part of any dreaded chore is just getting started! Sneaky how the brain works!
3. Plan A Reward for When You're Finished
Another fun way to incentivize yourself to get a dreaded task done is to think of a reward you're going to give yourself when the job is done. Once that suitcase is unpacked, I get to read that awesome book I just bought. Once the room is vacuumed and dusted, I get to watch the latest YouTube video by my favorite YouTuber, or I get to work on the new puzzle that just arrived today. If you have cable TV, maybe you get to watch the latest episode of your favorite show. (Book below is available here: Arriving Home.)
4. How Do You Eat an Elephant?
We've all heard the saying, "How do you eat an elephant?" The answer is always, one bite at a time. Thankfully for the elephants, that's just a figure of speech, but just the fact that saying even exists tells us that we humans have always been faced with big jobs that we didn't want to do. Sometimes a chore we have looming over us can feel as big as an elephant!
One elephant I have to "eat" every year between the months of January and April is working on my taxes. Ugh. To get that job done, I start early, usually in January, and I break the process down into small bites parts–that way it doesn't feel so overwhelming. Make it a game by limiting how long you allow yourself to work on each part and giving yourself some kind of small reward after each step is accomplished, also helps.
I've also used this tactic for getting all the shutters and windows in my home cleaned. I will make a list, writing down the name of each room in my home: Guest Room, Living Room, Kitchen, etc… Then I set a goal of cleaning the shutters and windows in one room each day, marking that room off the list once it's done. That's it–just one room per day. Anyone can do that, right?
That means every window and shutter panel in my home (excluding the basement) will be nice and clean in about 10-13 days, depending on if the bathrooms are counted separately. My bathrooms only have a single, small window so they usually get lumped into one of the rooms that I'm cleaning on a particular day.
If I approached the job of cleaning the windows and shutters in every room of my home all at once, I don't think I could even bring myself to start! But cleaning just 2-4 windows, which is only 4-8 shutter panels depending on the room, yep–that is totally doable! So break those BIG, seemingly overwhelming tasks into small bites and you'll be surprised how fast they get done!
5. Hold in Your Heart the Vision of How Good It's Going To Look and Function Once You're Done
One thing that really gets me going on a big task is envisioning how great it's going to look, work and improve my life once the task is done. That was definitely in the back of my mind when I was assembling all these cabinets for storing my dishware here in the garage.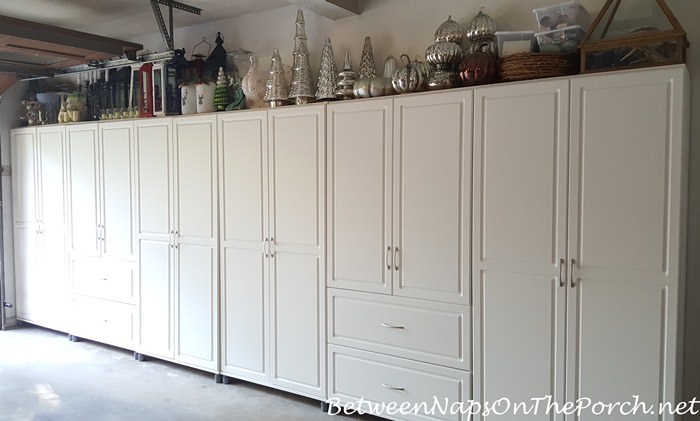 I knew it was going to make my life so much easier, having the majority of my dinnerware, napkins, flatware, and decorative centerpieces all in one place where I could easily find/remember what I had available when I entertain or want to set a table each week for Tablescape Thursday. That vision definitely kept me excited and motivated throughout the process of assembling the cabinets. I also got a wonderful reward as each cabinet was built/completed by seeing it in place here in the garage.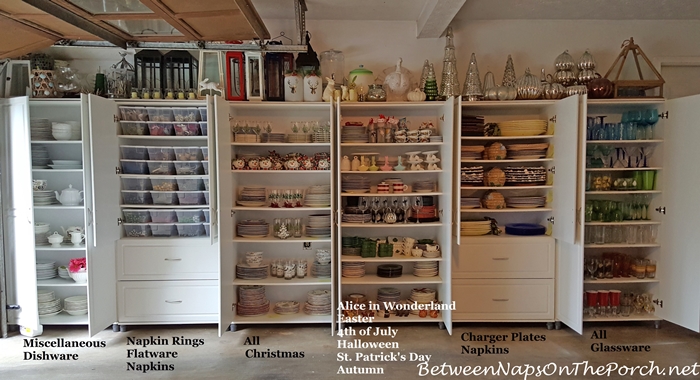 6. Eat the Frog First
Mark Twain once said, "Eat a live frog first thing in the morning and nothing worse will happen to you the rest of the day." There's nothing worse than going through your day with some dreaded task hanging over your head. Have you ever noticed when you finally get that "thing" you've been dreading completed, how much lighter you feel? It's like a heavy weight has been lifted off your shoulders. So, if you can, try to eat your frog (whatever it may be) early in the day so it's done and off your plate! That way it won't ruin your whole day by hanging out there, looming over you all throughout the day.
7. Hire it Out
If there's a regular task in your life that you absolutely hate doing, if you can afford to, hire that job out. Maybe gardening is just not your thing. If you can fit it into your budget, pay someone to do that for you each week or month. Maybe you like some parts of gardening, but just not the mowing part. Hire that part out. Life is too precious and way too short to constantly have hanging over your head a task that you just absolutely dislike doing. If it's not in your budget to pay someone to do the dreaded chore, refer back to suggestions 1-6 in this post.
A few years ago I needed to redo my foundation plantings. The quote I received for installing 10 Green Beauty Boxwood shrubs was $1,000. No way I was going to spend that when I knew I could do it myself.
I broke the job down into planting two shrubs per day, keeping the others well-watered during that hot, very dry week. They were all in the ground at the end of 5 days and I knew they had been planted properly with holes that were dug plenty deep and wide. I added a couple of smaller shrubs (after my muscles recovered) a week or so later.
What are the sneaky ways you talk yourself into doing the not-so-fun chores that absolutely have to get done? Please share your tips and tricks because I would love some new ones!
*If a post is sponsored or a product was provided at no charge, it will be stated in post. Some links may be affiliate links and as an Amazon Associate, I may earn from qualifying purchases. *