I have so many favorites to share with you from the month of April!
You may remember last month I had a lightning strike right outside my home that took out my garage door opener, my computer modem, and my computer speakers. My printer, computer, and everything else survived–thankfully! I purchased a new surge protector the next day since surge protectors can only take so many hits before they no longer function. I wish there was a way to know exactly when they need to be replaced, so you don't have to guess.
Anyway, I bought the same surge protector again since it did a really good job at protecting everything that was plugged into it, other than the modem and the speakers. When I exchanged my modem the next day for a working one, the Comcast Cable tech guy told me that modems are highly sensitive and that people had been coming in all day long with dead modems from the storm the night before, so apparently, they get damaged very easily during storms. I'm not sure why the speakers didn't survive the storm. They were 25+ years old so maybe they just didn't have some of the protections that are built into our electronics today. In any case, I repurchased the exact same surge protector again since it has a 4,320 Joule rating which is what you need for computers, home theater systems, and such. If you need a surge protector, you'll find this one available here: Surge Protector.
I also purchased new speakers and went with the same ones I purchased for the desk I work at whenever I visit my son, DIL, and grandsons. I love these speakers because they are small and I can hide them away. I have one tucked behind my left monitor, facing out into the room and the other one is behind the books/bookends on the right side of my desk. These speakers are available here: Bose Computer Speakers.
Last month when I shared an awesome game I had the chance to play when visiting family recently (see that previous post HERE) a lovely BNOTP reader shared the game, Wingspan. Being a big bird lover, I checked it out and was so intrigued after reading about it online. Out of its 7,426 reviews on this game, 90% of them are 5-star! It's definitely one for the hardcore bird lover since it's all about birds. It's also educational, which I love. You can read more about it here: Wingspan Board Game.
I also purchased these adorable, speckled eggs since some of the reviews I read online seemed to indicate that it's handy to have additional eggs on hand. These cute speckled eggs can be found here: Wingspan Speckled Eggs.
Remember the fun building blocks I purchased last month? I still need to create a table setting using these guys in the centerpiece. lol You'll find the set I purchased last month here: Flower Bouquet with Building Blocks.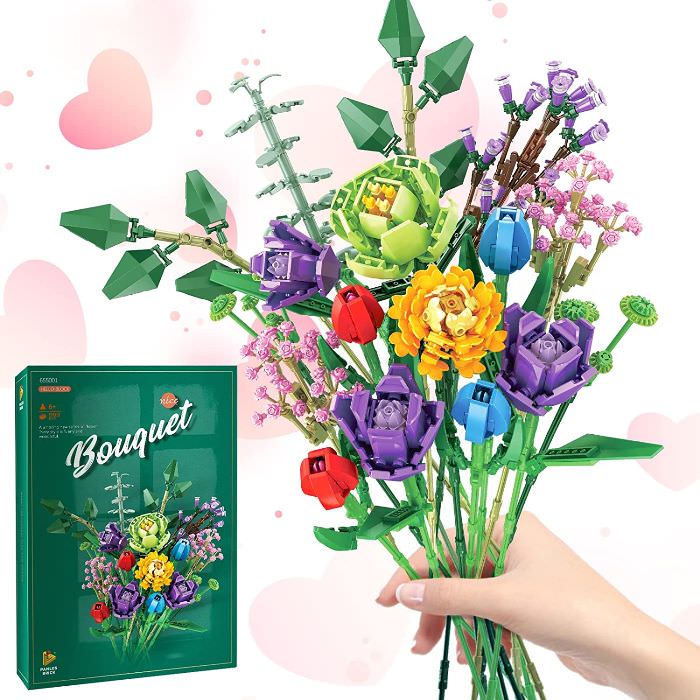 I had so much fun putting that set together, I purchased the other set by this company that's in pretty pastel colors. The second set just arrived this week so I'm sure I'll be working on it some this weekend. You'll find this set below here: Flower Bouquet Building Kit.
New Phone Case
Who knew changing your phone case could make such an improvement in your life! lol I like large phones, find them easier to see when I'm on the go. I've had a Note 8 for around 4 years, but it was so old, they had stopped providing updates for it, so I knew it was time to buy a new phone. I went with the Samsung Galaxy S22 Ultra this time since it has an amazing camera.
I love a big phone but it can sometimes be a challenge fitting it into a smaller handbag. Last month I purchased my first Bvlgari bag and it's the smallest bag I've ever purchased. My phone would fit inside but it didn't go in as smoothly as I would have liked.
I decided to try an Otterbox from their Commuter line and what a difference it has made! Though very protective, it doesn't have the large, rubber corner bumpers that my old case had, plus it's around 1/2″ shorter. It's so much easier to get into and out of all my bags. Otterbox is known for its great phone cases and this one has many of the features of my old phone case, like the raised lip on either end for protecting the glass. I love handbags and change the bag I'm carrying several times a week, so the new case has been a huge improvement. If you're looking for a new phone case, take a look at the Commuter version of the Otterbox. I'm really happy with the design and I'm sure they make them for all types of phones. (Phone case I purchased is available here: Otterbox Phone Case.)
Just shared this Brussels Sprout Cutter a few days ago…love how easy it is to use! You'll find it here: Brussels Sprout Cutter.
Over the past 6 months, I've been using this Maybelline mascara and I really, really like it! The brush does a fantastic job at spreading out the lashes, just love the results! Plus, it's not overly expensive so I usually purchase several at a time, that way I always have some on hand when it's time to change to a new one. I have been purchasing it here: Maybelline Lash Sensational.
Those are all my favorites for April! I would love to hear your new favorites! If you have any new discoveries, please leave them in the comments. I love suggestions for new products to try!
Happy Weekend!
*If a post is sponsored or a product was provided at no charge, it will be stated in post. Some links may be affiliate links and as an Amazon Associate, I may earn from qualifying purchases. *