Welcome to the 693rd Metamorphosis Monday!
Last year I got a bug in my bustle and decided to finally add some art to the wall behind my bed.
Adding this beautiful Chuck Pinson Giclee made such a dramatic difference to the room, I decided to keep going and finally added some beautiful "worn velvet" drapes to the windows. They aren't heavy-looking in person, as velvet drapes could sometimes feel since they are supposed to depict aged/old drapes that are thinner and more worn. I really loved the changes but wondered if they would look okay when I changed my fall/winter bedding over to my spring/summer bedding. (What's left of the tartan bedding is available here: Tartan Bedding.)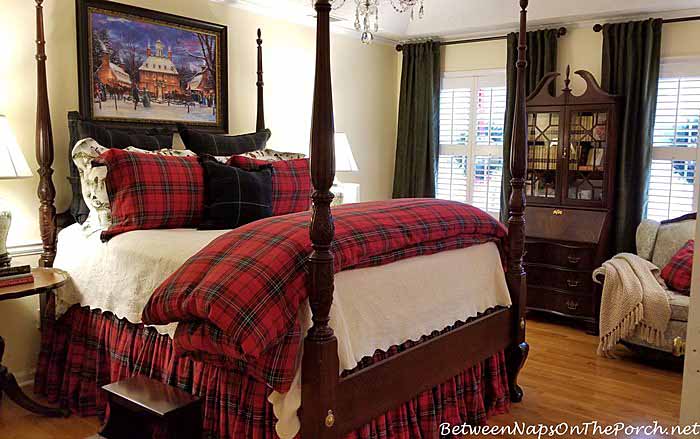 Here's a better view of the painting. It's definitely a winter/Christmasy scene but I love it so much, I've decided to keep it here year-round.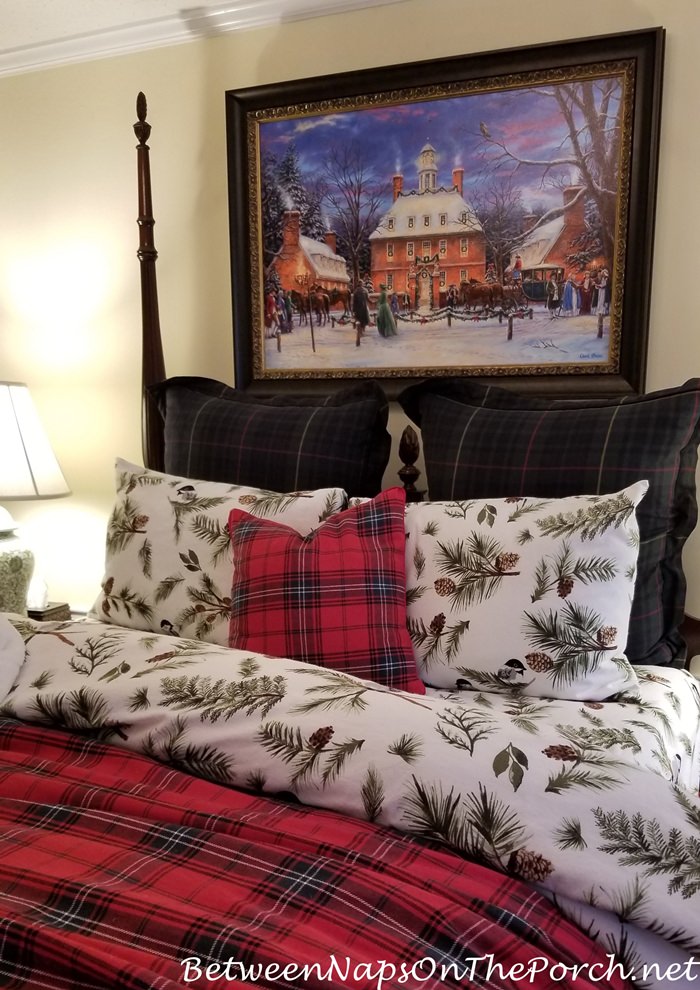 This weekend I changed all the bedding out for spring and summer.
Here's how the bedding looks with the painting.
I was thinking this weekend, I'm glad the painting doesn't just have the exact colors that are in my bedding, how boring would that be if the painting exactly matched the bedding in the color scheme. I love the moody evening sky in the painting and how it pairs/contrasts with the other colors.
Here's a closer view of the painting against the colors in the bedding. This bedding is quite old, but I still love it after all these years. Not sure when or if I'll ever change it.
When I shared this painting back in the fall/winter, I know a few of you wanted me to raise the painting up. Initially, I did have it up a few inches higher, but that placed it outside the height/top of the bedposts and it looked terrible. I don't mind the edges of the pillow shams grazing over the lower part of the frame. To me, it looks more natural that way–more relaxed and less formal. Also, when the pillows are removed at bedtime, the painting is the perfect height above the headboard. So please don't ask me to move the painting up, trust me, I tried that initially and didn't like how it looked. If you scroll back up to the photos of the winter bedding, you can see the top of the headboard peeking out between the pillows to see what I mean.
Here are two photos in brighter lighting–comparing the drapes directly against the summer bedding.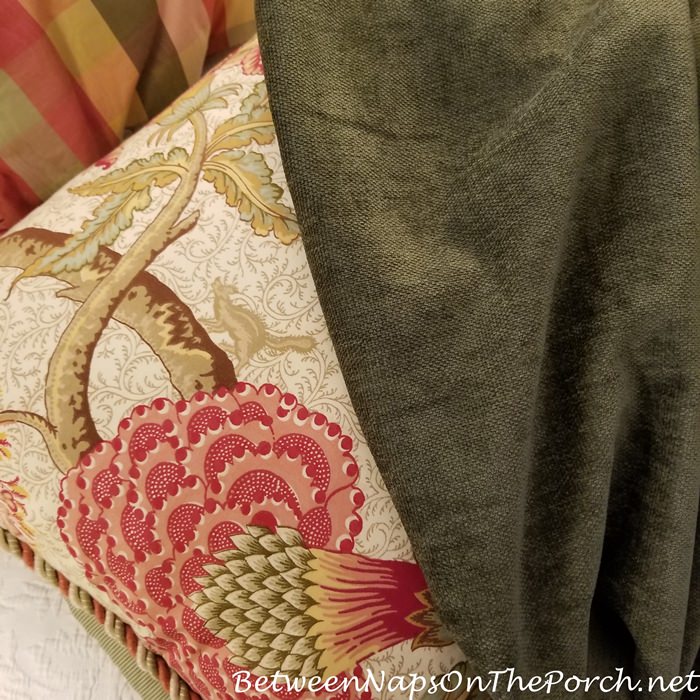 They are called "worn velvet" but not really velvet. That's just the name they were given. I do love the texture they add to this room.
It was still that hazy, morning light out when I took these photos this morning. It gives you a feel for how the room looks in the evening. The drapes are a medium to dark green and I think that works well with my summer bedding, too. Excuse the wrinkled dust ruffle. It's only been a couple of days so the wrinkles haven't all fallen out from where it was folded up and put away for winter. I may steam those out today to speed up the process.
So what do you think? I love how the painting is keeping a little Christmas here in my bedroom all year long. I'm happy with how the draperies look with my spring/summer bedding. They aren't really as dark as they look in this morning light. I'll take some photos in brighter light sometime soon to share how it looks during the daytime, but at least this will give you an idea of how it looks early morning and late evening. (Draperies are available here: Worn Velvet Draperies with Blackout Lining.)
Update: Here's a photo taken around 11:00 AM this morning–a bit brighter out now.
Looking forward to all the wonderful Before and Afters linked for this week's Met Monday!
Pssst: Did you know Between Naps On The Porch is on Instagram? You'll find me on Instagram here: Between Naps On The Porch.
Like to know when a new blog post is up and available to read? Subscribe for email updates, it's free and your email will never be shared. Subscribe for free post updates via email here: Subscribe.
Metamorphosis Monday
Metamorphosis Monday is a party that's all about Before and Afters. Please link up your Before and After projects like DIY projects, room makeovers, craft projects even recipes. Any Before and After is great! Please do not link up Table Settings, save those for our Tablescape Thursday party on Thursday.
If you are participating in Met Monday, you'll need to link your post to the party using the "permalink" to your MM post and not your general blog address. To get your permalink, click on the name of your post, then copy and paste the address that shows in the address bar at the top of your blog, into the "url" box for InLinkz when prompted.
NOTE: Please do not link up more than 3 posts from your blog. In order to link up, you'll need to include a link in your post back to the party so visitors to your blog can find the other party participants. Thanks!
This party has ended, click button below for the links to all who participated.
*If a post is sponsored or a product was provided at no charge, it will be stated in post. Some links may be affiliate links and as an Amazon Associate, I may earn from qualifying purchases. *