Happy Weekend! Instead of waiting so far into the new month, I'm sharing my favorites for last month (February) now. As you know, I've been on a huge puzzle kick for the last few months. One of the most challenging puzzles I've done in a very long time was this LEGO mini-figure faces puzzle. I could never work on it for longer than 30-45 minutes without taking a break–it made my brain hurt! Fortunately, it did get a bit easier the further I went along, but it was a challenge right to the end. I'm so glad I did it, though–really loved how it tested my patience and determination! If you're looking for something challenging to focus on, definitely recommend this puzzle available here: Lego Mini-figure Faces Puzzle.
I shared these amazing literature-themed puzzles recently so I won't go into a ton of detail about them except to say, they are a delight to work! I love how they come with a large poster sharing what's happening in each of the scenes and the famous literary characters/figures who appear in each of the scenes. If you love classic literature, you'll find these puzzles all available here: here: Iconic Literature Puzzles.
When I work a 1,000-piece puzzle–or really any puzzle, I always use my large puzzle trays. Love these things because they will hold all 1,000 pieces! (Trays are available here: Large Puzzle Trays.)
Sometimes I wish I had a place to set them that was closer to my puzzle board. I have a small amount of space on either side of my board when I move my pen/pencil caddy and my craft organizer to the other side of the room/desk, but I've always wished I had a bit more space for my trays.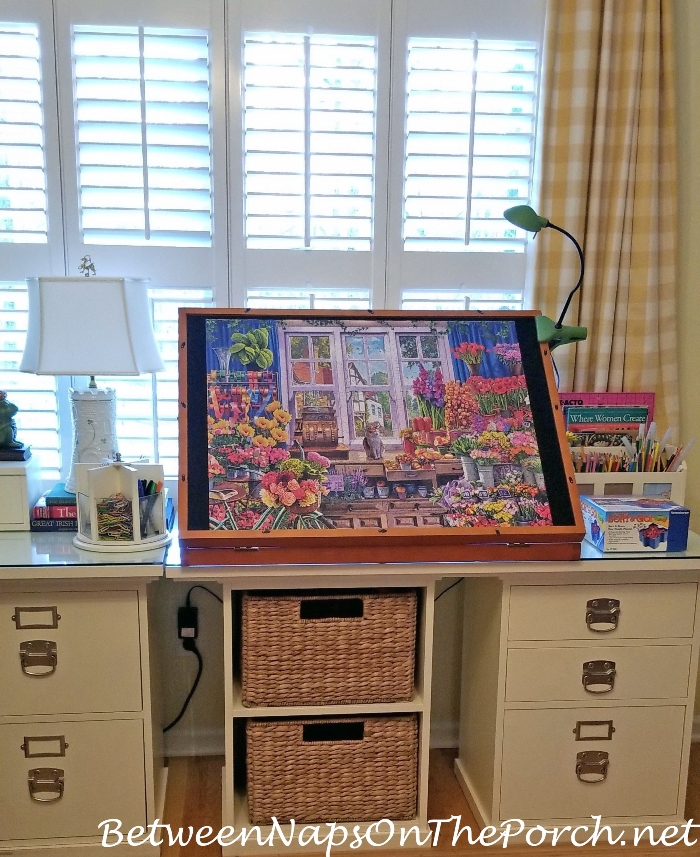 Last month I ordered this folding table and I have so enjoyed it! I wish I had done this ages ago! I finished my last puzzle a few days ago so right now I'm using it while I work on taxes. It's giving me a great place to spread out all my folders where I have receipts and other documents organized. I should finish the tax stuff today, which is perfect timing since I just had two new puzzles delivered and I'm itching to get started on one of them today.
One of the features I love about this table (in addition to how small it folds up) is how the height is adjustable to so many different settings! I have mine set to the 2nd lowest setting right now since that works great for sitting and working puzzles on my puzzle board. It's also very reasonably priced, especially compared to other folding tables that I've seen online. Just wanted to share this awesome folding utility table in case you've been needing something similar. It would be great to set up for kids to work crafts on, for a garage sale, for camping, really for just about anything. You'll find it available here: Adjustable Craft, Camping, and Utility Folding Table.
This is one of the puzzles that arrived today and I can't wait to get going on it. Is this not the dreamiest porch? And that view! I would love to rent a house like this on the beach one day! (Puzzle is available here: Beach House Porch.)
Last month when I shared how rainwater that drips off my car no longer soaks into my garage floor, and several of you recommended a squeegee for pushing out any water that accumulates. It took me a while to decide on one because there are so many different styles. I finally chose this one based on the reviews and the reasonable cost. So far, it's working great–so thank you to everyone who suggested using a squeegee on the garage floor! If you are in need of a floor squeegee, I purchased this here: Telescopic Floor Squeegee.
My oldest grandson turned 9 last month and his birthday fell the week the family joined friends on a last-minute ski trip. They took along all the birthday gifts so he would have them to open on his birthday.
After a day on the slopes and a fun birthday celebration, Court spent the evening putting this LEGO set together that I had gifted him for his birthday. My daughter-in-law told me it was a huge hit and that he loved it. If you are in need of a birthday present for a LEGO fan, I have it on good account that this is a great one. You'll find it available here: Space Shuttle Lego Set.
These bee-themed salad plates I purchased last month have definitely been a favorite. They are so perfect for spring! You'll find those available here: Bee Salad Plates.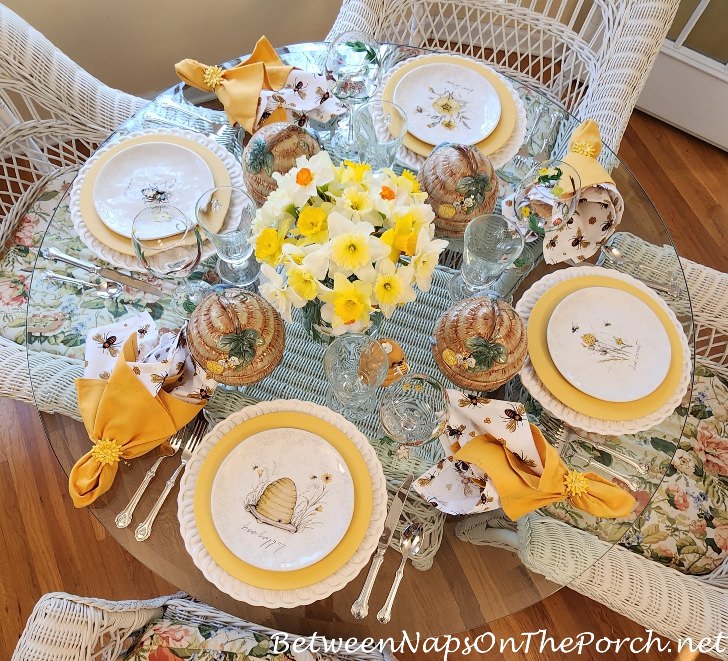 I really liked the bee napkins I purchased to go along with this table. (Bee napkins are available here: Honey Bee Napkins.)
So I turned right around and ordered these happy sunflower napkins! I love the design and they should work well with some sunflower salad plates I already have. Look for that table coming up sometime soon. Sunflower napkins are available here: here: Sunflower Napkins.
I also ordered these cute nautical napkins. I try to only buy napkins that are all cotton, so I'm really enjoying the napkins I've been ordering recently. All of these that I've shared are 100% cotton napkins. These would also work well in a beachy/nautical 4th of July table. I'm pretty sure I've done one of those table settings before–it may be time for another one. You'll find these nautical-themed napkins here: Nautical Napkins.
Still loving the Dior Nail Glow I shared last month. I've been using it non-stop because it's just so easy to apply. Definitely recommend it if you want something that makes your nails look beautiful, but is also fast and easy to apply. It dries really fast–which I love! You'll find it available here: Dior Nail Glow AND here: Dior Nail Glow.
I recently did a search to see if I could find individual nail polish remover pads because I really don't like using nail polish from a bottle. I'm always worried I'll spill or splash it onto something. I discovered they do make nail polish remover pads and these had great reviews. I've used them twice now and love them! It was super easy to remove my Dior Nail Glow polish from all 10 fingers with just one pad when I was ready to repaint my nails. Very happy with how these work and no more worrying about turning over the bottle of nail polish remover! You'll find these available here: Nail Polish Remover Pads.
I have been using these individually-packaged Shout stain remover pads now for years and I really, really like them! I just recently ran out and reordered them so they've been on my mind as an item I really needed to share. I keep a few of these inside a bag that's in my car's glove box and a couple in a little accessory bag that I carry in my handbag. When I'm out and about, if I accidentally drip some type of drink or food onto my shirt or pants, they are amazing at removing the stain. I like that because the stain doesn't have time to set up before I can get back home and wash it out. If you've never tried these, you'll find them here: Shout Stain Remover.
Hope you find these February Favorites helpful! Have a fabulous weekend!
*If a post is sponsored or a product was provided at no charge, it will be stated in post. Some links may be affiliate links and as an Amazon Associate, I may earn from qualifying purchases. *