Before I forget, wanted to let you know this adorable Christmas Vacation Wrapping Paper is back in stock. I had several folks ask me about it last year and I couldn't find it in stock at that time, but it appears to be back for this year. This has to be my favorite Christmas wrapping paper ever!
I love the whimsical design plus, it's really nice quality paper. There's also a lot of paper on each roll, so it goes a long way. You'll find it available here: Christmas Vacation Wrapping Paper.
Yesterday I stopped by Marshall's to see if they had their Christmas goodies in and I found a few things I couldn't leave without. You may remember this big guy that I found in Pottery Barn a few years back. I love to use him as a centerpiece in my autumn and Thanksgiving tables.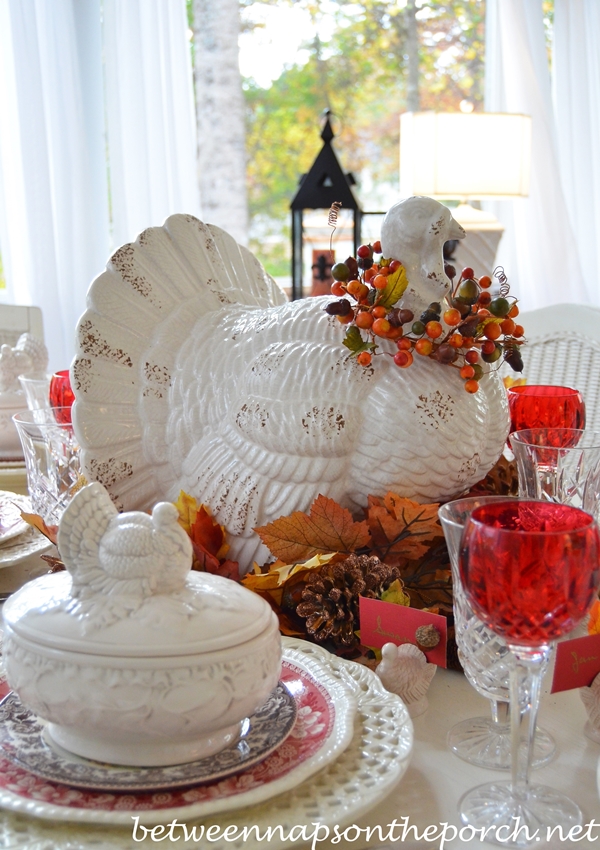 I also have a set of these individual turkey soup tureens found in Old Time Pottery many years back.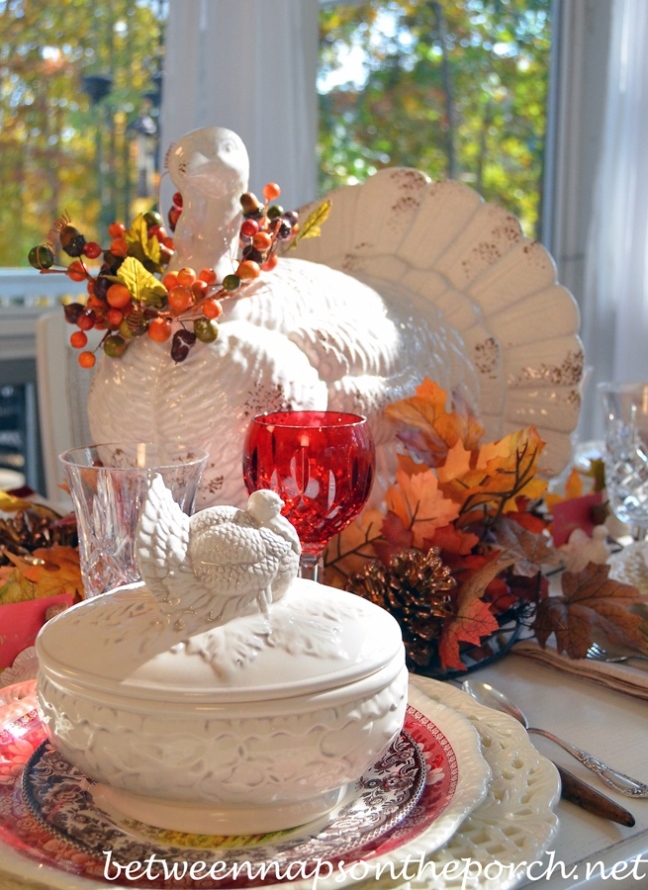 I spotted this cute turkey gray boat (is it still called a boat when it's a turkey?) and thought he would work well with my other turkey pieces.
The other item I picked up was six of these beautiful reindeer wine glasses. My pictures do not do them justice! They are such nice quality, feel like delicate crystal!
I couldn't find them online to give you a link but here's the packaging in case it helps. If you love them, stop by your Marshall's soon because I don't think these will be around very long. I may go back and purchase a few more for breakage because they are delicate and beautiful!
Marshalls always has the cutest pillows for the holidays. I always love their Christmas pillows and have so many that I've purchased there over the years. I spotted this one online just now—so cute! The back is plaid–love! You'll find it here: Ski-Winter Themed Pillow.
I wish I had a beach cottage, I would so get this pillow if I did! If you have a beach house, you'll find this Beachy Christmas pillow here: Beachy Christmas. You'll find all their holiday pillows and holiday decor here: Holiday Decor.
Joanne, a lovely BNOTP reader, emailed me to let me know about a sale that was going on at Macy's on one of my favorite Villeroy & Boch Christmas patterns called, Toy's Delight. Thanks, Joanne!
I used the Toy's Delight salad plates in this previous Christmas table: Christmas Table with Dept. 56 Churches.
I used it again in this Christmas table: Christmas Dinner in Toyland.
Since I only had 4 salad plates, last night I purchased 4 more in this adorable pattern. Unfortunately, it appears the sale at Macy's ended last night.
But they are still on sale here: Villeroy & Boch Toy's Delight and the salad plates are on sale here: Villeroy & Boch Toy's Delight. I think that may even be a better sale price than what I paid at Macy's.
So, the Christmas shopping is well underway over here! I definitely have the holiday spirit–love this time of year!
*If a post is sponsored or a product was provided at no charge, it will be stated in post. Some links may be affiliate links and as an Amazon Associate, I may earn from qualifying purchases. *