I've been working on my Thanksgiving table setting this week and I had it almost finished when I realized how much I didn't like the way the place cards I was using looked with the autumn colors in my tablescape. The only place cards I have are some I purchased a few years ago and they are stark white.
I hopped in the car and headed over to a couple of home stores thinking I might find something in more of an off white, khaki or burlap color. No luck.
Umm, what to do? I decided to just make my own. I stopped by Michaels where I found textured cardstock in long narrow strips. Have you seen these before? I didn't realize you could buy it in strips like this. Are you thinking what I'm thinking? 🙂
They were available in many different color groupings: Sparkly, Super bright, Pastels, etc… I picked one with some nice autumn shades. One looked just about perfect for my Thankgiving table.
I used my white place cards as a template. Since the cardstock strips are exactly 12 inches long and my current white place cards are 3 inches long, I can get 4 place cards out of each strip. With 87 strips that's 348 place cards for just$4.99. Use a Michael's 40% off coupon and you'll get 348 place cards for just $2.99! That's soooo much less than what I paid for the thin, flimsy white ones I bought years ago, and they only came 12 to the package.
I flipped through the stack of colors and chose one that looked pretty close to the color of my napkins. Just look at all those great colors for future table settings! There are three strips of each color, so you can potentially make 12 place cards in each color.
The color you see on the left was pretty much a dead match to my napkins, but I decided to go with the color on the right which was slightly lighter.
While at Michaels, I also found these cuties. They were $3.99 and came 16 to a package.
They were already pre-sticky so I just took one out and stuck him on the end of my place card. Don't you love all the adorable little sticky thingies you find in the craft stores? They are so cute, it's all I can do to not buy them all! It's like a little miniature make-believe world in the "dimensional sticky" isle at Michaels. They had lots of cute Halloween and Christmas stickies, too. I barely restrained myself from buying bunches and left with just my turkeys.
Here he is, patiently waiting to see whose place he'll be dressing up for Thanksgiving.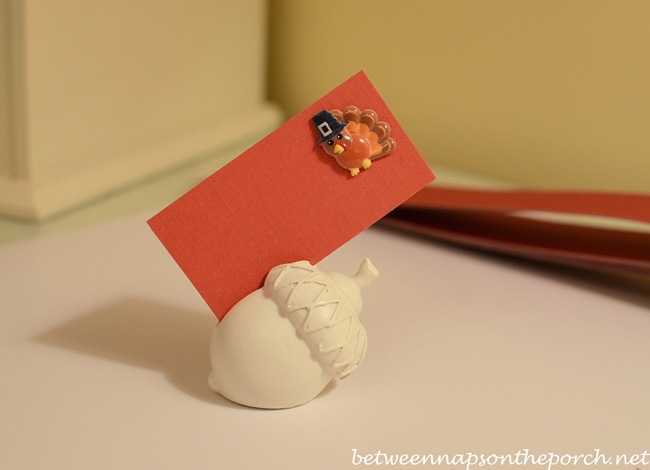 Want to keep your cost as low as possible? Decorate your place card with something from the garden/yard, like a pretty fall leaf or an acorn. 🙂
Looking forward to sharing these in a Thanksgiving tablescape this Thursday for Tablescape Thursday.
Pssst: The winner of the recent giveaway from Banarsi was announced on the giveaway post HERE. Thanks so much to all who entered!
*If a post is sponsored or a product was provided at no charge, it will be stated in post. Some links may be affiliate links and as an Amazon Associate, I may earn from qualifying purchases. *