Welcome to the 719th Metamorphosis Monday! How was your weekend? I hope it was great! I spent it working here in the crawl space area of the basement. My muscles are spent! When I last shared this area, I had just started priming shelves in this space for painting. I also planned to use Drylock on the walls since it's what I found recommended when I did a search for the best paint for basement walls.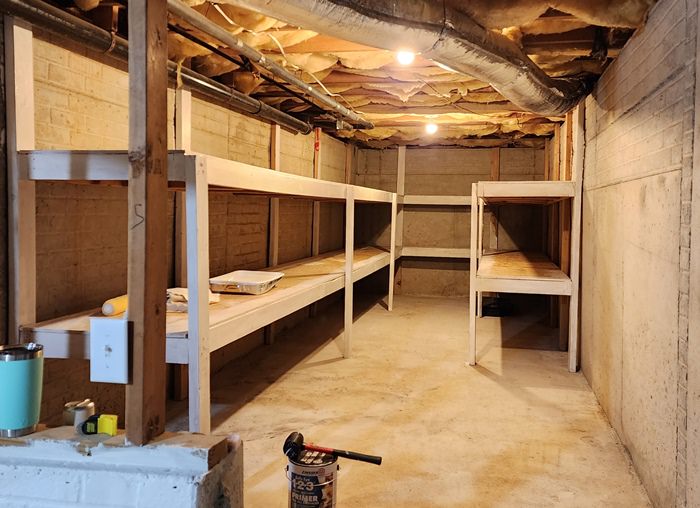 I've made a lot of progress. In this photo, I had finished painting the walls and had completed priming all the shelves and their supports. The only wall area that wasn't painted yet was the wall area underneath the bottom shelves.
Here's how it looks this morning. I painted the shelves with Benjamin Moore's Advance paint that's designed especially for cabinets and shelving. That paint is probably too nice for these humble plywood shelves, but it's supposed to dry very hard and durable so nothing will ever stick to it. It's currently curing which I think takes around 10 days if I'm remembering correctly.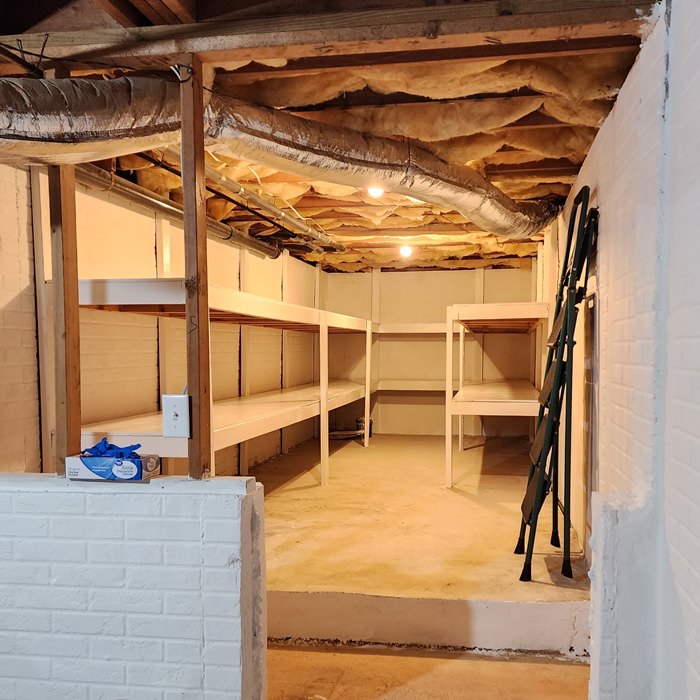 I managed to get a lot of the wall area underneath the shelves painted. I've just started going back and painting the areas where the roller couldn't reach. I'm giving myself the day off because my arms/shoulders are very tired. It's hard to hold and roll a paint roller laden down with thick, Drylock paint, straight out in front of you while bending over or laying on your stomach, in order to roll it out on a section of the wall underneath a shelf. I'm definitely building up my upper arm and shoulder muscles right now. lol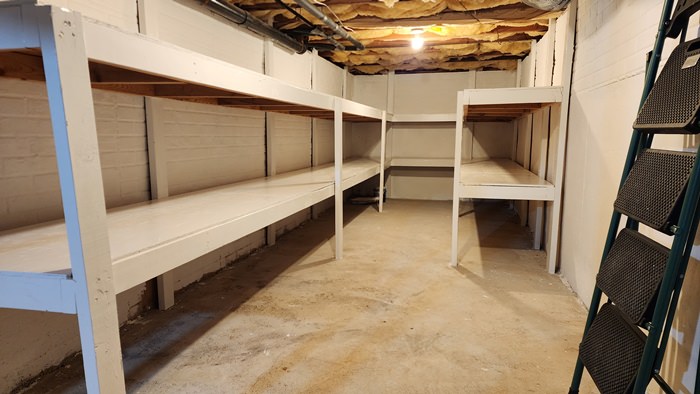 Here's a closer view showing the Drylock paint on the walls and the Benjamin Moore Advance paint on the shelves.
After I finish painting the white Drylock underneath the shelves in this crawl space storage room, I plan to paint the floors with Drylock Concrete Floor paint in the color, Dover Gray. I can't wait to finish this space because all the stuff that was originally stored in the semi-finished area (where painters are painting today) is now crammed into the unfinished side of the basement. I can't wait to get everything organized and share the end result.
I just purchased this garden tool stand to go in a corner of the crawl space storage. I don't have a lot of garden tools to store so I think it will work well for my needs. Tool stand is available here: Garden Tool Stand for Corners.
The painters arrived bright and early this morning to start painting the semi-finished side of the basement. They were covering the flooring when I snapped this photo. I told them that it was okay to leave it uncovered since it's just concrete and will be getting flooring, but they said they always do that to help with cleanup and dust. So funny seeing the Christmas trees outside under the screen porch. It looks like I have trees growing right outside that door. Ha!
The paint colors I've chosen for the basement are Benjamin Moore White Dove for the walls and Benjamin Moore Chantilly Lace for the trim. Don't quote me on this but what I think I've discovered is if you want some contrast between your walls and your trim, but still want to keep a room light and bright, it seems to me that you basically go with two white paint colors, one just darker or a different hue than the other. White paint can come in so many shades, some much darker than others.
My mistake in the garage was thinking I had to choose a "colored" paint for the walls to get that contrast, but the color I initially chose ended up being way too dark. I ended up having to stop the painting process in order to choose another color. White Dove is one of BM's most popular paints, as is Chantilly Lace for trim, so hopefully, (fingers crossed) I will love the finished look. I bought a sample a few days ago and tried it on poster board, but it's really hard to tell anything from just a large piece of poster board. So much depends on the lighting in a room. In any case, I think White Dove and Chantilly Lace are "safe" choices, which is really all I want for this basement room that I doubt I will ever furnish or use.
For the flooring in this room, I am thinking of going with a Luxury Vinyl Plank flooring. I've read great things about LVP and apparently, it's a popular flooring for basements. I'm dreading having to choose the color for that since it will butt up against my hardwood flooring at the top of the basement steps. We'll see how that goes, but for now, the focus is all on paint. Looking forward to sharing some progress photos later in the week!
Looking forward to all the great Before and Afters linked for this week's Met Monday!
Pssst: Did you know Between Naps On The Porch is on Instagram? You'll find me on Instagram here: Between Naps On The Porch.
Like to know when a new blog post is up and available to read? Subscribe for email updates, it's free and your email will never be shared. Subscribe for free post updates via email here: Subscribe.
Metamorphosis Monday: Metamorphosis Monday is a party that's all about Before and Afters. Please link up your Before and After projects like DIY projects, room makeovers, craft projects even recipes. Please do not link up Table Settings, save those for our Tablescape Thursday party on Thursday. If you are participating in Met Monday, you'll need to link your post to the party using the "permalink" to your MM post and not your general blog address. To get your permalink, click on the name of your post, then copy and paste the address that shows in the address bar at the top of your blog, into the "url" box for InLinkz when prompted. NOTE: Please do not link up more than 3 posts from your blog. In order to link up, you'll need to include a link in your post back to the party so visitors to your blog can find the other party participants. When linking up to the party, give the InLinkz system time to find the link in your post to avoid having your link held for moderation/approval. Thanks!
This party has ended, click button below for the links to all who participated.
*If a post is sponsored or a product was provided at no charge, it will be stated in post. Some links may be affiliate links and as an Amazon Associate, I may earn from qualifying purchases. *