Welcome to the 553rd Tablescape Thursday!
The weather has been so warm and beautiful the last few days, I really, really wanted to set this week's table out on the porch. But just look at this! This was the state of the porch when I stepped outside today. Everything was covered in thick pollen and months and months of dirt and grime.
I was torn–should I just close my eyes to the gorgeous spring weather, forget about the porch and set another table inside? Or, should I give in and do what I really wanted to do which was give the porch a good spring cleaning?
I couldn't stand it any longer, I had to work on the porch. By the time I finished cleaning the porch, including all of the furniture, molding, ceiling fans and flooring (thank goodness for my Mopnado!) it was quite late in the day. Getting such a late start on my table setting meant only one thing–it was time for a candlelight table.
It was just beginning to get dark out as I lit the candles.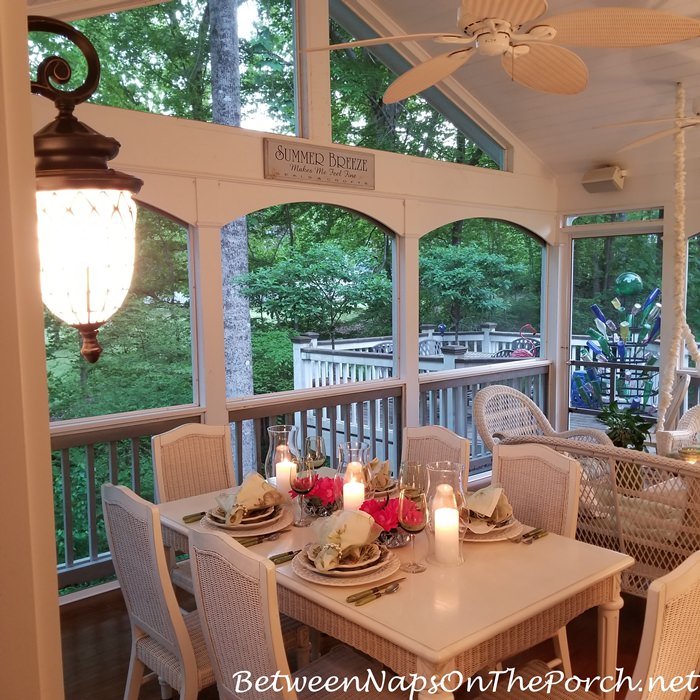 I can't remember if I've ever used these hurricane globes in a table before. I purchased five at an estate sale many years ago, envisioning them down the center of a table in a table setting one day. I only needed three of the five for today's table.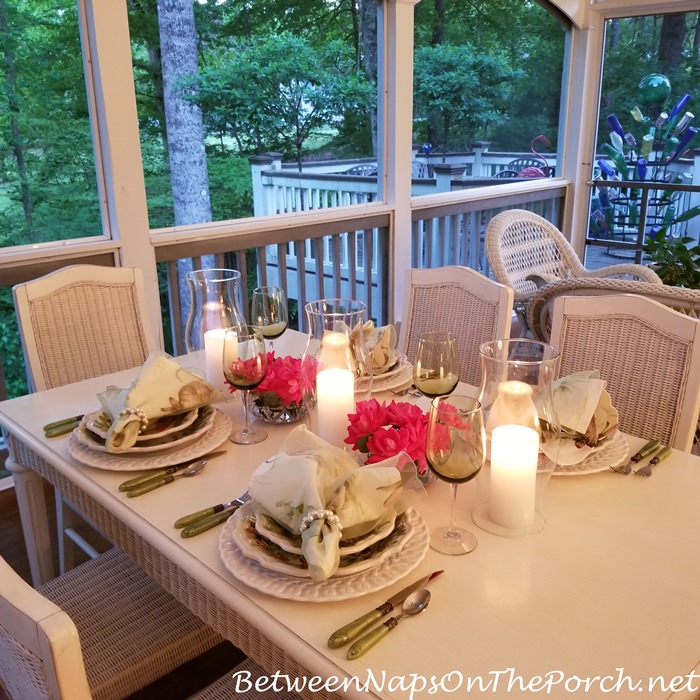 I interspersed the hurricane candle holders with crystal bowls overflowing with pretty blossoms. The Knockout Roses in the tall urns on one of my decks are in full bloom.
Remember the bunny napkins I purchased recently on sale, 40% off?
They found their way into today's celebration of spring. I'm imagining beautiful gardens with bunnies, lots and lots of bunnies.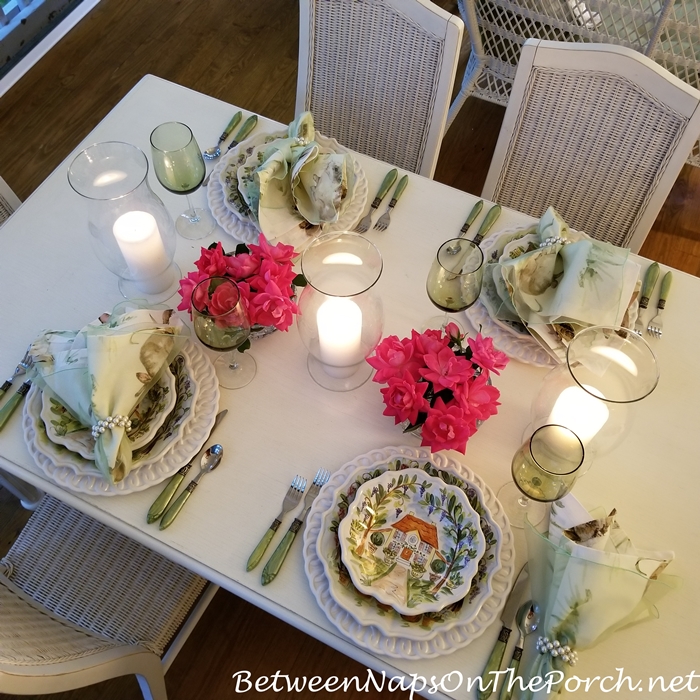 The green, sheer napkin covers were purchased from The Magnolia Room in Marietta, GA many years ago. I'm not sure if they still carry them since it's been several years since I've shopped there. I need to visit them again sometime soon.
The napkin rings are from Old Time Pottery. Wine glasses are from Dollar Tree several years ago. They may still carry them. I love the color and use them often in tablescapes. Such a pretty soft green and perfect for a spring or summer table. Can't remember where I found the green flatware now, may have been Tuesday Morning.
Had to bring out my favorite summer pattern for dining on the porch: Tabletops, Ma Maison designed by Dario Farrucci.
I found this pattern in HomeGoods many years ago. Had to drive around to 3-4 locations that day to collect all the pieces I needed. The white chargers are from Horchow online, ordered in 2008.
I want every day to be as beautiful as it is in this pattern. Is that asking too much?
Nightfall came quickly. You can tell it's still the Blue Hour by the way the white trim on my house appears to be almost glowing. If you're out and you're wondering if the Blue Hour is occurring, just look at a white painted house or white painted fence or trim. If it sorta looks like it's glowing, you're in the Blue Hour.
Did you notice the oval table that lives near the windows on the right is missing?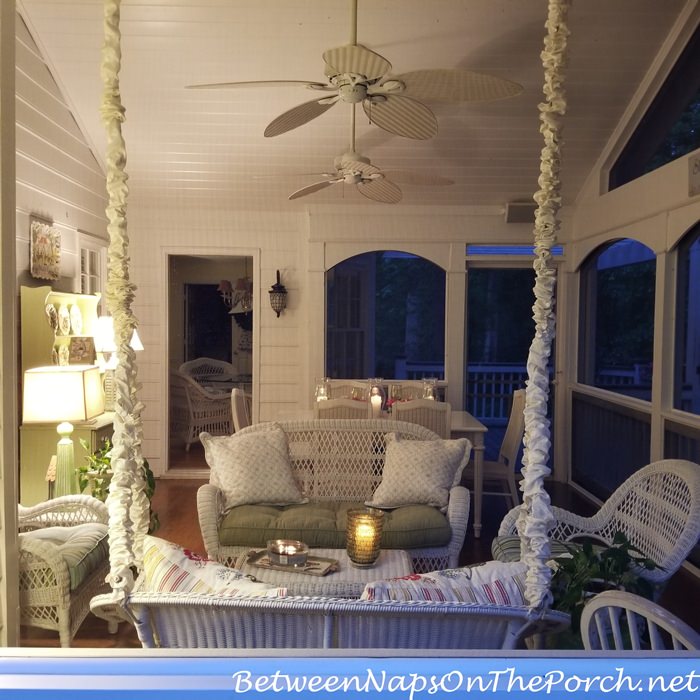 Today I dropped it off to a local furniture refinisher and I miss it already. It's been out here on the porch for 10 years so it was time to refinish the top and tighten a few things up. The refinisher had good reviews online, although I found him very, very gruff. I left the table with him in spite of his demeanor since he's supposed to do good work. Keeping my fingers crossed that I like the results. Can't wait to have a lamp back on that side of the porch.
I love seeing the Blue Hour in photos. Funny thing I noticed this evening, when looking into my Nikon D700o viewfinder, I am unable to see the blue sky that happens during the Blue Hour. I can only see it after the picture is snapped and I'm looking at the photo.
But I could easily see the Blue Hour blue sky while taking photos with my cellphone. Isn't that interesting?! I'm sure there's a very logical explanation for that, probably having to do with mirrors or something, but I'm not really sure.
You can read more about the Blue Hour in this previous post: The Secret of the Blue Hour. In that previous post, I link out to a site that will let tell you the precise time the Blue Hour occurs each morning and each evening in your area of the world. It happens twice a day.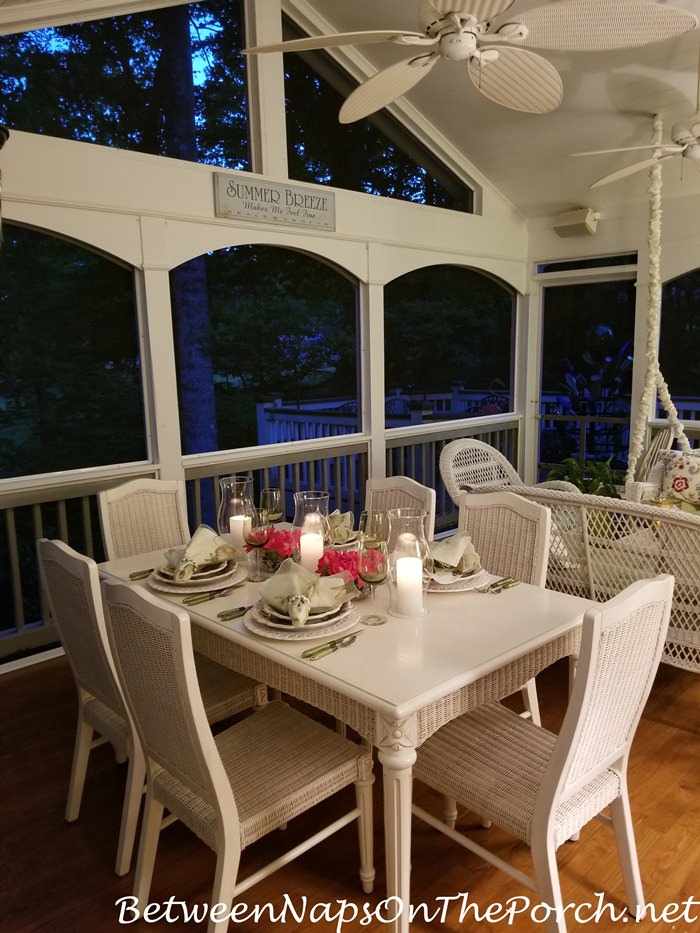 Candlelight dining on the porch is relaxing after a long day of working in the garden–or, scrubbing down a porch. Of course, good food, good wine and froggy serenades don't hurt, either. I never realized how much "life" still goes on after dark until I added on a screened porch.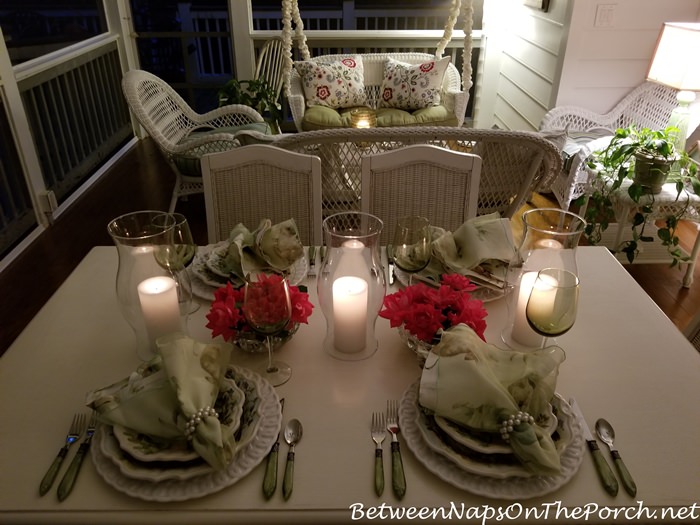 Hope you are seeing plenty of spring green where you live!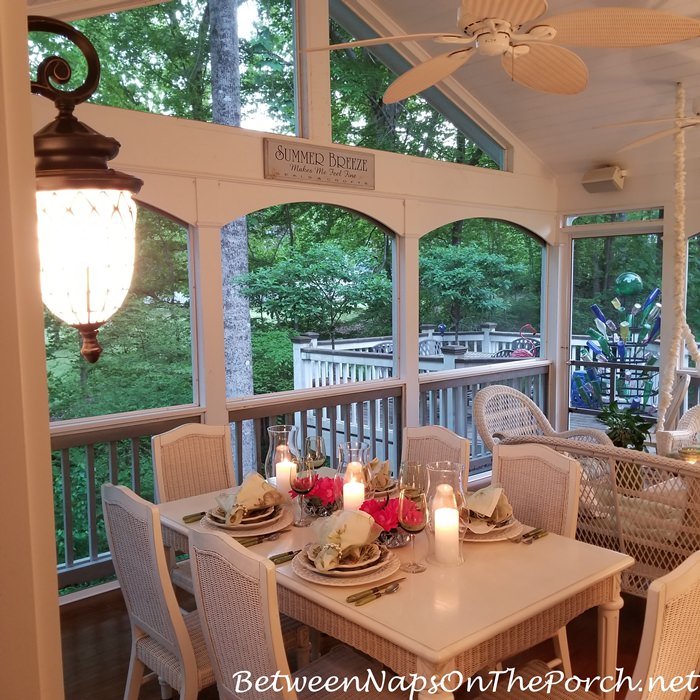 Looking forward to the beautiful tables shared for this week's Tablescape Thursday!
Pssst: Follow Between Naps on the Porch on Instagram here: Between Naps On The Porch on Instagram and on Facebook here: Between Naps On The Porch on Facebook.
Tablescape Thursday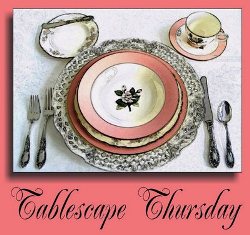 If you are participating in Tablescape Thursday, please be sure to add your permalink below, and not your general blog address. To get your permalink, click on your post name, then copy and paste the address showing in the address bar, into the "url" box when you link up.
You'll need to include a link in your post back to the party to link up and participate. That's so visitors to your blog will be able to find the party and the other Tablescape Thursday participants. Requiring a link back also prevents businesses and scammers from linking up to sell their products. Please let me know if you click on a link that isn't a tablescape or table related so I can remove it.
This party has ended, click button below for the links to all who participated.
*If a post is sponsored or a product was provided at no charge, it will be stated in post. Some links may be affiliate links and as an Amazon Associate, I may earn from qualifying purchases. *