About a month ago I shared an awesome product that solved an ongoing problem I've been dealing with forever: trying to keep my handbag out of the sun when I'm out running errands or on trips AND trying to keep it out of the floor whenever I have to stop suddenly.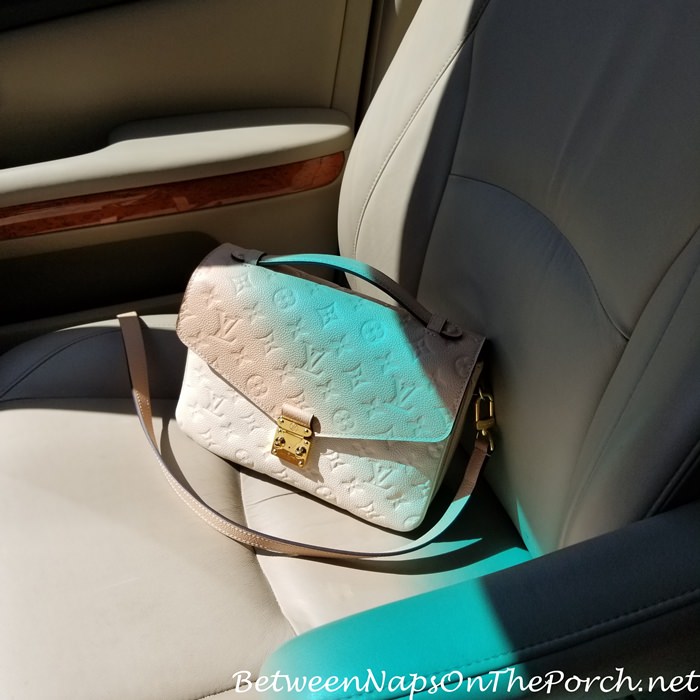 This awesome car handbag holder (purchased HERE) has been working beautifully despite the fact it's really designed to work in a car with a center console that opens from the front, not the push-button type that opens in the center as mine does.
What I did to make it work was I hooked the cord (that normally goes under the lid of the console) through each armrest. The armrests on my car hold it firmly in place. You can kind of see how it's hooked over them in the photo and below.
Update: Check out the suggestion Kay made in the comments of this post describing how she's using this handbag holder in her car even though her car doesn't have armrests or a front-opening console. Keep reading for another tip/idea from the inventor of this holder.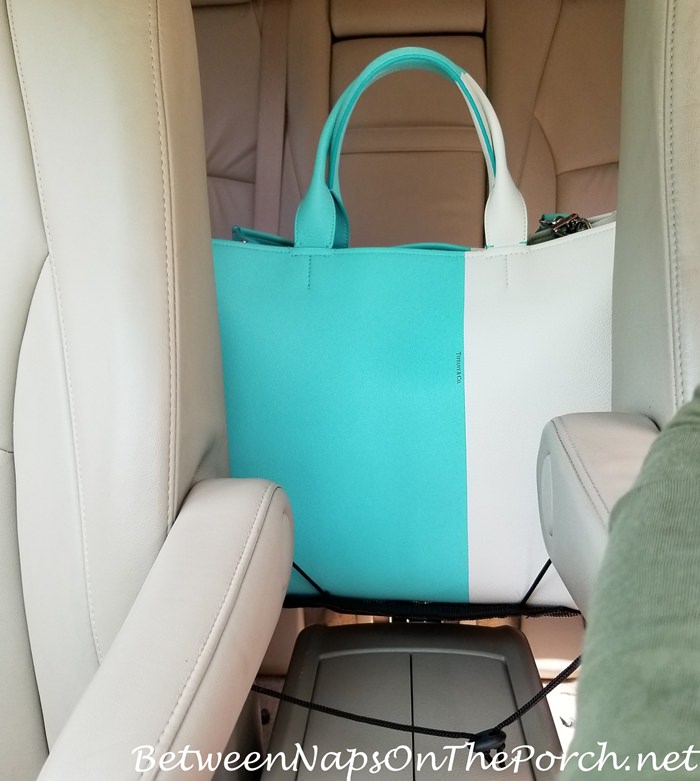 Here's a back view of how everything looks with a larger bag in place.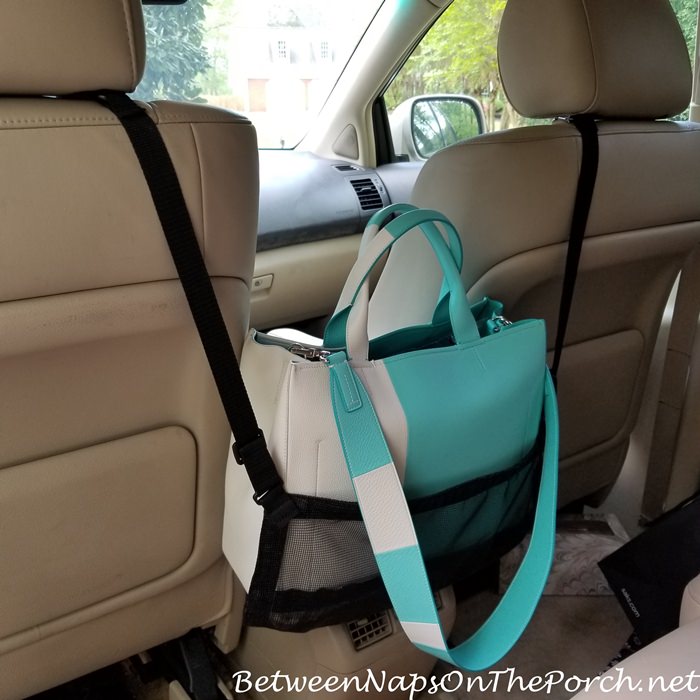 A few days ago I was so surprised to get a comment on that previous post from the clever inventor of this awesome holder. Catherine shared the process of how this handbag holder came to be and I found it fascinating. I thought you would enjoy her story and if you have a center opening console, you may find the suggestion she left to be helpful.
Here's the comment she left on the post where I previously shared this neat invention:
Wow! I am the inventor of the Car Cache and am blown away with this magnificent review! I had a woman that follows your blog call me with a question on how to use it with a console that doesn't open from the front (I have suggestions towards the bottom of this note). With your great support, I thought you might want to learn my story….

I was soooo tired of my purse falling over on the passenger seat (way too lazy to close it!), or my son placing his cleats on it when I placed it on the filthy floor, or having to stretch to get it in the backseat. Plus, when in DC on a beautiful spring day, I had my windows open and stopped at a stop sign – need I say more! A young man walked by and grabbed it off the seat and ran!

I literally had a dream about this idea and made it the next day (using duct tape as the stitches!)

First day I launched it outside of Cincinnati, a professional organizer (Organize365) was Skyping with 20+ professional organizers in the morning of September 24, 2013. They started blogging/tweeting about my Car Cache and that afternoon an executive from Amazon's headquarters called me and asked if his team can put a store up for me, "Cause this is going to be big!" And they did!!!!

Eight months later I signed with a large licensing firm and they took it to over 100,000 retailers and sold over 1mm units in a little over a year. I received my Patent 2.5 years ago and took the product back (they marketed it completely inaccurately!) and I just received my new packaging last November so am just now trying to get the word out. Right now it's me and one Instagram ad so this review is sooo helpful to me and soooooo appreciated!

Now, for cars that do not have a console lid that opens from the front… Customers told me of a great solution! If it opens from the side or in the middle, they purchased 3M Command Hooks (the kind the holds heavy pictures) and they stuck them Upside Down on the inside back of the console and tied the strings around them. Years later I received notes that the solution was still working great with their heavy purses.

The woman that called today and told me about your blog (Thank You Priscilla!) asked about how to use it with her console that slides open… Now every car is different, but I suggested that she purchase 3M Command hooks and stick them to the Back of the console, upside down, and tie the strings around them. (you can get them in black, white, tan) My concern is tossing the purse into it could make the strings slide out of the hooks, but worth a try. She loved your write up so much she really wants to use my product!

More than you wanted to know but I am just so excited for the recognition you gave my invention – means the world to me! Any questions feel free to email me at [email protected].

Happy Easter!
Catherine Seifert
Thanks so much to Catherine for sharing the process she's gone through to create this holder and for the tips on how to use it with a car that doesn't have a front opening console. I may give the Command Hooks suggestion a try, although my armrest trick is doing a pretty great job right now.
In chatting with Catherine via email after she left her comment, she mentioned that the pocket designed into the holder is meant to hold items riders in the backseat may be using or need, like tissues or a water bottle. That was the issue she had with how it had been marketed in the past and why she took back over the marketing of her holder. She shared that a handbag is supposed to rest on the holder as I have mine in my photos. That's how I had seen it in the photos at Amazon, so that's how I have been using it.
I wanted to share Catherine's comment in case you find the "Command Hooks" idea helpful for a center opening console. Also, it's not often we get to hear from the inventor of a product we are using and loving! I'm so glad Catherine took the time to share the story of how she came to create this awesome holder! So thankful that she did create it because it's definitely making my life a lot easier…not to mention saving my handbags! lol
If you missed my previous post about this handbag holder, you'll find it here: This $16.99 Product Changed my Life! The handbag holder is available here: Car Handbag Holder.
See you tomorrow for Tablescape Thursday!
*If a post is sponsored or a product was provided at no charge, it will be stated in post. Some links may be affiliate links and as an Amazon Associate, I may earn from qualifying purchases. *