The snow has decided to stay a while here in Ohio. It snowed every day for 3-4 days in a row and the temps have stayed quite low. I'm not used to seeing this view out my windshield when driving.
All the neighborhoods look like this one. The snow plows have been coming through several times a day, so the roads are in pretty good shape.
I was amazed how quickly my car started after weathering so many snow storms and sitting outside in minus temps overnight. It's used to a cushier life living inside a garage at home. I think this photo was taken after the first couple of days of snow, so we actually got more than you see here.
I had planned to leave and head back home yesterday, but when I looked out the window yesterday morning, I realized there was no way for me to get my large, heavy suitcase to the car without dragging it through all the snow. If I had thought about it, my son and I could have each grabbed an end and carried it to the car the night before.
So I decided to stay one more day thinking we would do that last night. Apparently Mother Nature has other plans because now it's snowing again here in the south making the interstates a treacherous mess today. It looks like the temps will rise by Thursday, so I should be able to head back home soon. Now that I think about it, the snow probably would not have hurt my bag if I had just gone ahead and dragged it down the lawn to the car, after all it's just snow.
You know the thing that I've found that I dislike the most about snow, especially snow that sticks around for several days? It's the parking lots. When I went out to do a bit of shopping with my son a few days ago, all the parking lots were a big, slushy, salty mess. It's so gross to walk through them, then you have to get into your car with all that slush on your boots. Ugh. I definitely would not want to live where this was a regular thing for days or months on end. I would turn into a hermit and would start having all my food delivered by Amazon. Seriously…I wouldn't come out of my house for months! lol
A Problem This Time of Year: Cracking, Splitting Fingertips
Update: Be sure and check out all the great comments at the end of this post. There are so many excellent suggestions of products that have worked well for others!
Every winter I run into issues with my finger tips getting little fissures or cracks in the skin…and oh, do they hurt! Do you have this problem, too? It usually happens when I'm doing a good bit of cleaning around the house and have my hands in water a lot. Between the cleaning and the heat running all day, it's the perfect recipe for cracking fingertips.
My daughter-in-law has been having the same problem and we were discussing possible solutions. I watched a video online that said the reason the skin on our fingers cracks is because the skin dries out, losing its natural oils/moisture, then it begins to crack/pull apart due to dryness. The doctor in the video said the answer is moisture…if you keep the skin moisturized, the crack will gradually close in just 3-4 days. He recommended putting Neosporin or Bacitracin on the cracked finger.
In the past I've often used Neosporin at night along with a band-aid because there's nothing worse than waking up with a fingertip throbbing in pain. I've heard that our fingers/toes don't get as much circulation as other parts of our body, so I think they are more easily infected. The Neosporin has really helped when I've remembered to use it at night.
My daughter-in-law has started using Burt's Bees Lemon Butter Cuticle Cream and she gave me this tin to try. I've been using it during the day while I've been here and it has helped a lot. Of course, you do have to reapply it if you have your hands in water a lot. It's available here: Cuticle Cream.
I decided to investigate last night to see what other options were out there. I figure if my dil and I are both suffering with cracked fingertips right now, we can't be the only ones. I found a couple of things online that I'm going to try. This product had great reviews and specifically mentioned that it helped with dry, cracked fingertips. It's available here: Cutemol
Update on 2-9-17: Adding this info so you'll know what worked for my finger that was so badly split. I used Neosporin on the cracks at night and wore a band-aid loosly at night to keep the Neosporin in place. Then I religiously used Cutemol throughout the day…around 5-6 times a day, especially anytime I had my hands in water for a while, like after washing dishes. Cutemol is AMAZING! My finger healed up and I haven't had any more problems with splitting fingers.
After my finger healed completely, I've cut back to using Cutemol 2-3 times a day during these winter months. I always put it on again if I've had my hands in water. I've also been using it on my feet, and it has done wonders for the dryness there, too. I can't recommend it highly enough!
So, in summary…what worked for my cracked split fingers was to apply Neosporin on the split areas at night and wear a band-aid to keep the Neosporin on the finger. The Neosporin also seemed to help with the pain, maybe because it kept my finger from getting infected. Then I used Cutemol throughout the day to keep my hands/fingers protected.
One thing you should know, Cutemol is very thick/rich, so you don't have to use a lot. AND after you rub it all over your hands, it will take about 10-15 minutes to fully soak in. So apply it when you aren't going to need to use your hands for a few minutes. It's very rich/sticky when you first put it on, but it will absorb after about 10-15 minutes.
It's the best lotion I've ever found for coping with winter dryness. I will always have some on hand to use during the winter now that I've seen how well it works. Cutemol is available here: Cutemol.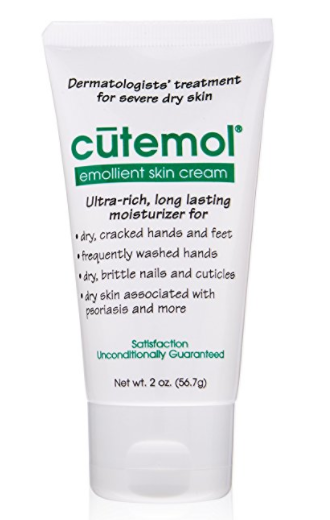 I also ordered Crack Zapit. It had good reviews and looked like it would be a convenient size to carry in my handbag. The reviews said it's a good preventive measure to avoid getting cracked fingertips. It's available here: Crack Zapit.
In addition to keeping your fingertips moisturized and protected with the above products, try to wear gloves whenever you're washing dishes or cleaning and know that you'll have your hands in water a lot throughout the day.
How do you avoid getting dry, cracked fingertips in the wintertime when the heat is running inside so much? If you do get a cracked fingertip, what's your favorite way of healing it quickly? Would love to hear how you deal with this issue. It's amazing how such a tiny crack/opening in a fingertip can hurt so badly, isn't it?!
*If a post is sponsored or a product was provided at no charge, it will be stated in post. Some links may be affiliate links and as an Amazon Associate, I may earn from qualifying purchases. *