I always look forward to spring each year, but there's one part of spring that I don't especially enjoy–the stormy weather we experience as the warm temps move in and clash with the cold that's already here. In years past we would get a lot of tornados during the months of March, April and May–peak tornado season. I'm not sure why, but thankfully, we haven't gotten that many the last few years.
Tornados can be so scary…the build-up as they start warning on the news that one is coming. Then the ominous sound when the sirens go off, meaning one has actually been spotted in the area. Last year when it was looking like Hurricane Irma might actually make its way all the way up to Georgia, I stocked up with a lot of good supplies in case we lost power for a few days. I feel much more prepared for this year's volatile spring weather than I did last year.
Today I'm sharing some of the items I purchased last year in case you would like to add a few items to your bad-weather arsenal. They really give me peace of mind and I hope you find them helpful, too.
I have these in every room of my home, including the basement. I also keep one in the crawl spaces off the bonus room dormers and in a couple of closets that are super deep and are not always easy to see inside. I like how they collapse for storage and light up when opened. They are super bright and will last for 12 hours of continuous use. They are available here: Lanterns.
A BNOTP reader told me about these and I purchased several for my home and for my son/dil's home. They are awesome! They come on automatically when there's a power failure and can be unplugged to use as a flashlight. I love that I don't have to worry about waking up in a pitch-dark house if the power goes out at night.
My daughter-in-law keeps theirs in the "on" position so when the lights are turned off at night, the blackout buddy will come on and shine down on the floor to light up the hallways at night. There's one in the hallway right outside the guest room that lights the way to the bath. Very convenient! Definitely recommend these, not just for bad weather. They are available here: Emergency Light.
It's always good to have a first aid kit on hand, both at home and in the car. This one has great reviews, so it's the one I just ordered. It's available here: First Aid Kit. It's very light-weight, so would be good for taking along when hiking, too. I think I'll order one for my son's family since they go hiking almost every weekend.
I purchased 4 of these blankets last year and love them. They are all cotton which is what I always prefer. They come in several colors, I especially like the navy and the gray. They are available here: Blankets.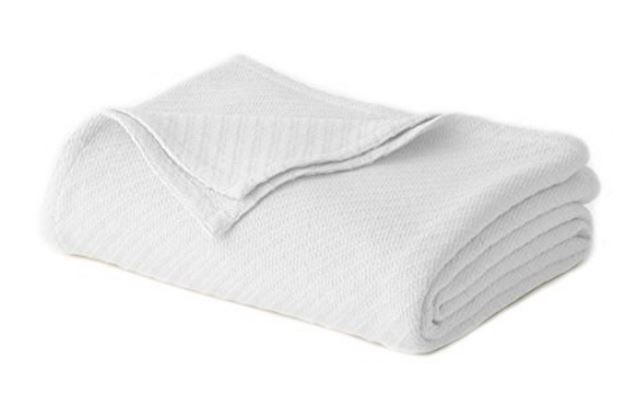 Another item I purchased last year was a good inflatable mattress in case I needed to be in the basement during the night. I love these because they have their own built-in electric pump. It inflated very quickly and was effortless to deflate once it was no longer needed. This mattress can be found here: Mattress.
I also have a couple of back-up batteries for my phone. I have THIS one, it comes in a bigger size HERE.
I've always wanted a portable radio for the basement in case of bad weather. I tried and tried to find one last year as Hurricane Irma was headed our way, and they were sold out everywhere. I guess everyone had the same idea! I ordered this one and though it didn't come before Irma arrived in Georgia, I'm glad I have it now for future stormy weather. It's available here: Portable Battery-Powered Radio.
I just ordered this Weather Alert Radio today. The reviews looked good and I like that it can be set for the type of alert you want to know about and is area specific. Tornados are normally the thing we have to worry about here in Georgia, and I've always been worried that I wouldn't hear the tornado sirens going off during the night since I sleep with a fan running all year long for the white noise. I've always wanted a Weather Alert Radio, but they are usually so expensive. Glad to have found one that is reasonably priced. This one is available here: Weather Alert Radio.
This isn't a comprehensive list…you'll still want to stock up on batteries, water, food, etc… but I hope this post is helpful as we move further into spring and the crazy weather that sometimes comes with it. Stay safe, dear Friends!
Have a wonderful weekend, see you on Monday for Metamorphosis Monday!
*If a post is sponsored or a product was provided at no charge, it will be stated in post. Some links may be affiliate links and as an Amazon Associate, I may earn from qualifying purchases. *