If you've been reading BNOTP for a while, you may remember when I changed out all the yellowed, plastic, candle covers on my dining room chandelier for resin covers that look much more like real candles. (Tablescape can be viewed here: Sparkle with a Touch of Whimsy
I love the look of the "dripping wax" sliding down the sides of the faux candles and it definitely beats the look of the plastic, badly-yellowed ones that were on the chandelier before.
If you missed the post where I shared all the details about this transformation, you'll find it here: Transform Your Chandelier with Resin Candle Covers and Silk-Wrapped Bulbs. I will link to that post again at the end of this post because it has a lot of good information and comparison photos.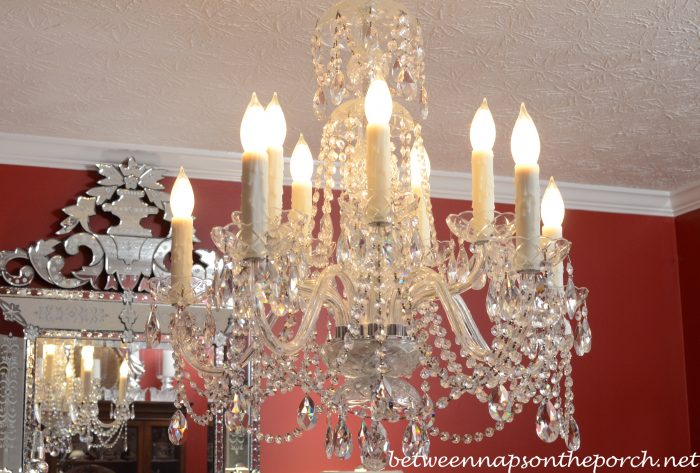 Here's a closer view of the resin covers. The reason I went with resin and not actual wax covers (another alternative) is because wax covers limit the wattage of the bulb you can use in a chandelier. I really don't like that. If I'm remembering correctly, you can't use anything hotter than a 25 watt bulb when using actual wax candle covers.
Also, wax covers can be difficult to clean or dust because the dust tends to cling to the waxy surface. I love the realistic look of the resin and love that I can use any watt bulb I wish. Plus, they are easy to keep clean.
I liked them so much, I replaced all the plastic candle covers on the chandelier in my bedroom, too.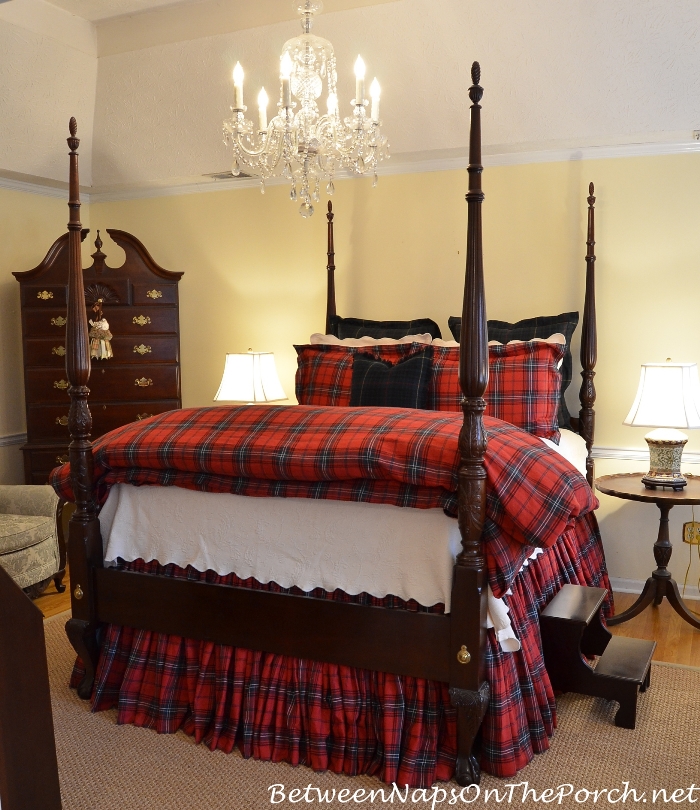 Just love them! They really do transform a chandelier! So much prettier than the plastic ones that have a terrible tendency to yellow over the years.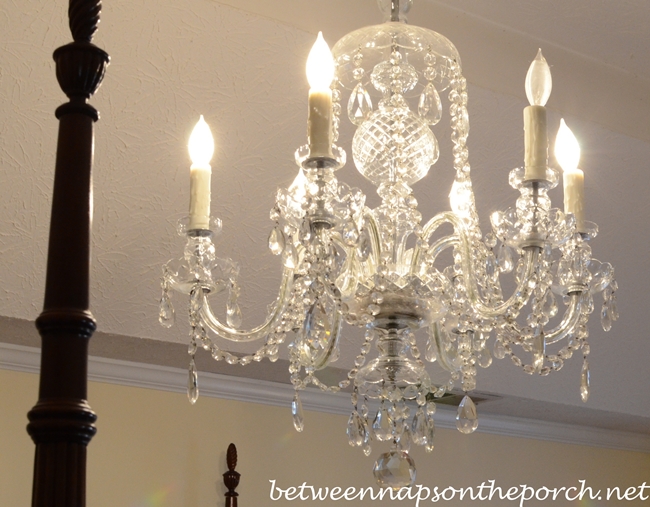 A few days ago I noticed the tole chandelier in the office was super dusty. As I began dusting it, I realized I had never changed out the plastic covers on it.
Here's a better view of the chandelier shortly after it arrived and before I had it installed. I found it on eBay after a long search and one failed attempt to win another chandelier. Glad I didn't win the other one because I liked this one much better in the end. (Previous post about this chandelier can be found here: Tole Chandelier for the Office)
I ordered the covers from my favorite store for purchasing these, Lumiere Candles. I measured the existing cardboard covers and they were 3-1/2 inches tall, so that's what I ordered. Lumiere will cut covers to whatever size you need, but in this case, one of their stock sizes worked fine.
A long time ago when I first ordered from them for the dining room chandelier, they noticed a bunch of orders coming from the blog to their shop. The owner e-mailed and nicely offered a 10% discount to the BNOTP readers with the code BNOTP at checkout. So when I ordered my covers for the chandelier in the office, I tried that code and it does still work. (This isn't a sponsored post, just sharing this info in case you ever order from Lumiere.)
I also ordered satin-wrapped bulbs, but one broke in transit, so I'm waiting on a replacement bulb. You can see the new bulbs and one of the new resin candle covers below on the candle closest to the camera. Sorry this picture is a bit dark but it was raining and dreary outside so I didn't have any natural light coming in through the windows. I wanted to take a photo with the chandelier off so you could get a good look at the covers. For comparison, you can see the old candle cover in the background, although I had already replaced the old glaring clear bulb with one of the satin-wrapped bulbs.
Here's a view with all of the new resin candle covers in place. I could have ordered these in a smooth finish that doesn't have the wax drips, Lumiere carries that style, too, but I love the look of the drips. It's just so romantic, romantic without the mess and the fire hazard of real candles! lol
Here's how it looks on. So happy to have this chandelier done, well except for that one bulb on the other side that I still need to replace. The satin-wrapped bulbs are so much better than the clear, glaring bulbs I had here before.
If you would like to know more about the resin candle covers and would like information about where I purchase my satin-wrapped bulbs, please check out this previous post where I go into a lot more detail: Transform Your Chandelier with Resin Candle Covers and Silk-Wrapped Bulbs. You can also see how a real wax candle cover looks in that previous post, too.
*If a post is sponsored or a product was provided at no charge, it will be stated in post. Some links may be affiliate links and as an Amazon Associate, I may earn from qualifying purchases. *