Have you ever started a project thinking you could knock it out in a few hours, only to find it took more like a few days? That's how the revamp of my Christmas storage went this year, but now that I'm done, it was totally worth it.
My Christmas decorations, except for the Christmas trees, are all stored here in the upstairs family room.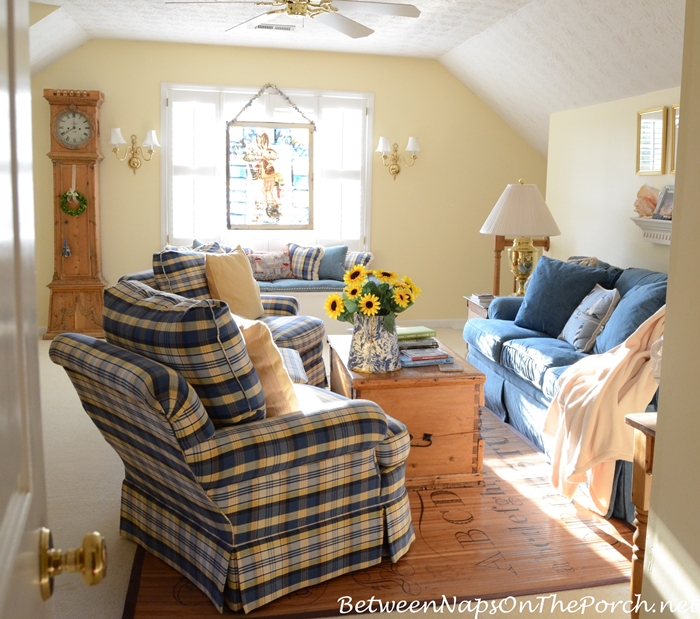 This quirky F.R.O.G. (finished room over the garage) has two dormer windows: one on the left side…
….and one on the right.
The dormer on the right has two wee doors that open up to unfinished eave space. I store Christmas goodies on the left and Easter/Halloween/Thanksgiving goodies on the right.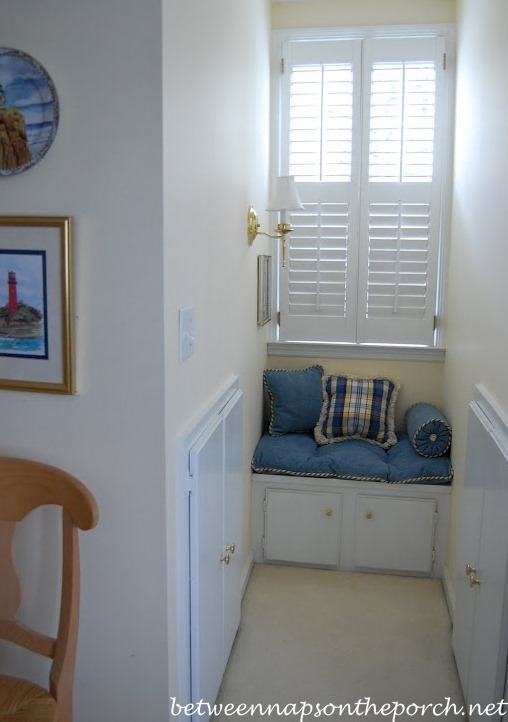 When Christmas rolls around each year and I head upstairs to get out the decorations, this is the view I encounter when I open the doors. Ugh. It always makes me want to close the doors back up and put it off another day. Or, ten.
The bonus room eave area is where I store all the wreaths I hang on the windows at Christmastime.
They hang from nails I've nailed into the studs.
This area is actually large enough that I'm able to stand up under the section running along the wall, although I've whacked my head more than once under here. That explains a lot, right? 😉
This system works really well for the wreaths but the part that isn't working so well are all the large, cardboard boxes stuffed with who-knows-what from years and years of decorating.
After pulling out all the boxes near the front, the ones I sort-of know what's inside, I came to the boxes that are buried the furthest back in this storage area, boxes that haven't been opened in years. That's the bad thing about cardboard boxes, they are like black holes where things disappear and are never seen again! Time to fix this issue and make this storage area more manageable.
I ordered a bunch of these clear 66 Quart-size storage bins (bonus-they're currently on sale!) at True Value.
They have a lot of storage bins on sale right now including this 18-gal Storage Tote below which is even larger (and less) than the ones I bought. It comes in Blue, Purple and Green, which is handy for color coding what you store away if you don't like using clear/see-through bins. So glad they have a sale going on right now because January is the perfect time to get organized. Great way to start off the year!
So the sorting process began, time to decide what to keep, what to donate and what to toss.
When all was done, I was able to empty and recycle all the boxes you see along the left wall. Notice all the plastic bags I was able to empty, too. So glad to be getting rid of all those. I've always saved the plastic bags that comforters and such come in for storing away Christmas throws, pillows, tree skirts and other fabric/textile Christmas decor. They work well for keeping things clean and protected but they are horribly clumsy for storage since they have no shape. The three boxes on the right are items I'll be donating this week to my local Goodwill.
I love these clear storage bins! LOVE!
It's so awesome being able to see what is inside the bin so I know which one I need to pull out for decorating.
So, remember how my eave storage room looked before?
Here's how it looks now! So much better and look at all the extra space! This is going to save me so much time and angst next Christmas! It will be so nice when the holidays come back around and I open the doors to this area. I will probably have forgotten by then that I did this and will be in for a wonderful surprise, a Christmas present to my future self!
I definitely won't miss having to haul boxes out to see what's inside them, only to have to haul them back in again when it's something I no longer use. I feel like I can breathe now–such a good feeling!
Have you set any goals this year for getting better organized? I think the hardest part is just getting started, at least it always is for me. Once you're into it though, it feels so good to get rid of the things you no longer need and to make those you do use more accessible. I'm so looking forward to a more organized and productive 2015!
I was one of the bloggers selected by True Value to work on the DIY Squad. I have been compensated for my time commitment to the program as well as writing about my experience. I have also been compensated for the materials needed for my DIY project. However, my opinions are entirely my own and I have not been paid to publish positive comments.
*If a post is sponsored or a product was provided at no charge, it will be stated in post. Some links may be affiliate links and as an Amazon Associate, I may earn from qualifying purchases. *