Welcome to the 429th Tablescape Thursday!
After bringing home a tree in the back of their red truck last week for the living room, Mrs. Deer realized she still needed a tree for their screened porch.
For this trip to the tree farm, Mr. Deer decided to drive his new wagon that he had just gotten for Christmas.
This week's table is a cozy one for two, hope you enjoy!
It was getting dark as Mr. & Mrs. Deer arrived back home.
I spotted this adorable doll house many years ago in DuPre's, a local antique shop. (You may remember when I mentioned Dupre's in my post about a Staycation I "took" with a friend. If you ever plan a trip to Atlanta, you'll find that post here: The Week I Took a Staycation.)
I passed it up that day, but it continued to haunt me. While touring Mt. Vernon with a friend a few days after Christmas, that little yellow doll house kept popping back into my head. I just couldn't get it out of my mind. As soon as the tour was over, I called DuPre's and was told it was gone. Waaaa!
Something just told me it was meant to be mine, so I asked if they would contact the dealer to see if it had sold. They did and it turned out that it hadn't, she had just taken it home after the Christmas holidays. I bought it as soon as I returned home.
It normally lives in the guest room, you can just barely see it there on the trunk in the left side of this picture.
The antique dealer told me her father had built several doll houses for her when she was growing up and she was getting rid of some of them. I don't know how she brought herself to part with it, but I'm glad she did.
A couple of the windows had wreaths on them, but they were very faded and falling apart. I made new wreaths with some tiny green garland and red ribbon. Mrs. Deer's green Hunter boots are always here on the porch, ready for a trek through the garden. And there's their sweet kitty!
This "woody" car has so many cute details…
…including a wreath and a "Merry Christmas" tag on the front grill. If you are in need of a fancy wagon like Mr. Deer's, you'll find it here: Car with Lit Tree. I think there are still 2 left. It's a much prettier green in person than it is in the photo at that link.
The Deers dressed warmly for their trek out to the tree farm, wearing their wooliest sweaters and scarves. 🙂
They added lights to the shrubs around their home for Christmas.
Does this view remind you of anything?
I kept thinking of this pillow I found in Target last year. lol
This is the "setting for two" Mrs. Deer created for their dinner that night. She found the antler napkin rings here: Antler Napkin Rings.
Napkins are from Tuesday Morning, this year, at least I think it was Tuesday Morning. Their plaid edging somewhat mimics the plaid on the dinner plate. Pierced chargers are from Horchow online back in 2008. The cinnamon red flatware is still available here: Red Flatware. It works great for Valentine's Day and Christmas table settings.
These are Mr. and Mrs. Deer's favorite dishes for Christmastime since it features their favorite kind of car. You may remember seeing the salad plate in last week's table, too.
The dinner plate is by Nikko. There's no pattern name on the back, just says, "Ironstone NIKKO since 1908."
Merry Christmas to you from the Deer Family! 🙂
Looking forward to the beautiful table settings shared for this week's Tablescape Thursday!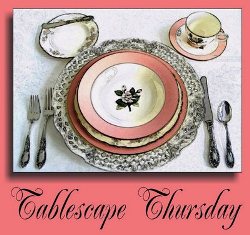 If you are participating in Tablescape Thursday, please be sure to add your permalink below, and not your general blog address.To get your permalink, click on your post name, then copy and paste the address showing in the address bar, into the "url" box when you link up. You'll need to include a link in your post back to the party to link up and participate.
That's so visitors to your blog will be able to find the party and the other Tablescape Thursday participants. Requiring a link back also prevents businesses and scammers from linking up to sell their products. (Yep, that really happens, unfortunately.)
*If a post is sponsored or a product was provided at no charge, it will be stated in post. Some links may be affiliate links and as an Amazon Associate, I may earn from qualifying purchases. *