Welcome to the 716th Metamorphosis Monday!
The next few weeks are going to be pretty busy around here. I just had a new hot water heater installed and this week I have two different electrical companies coming out to give me estimates on adding additional lighting for the staircase that leads down to my basement/terrace level. Hard to believe when this home was built around 1982, the only lighting installed for this staircase is a light at the very bottom of the staircase!
So, presently, when you open this door in the upstairs hallway…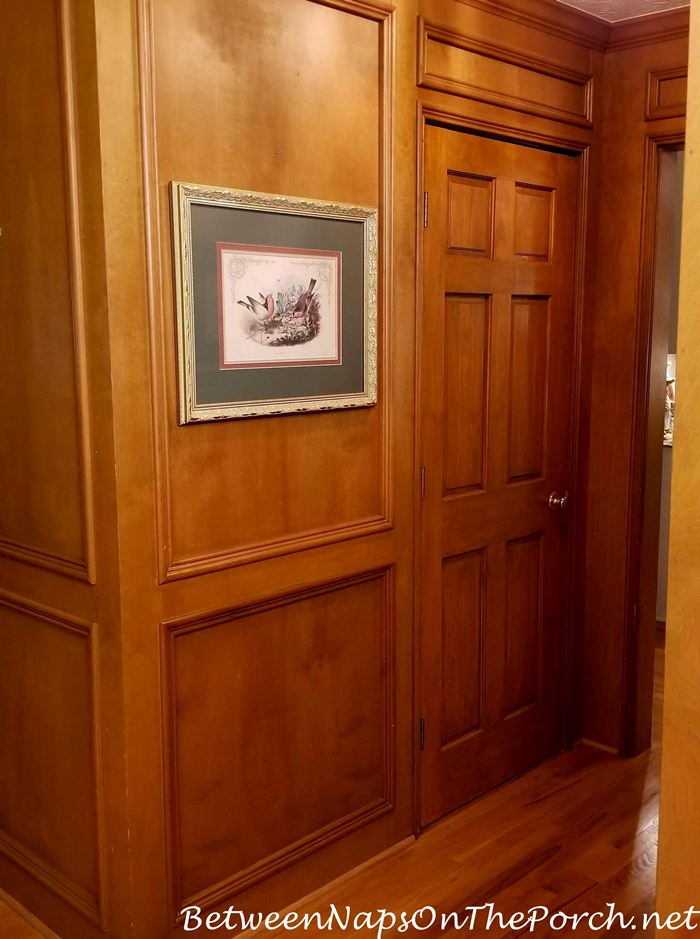 …this is what you see. But that's all about to change!
I plan to have a couple of recessed lights added overhead and possibly wall lights installed along the right wall, just above the steps themselves. Just two recessed lights in the ceiling would probably suffice, but I think these wall lights will be really pretty lighting up the steps of the staircase. The overhead lighting and the step lighting will be on different switches so they can be turned on together or separately. (Step lighting is available here: Step Lighting.)
Plans for the Basement: At some point, before my time, this basement was rather crudely finished in. They nailed up some really awful, brown, paneling on the walls that was reminiscent of something you would have seen in basements in the 70s. The ceiling was a hung ceiling that was in terrible shape with warped, sagging tiles. The flooring was covered in a rust/burnt-orange-colored carpeting that was borderline shag. It was bad!
In 2008, after years before having demoed the awful paneling, ceiling tiles, and carpet, I had this side of the basement finished back in properly. When my home was built, I don't think basements were being designed with full-height ceilings, at least not in my area. I guess back then basements were mostly just used for storage. So my contractor added tray ceilings on both sides of this large room to bring the ceiling up to full height in those areas.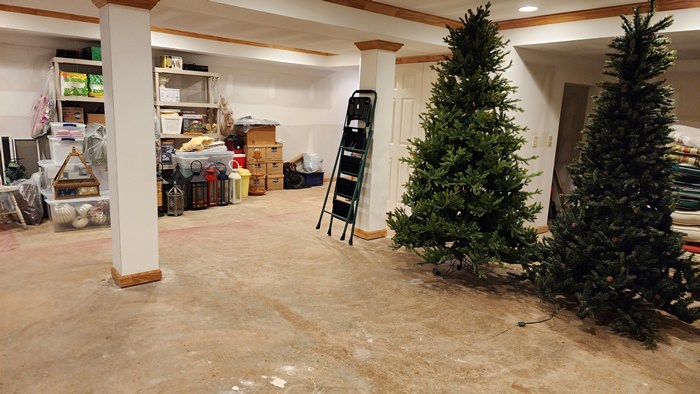 Here's a better view of one of the tray ceilings in this room.
There are quite a few windows in this space, making this very much a daylight basement. When I had the basement redone in 2008, I didn't bother to have it painted or carpeted since I was just using the space for storage. I thought I'd let the next homeowner choose the carpet and paint.
After renovating my garage recently and seeing the dramatic transformation flooring and paint can make, I've decided to go ahead and finish this room now. I ordered a bunch of paint samples this evening, hoping to avoid another last-minute, panicky, color change as happened with the garage. The painting company I've chosen for this job is currently booked around 3 weeks out until around the second week of November. That timeframe works out great because it gives me time to choose my paint color and get everything I have stored here moved over to the unfinished side of the basement. I think I know the flooring I'll be going with for this space. I'll share more on that at a later date when I know for sure.
The Unfinished Side of the Basement
Here's how the unfinished side was looking a few days ago. This area is around 27-28 feet long and around 12-13 feet wide. I've really caught the renovation bug, so I'd like to make this space look and feel nicer than it does now. For starters, I decided to paint the concrete walls in this room. That awful, cheap paneling was down two sides of this room, but I've removed it from in here, also.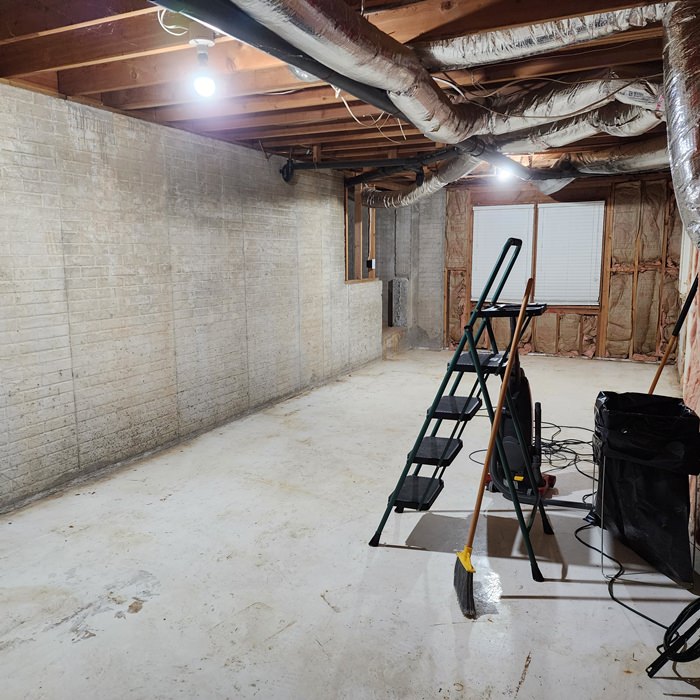 A few days ago I did a search for "the best paint for unfinished basements" and I kept seeing something recommended called, DryLok. Apparently, it's great for walls/rooms that are below ground level. I've never had moisture on the walls in here but I liked the sound of the Drylok so I purchased a few gallons and got busy painting the concrete walls to brighten this space up. I still need to go back and do one more coat.
Painting concrete, especially concrete with a "brick" pattern, is A LOT of work! The walls just soak up the thicker-than-paint Drylok paint, so it takes a lot of paint. Also, you're supposed to really work the Drylok down into any crevices/pits in the concrete. My hands and wrists were aching after just a few hours of painting it on with a brush as recommended in the instructions. The next night, instead of just applying the Drylock with a brush, I used a roller and rolled it on generously, then followed that up immediately with the brush. That's another method that's also recommended for applying it. I like that method a lot more–less stress on the hands and wrists. The next coat should go pretty quickly since the first coat is the one that really takes some time to work into all the grooves.
Once I finish the other side of the basement with paint and flooring, I'd like to have this room drywalled in and perhaps even add ceiling tiles above and some type of practical flooring, but for right now, I just want to brighten it up a bit. See that opening in the wall, way down there at the end? That's another space that's getting a small facelift right now.
That opening leads to a storage area I had created many years ago. When I first moved in, this was a crawl space with an earthen/dirt floor. The concrete wall on that end stopped about halfway up, then there was a wide door that could be opened to see inside. Each year, when it was time for my annual termite inspection, my pest control company would open that half-door and shine a flashlight inside. I never liked having that space there, it felt kinda creepy. A contractor who occasionally did work in my home, suggested I have concrete poured to create additional storage space. I loved that idea and had shelving built for the inside at the same time. Goodbye creepy space, Hello additional storage!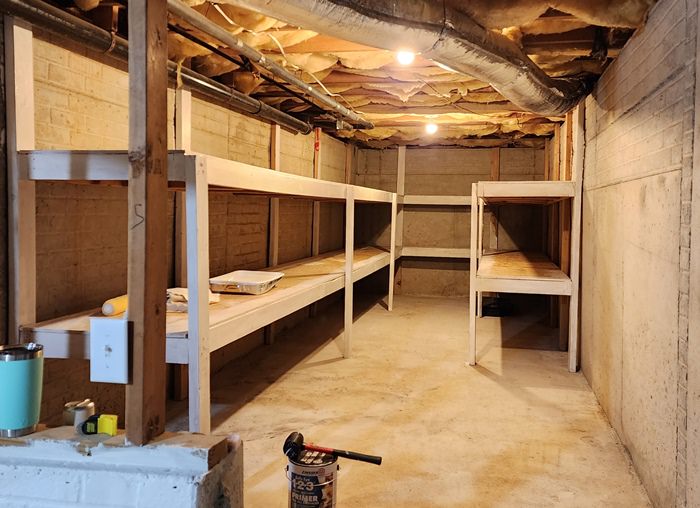 This weekend, after applying the first coat of Drylok to the concrete walls of the unfinished area of the basement, I decided to paint this storage area, too. Before I could get started, I had to remove the stuff I had stored here, then I gave the shelves a thorough vacuuming. Afterward, I started "cutting in" the shelves with primer since they had never been painted before. I should be able to finish up the priming today, then I'll be able to get busy painting them. Once the walls and shelves are painted, I'll paint the floor with paint that is specially designed for concrete floors. I'm going with a dove gray color for the flooring in this storage area. I think the majority of the stuff that's currently stored in the semi-finished part of the basement will fit here on the shelves. Can't wait to get those items in here once I'm finished painting in this space.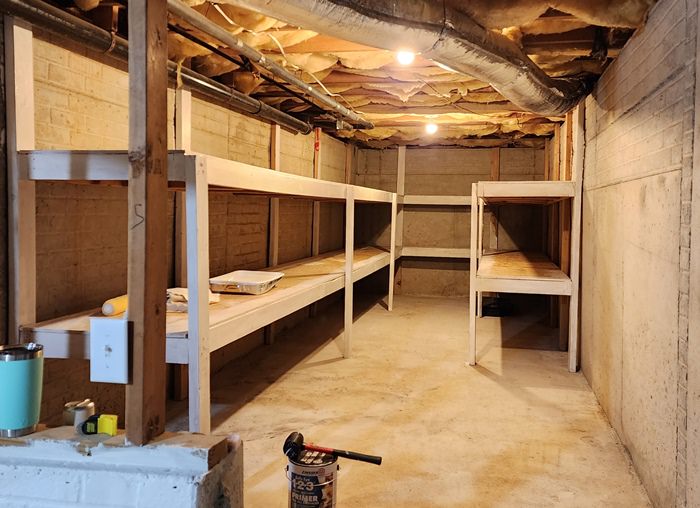 The Other Project…
Another project that will get done by the same painting company I've hired to paint the basement is crown molding here in the upstairs living room/bonus room.
I think it will be so pretty in this room!
I would have had crown molding added to this room ages ago but I only just recently discovered that crown molding can be added to rooms with slanted, quirky ceilings. I'll keep you posted on the progress in these spaces. The real action should start around the 2nd week of November.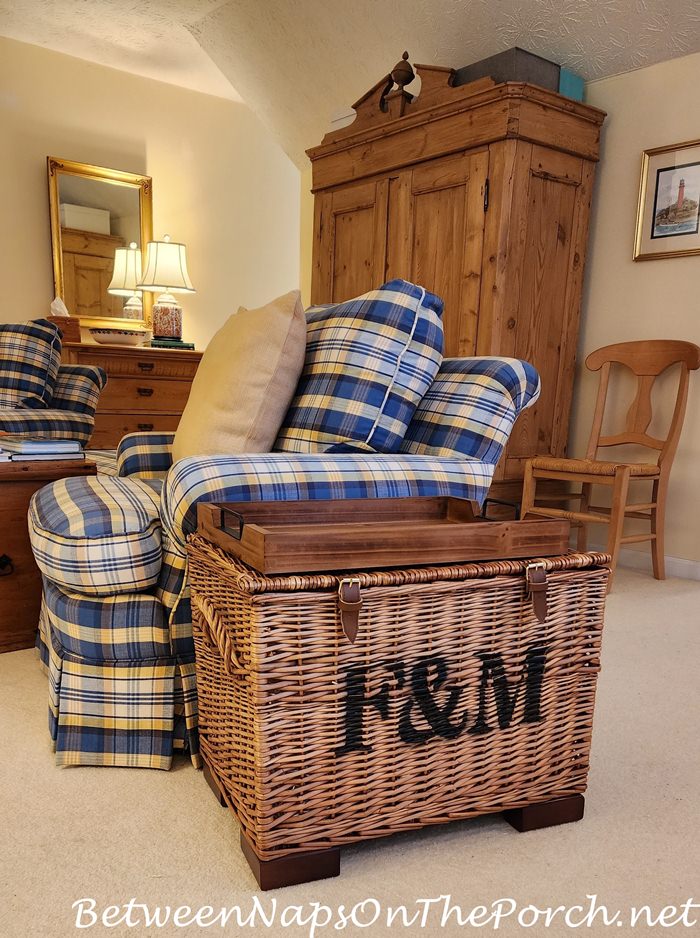 Do you have any renovation projects going on in your home before the Thanksgiving and Christmas holidays are upon us? Would love to hear what you have planned!
Looking forward to all the great Before and Afters linked for this week's Met Monday!
Pssst: Did you know Between Naps On The Porch is on Instagram? You'll find me on Instagram here: Between Naps On The Porch.
Like to know when a new blog post is up and available to read? Subscribe for email updates, it's free and your email will never be shared. Subscribe for free post updates via email here: Subscribe.
Metamorphosis Monday
Metamorphosis Monday is a party that's all about Before and Afters. Please link up your Before and After projects like DIY projects, room makeovers, craft projects even recipes. Please do not link up Table Settings, save those for our Tablescape Thursday party on Thursday. If you are participating in Met Monday, you'll need to link your post to the party using the "permalink" to your MM post and not your general blog address. To get your permalink, click on the name of your post, then copy and paste the address that shows in the address bar at the top of your blog, into the "url" box for InLinkz when prompted. NOTE: Please do not link up more than 3 posts from your blog. In order to link up, you'll need to include a link in your post back to the party so visitors to your blog can find the other party participants. When linking up to the party, give the InLinkz system time to find the link in your post to avoid having your link held for moderation/approval. Thanks!
This party has ended, click button below for the links to all who participated.
*If a post is sponsored or a product was provided at no charge, it will be stated in post. Some links may be affiliate links and as an Amazon Associate, I may earn from qualifying purchases. *