Welcome to the 512th Metamorphosis Monday!
I have two quick updates to share for this week's Met Monday. Hope you find these helpful!
I store the majority of my Christmas decorations here in the upstairs bonus room eaves. As seen below, there are little doors that lead to that storage area.
That area can be quite dark, especially when all the wreaths I hang on my exterior windows are still hanging inside. In this photo, I had already pulled out all 13 wreaths and several boxes of ornaments and decorations, so the light from the bonus room was able to shine in a bit better. Normally it's darker than this, not that this is super well lit.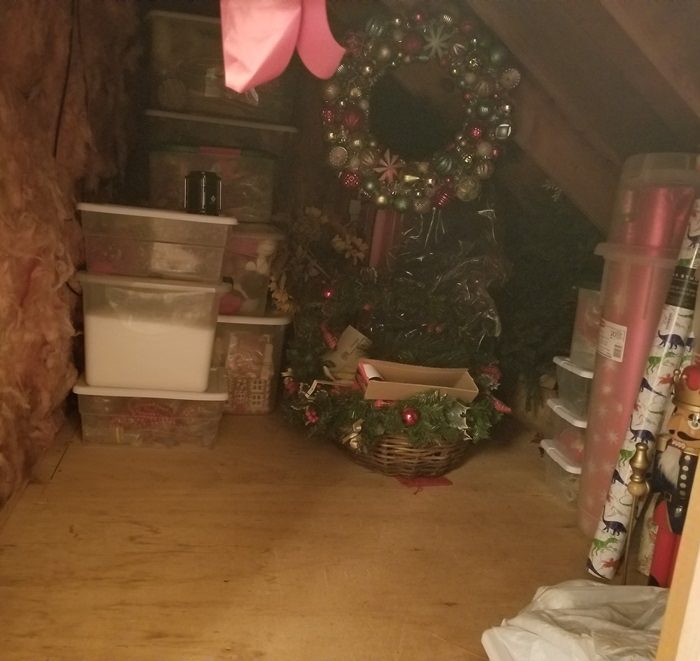 In the past, I've hung one of those utility-type lamps that you can clip onto something when you need more lighting, but it's a pain to run an extension cord from that light to an outlet in the bonus room, plus I'm always tripping over the extension cord as I get things in and out of storage.
I saw these battery-operated lights while dropping off a package at UPS recently and decided to purchase a couple.
They are magnetic or you can just use the velcro attachments on the back. I used the velcro since there's nothing metal inside the eave storage on which to stick the light.
I placed one right by the entrance into the eave area and here's how it looked turned on. Of course, it's much brighter than it appears, my camera just won't take a great pic staring straight into a light.
The other one I stuck along the slanted ceiling deeper inside the eave storage area.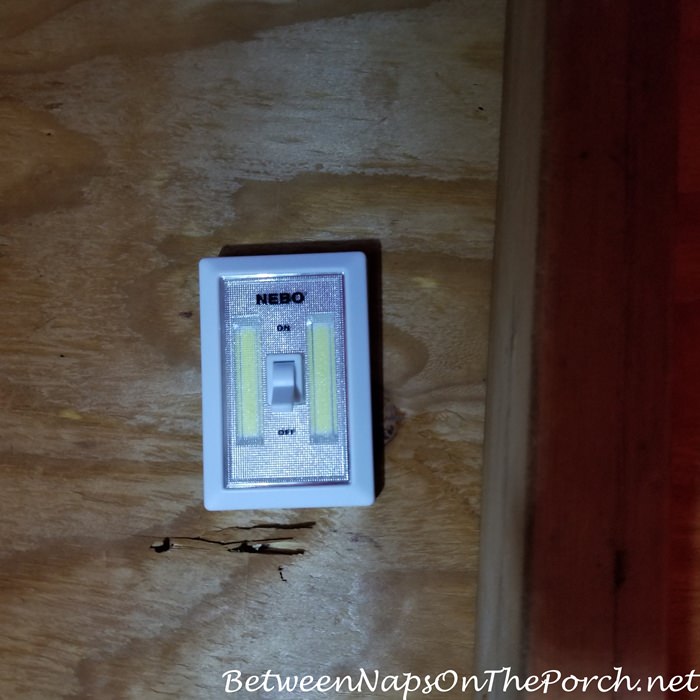 Here's how it looked turned on. Again, very hard to photograph a light while it's turned on.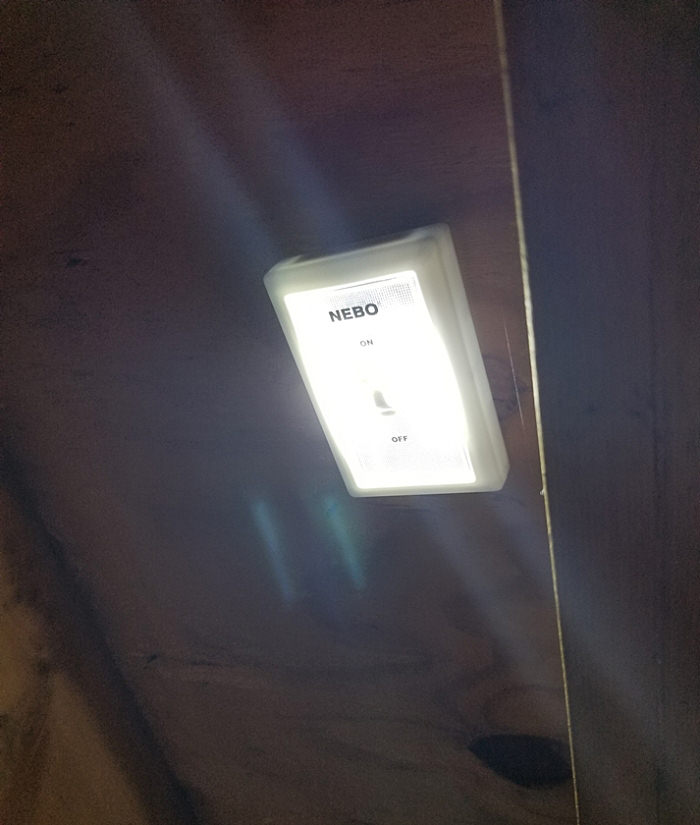 I turned off all the lights in my bonus room and just turned on the two lights, and here's how it looks. As you can see they offer a lot of light. I really like how these work! These lights are available online here: Attic/Closet/Undereave Lighting and here: Light for Attic, Closets.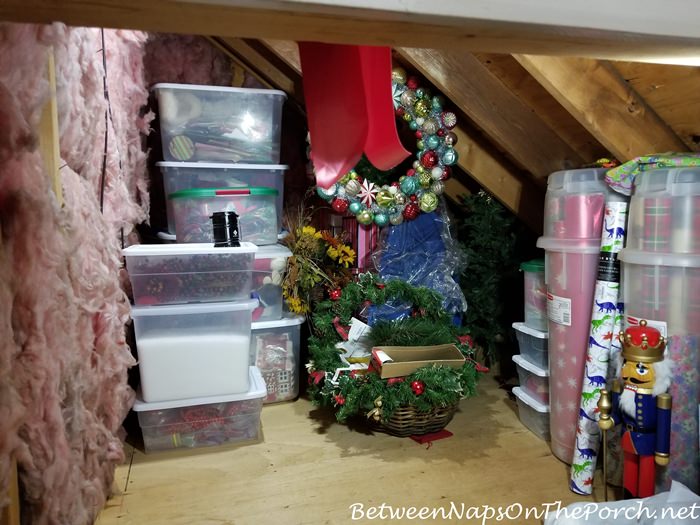 Foil the Bad Guys!
After a recent near-pickpocketing in Egypt, I decided to purchase some of the protective RFID sleeves to use here at home. (If you missed the post about what happened in Egypt, you'll find it here: How I Foiled a Pickpocket Thief in Cairo.)
I was thrilled to see the sleeves fit well in the two wallets I use throughout the year. This is the wallet I use the most during the fall/winter months, and as you can see the sleeves easily fit with room to spare. The sleeves can be labeled or color-coded to know which card is which, but I always return my cards back to the same slot in my wallet, so I didn't need to do that.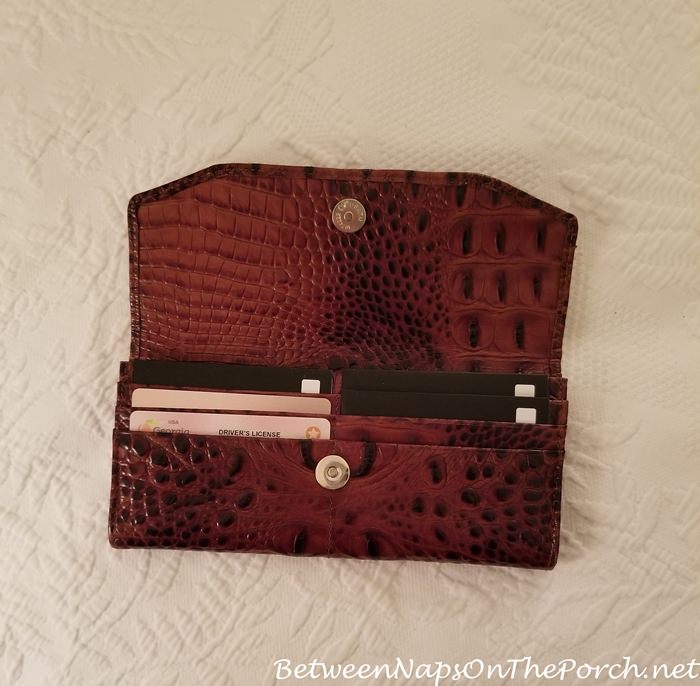 This is the wallet I like to use during the spring/summer months. Again, I was happy to see the RFID protective sleeves fit great! This gives me peace of mind that when I'm out shopping in crowded areas or even in the grocery store, a thief won't be able to steal my credit card info as they walk by.
You'll find the set of sleeves I purchased to use in my wallets here: RFID Sleeves. That set also comes with 4 passport covers which I like since passports have a chip in them, too. I'm also going to give a set to family members this Christmas. They will make great stocking stuffers.
Looking forward to all the fabulous Before and Afters linked for this week's Metamorphosis Monday!
Pssst: I post almost daily to Instagram. Follow Between Naps on the Porch on Instagram here: Between Naps On The Porch.
If you enjoyed this post, subscribe for free email updates when a new post is up here: Subscribe for post updates.
Tip: If possible, please do not use a Hotmail e-mail address to subscribe. Hotmail's servers are notorious for filtering out perfectly good emails.
Metamorphosis Monday
Metamorphosis Monday is a party that's all about Before and Afters. If you are participating in Met Monday, please link up using the "permalink" to your MM post and not your general blog address. To get your permalink, click on your post name, then just copy and paste the address that shows up in the address bar at the top of your blog, into the "url" box for InLinkz when prompted.
In order to link up, you'll need to include a link in your MM post back to the party so the other participants will have an opportunity to receive visits from your wonderful blog readers.
Feel free to link up Before and After posts that are home, gardening, decorating, crafting, painting, sewing, cooking, fashion, travel or DIY related.
Be sure to include a link back to the party in your post, so your readers will be able to find and visit the other bloggers who are participating.
Do not link up to the party if you're only doing so to promote or sell a product.
To those linking up, if you notice a shop or online store linking up to sell products (yes, unfortunately, that happens) please let me know so I can remove their link and block them from participating in future parties. No one wants to visit a link expecting a Before and After, only to find a spam link to an online business/store.
*If a post is sponsored or a product was provided at no charge, it will be stated in post. Some links may be affiliate links and as an Amazon Associate, I may earn from qualifying purchases. *