I'm headed over to Home Depot today. I have a project I'm working on in both the unfinished, the semi-finished, and the storage area of my basement. I will share a lot more about that on Monday for Metamorphosis Monday. In the meantime, I wanted to share a couple of table purchases I just made recently, as well as a few photos of the semi-finished part of the basement at the end of this post.
The fall napkins I ordered arrived and I really love them! Looking forward to using them in a table sometime soon. If you need fall napkins, you'll find them here: Autumn Colored Napkins.
A few weeks ago I shared a photo of how I'm storing this dinnerware that I purchased back in 2008 when I had just added on my screened porch.
When I purchased this beachy china from Kohl's, these were the "chargers" they had displayed with the dinnerware.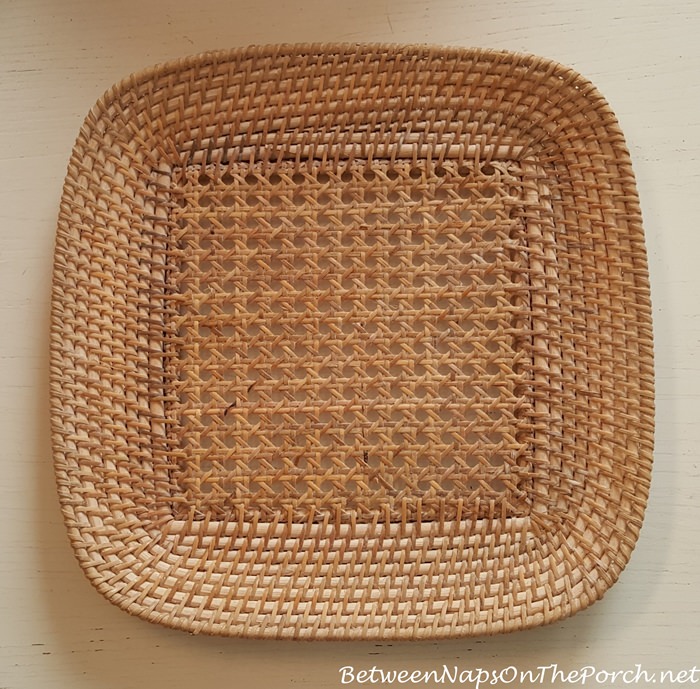 I like them, but I've always wished they were a bit larger–like regular chargers. Most chargers are around 13 inches in size.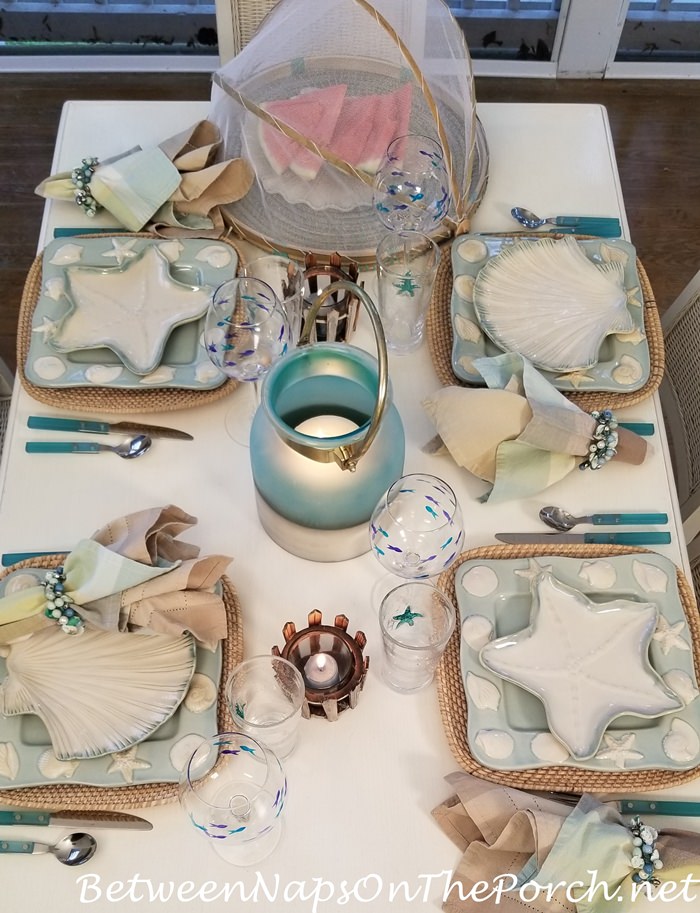 They work okay with these square-shaped, shell-covered dinner plates, but they've always felt a bit too small to be charger plates. The dinner plate almost completely fills up the charger plate!
I've been keeping my eye out for some affordable, square charger plates that had that rattan/beachy feel I wanted, and I finally found them! These were only $63 for a set of 8! Awesome price!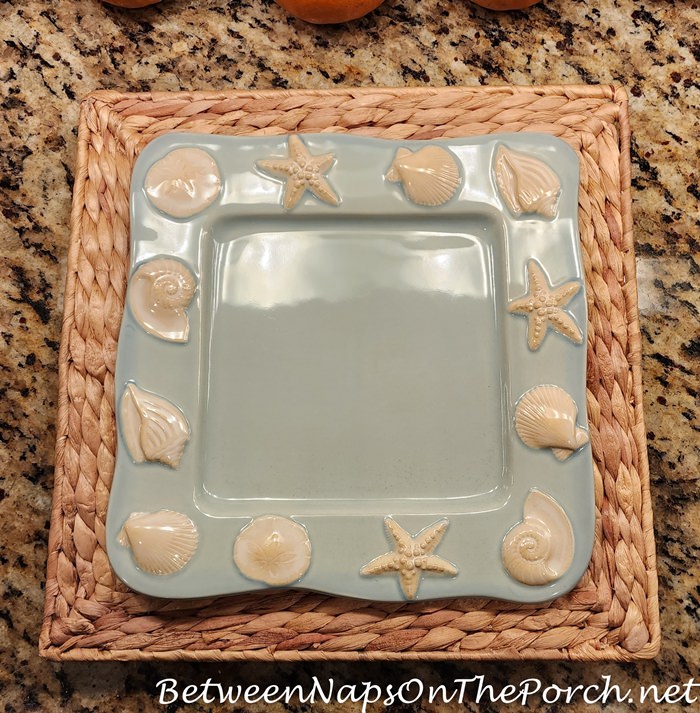 Here's a closeup showing how they look with the shell plates. Love!
If you are in need of square charger plates, you'll find these on sale here: Square Rattan Charger Plates.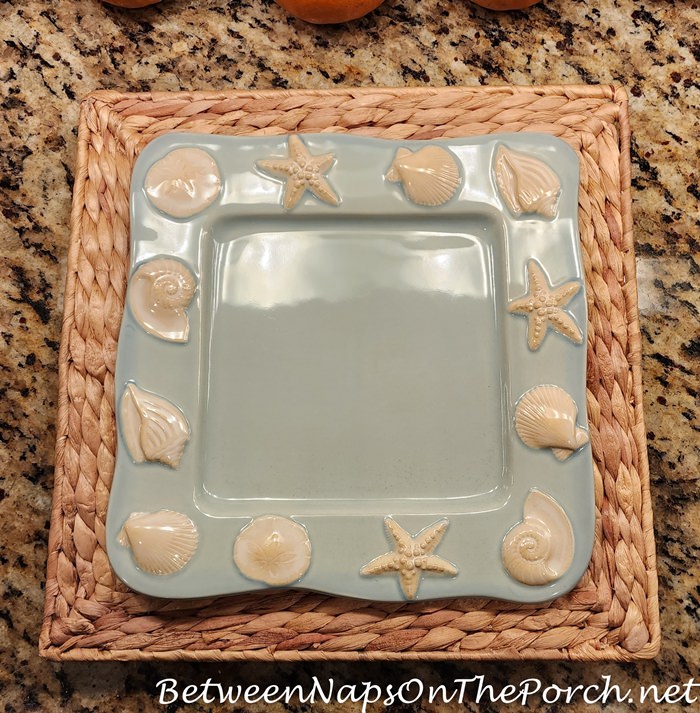 Vintage Tonka Trucks and Possible Storage
Would love your thoughts on this–these are my son's old Tonka trucks. He played with them a good bit when he was small but we never left them outside since they are metal and I was always afraid they would rust. They are huge and were a bit pricy back in the day–and they still are based on the prices I'm seeing on eBay! I am planning on taking them to my grandsons on my next trip up to visit them. I know they would enjoy playing with them outdoors. Soooo, I was trying to think of a good storage solution for them so they wouldn't be taking dirty trucks back inside the house and would hopefully not leave them out in the rain to rust.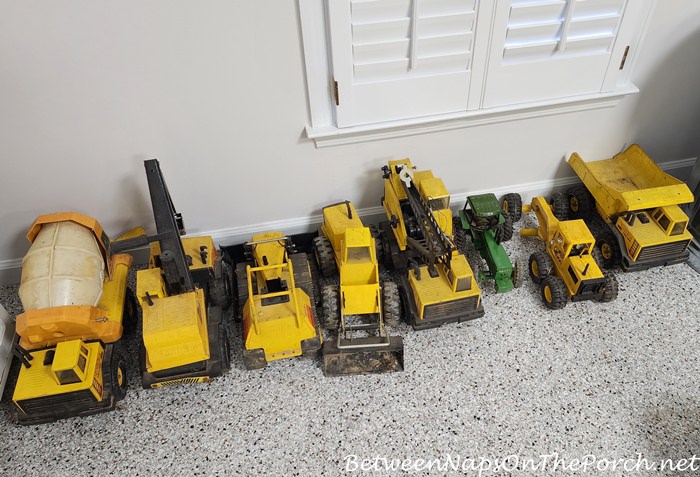 What do you think about one of these large outdoor storage benches? Storage pieces like this are often used for storing chair cushions and such, but I thought it could possibly work for the Tonka trucks. What do you think? (Storage Bench is available here: Storage Bench.)
My Next Renovation/Update Project
If you've been following BNOTP over the last few months, you know I just finished a pretty big garage renovation. That makeover really inspired me to get going on other home updates I've put off for a while. Actually, I had never really planned to go any further with this next project, but after seeing the dramatic changes in my garage, I'm fired up now! Ha!
The next room in my sights is the basement–the WHOLE basement! As you can see in this photo from a post where I shared the step-by-step process of how to build a potting bench, the basement is partially finished in. I had this done in 2008. (Potting Bench post is available here: Build a Potting Table, Great for Parties, Too!)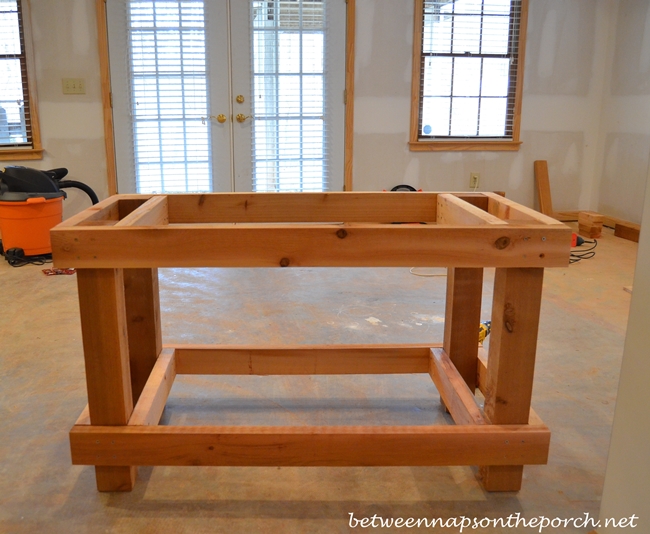 I had never planned to finish it all the way since I've only been using it as additional storage. But after seeing the garage go from an ugly duckling to a swan, I'm now itching to finish this room completely. Really, it just needs paint and flooring, but I have a few more plans for this area, as well as the unfinished part of the basement. Can't wait to share my plans for this space on Monday for Metamorphosis Monday!
Happy Weekend, dear Friends!
*If a post is sponsored or a product was provided at no charge, it will be stated in post. Some links may be affiliate links and as an Amazon Associate, I may earn from qualifying purchases. *