Welcome to the 752nd Metamorphosis Monday! How was your weekend? I hope it was an awesome one! If you saw Saturday's post where I shared Norma's recipe for making this beautiful Tarte Soleil, you may want to revisit that post and print the recipe out again. Norma provided some additional details/corrections so I made a few changes, so definitely take a moment to print it out again if you would like a copy of it. You'll find that post here: Tarte Soleil Recipe.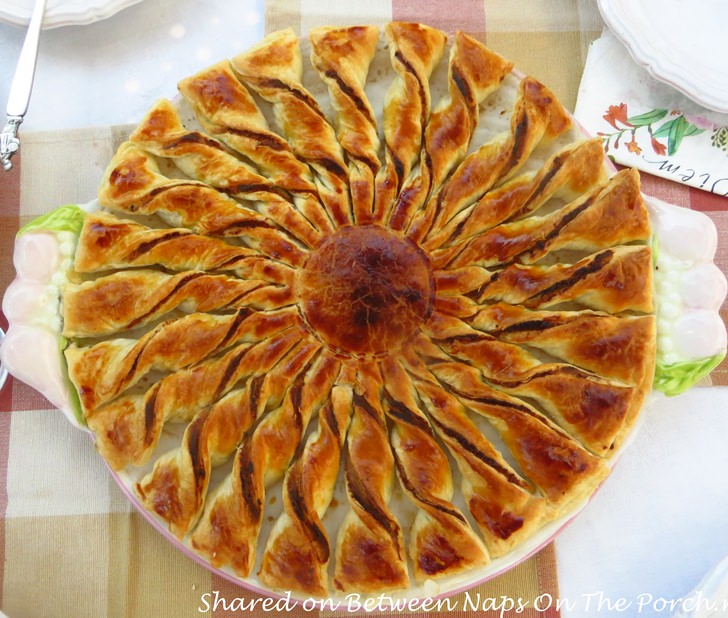 Update #1: For this MM, I have 4 smallish updates to share. Some of these took place a few weeks back, including this first Before and After involving the Irrigation system for my front and back yard. When I renovated the garage recently, the wire running across the ceiling over to the irrigation controller was really bugging me. Do you see it there on the ceiling–running from the outlet above the garage door opener over to my ancient controller on the far wall?
Here's another view of that wire after the garage makeover was complete. That wire definitely needed to go!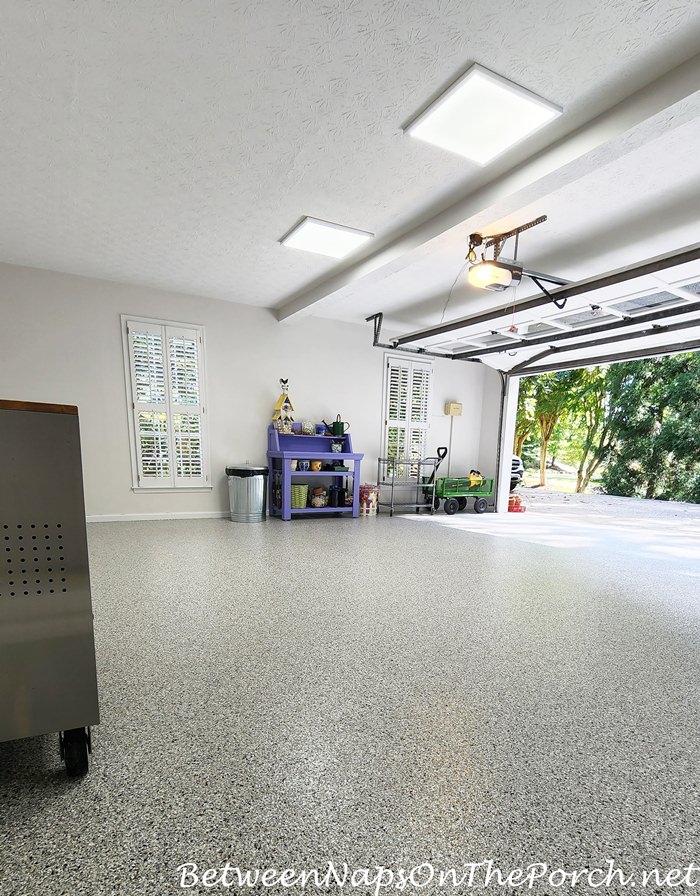 The irrigation system was installed in 1992, 31 years ago. This was a state-of-the-art controller back then. Over the years it has badly yellowed but amazingly it still worked, although it always made a loud clicking noise even when turned off. I guess that was its internal clock.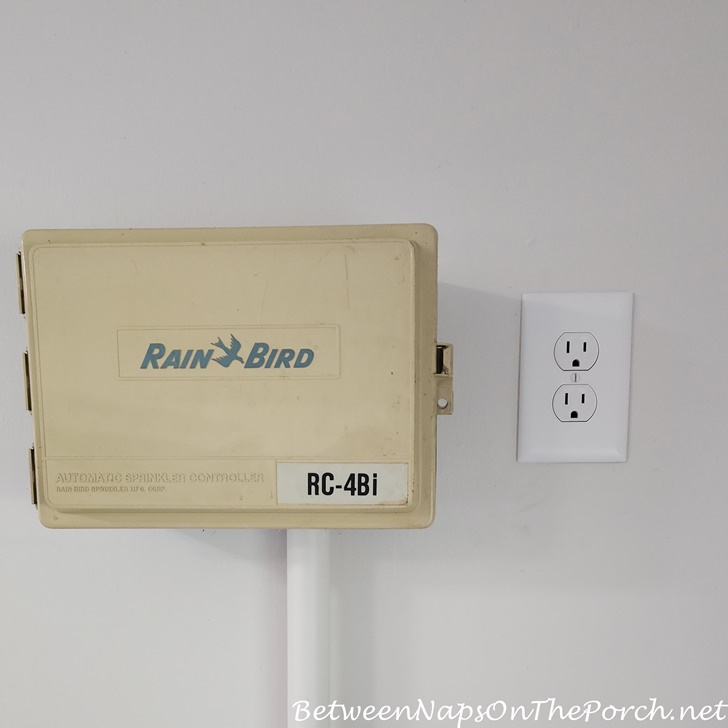 I had hoped to update it back when the garage was being renovated, but the irrigation guy who installed the system for me back in 1992 said that first I would need to have an outlet installed on the wall beside or below the controller. Things have changed since 1992 and apparently, the new systems need their own outlet. The outlet was supposed to have been installed the day the electrician was here installing the new lights in the basement and the upstairs hallway, but he ran out of time that day and didn't get to it. So another electrician came out recently just to install this one outlet.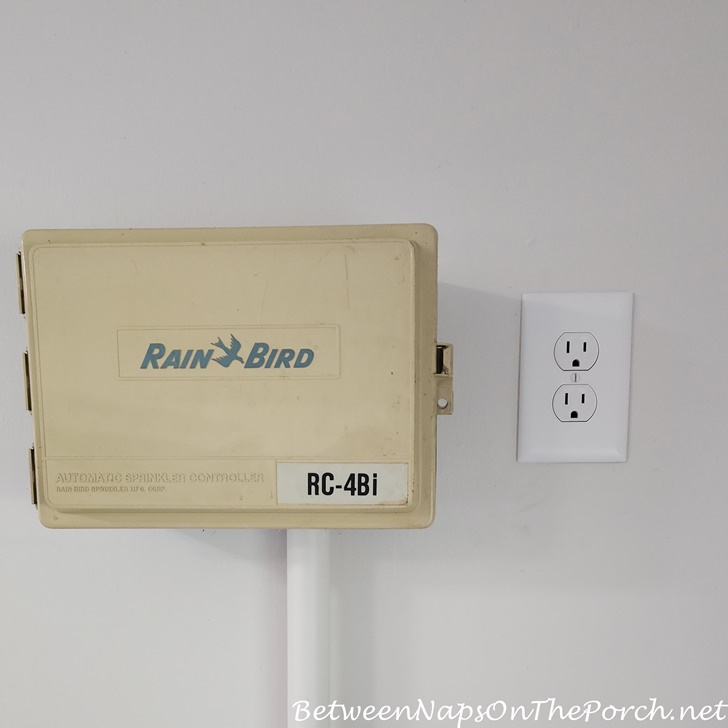 Here's how the new controller looks! So much better than the badly yellowed, 31-year-old controller with its wire running across the ceiling.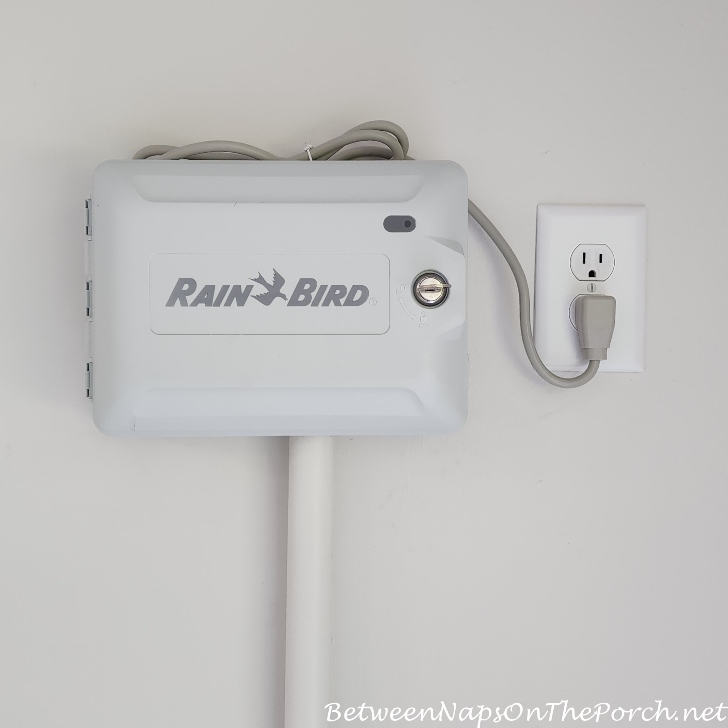 Irrigation controllers are definitely a lot more colorful than they used to be. Okay–on to update #2.
Update #2: When I last shared this basement storage room, there were two cabinets along this wall. I had planned to add a third one from the beginning but they were out of stock for a while.
They finally came back in stock and once again, the cabinet arrived in pristine condition. Ever since Amazon started having these cabinets delivered by two Amazon delivery guys, instead of one frazzled, frustrated UPS guy, they've been arriving in perfect condition. It really is a two-person job to deliver them in one piece. I like how three cabinets look along that wall. There's easily room for three more if I ever wish to add them, but right now I don't have any plans to do that. Three is plenty for what I need at this point.
Update #3: There's been one more small update to this room. It's not visible in this photo because it's just to the left of the freezer.
In this photo of the semi-finished side of the basement (still needs flooring to be complete) notice the double doors there near the staircase. Behind those two doors live my new hot water heater and downstairs furnace. When the hot water heater was installed a few months ago, I mentioned to the plumber that I was going to have drywall added to the unfinished side of the basement. He commented that when I had that done, I'd need to have the doors replaced with louvered doors to allow for ventilation. Ever notice how one change leads to another? And another. And another. ~~~sigh~~~
I made a note to myself to remember that and once the drywall was installed on the unfinished side, which is now the storage room, I left the double doors partially open until I could have them replaced. In the meantime, I had an HVAC guy from the same company come out to install a new thermostat in the upstairs part of my home. I really like this company I've been using because they have three divisions–HVAC, Plumbing, and Electrical, so they can easily see in their system all the work each division has done, and they all consult/work together. While the HVAC guy was here, I talked with him about the need for ventilation for the furnace/hot water heater room. He did some calculations that involved BTUs and other factors that were way over my head, then he consulted with their plumbing division. In the end, he said that I didn't have to replace the doors, that he could install a "false return" and that would provide enough ventilation to that area.
At first, I thought the false return would have to be in a wall on the finished side. I was kinda dreading that since the only wall available was in a spot I thought could be used for a different purpose in the future. A false return in that wall would have messed up those plans. In the end, the return was able to be installed here on the unfinished side because the area behind the hot water heater and the furnace is completely open to this side of the basement. So here's where the false return ended up–on the storage room side just to the left of the freezer. One more thing checked off my long "to-do" list!
Update #4: So remember that big island I had camping out in my entry a few days ago? When the washer delivery guys were here last week, I asked if I could pay them to help me move it to the basement. They didn't even hesitate before saying, yes!
Here's where it ended up–on the "finished" side of the basement and not on the storage side as I had originally planned. The island was too wide to go through the outside door to the storage side of the basement.
Thankfully, when I had this basement redone in 2008, I had French doors added to this room. Before the French doors were added, that was a solid wall where they are right now, and the window to the far left was a single, half-lite door. I had that door changed into a window, which brought in more light than the door was doing, and had French doors added where you see them below. I like a daylight basement to be as daylight as possible. Those French doors really came in handy when we realized the island wasn't going to fit through the outside door leading into the storage room side of the basement.
When I first had this basement finished back in 2008, I had this area under the staircase designed to hold a small refrigerator in the future. I thought it would be nice to have a bar coming out from the wall where the island is now. This would be a great family/TV/rec room for a future family…a place to watch movies, pop popcorn, and grab something from the fridge to drink.
Placing the island here sorta gave me a full circle moment–envisioning how that counter/bar would have worked in this space. The wall it's against was where I was worried that we would have to put the false return, but thankfully that wasn't necessary so this wall can still be used for a bar/counter one day if the next family wishes to use it that way.
I'm glad to have the island out of the laundry room. The washer I purchased recently will be picked back up and returned tomorrow morning, then I'll be heading over to buy a Speed Queen in the next few days. I'll share more about how I arrived at that decision in another post, in case you find that helpful. There will be more updates coming in the next few months–looking forward to sharing all those with you!
Update #5: One more update I forgot to mention–I swapped out all the beige outlet covers for these pretty white covers. I got two quotes from two different electricians for swapping all my beige outlets to white outlets and they both quoted over $1,200 for 14 outlets and 6 switches! That was way more than I wanted to spend for such a simple change. I'll have an electrician change out the switches, but these covers work beautifully for hiding the beige outlets. If you have beige outlets that you wish were white, you'll find these covers available in packs of 5 here: Outlet Covers.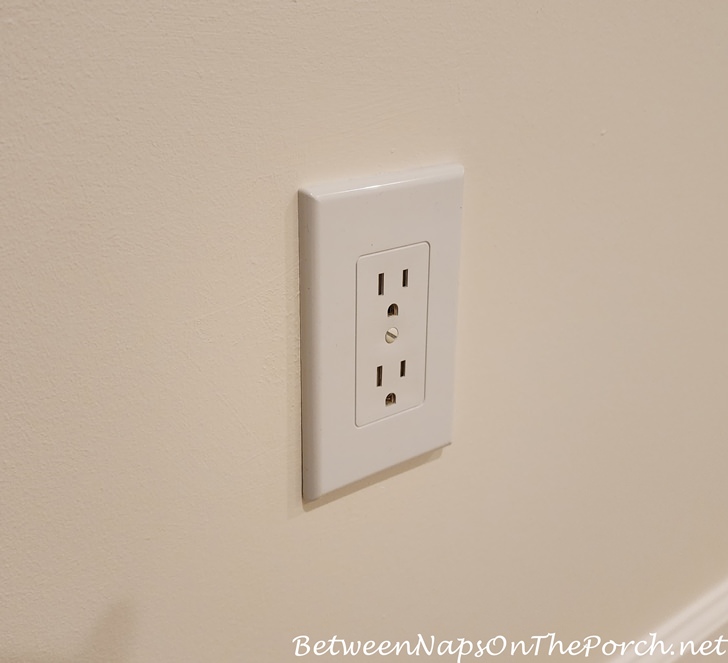 Looking forward to all the great Before and Afters linked for this week's Met Monday! Pssst: Did you know Between Naps On The Porch is on Instagram? You'll find me on Instagram here: Between Naps On The Porch. Like to know when a new blog post is up? Subscribe for email updates (it's free) and your e-mail will never be shared. Subscribe for free post updates here: Subscribe.
Metamorphosis Monday: Metamorphosis Monday is a party that's all about Before and Afters. Please link up your Before and After projects like DIY projects, room makeovers, craft projects even recipes. Please do not link up Table Settings, save those for our Tablescape Thursday party on Thursday. If you are participating in Met Monday, you'll need to link your post to the party using the "permalink" to your MM post and not your general blog address. To get your permalink, click on the name of your post, then copy and paste the address that shows in the address bar at the top of your blog, into the "url" box for InLinkz when prompted. NOTE: Please do not link up more than 3 posts from your blog. In order to link up, you'll need to include a link in your post back to the party so your readers can find the other party participants. When linking up to the party, give the InLinkz system time to find the link in your post to avoid having your link held for moderation/approval. Thanks!
You are invited to the Inlinkz link party!
*If a post is sponsored or a product was provided at no charge, it will be stated in post. Some links may be affiliate links and as an Amazon Associate, I may earn from qualifying purchases. *