When I clicked on Elgin's e-mail in my Inbox on Saturday and looked at the pictures she had attached, my eyes grew wide, my mouth fell open and I was completely speechless, something that rarely happens to this motor-mouth. When I could speak again, the only word that kept coming to mind was, Epic!
Elgin lives in Canada and I don't think I've ever seen anything quite like the pictures she had attached to her email. Can you imagine 168 centimeters (66 inches) of snow raining down on your home and property in one 12 hour period? That's 5 1/2 feet! In 12 hours! Unbelievable!
Unfortunately, Elgin lost a few trees. I asked her what kind of trees they were and when she replied back that they were pines, I completely understood. We have a lot of pine trees in Georgia and whenever we have ice storms, you always hear in the news about them falling down all over the place. They are famous for it here. I think their roots are just too shallow to support the weight of a heavy snow on their evergreen branches.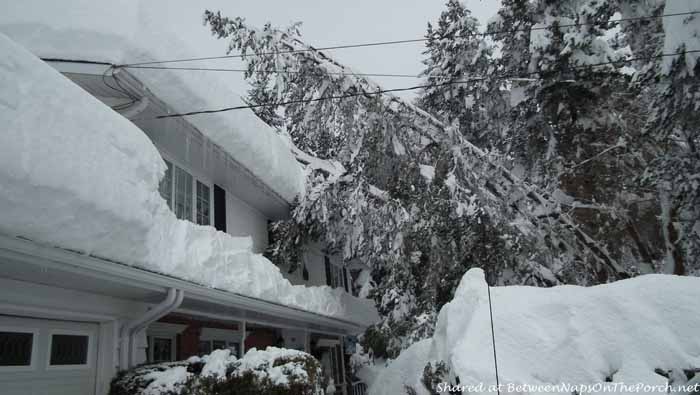 I learned a new word while chatting via email with Elgin. What do you call the guy who comes out to remove the trees that have fallen during a storm? In British Columbia, they call him a "Faller." Don't you love that? Such a perfect name!
It started me thinking about what we call them. We don't really have a specific name, we just refer to them as "the tree guy." How boring is that. I like "Faller" a lot better. Do you think if I start using that word here, it will catch on? Maybe I can start a new trend! 😉
Is this not amazing?! In the online news I read about this snowfall, they referred to it as a blizzard. I've heard that word all my life but now I finally get it!
Referring to the snow, Elgin said, "It brought everything to a stand still in our small town & neighboring towns. Power outages, highways were closed, & flights were cancelled." I think this would scare me just a little bit if I looked out and saw this. A few more feet and I'm not sure how you would even get out of the house until it melted in the spring! Crazy, huh?
Look at how much snow is on the roof! Elgin and her family were without power for three days, but thankfully it's back on now.
Looking at these photos almost makes me feel a little claustrophobic. It looks like Elgin's hubby was able to clear a path around part of their home.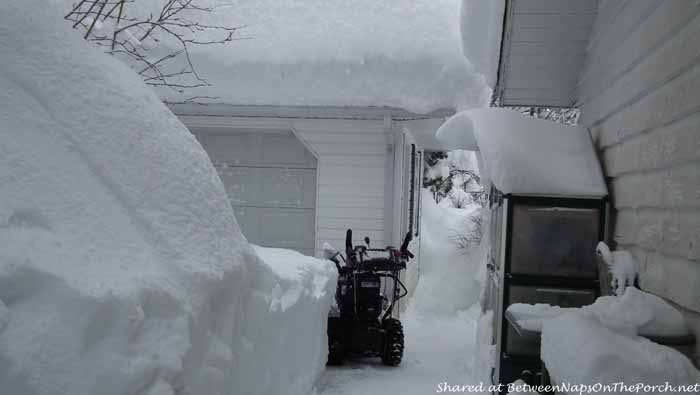 The gazebo is almost completely hidden from view. What a winter wonderland! It really is beautiful, if not just a little bit scary.
A guy named Jeremy Dewalt filmed an aerial view of his neighborhood and the surrounding area using a drone. It's pretty amazing and really shows you the awe-inspiring power of Mother Nature. You can watch the video here: Kitimat Snow. Be sure and click on the little box in the right hand corner of the video to watch it full screen, then hit escape when done.
Speaking of drones, I'm looking forward to the day you can order something on Amazon and have it show up on your doorstep 20-30 minutes later. Can't you just see folks sitting on their front porch, eagerly watching the skies for their delivery, if for no other reason than to catch a glimpse of the drone? That would be me!
I'm sure drone delivery will one day be as commonplace as getting your pizza delivered. If you have no idea what I'm talking about, check out this cool video: Amazon Drone Delivery. In the meantime, please send Elgin some warm thoughts. Sunshine and a giant snow plow would be nice, too! 🙂
*If a post is sponsored or a product was provided at no charge, it will be stated in post. Some links may be affiliate links and as an Amazon Associate, I may earn from qualifying purchases. *