I think spring fever has gone to my head! This week I'm getting estimates for tons of things I've been needing to get done. Not sure what all I'll try to do right away and what will have to wait, but tomorrow is the start of a few of the updates.
The first update is here in the kitchen. The Grohe faucet I had installed back in 2001 when I completed a modest kitchen renovation, has been acting up over the last couple of years. It's really bad about getting hung up between the stream mode and the spray mode, so much so I never use the spray mode at all now.
The Grohe soap dispenser you see on the right still works great, but over the years the white finish has gradually chipped off the end (note the brown tip), probably due to having dish detergent residue on it constantly from use.
Tomorrow morning, both the faucet and the dispenser will be replaced with a stainless Moen Motionsense faucet and a Moen detergent/soap dispenser. If you're not familiar with the motionsense technology, it let's you operate the faucet without touching it, something that really comes in handy when you have messy hands or have been handling something like chicken. You just wave your hand in front of the faucet sensor or over the top, and it automatically turns on.
The top sensor is used mainly for filling pots or when you want the faucet to stay on for a bit longer. The lower sensor works great for washing hands or when you just want the water to stay on for a short while. It will automatically shut off the faucet once you move your hands away.
I'm one of those weird folks who doesn't really care for stainless appliances…crazy, I know. But they don't make this in white, which would probably look pretty weird anyway since it's so tall/big. I thought about going with the shiny chrome model, but the brushed stainless finish is supposed to be excellent for not showing spots, so I'm trying to be practical since it's going in the kitchen.
The Reviews Left Me Scratching My Head
I was a bit confused when I read the reviews online for this faucet because some folks raved about how wonderful it was while a few folks complained the handle leaked. So I called Moen's customer service where they have reps who specialized in answering questions specifically about their motionsense line.
The Moen representative I spoke with said the first faucets did have an issue with some leaking around the handle, but in their second generation, they totally redesigned that part and it's no longer a problem. She asked for the model number of the one I had just purchased and she confirmed that it's the latest model so I shouldn't have any problems.
One more thing to note about this faucet, the motionsense part works off battery power, but if you don't want to deal with changing the batteries periodically, you can purchase a Moen adapter. To use the adapter, you need to have an electrical outlet underneath your sink. Then the control box plugs into the outlet via the adapter.
I don't currently have an outlet under my sink but I think I'm going to have one installed. I went ahead and purchased the adapter so I'd have it. I'll use the batteries it comes with for now, but the plumber who will be installing it tomorrow is going to get an estimate for having one of their electricians wire in the outlet. It shouldn't be too hard to add it since there's already electricity in that area for the garbage disposal and the part of the basement directly underneath is unfinished.
If you have a faucet like this and are interested in the adapter, you'll find it here: Moen Adapter. You can read more about the Moen MotionSense faucet here: Moen MotionSense Kitchen Faucet
Tomorrow morning will be busy since I'm also having three other faucets replaced: one in the guest/hall bath upstairs and two in my master bath. They are all starting to drip, which you would expect after 33 years of use. I'm replacing them with inexpensive faucets since I'm planning on renovating both of those baths in the near future and will be going with a completely different style faucet than what I had to buy to replace my current ones.
I'm also having the toilet replaced in the master bath. I had delayed on replacing that one when I replaced the other two in the house, because I want to do a big renovation in the master bath and had planned on replacing it then. But since the plumber will already be here, I decided to go ahead and get it done.
I'm going with the exact same toilet I purchased for the other two baths since those have worked great with zero clogs or issues. The one that I'm having installed is the Kohler Highline. You can read more about it in this previous post: Updating the Necessary Room.
The county I live in gives you a $100 credit off your water bill when you replace an old toilet with a watersense one, so I'll submit my paperwork for that after the install. It was nice not having a water bill for many months the last time.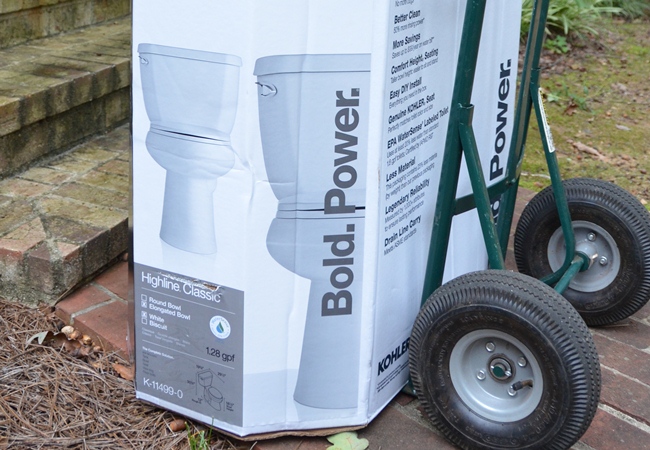 Anyone have the Moen Motionsense faucet and do you like it? Think it's a smart move to go with the spot-resistant stainless, as opposed to the chrome?
Looking forward to sharing how it looks with you in an upcoming post. I'm also looking forward to sharing some of the other things I have planned, once I finalized those and know exactly when they will take place. Need to get all those estimates and plan first but I think it's going to be a busy spring around here!
*If a post is sponsored or a product was provided at no charge, it will be stated in post. Some links may be affiliate links and as an Amazon Associate, I may earn from qualifying purchases. *