A few years back I decided it was time to do something about my pitiful tool storage situation. I had a small, red tool box that was overflowing with tools and it would take me forever to find a tool when I actually needed one.
I headed off to Home Depot and brought home a nice looking, standing tool chest. I shared the chest and the process of assembling it in this previous post: Getting Organized.
Over the years it's gotten pretty finger-printy. There were smudges all over the front of the drawers and the door. Other than tools, I store suet and other birdie stuff in the right side of the chest behind the door.
Most of the time when I'm in the garage I don't notice the smudges, but every single time I pull into the garage, the headlights on my car light up all the fingerprints like crazy. They are also very noticeable during the daytime when the garage door is up. What a mess!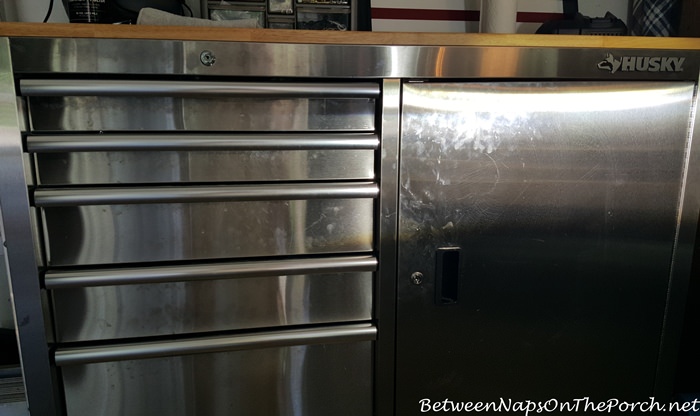 It was hard to capture them in a photo since it was late in the day, so I turned on my car's headlights for this photo below. Both the door and the drawers are covered in fingerprints and smudges. I don't have a stainless steel sink or stainless steel appliances, so I've never purchased anything for cleaning stainless before.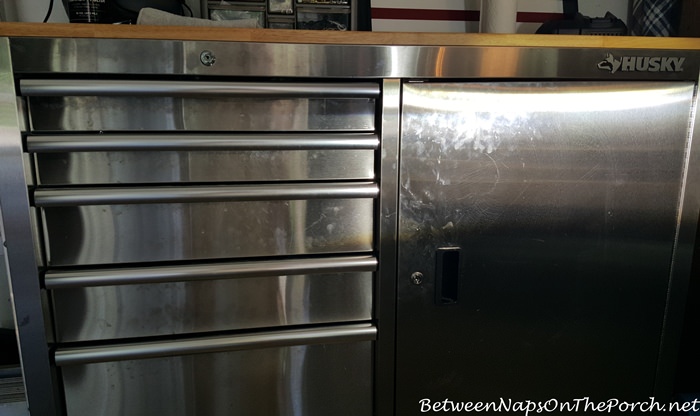 After doing a bit of research online for the best stainless steel cleaner, I found this product: Therapy Stainless Steel Cleaner & Polish. It had outstanding reviews so I decided to buy some and give it a try. I just couldn't bare to look at all those smudges and fingerprints another day. lol
It worked awesome–and it worked fast. It comes with the cloth you see in the photo above, so that's what I used. The instructions said to shake it well before spraying. After shaking it, I sprayed it on the cloth to clean, but eventually I sprayed it directly on the chest. Then I just wiped it down.
It's a plant-based product and it left a beautiful shine. It doesn't contain a petroleum solvent like a lot of stainless steel cleaners do. Apparently, solvents can be hard on stainless steel finishes. The coconut oil that it contains is supposed to help it repel dirt, dust and fingerprints. That may be why the chest has such a lustrous shine.
I'm super pleased with the job it did and how easy it was to use. I also like that it's made here in the USA. Just wanted to share this product with you in case you have stainless steel appliances or sinks and are looking for a really good stainless steel cleaner. You'll find reviews and more information about it here: Stainless Steel Cleaner.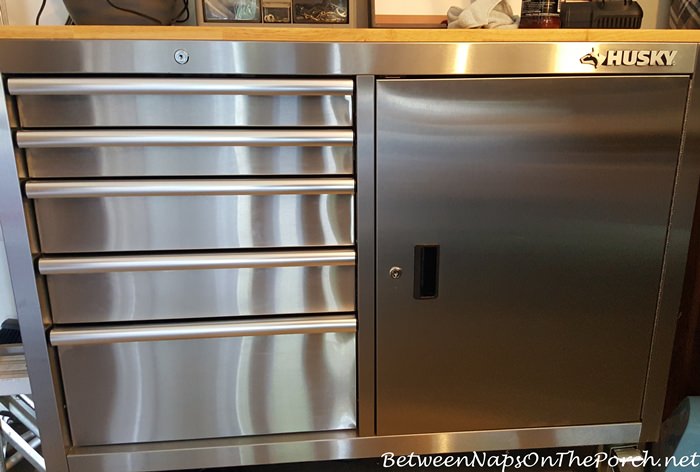 Pssst: I post almost daily to Instagram. Follow Between Naps on the Porch on Instagram here: Between Naps On The Porch.
*If a post is sponsored or a product was provided at no charge, it will be stated in post. Some links may be affiliate links and as an Amazon Associate, I may earn from qualifying purchases. *