Greetings this beautiful fall day! Are you busy preparing for Thanksgiving? I haven't had Thanksgiving here at my home in a while, so I'm excited to have family coming here this year.
I picked up a Honey Baked Ham yesterday and bought a fresh turkey today to cook on Thanksgiving Day. I know they'll be lots of left overs but that's fine with me. Who doesn't love leftovers!
I always prepare a squash casserole for Thanksgiving and often for Christmas, too. I've been using the same recipe for years, a recipe that my mother-in-law shared with me years ago. This year I decided to try a different one. It's one I found online and was attributed to Paula Deen.
The main difference between her recipe and the one I've been using for so many years is, Paula's squash casserole has two types of squash in it. Also, instead of cooking the squash in a bit of water, you saute it in vegetable oil. Another difference is it doesn't have crackers mixed into the casserole itself like my other recipes does, they just go on top.
Note: I've included a printable copy of the recipe at the end of this post in case you want to give it a try.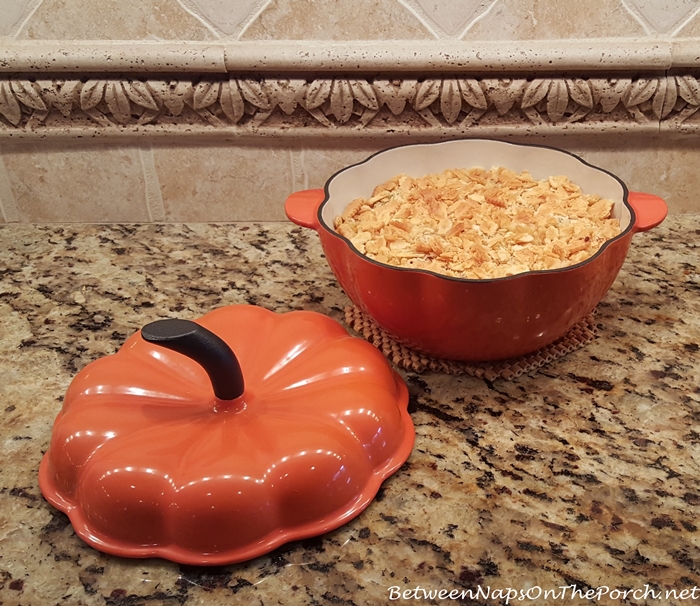 Ingredients Needed:
6 cups large diced yellow squash and zucchini (I actually added a bit more for 7 cups…and that's a precooked measurement)
Vegetable Oil
1 large onion, chopped
4 tablespoons butter
1/2 cup sour cream
1 teaspoon "house" seasoning, recipe follows
1 cup grated cheddar cheese
1 cup crushed butter crackers (I used Ritz)
You'll notice I increased the amount of squash in this recipe. The reason is when I mixed everything together in the end, it just didn't look like there was enough squash, as compared to all the other ingredients. I had cut up a bit more squash so I went ahead and sautéed it and added it to the recipe. It looked much better after that. So cook 7-8 cups of squash and then adjust how much you mix in, according to what looks right to you.
You start off by sauteing your squash in a small amount of vegetable oil over medium heat. I didn't cook my squash until it was "completely broken down" as the recipe suggested, but it was extremely tender and could easily be broken apart.
Next drain any excess water off your squash. The recipe says to place a tea towel in a colander to do this. Since my squash wasn't all broken up, I could probably have skipped the towel part, but I went ahead and use a dish towel to drain it in the colander anyway. Then I used the towel to pat off any extra liquid across the top.
Next, you saute a chopped onion. I got out this little Vidalia Chop Wizard that I purchased a couple of years ago. I love how fast and easy it is to use, plus clean up is a breeze.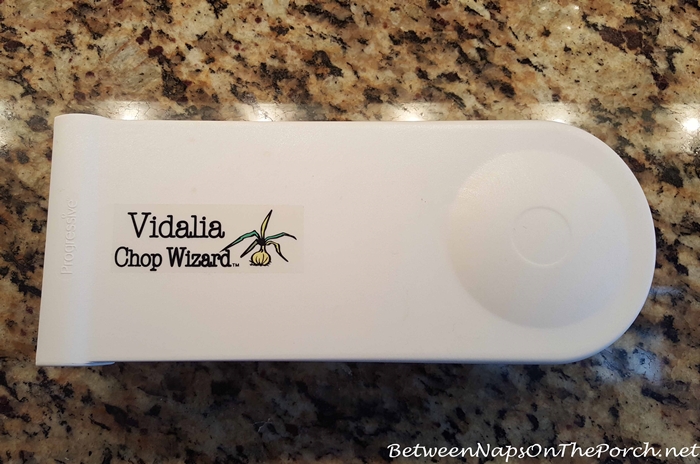 To use it, you just slice your onion in slices, then place it one slice at the time onto the little grid. Close the lid down on top of the onion…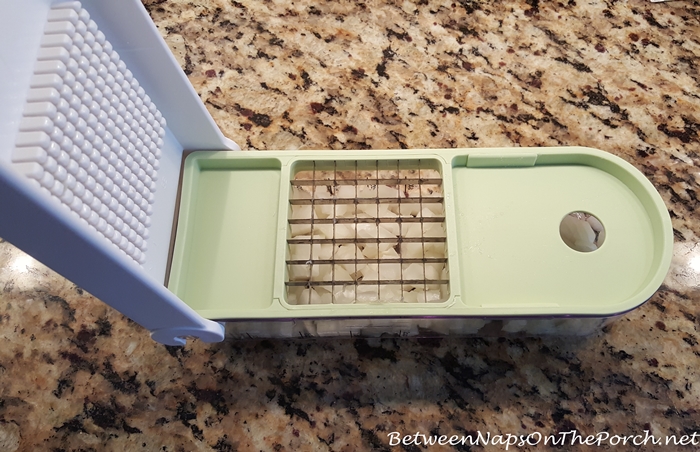 …and the chopped pieces fall down into the bottom where it can be tilted up for measuring. You can use it to chop amost any vegetable. It also works for cheese. It really comes in handy for making salads.
I just looked to see if it's still available and it is. You'll find it here: Chop Wizard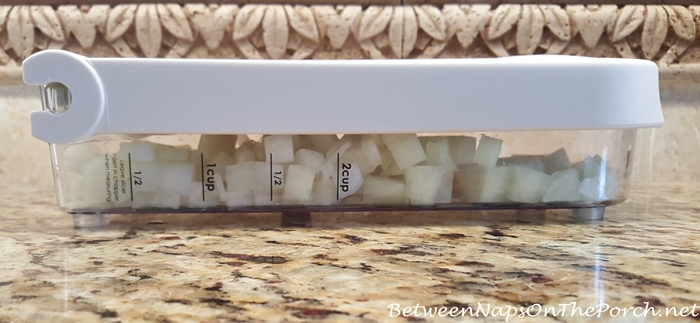 You'll need to saute your onion in butter for about 5 minutes until it looks pretty transparent.
I sautéed mine in the same pan where I had cooked my squash and here's how it looked once done. BTW, the recipe calls for 4 tablespoons of butter. At first I wondered if that went into the recipe or if that was just for sauteing the onion. I looked at my other squash recipe that I normally make and it called for the same amount of butter and it goes into the recipe. So, you'll need extra butter to saute your onion, because the 4 tablespoons will go into the squash casserole itself.
Next, I mixed the onion into the squash, followed by all the other ingredients except the crackers.
Here's how it looked. To me it looked like it needed more squash, so I sautéed one more cup of chopped squash and added it to the mixture. (Recipe called for 6 cups but I used 7 in the end.) I also added a bit of salt, pepper and garlic powder to taste.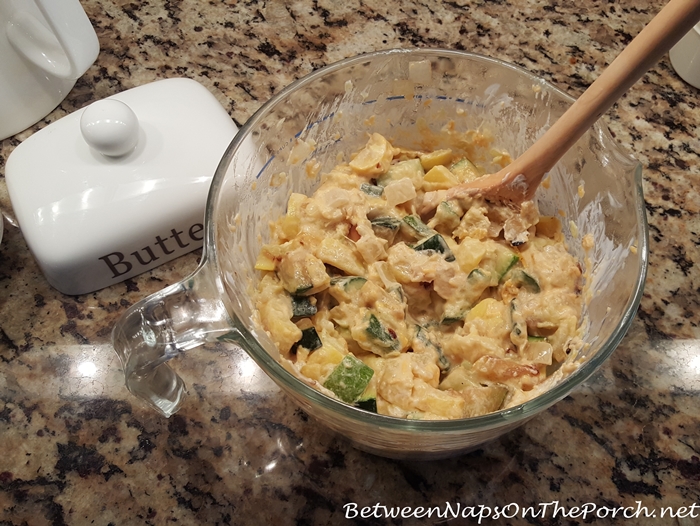 The recipe calls for one teaspoon of "house" seasoning, which is a mixture Paula always keeps on hand that's just salt, pepper and garlic powder. I mixed up a batch of her house seasoning once, but because I don't cook that often (and when I do I rarely use salt) I ended up never using it and eventually tossed it out. If you cook a lot, you may want to mix up a batch. I included her recipe for her "house seasoning" at the end of this post.
I turned out my mixture into my pumpkin casserole dish. You may recognize it since it's the same one I used when I made Roasted Pumpkin Soup in this post: Roasted Pumpkin Soup
Next, I sprinkled the Ritz crackers across the top. The recipe doesn't mention this, but I added around 5 small dots of butter across the top. Just thought it would help the crackers brown up a bit more.
I popped it into my preheated oven and here's how it looked 27 minutes later. It smells so good! I lifted up the edge and scooped out a small amount with a spoon to taste it and it was delicious! I think it will be a big hit on Thanksgiving Day.
I love dishes that can be cooked ahead of time, then just pulled out to reheat on the big day. On Thanksgiving Day, I'll take it out of the fridge an hour or so before we'll be eating, let it warm up to room temperature, then pop it in the oven to reheat. I'm going to do the same with another casserole dish I plan to serve that day. It's a relief to get a few things done ahead of time.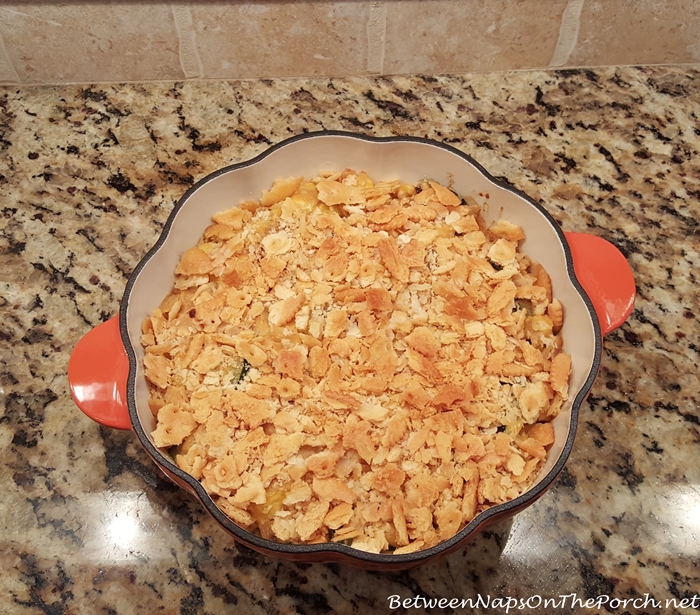 I love this cast-iron pumpkin casserole. I just got it this year and I've already used it twice this fall. It's the perfect size for a medium-size casserole. It looks like it's still available and is on sale with an additional 15% off with the code: FEAST. You'll find it available here: Cast Iron Pumpkin Casserole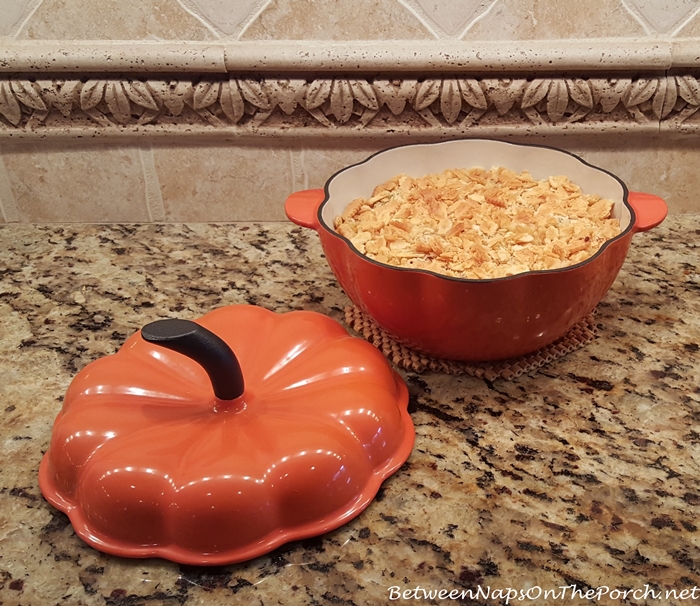 How are your Thanksgiving preparations coming? Are you making any dishes ahead of time?
Print Recipe
Squash Casserole
Ingredients
7

cups

large diced yellow squash and zucchini

Vegetable Oil

1

large onion

chopped

4

tablespoons

butter

1/2

cup

sour cream

1

teaspoon

house seasoning

recipe below

1

cup

grated cheddar cheese

1

cup

crushed butter crackers

I used Ritz
Instructions
Preheat over to 350 degrees fahrenheit

Saute the squash in a little vegetable oil over medium-low heat until it has completely broken down, about 15-20 minutes.

Line a colander with a clean tea towel. Place the cooked squash in the lined colander. Squeeze excess moisture from the squash. Set aside.

In a medium size skillet, saute the onion in butter for around 5 minutes.

Remove from pan and mix all ingredients together except cracker crumbs.

Pour mixture into a buttered casserole dish and top with cracker crumbs.

Bake for 25-30 minutes.
Notes
The original recipe called for 6 cups of diced yellow squash and zucchini. The recipe didn't say if that was raw or cooked, but after mixing all the ingredients together, the mixture looked like it needed a bit more squash. So I cooked and added in 1 more cup and changed the recipe to 7 cups of squash.
The recipe indicates you should saute the onion in butter. I noticed another recipe that I've used for many years calls for adding softened butter to the recipe, so I am guessing that the 4 tbsp of butter in this recipe isn't used just for sautéing the onion, but actually goes into the recipe. That's the way I made it.
Recipe for Paula Deen's House Seasoning, a recipe she has shared often in the past:
1 cup salt
1/4 cup black pepper
1/4 cup garlic powder
Mix Ingredients together and store in an airtight container for up to 6 months.
Yields: 1-1/2 cups
*If a post is sponsored or a product was provided at no charge, it will be stated in post. Some links may be affiliate links and as an Amazon Associate, I may earn from qualifying purchases. *