Welcome to the 375th Tablescape Thursday!
Happy Thanksgiving! We'll be having our Thanksgiving feast here in the dining room today. I'm not planning on serving soup (wish I still had some of the roasted pumpkin soup I made recently) but just for fun I added the turkey soup tureens to see how they would look.
Whenever I use Mr. Turkey in the center, I can't resist brining out the turkey tureens since they look like they were designed to pair up with Mr. Turkey. (Mr. Turkey was a find several years ago at Pottery Barn and the tureens are from Old Time Pottery many years ago.)
I have a somewhat narrow dining table so I'll most likely scoot a bit of the magnolia leaf foliage out of the way when we sit down to eat. If you have a normal width table, this setting would work even better. If my table were wider, I would have used bread plates today, and probably my cranberry salt cellars, too.
Spode Woodland is definitely my favorite dishware to use for Thanksgiving dinner. This year I paired it with my new plaid chargers (available HERE on sale for Black Friday) and new salad plates.
Spode added turkey salad/dessert plates to this pattern a few years back. They are small enough to use as appetizer plates, too. I think we'll probably use them today for dessert but they could be used as appetizer plates in this type setting.
The toile plates are new. I barely resisted buying the dinner plates, too. They ares still available at Pottery Barn here: Toile Dinnerware.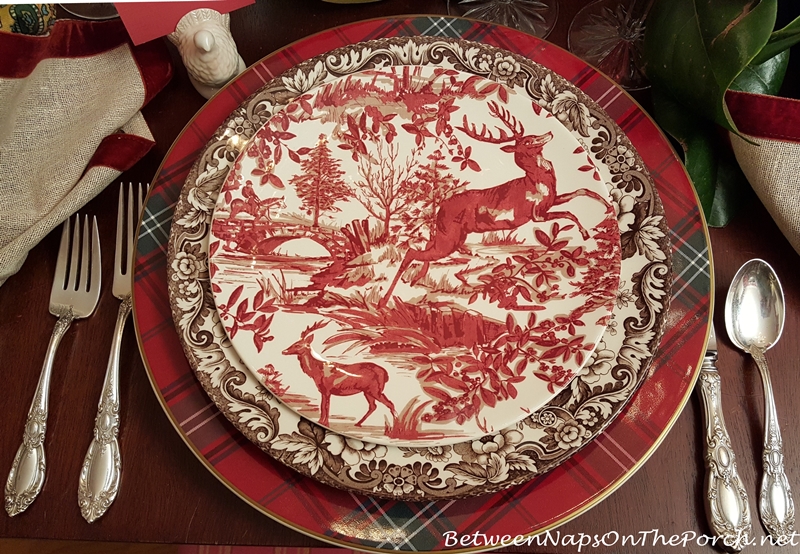 Under the salad plate you'll find the Spode Woodland original pattern featuring colorful pheasant birds. I love this pattern so much and I love how it looks with the tartan chargers!
Remember when I tried the tartan chargers with several of my Christmas dishware patterns? The Spode Woodland looks great with the tartan pattern, too.
So, if you have these chargers, don't be afraid to use them all fall and winter.
I briefly considered using cinnamon red flatware along with antler-handle knives for this Thanksgiving setting as seen in this previous table setting.
In the end I decided to keep the flatware simple so it wouldn't compete with the pretty patterns in the dishware. I have plaid napkins that look as if they were made to go with this pattern, but when I tried them, they seemed too matchy-matchy in this setting. So I went with paisley napkins I've had for many years. Don't remember now where I found those, probably HomeGoods or Marshalls.
Napkin rings (from Pottery Barn several years ago) say "Family" on one side and "Friends" on the other. Today I have them all turned up to reveal the "Family" side. Flatware is Towle, King Richard, the pattern I chose when I was a young bride-to-be.
Tea glasses are Waterford Araglin and the Ruby Hock wine glasses are Waterford in the Lismore pattern.
A few years back I found turkey place card holders on eBay. I made place cards using card stock from Michaels and attached a cute turkey to the corner of each card. You'll find a little tutorial for making those is this older post: Never Buy Place Cards for Your Table Again. I won't be using place cards today since it's a small gathering but wanted you to see these in case it's helpful for your table settings.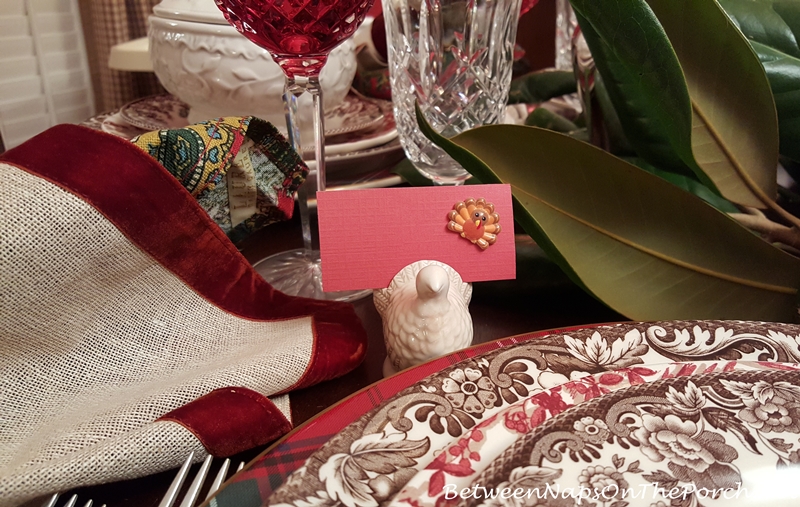 In the past I've placed a little wreath around Mr. Turkey's neck.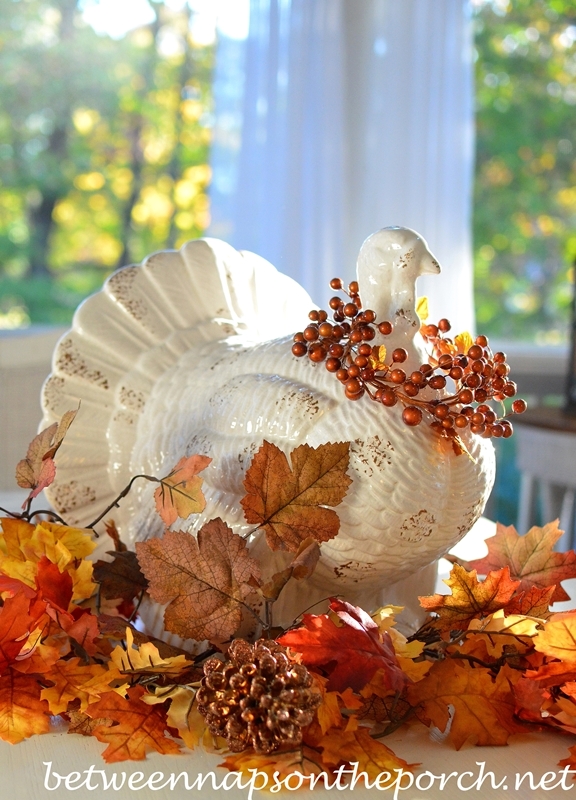 Today he's going dapper with a colorful scarf. The scarf is part of a wine bottle topper thingy. I tried putting the hat on but it kept sliding off. lol
I thought my grandson would get a kick out of this. Every table needs something that makes you smile. 🙂
This is the first Thanksgiving I've needed this chair at the dining table in many, many years. This is my son's old highchair from 1983. I kept it all these years thinking it might come in handy again one day. Today is the day! 🙂
Okay, just tried a bit of tape to hold the hat on, what do you think? lol Think my grandson will like Mr. Turkey?
Happy Thanksgiving to you and your family, dear Friends!
If you are participating in Tablescape Thursday, please be sure to add your permalink below, and not your general blog address.
To get your permalink, click on your post name, then copy and paste the address showing in the address bar, into the "url" box when you link up. You'll need to include a link in your post back to the party to link up and participate.
That's so visitors to your blog will be able to find the party and the other Tablescape Thursday participants. Requiring a link back also prevents businesses from linking up to sell their products. (Yep, that really happens, unfortunately.)
Please, don't add your post name/blog name ALL IN CAPS…it tends to create big spaces between the rows of links.
Please do not link up table settings that were just recently shared in the last few weeks for Tablescape Thursday.
*If a post is sponsored or a product was provided at no charge, it will be stated in post. Some links may be affiliate links and as an Amazon Associate, I may earn from qualifying purchases. *