Earlier in the spring, I purchased this cute, wicker handbag. I have so enjoyed carrying it this spring. Everywhere I go people comment and ask me about it. I don't think I've ever carried a bag that brought so many compliments! Even the sales associates in my local Talbots love it. At first, they asked if it was one of their bags. It looks like it should be!

Keeping my wicker bag in mind, I went online to shop for summer sandals. I found these and it was pretty much love at first sight! They have that summer, espadrille vibe, yet look pretty and feminine. I especially love the neutral colors–so summery and beachy.
Here's how they look on. These pants are ankle pants, but I pulled up one leg a bit so you could see how they would look with a shorter pant style or a dress. I found they run true-to-size. I ordered my usual size 7. I maybe could have taken a 6.5, but I like my shoes to be plenty roomy.
I haven't worn wedges since the 70's (or was it the 80's) but they are super popular right now! I keep reading everywhere that wedge shoes are the sneaky way to get the "heel" look, but without the discomfort that normally comes with wearing heels.
You can see how a wedge shoe does that in this photo. Even though these shoes have some height, my foot isn't in an awkward, uncomfortable, high-heel position because of how the shoe is designed. The thicker sole makes all the difference! You feel like you're wearing shoes with a small heel. Love that!
So if you would like summer sandals with more height, but without the pain of wearing heels, check out these shoes!
You'll find them available here: Espadrille Wedges. Love how they look with my new bag, such a cute pairing!
Years ago I purchased a pair of Ecco Yucatan sandals. They wouldn't win any awards in the "feminine" or "elegant" category, but they sure are comfortable! And they are very, very supportive…great for anyone who needs a really good, practical supportive sandal. They are the shoes I like to wear when hiking in the summer.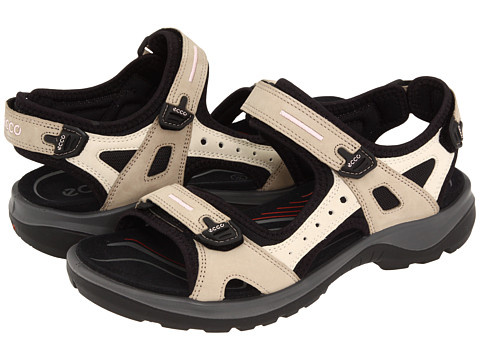 They were also the shoes I took to Kenya when I was there for safari and to visit Giraffe Manor. You'll find them available here: Ecco Sandals. They may be available here for a better price, depending on the color you choose: Ecco Sandals.
I've enjoyed my Yucatan sandals so much, I decided to look for Ecco sandals for everyday wear, something a bit more feminine, but great for running errands or just wearing around the house.
Years ago I had a pair of sandals that I loved so much, I completely wore them to shreds. Even after I quit wearing them because they were falling apart, I held onto them so I could remember how they looked. I kept hoping I'd find them again.
Have you ever loved a pair of shoes so much that even after they were worn out, you couldn't bring yourself to toss them? I finally parted with them last summer when I cleaned out my closet. It was a sad day.
With those in mind I went searching and found these. They aren't exactly the same, but they remind me of them. They have that cute strappy design that my old sandals had.
Here's how they look on, really cute and very comfortable. I purchased a size 7 and found these ran true-to-size, also.
They don't have as much support as the Yucatan sandals that I wore on safari, so I probably wouldn't wear them for hiking, but they are adorable and perfect for everyday wear. You'll find them available on sale here: Ecco Sandals. Check out the reviews there for more info.
Love how they look with this wicker bag, like they were made for each other!
I just checked and the bag is still available. You'll find it here: Wicker Bag.
A Round Wicker Bag
I've seen this wicker bag all over Blogland. It was very popular with a lot of fashion bloggers this spring and it sold out right away.
I discovered today that it's available again, after being out of stock for weeks. I'm trying to resist buying it because I have a wicker bag that I love. So tempting, though! Would it be wrong to have two summer, wicker bags? Don't answer that! 😉 This bag is available here: Round Wicker Bag.
Fashion Earrings for Summer
Switching gears, have you been seeing these earrings around blogland? I've seen quite a few people wearing them on Instagram. They are by designer, Rebecca de Ravenel and are very hard to find! I was told by the owner of a boutique in Atlanta that they can't keep them in stock. She said they sell out as fast as she gets them in. The one store that seems to have them available online is this one: Rebecca de Ravenel Classic Silk Corded Clip Earrings.
As much as I liked them, there were two issues that kept me from purchasing a pair online:
1. They are only available in Clip-ons (What?! I definitely do not like clip-ons.)
AND
2. The price, which is $295 a pair! They are made of silk cording, so I know that accounts for some of the cost, but I just wasn't ready to spend quite that much for earrings that I'd probably only wear during the spring-summer months.
I decided to see if anyone else was making similar earrings and I found some! These are hand-made and also made with silk cording similar to the Rebecca de Ravenel earrings. You'll see a lot of these type earrings for sale online, but most are not made of silk like these and the design isn't the same. I love how much these resemble the Rebecca de Ravenel earrings. They come in both pierced and clip-on, I went with the pierced.
I also love the ombré design…the way the pink increases in color from light pink to a darker rose. The price was much better at $90. They are also available in a gorgeous blue ombré, but I stayed with the pink since I have a lot of summer clothes with that bright pink color. They are very light, not heavy at all.
You'll find these earrings here: Earrings. If you don't see these available on her website, just leave a comment/question and tell her what you want, the color, etc… I think she makes these earrings as they are ordered.
Here are a few examples of the clothes I'll wear them with. I've had both of these dresses for years. The one on the left is from Pappagallo and the one on the right is a Lilly Pulitzer dress from 3-4 years ago.
Love how they look with these summer dresses.
And I love how they look with these shirts I just purchased this summer. Shirts are available here on sale: Madras Plaid and Floral.
You'll find these silk, drop earrings here: Drop Earrings.
Before I close out this post, had to share a sweater that I'm thinking of purchasing. It's currently on sale in a few colors. It's all cotton which means it will be perfect spring, winter and fall. I love a Fisherman knit design–so classic! The ivory color looks so pretty with a plaid shirt underneath. You'll find it available here: Fisherman Sweater.
Update: Just purchased it…too cute to pass up! I went with a medium since some of the reviews seem to say it runs a tad small.
Update: My sweater arrived and the medium feels too big, I'm reordering it in a small and will compare the two, but I'm pretty sure the medium is going back. So I recommend ordering in your normal size.
Update: Loving this adorable bamboo clutch…so cute! It also comes in white. You can see it in 4 colors here: Bamboo Clutch.
Thinking of buying this Barbour jacket for my upcoming trip to Ireland. Love the color and that it has a hood, so important for those rainy days. It's currently on sale HERE and HERE.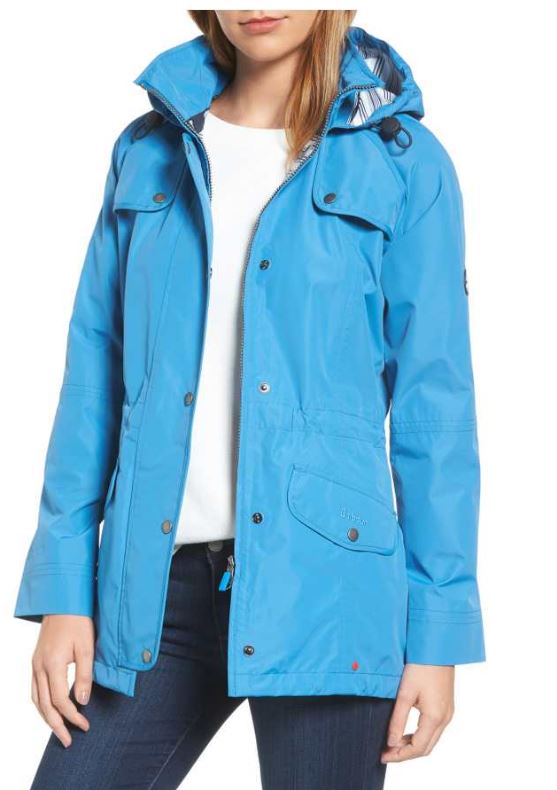 Have a wonderful weekend, dear Friends!
Pssst: I post almost daily to Instagram. Follow Between Naps on the Porch on Instagram here: Between Naps On The Porch.
*If a post is sponsored or a product was provided at no charge, it will be stated in post. Some links may be affiliate links and as an Amazon Associate, I may earn from qualifying purchases. *