Happy Weekend! I'm popping in today to share a few of my favorites from the month of March. As always, this is an eclectic mix and I hope you find these helpful.
One night recently, we had a power outage. Fortunately, it didn't last very long but when it happened, I was so thankful for these little emergency lights that I have plugged in all throughout my home. The second the power went out, they immediately turned on lighting up all the hallways and rooms. I have one in every room, including two in my long upstairs hallway and they are amazing! You can even unplug one to use it as a flashlight if needed. Definitely one of the best things I've purchased for my home and has taken away the fear of having the lights go out in the middle of the night. You'll find these lights available here: Emergency Lights.
Had to mention these adorable spring pillows I discovered recently. They are such a great find, durable yet very affordable. If you are looking for an inexpensive way to bring a bit of spring into your home, definitely recommend a set of these. You'll find them in all themes, designs, and colors here: Spring-Summer Pillows.
So remember the faux tulips I used recently out on the porch? If you missed my spring porch and hutch makeover, you'll find it here: Porch Makeover for Spring.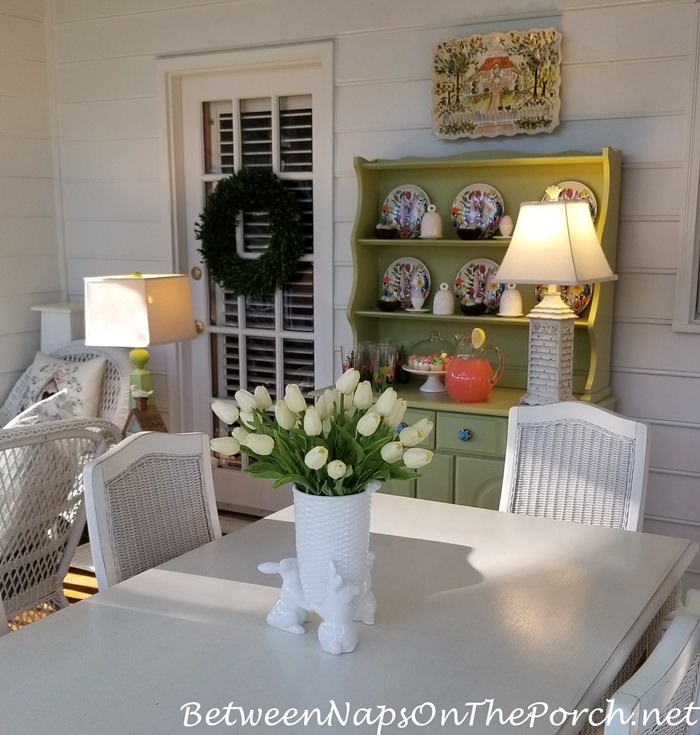 I initially saw these faux tulips in a post on Instagram and could not get over how real they looked! I love fresh flowers and do buy them from time to time, but it's always nice to have a few faux flowers (as long as they do look real) for those times when I need a pretty centerpiece but don't have the time to run out to the market.
I loved how these looked in this previous spring table setting here: Welcome Spring!
So recently I decided to buy another bouquet. They come in so many colors, it was hard to choose. I ultimately settled on this multicolor bouquet and LOVE it! They look so realistic–can't wait to use them in a future table setting! Definitely recommend these if you would enjoy beautiful, flowers occasionally in your decor or table settings that require no watering and never die. You'll find these available here: Multicolor Tulips.
I have some exciting news! The bunny vase I've been using and raving about all spring is now on sale! You'll find it on sale here: Bunny Vase on Sale. Update: Looks like it's not available online, only in some stores. Boo, hiss.
Packing for an Overnight Trip
A couple of weekends ago, a friend invited me for an overnight stay at her beautiful lake home. This was the view from the deck of her home–so relaxing!
I needed to pack a few things but not a lot since it was just an overnight stay. Besides pajamas and such, I decided to wear a pair of jeans and take along one extra shirt. I'm not normally a light packer but I made myself pack light since the trip was for just one night. I wore the jeans so didn't have to pack them. I went with my white jeans since they were easy to pair with two spring/summer tops.
I love these Talbots jeans! As I've mentioned before, they fit beautifully since they come in two styles: regular and curvy. My waist is a lot smaller than my hips so I always buy the curvy style and they fit perfectly–no gaps in the back. (Note: Since I'm only 5'4″, they are an inch or two longer on me than on the model, which works out just right.)
You'll find them currently on sale in the curvy-fit here: Curvy Slim Ankle White Jeans or in their curvy-fit jeggings here: Curvy Fit White Jeggings for Summer. They are available in their regular fit here: Regular Fit White Jeans and the regular fit jeggings here: Regular Fit White Jeggings.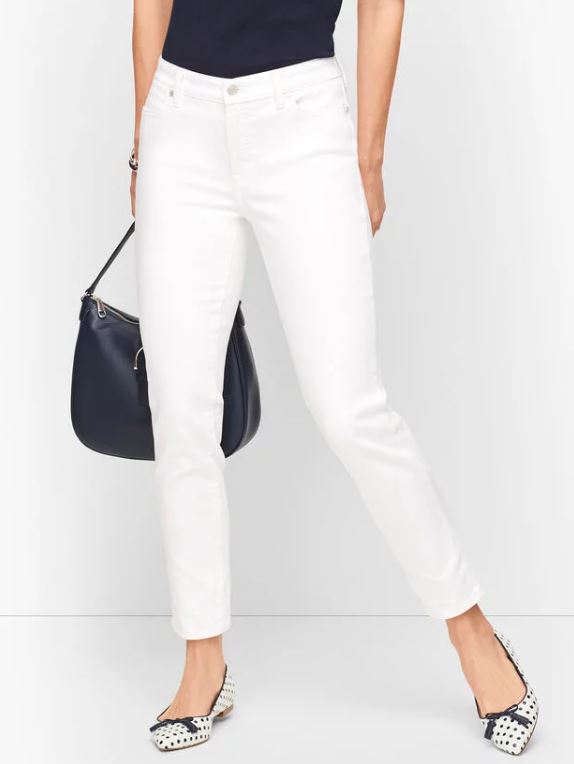 This was the shirt I packed for the second day at the lake house. Do you remember when I blogged about an issue I was having with the long tail of the shirt curling up in back? Thanks for all the suggestions you left on that post here: Spring Smiles, Favorite Summer Dresses & Need Sewing Advice for a Problem Shirt.
I have an update to share on the curling issue. In an attempt to fix that problem, I decided to start with the simplest, easiest suggestion that was made in the comments of that previous post. I figured if that didn't work, I'd try some of the others. The easiest suggestion that was made was to spray the tail with spray starch. Ummm, I had never tried that before.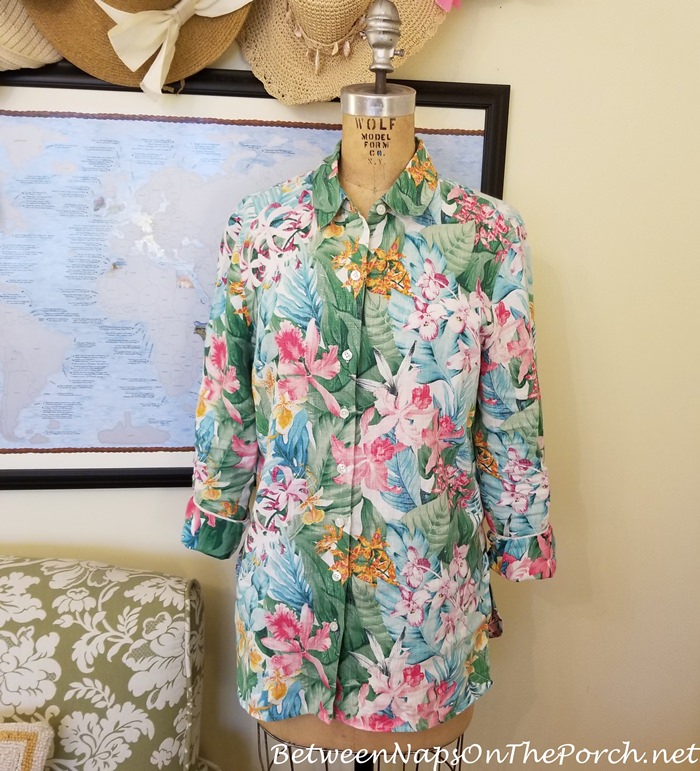 This is the starch I used. I rarely ever starch clothes when ironing. I think the only time I've used this starch in the past was while ironing a tablecloth. Anyway, I gave the back tail of the shirt a good, substantial spray and ironed it well before packing it into my overnight bag for the lake trip.
As mentioned, I wore this shirt on my second day at the lake house and during the drive back home later that day.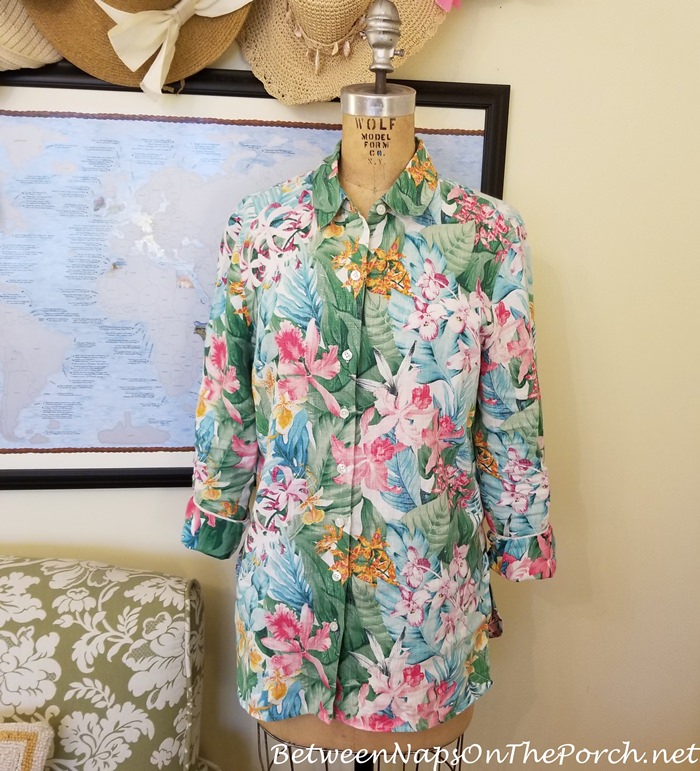 Here's how the shirt looked after wearing/sitting in it all day and after driving 2 hours back home in the car. I was impressed! Though it's not laying perfectly flat, I can totally live with this. This is what I would normally expect to see after wearing a linen shirt all day.
It looks so much better than this curling up thing that it was doing before and that used to happen after only a few minutes of sitting/wearing it.
So I don't think I'll need to have the shirt rehemmed since this spray starch did such a great job after a full day's wear and a lot of sitting. Thanks so much to the lovely reader who suggested trying spray starch first. I'm hoping that ironing it with starch helped fix the issue of the hem possibly having been stretched out during the sewing process that some of you suggested might be the issue.
Anyway, just wanted to share what worked and how much I like this starch! It is serious starch, probably the strongest I've ever used! You'll find Mary Ellen's Best Press here in various sizes and scents: Mary Ellen's Best Press. (Scroll down past the refills at that link to find single bottles of this starch in the spray form.)
Update: I was just reading the label on the bottle more closely and apparently, this isn't starch at all–it's a "starch and sizing alternative." I've had this bottle a long time…forgot where I bought it now. Anyway, it supposed to help stabilize fabric. The reviews say it isn't overly stiff but it definitely stiffened up the tail of my linen shirt. The reviews also state that this doesn't build up or flake like starch can. I never starch anything so hadn't realized that was such a big issue. Anyway, I think it's a great product and it definitely fixed my shirt!
Have to mention these fun earrings I shared recently. I wore them on my lake house trip and received a nice compliment from my friend. I loved how they looked with both of the shirts I wore on the trip. I've had them for several years but you can still find them available where I purchased mine here: Bon Bon Earrings.
I also took along this sweater that I purchased last summer. I LOVE this sweater! It's super affordable, so much so that I bought a couple more at the end of last summer because I never want to be without it. I love a simple, white sweater to throw on over sleeveless or short-sleeve summer dresses and tops on chilly evenings. I always carry a sweater in my car because I freeze when eating out in a restaurant. This sweater is perfect for spring and summer! Fortunately, it's still available here: White Sweater.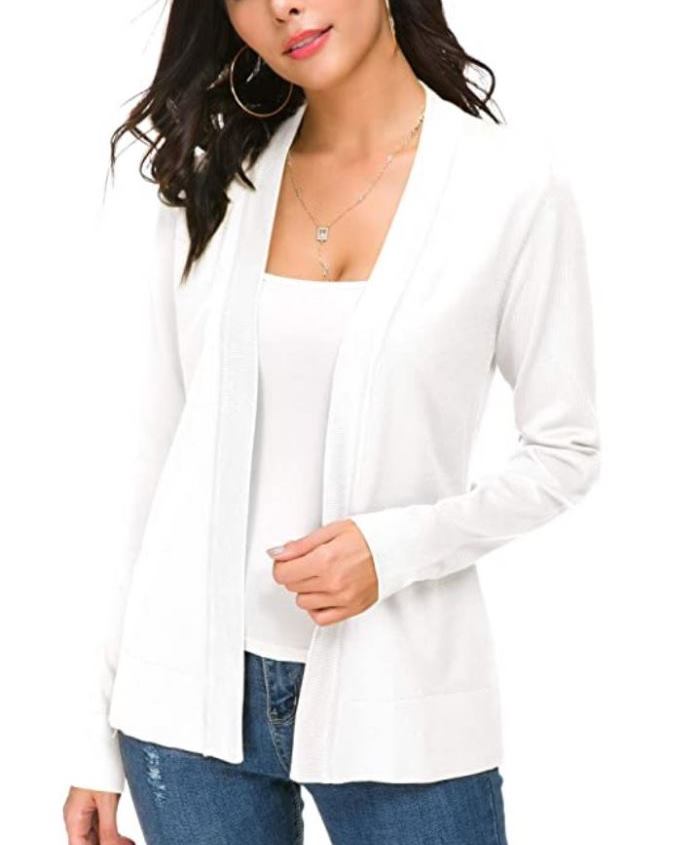 New Purchase–Couldn't Wait to Share!
I don't normally share a purchase I just made when I'm sharing my past month's favorites, but I'm so excited about these, I can't wait! I recently put together a mini drink center in my office since I spend so much time here, and in doing that, I brought up a few of my favorite hand-stamped spoons to keep out for when I have iced coffee.
That prompted me to take a look to see if the Etsy shop I've bought them from in the past had started restocking them again–they had temporarily stopped. Sadly, they are still not available so I decided to see what was available in some of the other shops.
Oh my gosh! I found the cutest shop with great reviews and instantly fell in love with so many of her vintage, silverplate spoons, I went a bit crazy and bought six, I couldn't help myself! I justified it thinking they will be really cute in a future table setting. lol
Here are some of the ones I purchased last night. Love this one because it reminds me of travel. I'm probably not going to take a trip this year since I'm saving to replace my car, but it will keep me dreaming of the day I do travel again. This one is available here: Travel Spoon.
This one just spoke to my heart. I LOVE all the detail this Etsy artist puts into each of her spoons! You'll find this one here: Sweet Inspirational Spoon.
Another one that touched my heart–perfect for spring! It's available here: Bloomed Spoon.
So—you know how this past year I added stars and a big, beautiful moon to the ceiling of my bedroom? I am still enjoying those sooo much–look forward to staring up into the night sky every night when I turn in. (See that previous post here: Add Stars to the Ceiling of Your Bedroom, Living Room, or Theater Room for a Magical Experience.")
And–you may remember that I ordered a moon/stars door for the screened porch. (I need to get both doors installed–just haven't found a door company I trust to install them, yet.)
This was the first spoon I spotted when I visited this cute Etsy shop and loved it! I love the birds and the flowers. Again, so much detail! It's available here: Moon Phases. You'll find many more designs here: Beautiful Stamped Silverplate Spoons. I liked her stamped bookmarks, too. You can see all that she makes in the menu down the left side at that link.
Though it's still a long way off to Christmas, I couldn't pass up this adorable spoon. If you are planning ahead, this spoon, along with a pretty mug and some hot chocolate, would make a great Christmas gift for a friend, neighbor, or co-worker. I love this spoon! I can't even imagine how long it takes her to create these beautiful spoons with this much detail! This one is available here: Home for the Holidays.
I can't wait to use them in a future table setting this spring/summer! Hope you have a wonderful, relaxing weekend. See you on Monday for Metamorphosis Monday!
*If a post is sponsored or a product was provided at no charge, it will be stated in post. Some links may be affiliate links and as an Amazon Associate, I may earn from qualifying purchases. *