Greetings this fine March day! How is your weekend going?
Unfortunately, I've been super sick all week with what I was pretty sure was a sinus infection. Actually it's been going on a couple of weeks but got a lot worse this week. When I started running a fever on Wednesday while creating a St. Patrick's Day table setting for Tablescape Thursday, I finally decided it was time to go to the doctor. It had gotten to the point where I wanted to sleep 12-14 hours a day. How can a sinus infection make you that tired?!
I took me and my swollen lymph glands to the doctor on Thursday and she confirmed what I suspected. An antibiotic (Augmentin) was prescribed which I had filled and started taking that day. Today I was thinking how odd it is that I'm really not feeling a whole lot better. I'm still as exhausted as ever and still feel like I need to sleep all the time. Plus, my lymph glands are still huge and painful.
As I opened the bottle to take today's dose of antibiotic, I reread the label again. Duh! I'm supposed to be taking it twice a day, once every 12 hours. I've only been taking it once a day. What a dummy! I think I need a keeper sometimes because clearly I'm unable to follow instructions.
Thankfully, I've just been taking it a couple of days. I'm sure I'll be feeling much better by Monday since I will actually be taking the antibiotic as prescribed this weekend. There's a novel idea! I hope to send out a newsletter tomorrow but if I don't, I know you'll understand.
In the meantime, since I was too sick to post yesterday, I thought I'd share the only thing that's made me smile the last few days: the whimsical art of Charles Wysocki. Are you familiar with his work? I came across one of his prints years ago but had forgotten about it until recently. He's known for painting a lot of wonderful Americana type scenes, especially paintings depicting the New England area.
It made me sad to discover he passed away in 2002. I have this knack for finding designers, artists, authors, etc… a few years after they have passed and it always leaves me feeling that I've missed out big time. Do you feel that way when you discover someone's work and absolutely love it, but you find it posthumously?
I am totally smitten by his adorable and funny cat paintings. This one is titled, "Mabel, The Stowaway." If you have a cat, you get this. It's the first thing cats do when you get out a suitcase to pack for a trip. They promptly climb inside for a nap! 🙂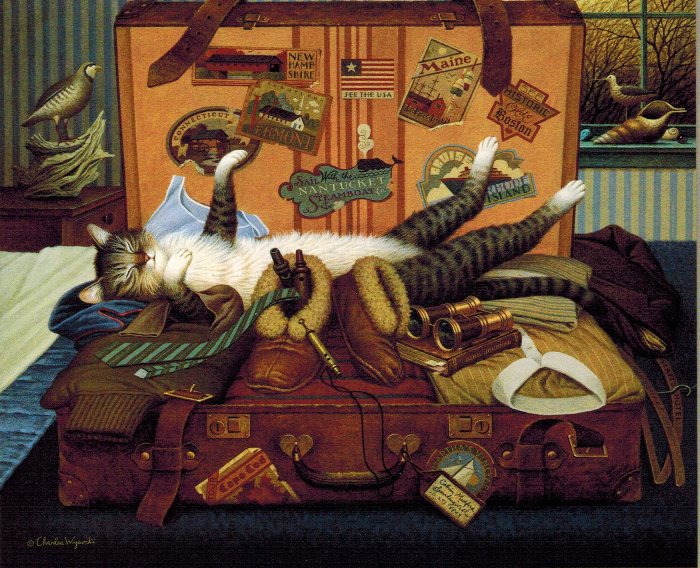 This one is called, "Max in The Adirondacks." (Hit Control (Ctrl) + a few times to enlarge it and look at all the detail. Hit Ctrl 0 (zero) when done.) He puts so much detail into each painting. There are so many clever things to see and read. I ordered 8 of his blank greeting cards on eBay and each time I look at them I see something new. This would be the perfect card for the fisherman/woman.
This is one of my favorites (like they all aren't!) and it's called, "All Burned Out."
I knew I loved his greeting cards before I ordered them but I was so surprised when they arrived and I saw the absolutely adorable envelopes that come with the cards! This is how the front of all the envelopes look. Do you see the faint kitty image hidden on the front? Each envelope has the "All Burned Out" painting in the lower left corner…and there's even a cute kitty stamp in the right corner up top.
Can you believe this is the back of the envelope?! I'm going to have to order extras because there's no way I can bring myself to actually mail the ones I have. I want to keep them all!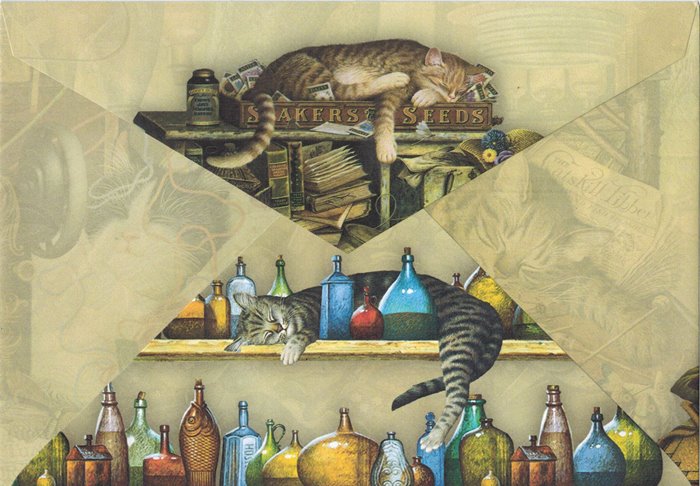 Here's one more for those of us who love gardening.
Charles Wysocki probably painted thousands of wonderful paintings in his lifetime, here are just a few more. I think this one is called, "Take Out Window." Looks like Mr. Moose is placing his order.
This one is called, "Love."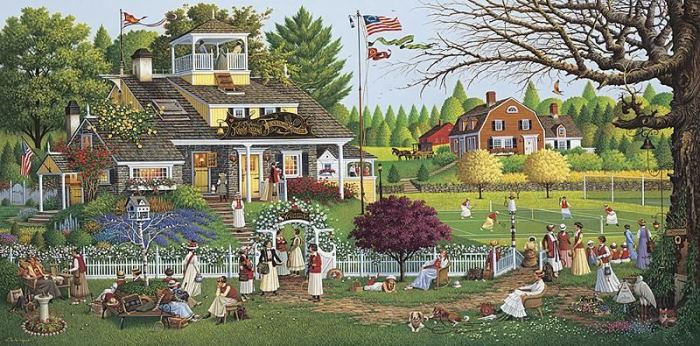 Here's one of the many New England scenes he painted. This one is called, "Cape Cod Christmas."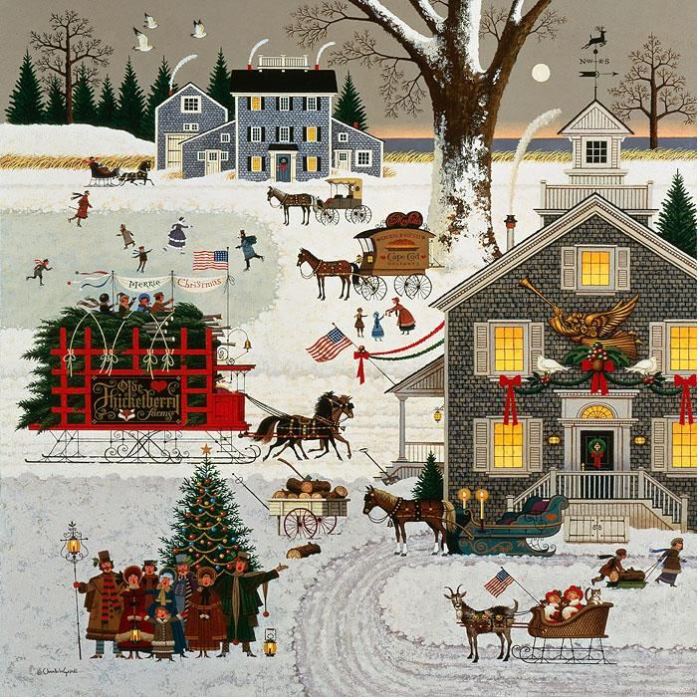 I found this wonderful print for $27 on eBay. It's called, "Classic Tails." The books all have cute names like, A Few Good Mice, The Kitten Within, The Great Catsby, etc…
I took it to be framed and it will go here in the office once it's ready. It should fit nicely in the corner where I currently have a picture and a clock. I'll move the picture elsewhere but the clock will probably stay.
The clock is one of those silly bird clocks that plays a real bird singing at the top of each hour. My sister gave it to me because she knew how much I love birds, so it reminds me of her.
It's pretty funny when it goes off and I'm talking to someone on the phone. The volume of the bird call automatically adjusts according to how much light it senses in the room so it's very quite at night. But it can be super loud during the day when the sun is pouring in through the windows. No telling what folks think when I'm on the phone and they suddenly hear an owl at high noon hooting away at the top of his little owl lungs. 🙂
The print is the perfect size for this spot and I think it will look cute alongside the office bookcases. I found the best frame for it. It's kind of antique looking, like the bookshelves in the print itself. I wish I had thought to take a picture of it with my cell phone.
Do you have any of Charles Wysocki's art in your home? You'll find his online store (run by his family) here: Charles Wysocki
Okay, I think I'm going back to bed for a bit. Stay healthy out there and I'll see you on Monday for Metamorphosis Monday!
*If a post is sponsored or a product was provided at no charge, it will be stated in post. Some links may be affiliate links and as an Amazon Associate, I may earn from qualifying purchases. *