Earlier in the spring I shared this wee painting of one of my tablescapes. (View this little teascape in detail here: St. Patrick's Day Tea.) The painting was a surprise painting done by a lovely artist and reader of BNOTP named, Fifi. After she let me know she had created the painting, I purchased it from her but never got around to having it framed.
Life got in the way and I never got around to framing it until recently. This was the frame I purchased for it, a very simple, black 12″ x 12″ frame. (Frame is available here: Picture Frame.) I wasn't totally sure how my little painting would look inside this frame, but I knew I could return it if it didn't work out. The frame/mat turned out to be just right for the painting, but before I share how it looks I wanted to share a little about how I decided to hang the picture.
I was pretty sure I wanted to hang the painting in my kitchen since that's near the porch where I create so many table settings for Tablescape Thursday. If you've been reading BNOTP for a while, you may remember when I did a bit of rearranging in my guest room a few years back and ended up needing to find a new home for a couple of cute birdie pictures.
The birdie pictures contained a lot of the color blue since they depicted adorable bluebirds.
I ended up finding the perfect spot for them here in the upstairs family room.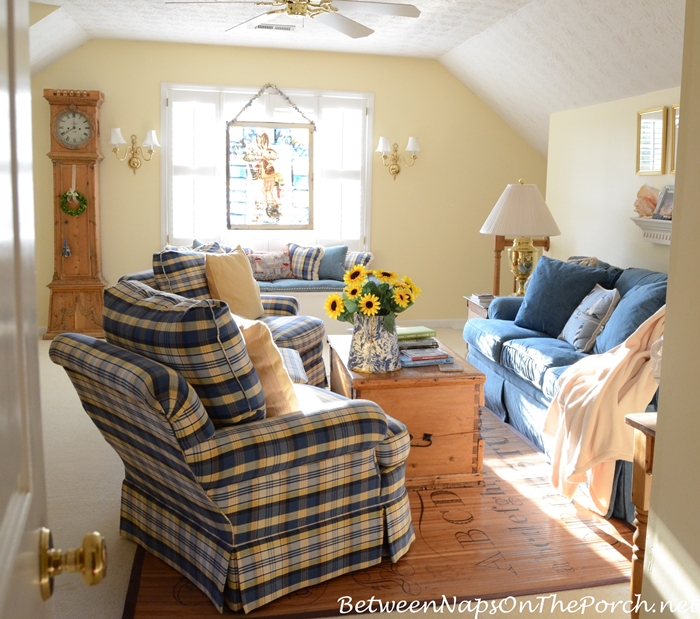 I tucked each little watercolor painting inside a dormer window here in the upstairs family room.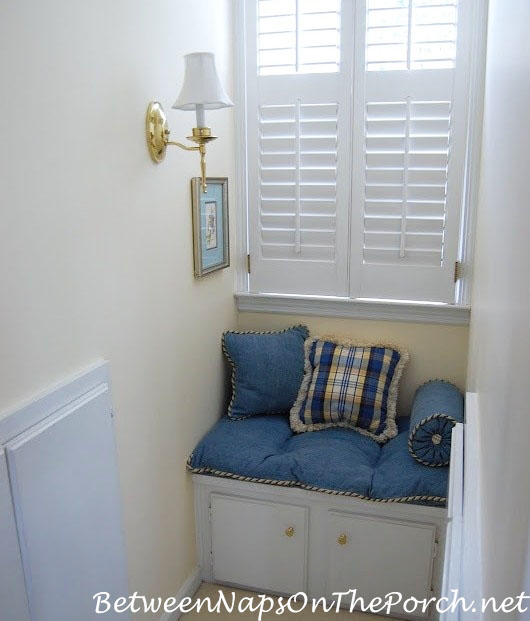 I hung them down nice and low where they could be enjoyed on those rare occasions when someone sits here. This is the room my son and daughter-in-law love to stay when they are visiting. They prefer it over the guest room since the sofa makes into a q1ueen size bed that's quite comfy.
Though these little window seats are too small for curling up with a book, I do occasionally sit here when I need a break from pulling out holiday decorations from the eave storage on either side of the dormers. (See that storage in this post: A Christmas Present For Your Future Self.)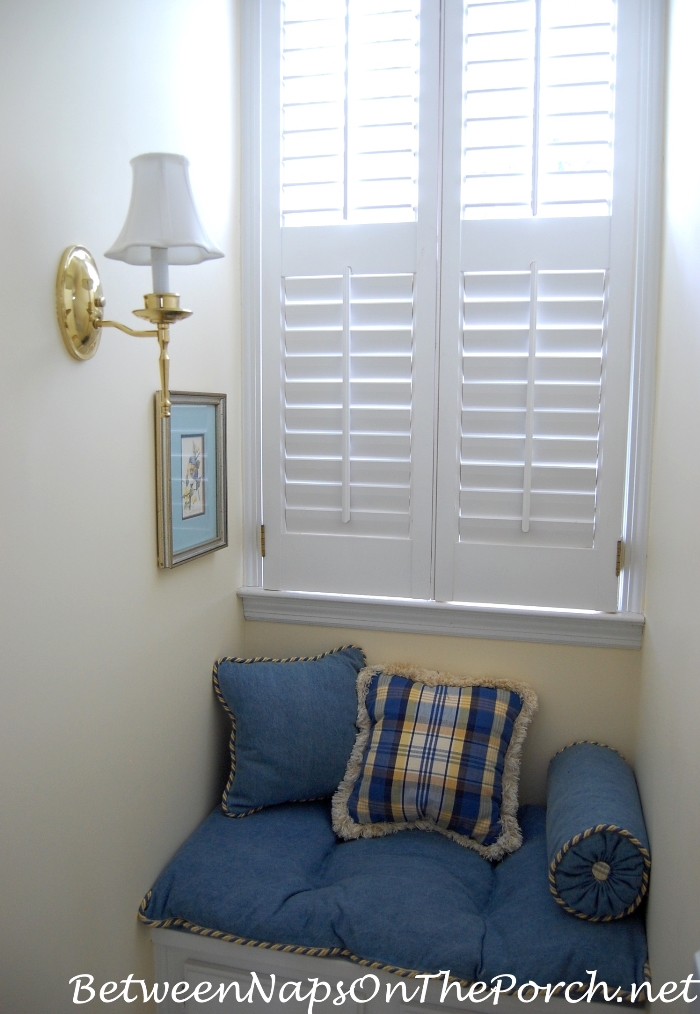 Here's where the other little birdie painting ended up, again hung nice and low so it can be appreciated by anyone who decides to sit and snuggle with a furry friend.
My grandsons are two and four, I wonder if they are old enough now for me to give them their dad's Teddy Ruxpin, along with all his books and tapes. I've been saving Teddy and Grubby for them. The last time I checked they both still worked, Teddy reading his storybooks out loud and Grubby singing along.
Where was I? Oh, yes. One of my favorite ways to hang art is to hang it down low in an unexpected spot, a little surprise delight for anyone who happens to notice it. I love to see a painting hung down low alongside a reading chair, especially one that's tucked away inside a little nook like those that are sometimes found under a big staircase, or inside a large dormer space. Even though no one ever sits inside these wee dormers, I love seeing them decorated in their own special way.
Since my little tablescape painting is pretty small, I decided to try it in a special spot in the kitchen.
I placed it here by the door to the porch where I'll see it every day as I go outside for some porch time or to fill the bird feeders. You may remember the large platter from when I shared a few souvenirs brought back from a trip to Italy in 2015.
I hung the teascape painting nice and low so it could be enjoyed while sitting and working here at the desk in the kitchen. I was actually surprised how much I liked it here once it was up.
Just wanted to share this with you in case you find it helpful the next time you have a little painting or picture to hang. Maybe you'll find the perfect spot in your home where your treasured piece will be a fun surprise for someone to discover. I love those kinds of surprises! 🙂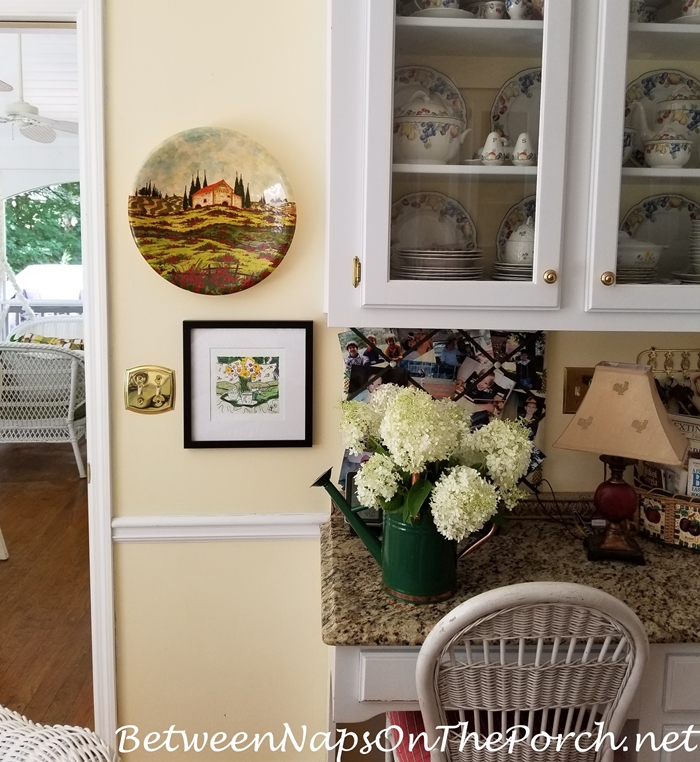 *If a post is sponsored or a product was provided at no charge, it will be stated in post. Some links may be affiliate links and as an Amazon Associate, I may earn from qualifying purchases. *