Welcome to the 338th Tablescape Thursday!
Hard to believe St. Patrick's Day is next Tuesday; this month is zooming by. It really feels like spring here now with the daffodils and redbud trees all blooming. Since the temps were in the upper 60's here yesterday, I spent some time on the porch putting together a little St. Patrick's Day table setting with dishes I've collected over the years.
The only thing new in this table are the napkins which are actually little hand towels from the dollar store.
If you've been reading BNOTP for a while, I know you recognize this silly guy. I try to sneak him into a St. Patrick's Day tablescape at least once a year.
The bowls and plates are by Mesa Home Products and were found in HomeGoods several years ago. Flatware was purchased on eBay a year or two ago. This is the first time I've used it in a St. Patrick's Day table setting.
I think the only other time I've used it was in this beach themed tablescape where I included a salad fork from another flatware pattern since it didn't come with one. The striped teaspoons are really big, more like a tablespoon or soup spoon. (Beach themed table can be viewed here: Beach Themed Tablescape)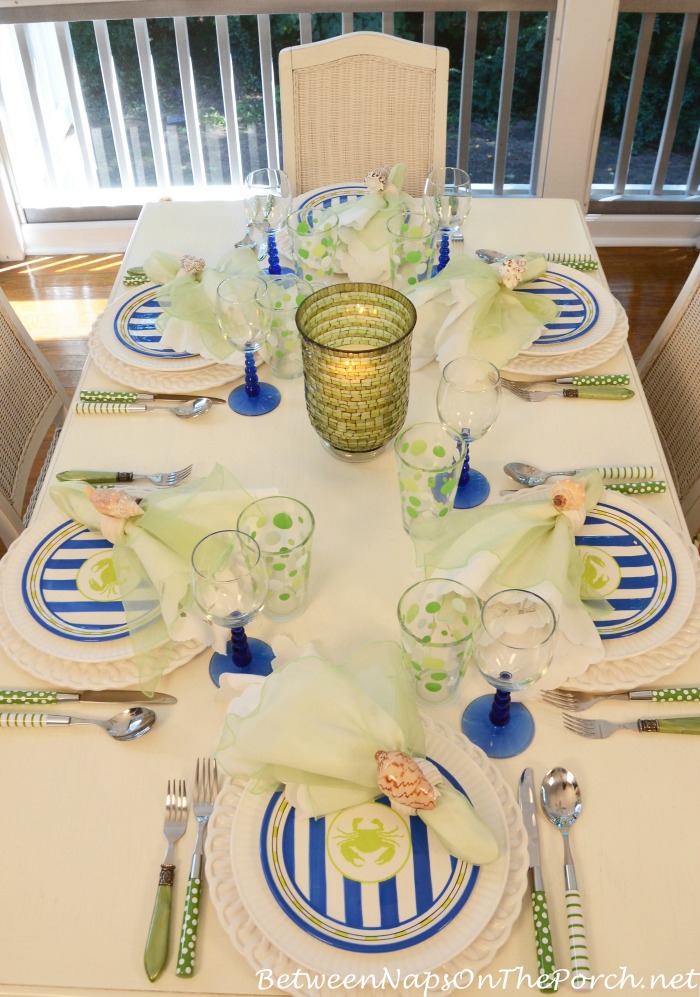 I was doing a little reading about leprechauns this morning. They are described as diminutive faeries who are shoemakers known to hide their profits in pots at the end of rainbows or may sometimes scatter them around in mountains, forests or rocks. Apparently, in Irish folklore they originally wore red. After green began to be associated with everything Irish in the 20th century, they began appearing dressed in green.
Looks like our leprechaun (who badly needs a name–why haven't I named him before now?) has brought us lots of pretty treasure.
Recently I decorated the porch hutch in a nautical theme as seen in this post: Porch Hutch Gets a Summer Makeover
I gave it another little makeover for St. Patrick's Day using other St. Paddy's Day dishes I already had but didn't use in this week's tablescape.
I love the sweet little blooms on this flowering shamrock.
The plates are also by Mesa Home Products. I've had them for many years, I think I originally found them in HomeGoods. I wonder if HomeGoods had them in this year, I haven't been there in a while. If not, best place to find them now would probably be Replacements.com or eBay.
Have you ever wondered what the difference is between a Shamrock and a 4-leaf clover? Though I look this up almost every year, I've usually forgotten again when St. Patrick's Day comes around. So I looked it up again today and here's what I learned: A shamrock is a clover, but with three leaves instead of four.
Gradually over the years, the 4-leaf clover, which is considered to be lucky, has started being associated with St. Patrick's Day, although technically the shamrock (which St. Patrick used to explain the Holy Trinity) is a national symbol of Ireland. You'll find additional information about it in THIS article.
So, technically those are 4-leaf clovers on the plates, not shamrocks, if we're being really picky about it. I guess that just means we have lots of good luck coming our way! 🙂
Happy St. Patrick's Day!
Need a 4-leaf clover napkin fold for your St. Patrick's Day table? You'll find a tutorial for making this one here: 4-Leaf Clover Napkin Fold for St. Patrick's Day
Looking forward to all the beautiful table settings for this Tablescape Thursday!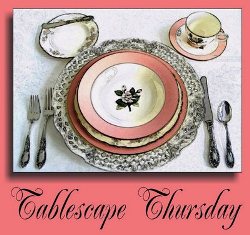 If you are participating in Tablescape Thursday, please be sure to add your permalink below, and not your general blog address.
To get your permalink, click on your post name, then copy and paste the address showing in the address bar, into the "url" box when you link up. You'll need to include a link in your post back to the party to link up and participate.
That's so visitors to your blog will be able to find the party and the other Tablescape Thursday participants. Requiring a link back also prevents businesses from linking up to sell their products. (Yep, that really happens, unfortunately.)
Please, don't add your post name/blog name ALL IN CAPS…it tends to create big spaces between the rows of links.
Please do not link up table settings that were just recently shared in the last few weeks for Tablescape Thursday.
*If a post is sponsored or a product was provided at no charge, it will be stated in post. Some links may be affiliate links and as an Amazon Associate, I may earn from qualifying purchases. *