I've never been much of a big city girl but after seeing the movie, Just Like Heaven, I'm wondering if I should reconsider. Oh my goodness…cutest apartment EVER! Okay, it still has some serious competition from Bronte's apartment in the movie, Greencard, but the rooftop garden and view is a close competitor for the to-die-for greenhouse in Greencard.
It's been a while since I watched Just Like Heaven starring Reese Witherspoon as Elizabeth, a workaholic doctor and Mark Ruffalo as David, a lonely, depressed Landscape Architect. I had completely forgotten just how wonderful Elizabeth's apartment is in this romantic comedy, part-fantasy movie based on the novel, If Only It Were True written by French author, Marc Levy.
In the movie, Elizabeth is so obsessed with her work as a doctor, she has put everything else in life on hold, including relationships with freinds and family. David is completely lost with no direction in his life having just been through the death of his wife. Their worlds collide in the most unusual of ways and it makes for an adorable story with a happy ending, my favorite kind! 🙂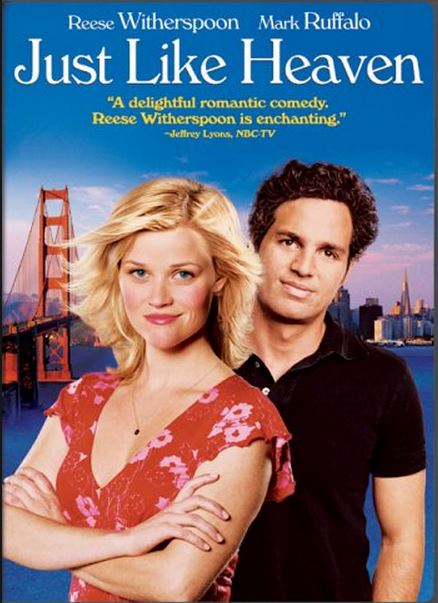 Just Like Heaven is set in a darling Victorian apartment located in the Russian Hill neighborhood of San Francisco. San Francisco turned out to be a great place for the setting of this movie due to the many ties those involved in making the movie have with that area. Mark Waters, the director, lived in San Francisco for five years when he was pursing his career in theater and Leslie Dixon, one of the co-authors of the movie was shocked to discover the apartment building chosen by location scouts was the exact apartment building she had once lived in!
In this scene we get our first view of Elizabeth's apartment when David sees it for the first time.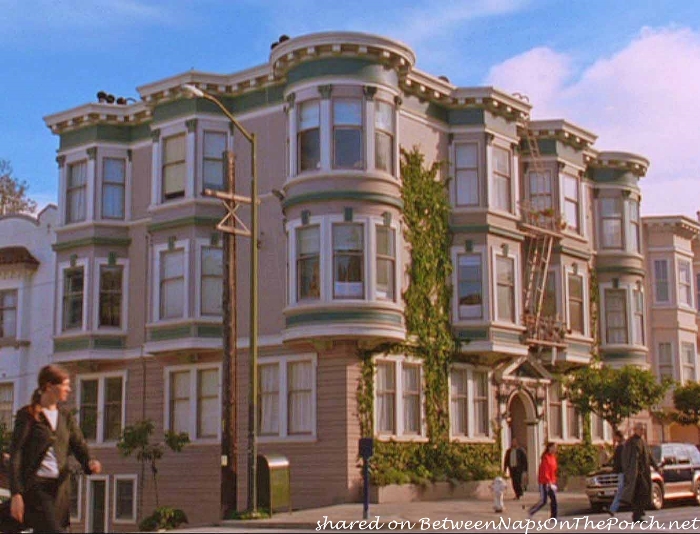 In case you are wondering where the apartment in the movie Just Like Heaven is, it's located at the corner of Mason Street and Green Street in the heart of San Francisco. The actual address is 1688 Mason Street. Could it be any cuter?! Okay, maybe I could do without the fire escape but in some ways that adds to its quaintness as it harkens back to another time.
Here's a more current view of the area from Google Map's street view.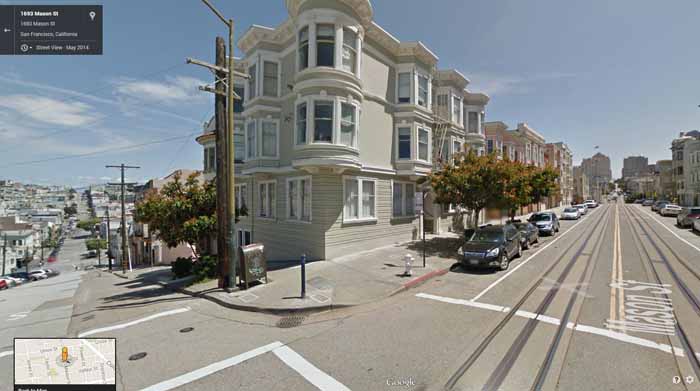 I liked the exterior paint scheme a whole lot more in the movie. It had so much more personality, didn't it? I wonder if they temporarily painted it for the movie and then had to paint it back to these neutral colors afterwards or if it really was pink when the movie was made.
Let's go inside!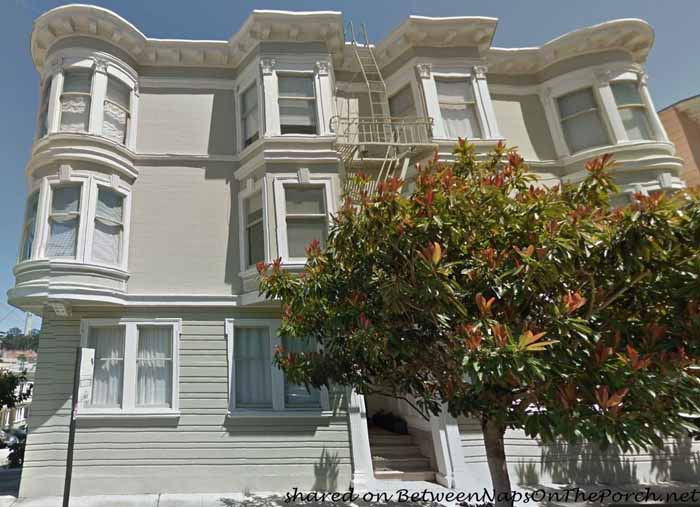 We get a very brief view of one of the hallways/staircases in the building in this scene. Notice the turned railings, gorgeous handrail and beautiful shell niche. I bet the whole staircase was a stained finish in its early days.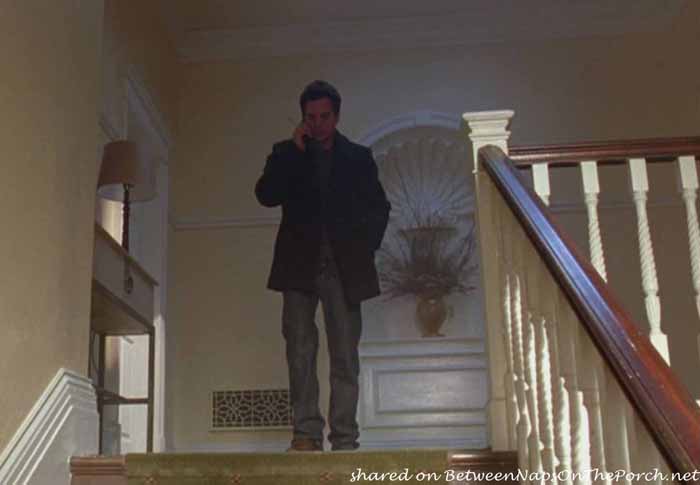 As David enters the apartment for the first time with his daffy Realtor following behind, we get our first glimpses of this cozy place. The apartment is currently available for rent month-to-month. The owner is away for awhile but David and his Realtor don't know any specifics about where she is and when or if she'll be returning.
The interior scenes for Just Like Heaven were filmed on a sound stage and you know what's funny, I just realized as I was looking at this scene again, they goofed. If you look closely, you can actually see where the wall ends on the set. Oops! That needs to go into that movie bloopers or movie mistakes website I found once, forgotten the name of it.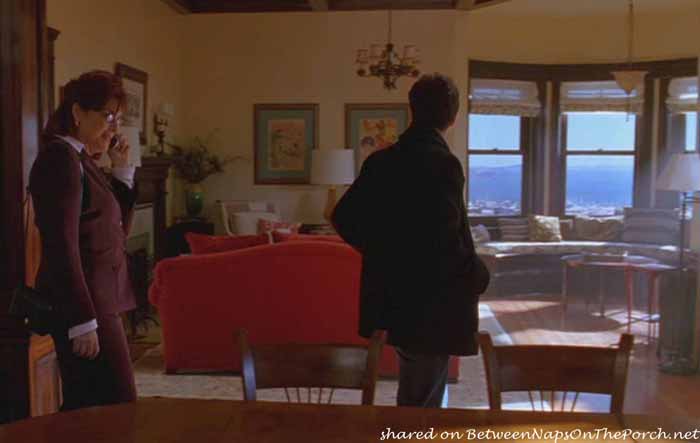 Many of the scenes are shot in dim lighting which adds to the cozy "nest" feel of this adorable apartment. No overhead lighting, just lots of warm, cozy lamp lighting.
Many scenes take place in this large bay window. I love it when they shoot scenes from outside looking in like this. Sooo romantic and it just pulls you in, giving you the feeling that you have a special power to observe what others can't see, even if just for a little while.
The views from the apartment in Just Like Heaven are breathtaking. You almost forget to listen to the dialogue with that wonderful view stealing all the scenes. When researching online for more information about the apartment, I learned this amazing view of the San Francisco bay was actually filmed from the deck of an apartment located a block away on Russian Hill at Taylor and Green. Though the apartment we saw earlier in this post was used in the exterior scenes, it's only a few stories high, so they captured the San Francisco bay area views from the other apartment nearby.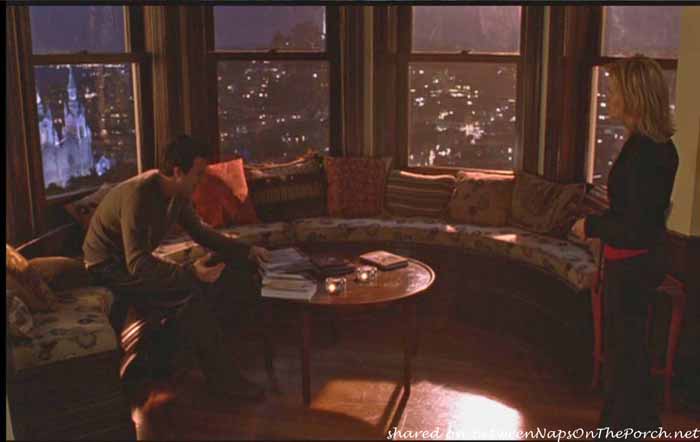 Another wonderful view of the bay window during the daytime. Can you just imagine all the light coming into the real life apartments in San Francisco with those great bay windows! They really give you a panoramic view of the city!
At nighttime, the views become even more magical!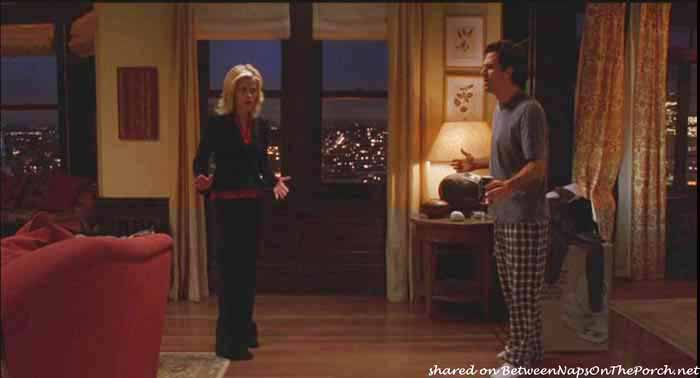 You really get a sense of the layout of the apartment in this scene. We are standing in the living room looking across the large dining room into the kitchen.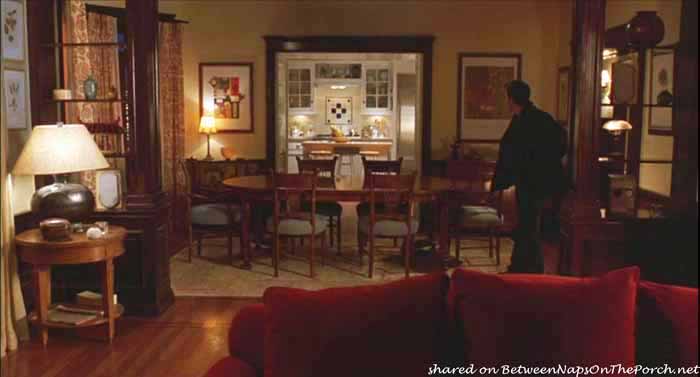 This is the scene where Elizabeth finally has to come to grips with the fact something isn't quite right as she looks down and discovers she is standing IN her dining room table. Cue woo-woo music here.
The kitchen is wonderful with the same amazing views. Dish-washing would be a lot more fun at that sink!
I wish we had a daytime scene of the light coming through all the glass bottles along the shelf.
Another view of the kitchen showing the soft-yellow color of the tile. I love a yellow kitchen with white cabinetry.
Even the hallway inside Elizabeth's apartment is beautiful with all this gorgeous woodwork!
I guess with limited wall space, the only place for the bed in her bedroom was to tuck it down inside the bay window. It would be kind of nice to go to sleep looking up at the stars and awake watching the clouds float by in a blue sky, wouldn't it? I think I like this bed in the bay window idea!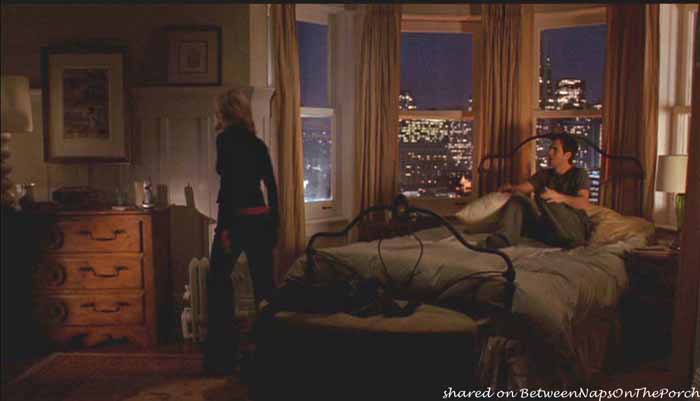 The bathroom is really spacious for an apartment.
In the movie, Elizabeth's' apartment has exclusive access to the rooftop. Can you just imagine the dinner parties up here! So much potential but sadly Elizabeth has done nothing with it because all she does is work!
Since the building used in the exterior scenes didn't have a rooftop, the roof was recreated in a sound studio. The roof view was added digitally. Amazing what they can do with computers, isn't it!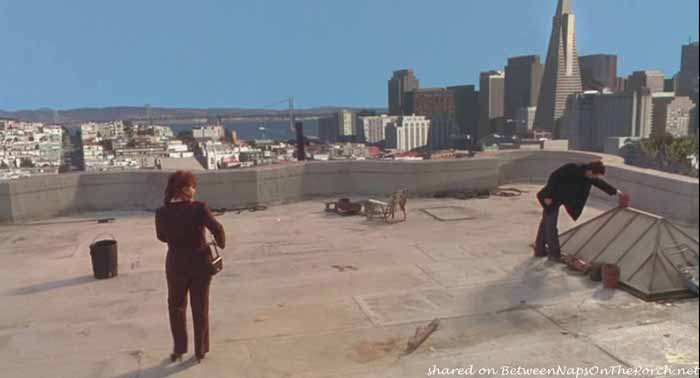 In an interview I read in San Francisco Chronical, the director Mark Waters said, "From this place, you could see the Golden Gate Bridge, Coit Tower, Transamerica — you kind of get your highlight reel of San Francisco from that rooftop. So we picked those locations as Reese's apartment and built everything from there."
We are treated to the most amazing transformation when David landscapes Elizabeth's rooftop into the garden she always dreamed of having in this space.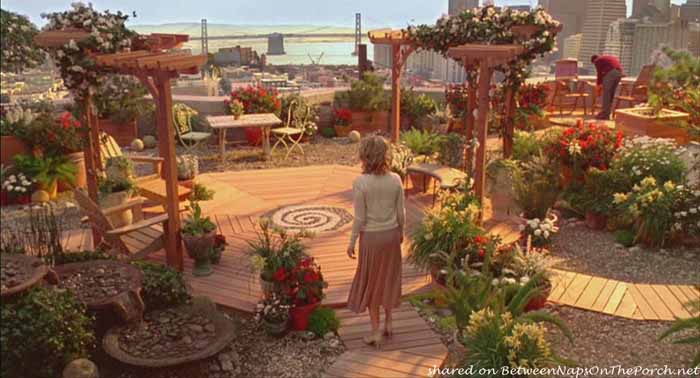 Elizabeth has just returned from her 3+ months stay in the hospital and is seeing the garden for the first time. She is completely amazed, as you might expect. I won't tell you the ending in case you would like to see it, but I will share it's a happy one! Yay!
Are you familiar with San Francisco? You may recognize this little cafe called Caffe Trieste. I just loved how it looked in the movie, I think it may look like this in real life. Anyone know? Seeing it makes me want to have lunch there with a friend.
Another location used in the movie, Just Like Heaven is a bar called, The Saloon at 1232 Grant Avenue. A hilarious bar scene takes place there. There's also a brief scene in Mission Delores Park located at 566 Delores St. in San Francisco.
One of the funniest scenes is earlier in the movie when David is trying to figure out what to do about this persistent spirit visiting his home and he ends up in Abandoned Planet, a real bookstore at 518 Valencia Street in San Francisco.
Such a cute movie with a great movie house! Watch it if you get the chance!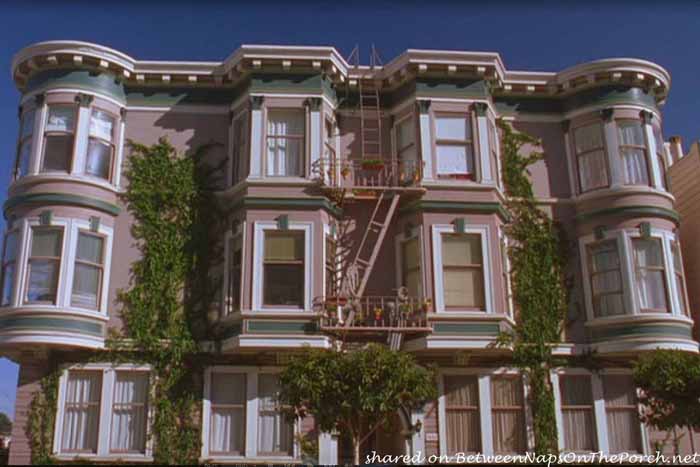 Love seeing the details of all your favorite movie houses? You'll find all your favorite here: Movie House Tours
The apartment in the movie Green Card with Andie MacDowell and Gérard Depardieu is another beautiful apartment in an historic building that captured many hearts. Take a tour of Bronte's darling apartment here: Tour The Apartment and Greenhouse In The Movie, Green Card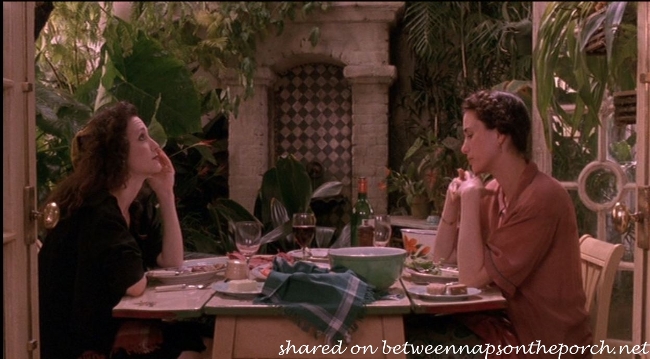 Tour Kathleen's adorable brownstone apartment in You've Got Mail here: Tour the Manhattan Brownstone Apartment In, You've Got Mail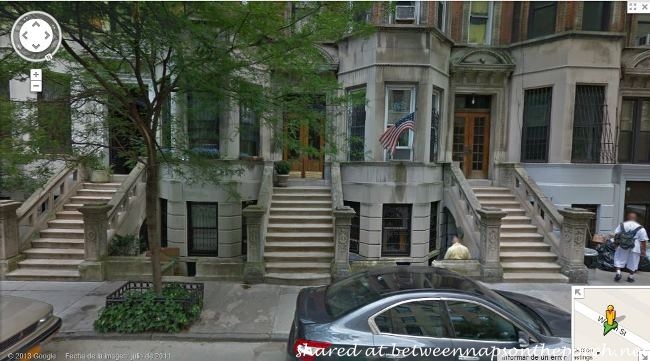 *If a post is sponsored or a product was provided at no charge, it will be stated in post. Some links may be affiliate links and as an Amazon Associate, I may earn from qualifying purchases. *