Last night a friend and I went to see the movie, This Is Where I Leave You, a comedy starring Jason Bateman as Judd Altman, Tina Fey as Wendy Altman and Jane Fonda as their mother, Hillary Altman. The movie is based on a 2009 novel by Jonathan Tropper and was a New York Times bestseller. I was pretty excited when the opening scenes showed the outside of a beautiful home…yay, another great movie house! I wish I could tell you I liked the movie but I'm afraid my taste in movies runs very different from those being made these days. I did however, enjoy getting glimpses of the home where the movie was filmed!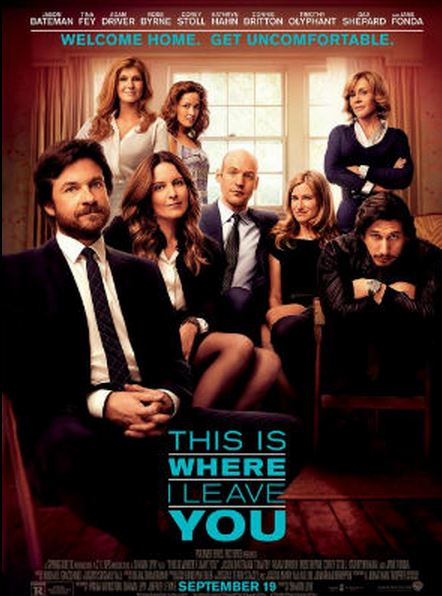 This movie is one of those rare movies that was actually filmed inside the home and not on a sound stage! This Is Where I Leave You was shot on location at 9 Burnham Place, Manhasset, New York which is located in the Manhasset Village. Anyone familiar with that area? From what I read online, the area is a very popular place for filming movies and was also used to film Mr. and Mrs. Smith, The Good Shepherd and some episodes of a CBS series called, The Good Wife.
We get our first view of the home in this scene toward the beginning of the movie. Cute house!
Here's a view of it in real life from Google Maps.
It's kind of interesting seeing all those spiky things on the roof since the homes in Georgia don't have those. I have seen them on the roof of a couple of pharmacies around here, but that's about it. I think they are supposed to keep the snow/ice from sliding off the roof and hurting someone. Someone who lives up north will have to confirm that for me. 🙂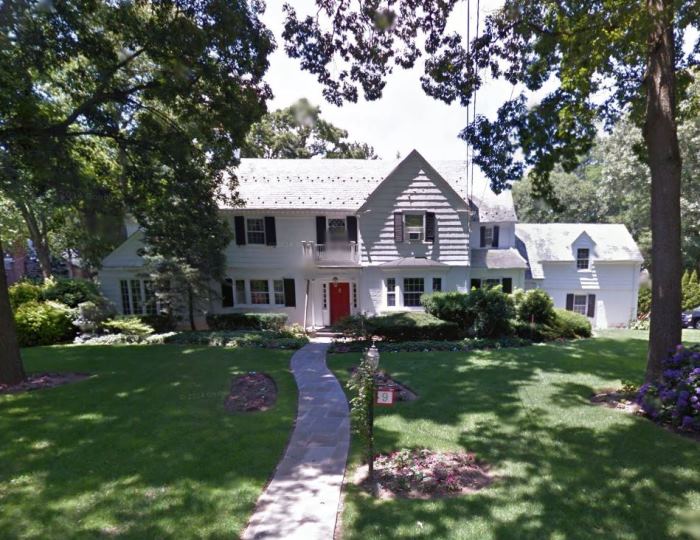 The storyline of This Is Where I Leave You is basically about an extremely dysfunctional family that's coerced by their mother to follow a Jewish tradition of sitting shivah (also spelled shiva) after their father's death. Jane Fonda, who plays the mother, convinces her four children that this was their father's one dying wish, though later in the movie you find out this isn't true.
The "sitting" takes place here in the living room in very short chairs, another part of the tradition (per the movie) that indicates the family is in mourning.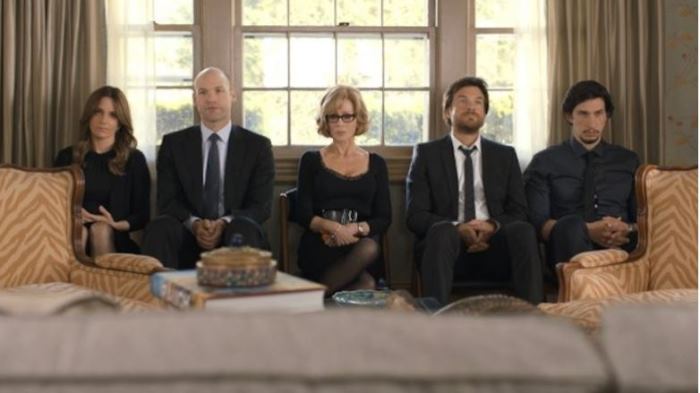 When they film a movie inside a home, normally they will replace the furnishings with what they feel the characters in the movie would have in their home. I wonder if they did that in this movie? Jane Fonda play a wacky psychologist who is a bit of a celebrity due to a best-selling book she's written on raising children. Ironically, she has about the most dysfunctional children you can imagine. I would have thought her taste in furnishings would run very eclectic and they do. In the movie you'll often see traditional pieces mixed with more contemporary furnishings.
I'm guessing the wallpaper was already there but would love to know if they added it just for the movie.
In this scene filmed in an upstairs bedroom, we see similar style wallpaper in a different color. Love the aqua tile around the fireplace…very pretty! I also liked a lot of the upholstered pieces in the move. The pics I'm sharing today are the few I could glean from the trailer but I think they give you a flavor for the feel/design of the home in the movie, This Where I Leave You.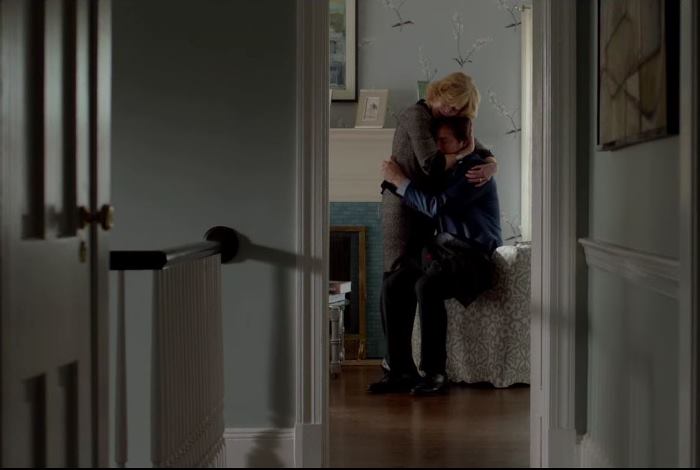 The kitchen is also furnished in an eclectic style with fairly traditional chairs paired with an ultra contemporary table.
Reminiscent of Kevin (Home Alone) who gets stuck sleeping in the attic when relatives come to stay before their trip to Europe, poor Judd, played by Jason Bateman, is ousted from his childhood bedroom and is stuck sleeping in the unfinished basement.
We get a brief view of the back of the home in this scene. Notice the enchanting door/gate on the other side of the yard. Wonder what's on the other side? Is it a secret garden? A door leading to a pool? Unfortunately, we don't get to see that in the movie. Beautiful back yard!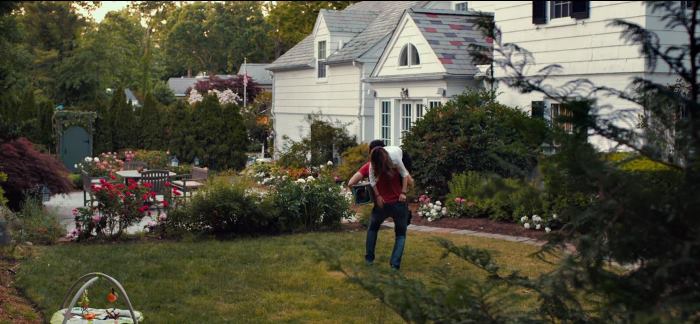 Here's a view of the home at night…I love views like this. There's just something so inviting about the glow of lights inside a home. Several scenes in the movie take place on that small section of roof on the right.
In the movie, Wendy (Tina Fey) and Judd (Jason Bateman) crawl out a window in each of their bedrooms on several occasions for some heart-to-heart chats.
I love that they chose to film this movie inside the home although some of the homes Hollywood creates on-set are pretty awesome, too! We never would have seen that amazing kitchen in Something's Gotta Give that's been duplicated many times in real life if not for the creative set designers!
This movie reminded me a lot of the movie, The Big Wedding. Both movies have star-studded casts and took place in beautiful homes. Take a tour of the beautiful lake home in The Big Wedding in this previous post or click on the photo below for that tour: Tour The Home In The Movie, The Big Wedding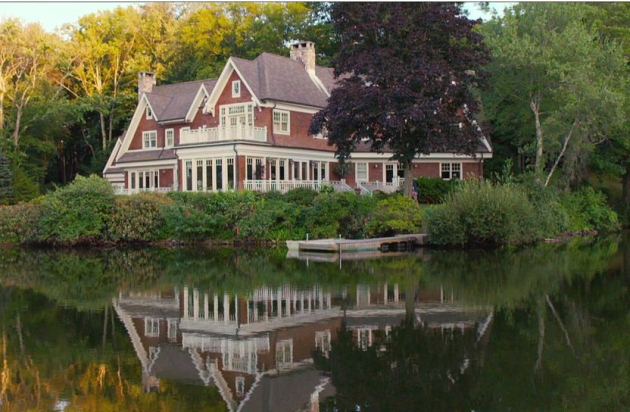 *If a post is sponsored or a product was provided at no charge, it will be stated in post. Some links may be affiliate links and as an Amazon Associate, I may earn from qualifying purchases. *