Recently, I took a little vacation to Savannah, Georgia. It was a wonderful trip and when I returned home that weekend, I couldn't wait to pull out one of my favorite "beach house" movies, Something's Gotta Give. Do you remember this amazing living room from that movie house?
Come along and let's take a tour of the whole house…it's an amazing movie house!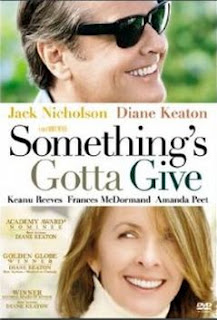 Somethings Gotta Give is one of those movies you just have to watch at least once every summer. Joni, whose beautiful blog is Cote de Texas, believes the beach home in this movie to be the most beloved "movie" home ever. I might have to debate that one with her because I kind of think the house in Home Alone takes that honor. 😉 Okay, maybe they both qualify since the movies are from different time periods and the homes are so very different in style.
A while back, Linda, Megan and Joni of The Skirted Roundtable, interviewed Beth Rubino, the Set Decorator for Something's Gotta Give. In The Skirted Roundtable interview, Beth Rubino says, "The house was the 4th main character in that film." She is so right. The phones of designers were ringing off the hook for months and months after the release of Something's Gotta Give. It seemed everyone on planet Earth wanted their home decorated to look exactly like this wonderful beach house.

We get our first look at the home when Harry Sanborn, played by Jack Nicholson, and Marin Barry, played by Amanda Peet, first pull up to the house with plans of a romantic weekend. Marin thinks her mom and successful playwright, Erica Barry, played by Diane Keaton, is away for a few days. Surprise! Erica walks in shortly after the pair arrive and the fun begins.
This beautiful home is actually located in Southampton, NY. But, I might as well break the news to you early on…in case you don't know.
It turns out, only the exterior shown in the movie is of a real house. Unfortunately, all of those beautiful interiors we love are just set designs created on a stage at Sony Studios. Bummer. I know. I felt the same way when I found out the adorable English cottage in The Holiday wasn't real either. Even the leaves on the trees are fake. Yep, it was May and the trees hadn't leafed out yet in that area. Imagine having the job of gluing on all those leaves on that tree in the picture above!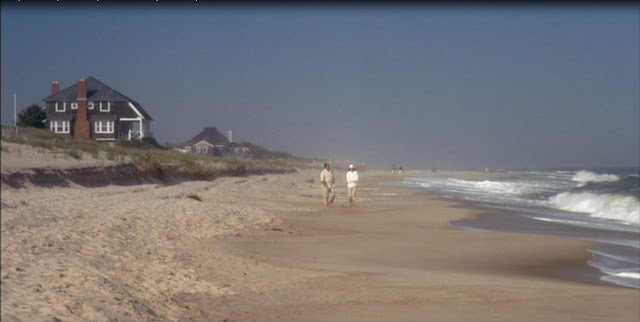 But take heart because the interiors are still completely wonderful, inspiring and totally doable! Here's a view of this Southampton home at night. Lovely!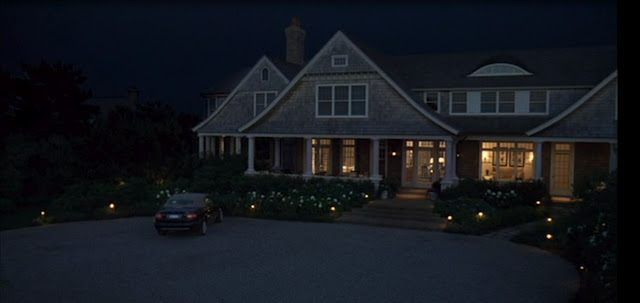 One more of the exterior before we head inside. I think most everyone has seen this movie, but if you are one of few folks who has not:
The plot involves a confirmed bachelor, Harry, and he is dating the 20-something daughter, Marian, of well-known playwright, Erica Barry. The weird thing is Harry is the age of Marin's mother, so you can imagine just how thrilled Erica is with the relationship. She and Harry don't hit it off well at all but ironically, he ends up having to stay at her home for several days to convalesce from a near heart attack. They grow closer and well…you can guess the rest. Keanu Reeves plays a young doctor, Julian Mercer, and he falls hard for Erica whose work he has always deeply admired. Erica goes from zero men in her life to two! Complicated!
Now for our tour inside…this room has captured the heart of many. I think one of the reasons we all love it so much is because it feels like a real home. It has that "collected" look as if it has evolved over the years, instead of being "decorated." The slipcovers also give it that beachy, casual feel, yet the whole room has an air of elegance, too. You could see yourself collapsing on one of these sofas after a long day with a bowl of popcorn and a good book or movie.
Of course, one of the highlights of this room, perhaps it's most remembered element, is the striped blue and white dhurrie rug. The story behind this rug blew me away!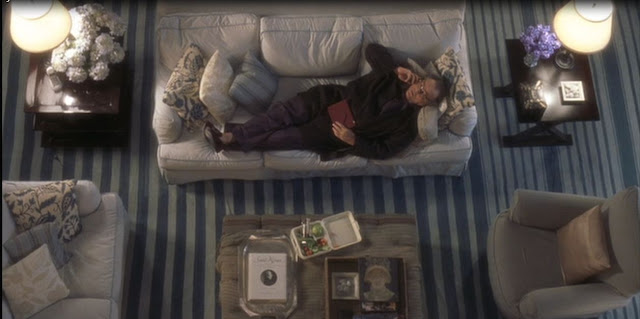 It turns out when the Set Decorator, Beth Rubino found this rug, it was just what she had pictured for this huge family room. Only one problem, the rug was gigantic…over 70 feet long! So, she had it cut (gasp) and pieced together to fit the room in the movie.
Take a look at this picture below. Weird looking isn't it. Have you ever seen a rug where the stripes didn't remotely match up. lol Now you know why! The only thing that bothered me about this was it was an antique rug. 🙁 I know it was just a dhurrie, but I don't think I could have had an antique rug cut up. How about you? I guess a Set Decorator has to do whatever it takes to get the job done under deadline.
Of course, we don't really notice these details while we are watching the movie. Those only came out later once the home became this HUGE sensation. If you've always coveted the look of this room and you would love your own blue and white striped dhurrie, there are lots to be found online. I Googled and found these five below at Cottage and Bungalow.
Here's a collage showing all five. A collage isn't the ideal way to share these; they looked a lot better online at Cottage and Bungalow. The one in the middle is a ticking design. I love all of these. They have striped rugs in every color imaginable, not just blue and white. (I'm not affiliated with Cottage and Bungalow…just sharing the good stuff when I find it.)
Another one of the "stars" of this room is the beautiful Swedish, Mora clock. Imagine for a moment this room without that clock. Just not the same, is it? Scroll back up a couple of pics for a bit better view of that wonderful clock. I would love a Mora…just love the shape!
A view of the room during a big storm that takes place during the movie.
It's nighttime now and Erica and Harry have called a truce. In this scene in the family room, they are meeting halfway in route to the kitchen for a late night snack. Let the romance begin. Besides the family room, the other room designers were most requested to copy was the kitchen.
See those beautiful soapstone counters? Would you believe they are actually plywood? Yep, plywood painted to look like expensive soapstone. The magic of the movies.
This kitchen is bright and cheerful, a place you just want to be. I love the glass-front cabinets in the kitchen. I redid my modest kitchen, and cut out the center of the cabinet doors and installed glass into the front of 6 cabinets in 2001. It was a DIY project and for once, I was ahead of the trend curve. That NEVER happens. lol I decorate for me anyway and not trends. Bet you do the same.
Another section of this lovely kitchen. Hard to believe that isn't real soapstone. Love the subway tile…so classic, crisp and clean.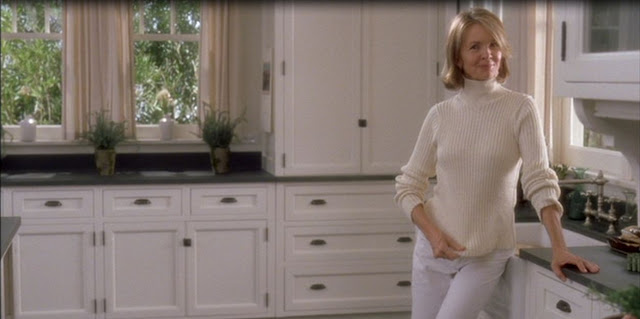 We get a little glimpse into the small sitting area off of the kitchen in this view.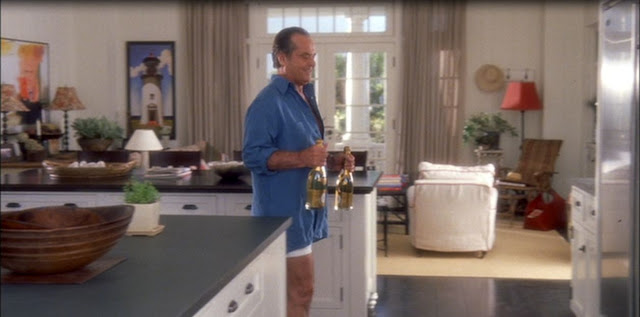 The third most talked about room in the movie, Something's Gotta Give, is the dining room. During The Skirted Roundtable interview, Beth Rubino explains the source of the inspiration for the design of this room. It turns out a good friend of hers had a wall like this filled with a dish collection in her dining room. Beth loved the look so she duplicated it for the movie, filling it with a beautiful collection of ironstone.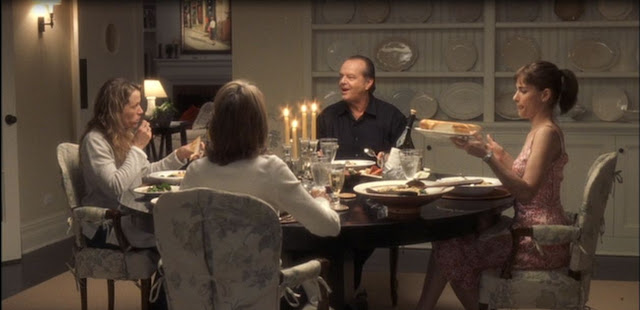 Designers were busy, busy, busy searching down this gorgeous fabric after Something's Gotta Give was released. It's called Bordeaux Toile and is made by Lee Jofa. It is wonderful, isn't it?Can you ever, ever go wrong with toile?
I love all the contrasts in this movie…the light against the dark and the casual against the elegant. Is there such a term in decorating as casual elegance? The house feels that way, dressy but casual. The style of the furniture is truly elegant, along with the built-in china cabinets, but the slipcovers convey comfort with style.
Here's a rarely seen view I snagged while watching the movie. I sure wish we had gotten to see more of that porch in the movie…but alas, it is just a set. I guess that means we get to fill in all the details with our imagination. Sometimes that's even better.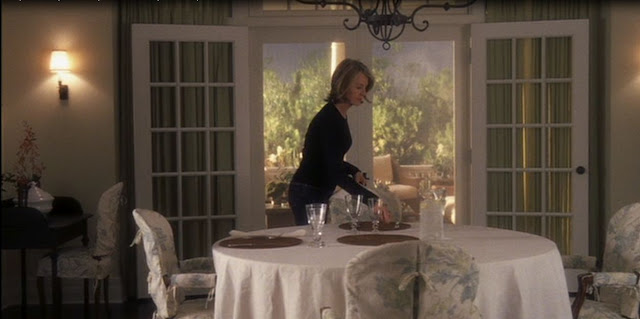 Erica's bedroom is as soothing and comfortable as the rest of her home. My favorite area of this room has to be the huge bay overlooking the ocean. Honestly, would you ever get any work done sitting in this lovely spot? I'd find myself daydreaming all day.
At night it feels a tad creepy, doesn't it. I'd have to close those draperies, no matter how secluded it might be. This atmosphere/theme of "neutral" runs throughout this movie. Erica's home is all creams and beiges, her clothing is all whites, tans, khakis, and she only collects the white rocks on the beach until Harry enters her life. It's a subconscious thing, something she isn't really fully aware of, or at least that's the impression I got. It's as if she's living a "vanilla" life that's "safe" until Harry and Julian spice things up. As the movie progresses, Erica sheds the long sleeve, white turtlenecks and awakens within. Her life opens up and at times, it's painful.
We get a view of Command Central in this shot. This is where Erica writes. This would make me a little "quaaa-zee." I would need at least a few inches of desk surface showing. How about you…could you work at this desk? Love the built-in bookshelves. You can never have too many bookshelves. Never.
Harry gets bored and comes by her room for a chit-chat. I love the accent table with the decorative apron. It adds a bit of whimsy to this room.
I love how Beth styled the mantel with the large painting/pictures just leaning against the wall. It would feel so "fixed" and stale if they were actually hung perfectly on the wall.
We get a few glimpses of the "guest" room where Harry has been staying. In this scene, he is packing and preparing to leave now that he's doing better. I love the paneled walls in this room.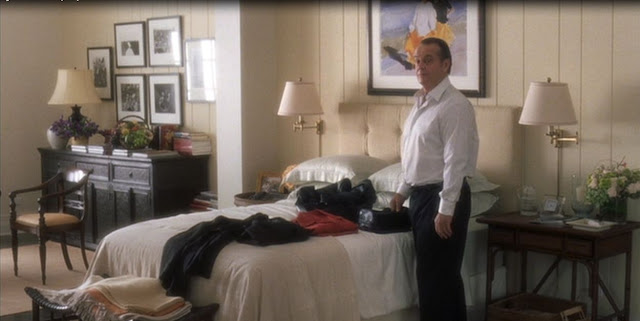 So. what did you think?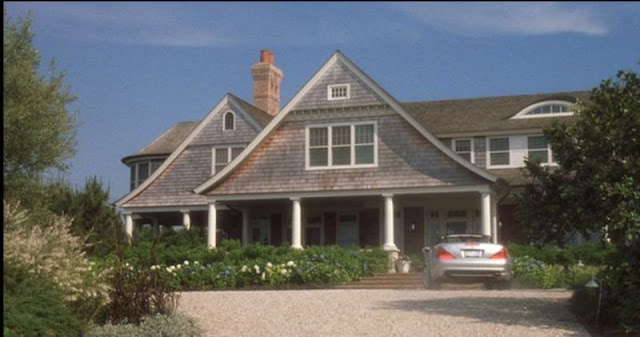 Some of the props used in the making of this movie are available for purchase at Newel. You can read all about Newel HERE.
Is this your favorite movie house? I'm still partial to the Home Alone house but this can be our vacation home for when we need a to get away. lol Are you with me? I'm ready to go pop the movie in and watch it all over again. What a great movie house!
Tour the house in Home Alone here: Home Alone (House Tour)
For tours of all your favorite movie houses, check out my Movie House Tours page here: Tour Your Favorite Movie House
If you don't see your favorite movie house featured at the above link, leave me a comment with the movie house you would love to see and I'll try to post a tour of it soon!
*If a post is sponsored or a product was provided at no charge, it will be stated in post. Some links may be affiliate links and as an Amazon Associate, I may earn from qualifying purchases. *