Welcome to the 566th Metamorphosis Monday!
Today is Cyber Monday! There are so many amazing deals going on right now, I had to share some of my favorites today. The ones I'm sharing will transform your home and your table for the holidays. Some will even give your wardrobe a holiday boost.
Before we get into some of the amazing sales I've found, if you are starting to decorate for Christmas and will be hanging wreaths on your windows or around your home as I did recently, I've found the most amazing source for big, beautiful bows!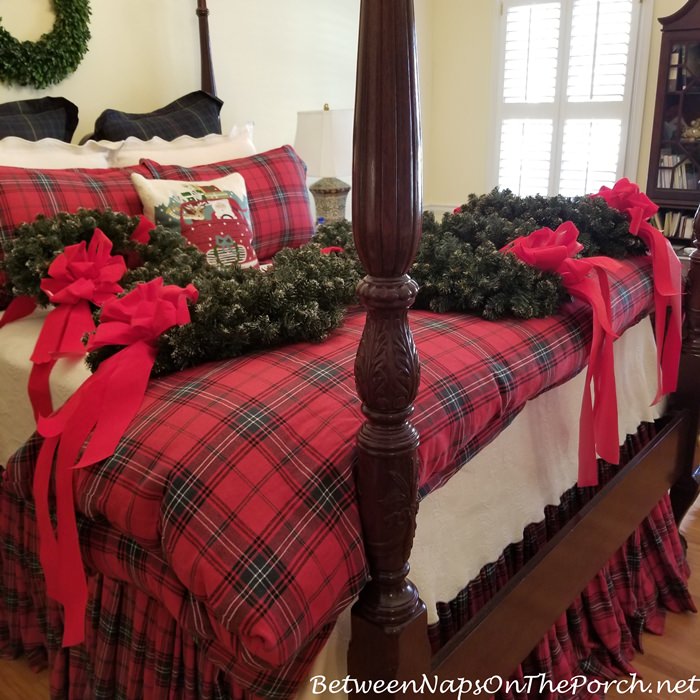 Even though I don't need bows right now…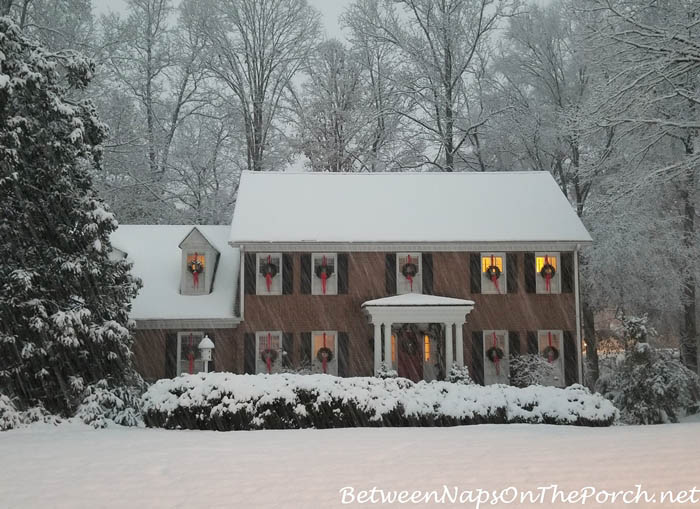 I went ahead and ordered a dozen of these because I know I'll eventually need them as my bows begin to show some wear. These outdoor bows typically last a long, long time, but I wanted to have some in reserve since the price on these is soooo much better than what you find in stores this time of year.
If you need big bows with pretty long streamers for your wreaths, you'll find these red bows available here: Red Bows.
Not exactly a Cyber-Monday sale, but I had to include this in today's post. This is the best pancake mix I've ever tasted! Seriously! I am obsessed with their Blueberry Pancake and Waffle Mix! You know how Blueberry Pancake mixes always claim to include real blueberries, then they turn out to be these ridiculous tiny little rock-looking blueberries?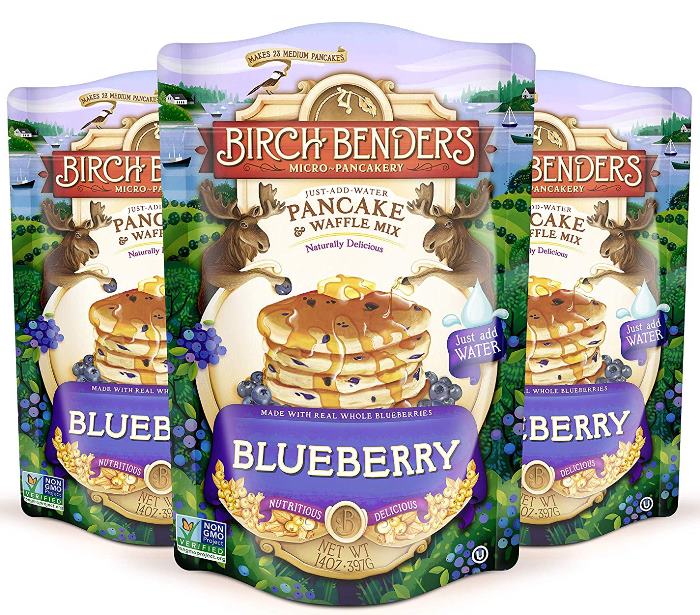 Well, not this mix! The blueberries are fat and look/taste like real blueberries. It is delicious! The classic mix is also great! I plan to try some of the others, as well.
You'll find them in all flavors here: Pancake and Waffle Mix. They also have a Paleo mix, a Keto mix and a Gluten-Free mix.
You guys know I love my tartan/plaid bedding and can't wait to dress my bed with it come fall.
Yesterday I got a lovely comment from Ali sharing how much she loves it, too.
I'm excited to share that this tartan bedding set is currently on sale in a One-Day-Deal. If you've been eyeing it, get it now while it's on sale. You'll find it here: Tartan Bedding.
If you just want a touch of tartan, it appears these sheets are in the same pattern as my bedding. I love them and I'm super tempted to order a set! You'll find them available here: Organic Flannel Sheet Set.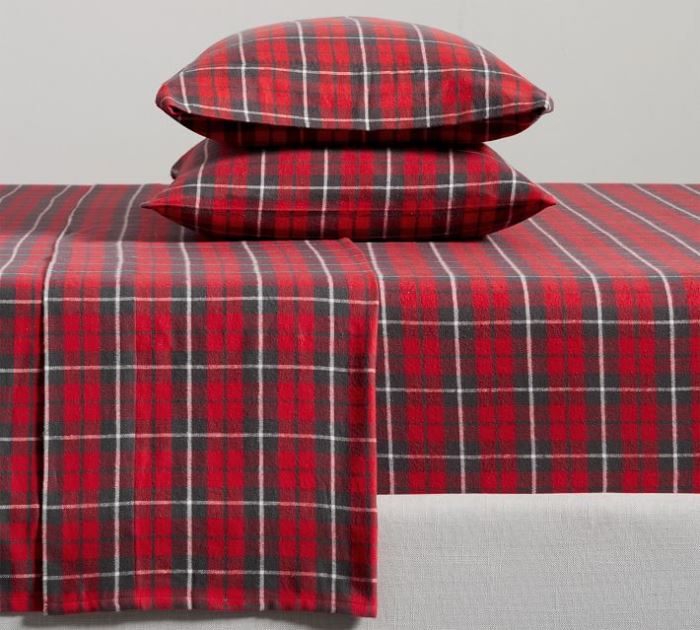 There are so many One-Day-Deals going on today! These awesome throws are on sale in a one-day-deal. You'll find them available here: Plaid Sherpa Throw.
I love these with faux fur on one side, especially the green! Arggg, I need this throw in my life! You'll find these here: Plaid Faux Fur Throw.
This may be the best deal I've found on plaid/tartan throws. It's only $29 in a One Day Deal! You'll find it here: Plaid Throw. Would make a great Christmas gift, especially monogrammed!
Remember the Family/Friends napkin rings you've often seen me use this time of year?
They are perfect for a Thanksgiving, Christmas or New Years dinner, although I use them throughout the year. They are currently on sale here: Family Friends Napkin Rings.
J. Crew is offering 50% off everything with the code: MONDAY. Don't you love this picture?! This would be me heading for Ohio at Christmastime. Ha! 🙂
I'm definitely ordering this today either in the zip style or the snap style. I LOVE the color!
It also available in red, pink and one more color, I think cream. You'll find it in on sale here: Polartec Sherpa Fleece.
Here's how it looks in a "snap" style instead of with a zipper. I think this is the one I'm going to buy, I just love it! It's on sale here: Sherpa in Polartec.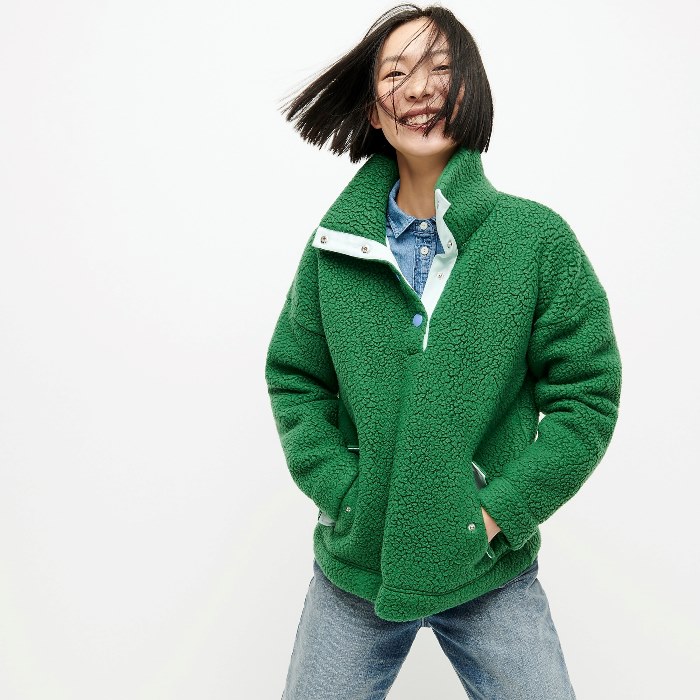 This is also in my cart right now. I love a nice, loose comfy coat and this one looks luxurious! You'll find it on sale in this color and in a gorgeous pink color here: Fleece Coat.
Talbots is having a fabulous Cyber Monday sale with 50% off one item and 40% off everything else + free shipping.
I love this snowflake sweater! Looks so beautiful with winter-white pants! You'll find it available here: Snowflake Sweater.
This pearl-embellished sweater would be beautiful for a Christmas party! It's available in three colors including black here: Pearl-embellished Sweater. Be sure and check out the black version of it, it's gorgeous!
Love this Reindeer sweater, would be fun to wear this on Christmas day. It's available here: Red Deer Sweater.
Still love this santa sleigh sweater, another great one to wear for a Christmas party or on Christmas Day! You'll find it available here: Sweater.
If you're looking for some beautiful dishware for the holidays, this beautiful dinnerware is 50% off right now, and that's just for today. You'll find it available here: Turkey Dinnerware.
Love these nostalgic Christmas plates! This pattern comes in full dinner size and salad size plates. The salad plates are only $35 for a set of four. I may have to order some of the salad plates…love it! You'll find it available on sale here: Christmas Plates.
As I'm Cyber Monday shopping today, when I find awesome deals, I'll add them to the end of this post. So check back later today if you would like to see what I find today.
Happy Cyber-Monday shopping!
Pssst: Did you know Between Naps On The Porch is on Instagram? You'll find me on Instagram here: Between Naps On The Porch.
Like to know when a new blog post is up and available to read? Subscribe for email updates, it's free and your email will never be shared.
Subscribe here: Subscribe for free post updates via email here: Subscribe.
Metamorphosis Monday
Metamorphosis Monday is a party that's all about Before and Afters. If you are participating in Met Monday, please link up using the "permalink" to your MM post and not your general blog address. To get your permalink, click on your post name, then just copy and paste the address that shows up in the address bar at the top of your blog, into the "url" box for InLinkz when prompted.
In order to link up, you'll need to include a link in your MM post back to the party so the other participants will have an opportunity to receive visits from your wonderful blog readers.
This party has ended, click button below for the links to all who participated.
*If a post is sponsored or a product was provided at no charge, it will be stated in post. Some links may be affiliate links and as an Amazon Associate, I may earn from qualifying purchases. *