Earlier this week I shared some new additions to my master bath. I'm hoping to fully renovate at least one of my baths next year but in the meantime, I'm appeasing myself by adding little improvements and touches that make my heart happy.
For example, I ordered this adorable birdie-themed tissue holder for the counter here in my master bath. Apparently, it's my favorite tissue holder since this is the 4th one I've purchased. lol It just works great everywhere in my home so I keep using it. (Birdie tissue holder is available here: Birdie Tissue Holder.)
Another change I made was that I brought in a beautiful, little tray that I normally have in the guest room and filled it with things I use on a daily basis instead of just having them sitting directly on the counter. I also ordered a set of these pretty glass dispensers. This one shown below holds Cetaphil facial cleanser and I have hand soap in the other one which is over near the second sink in this bathroom. (Dispensers are available here in sets of 2: Soap Dispensers.)
I also ordered these beautiful, "bathroom" tumblers for the two sinks in this bathroom. I had a regular kitchen glass here before and it was really too big for what I needed in this area. (Tumblers are available here: Tumblers.)
After adding all these pretties to my bath, the colorful toothbrushes and toothpaste tubes suddenly stuck out like a sore thumb. Ugh.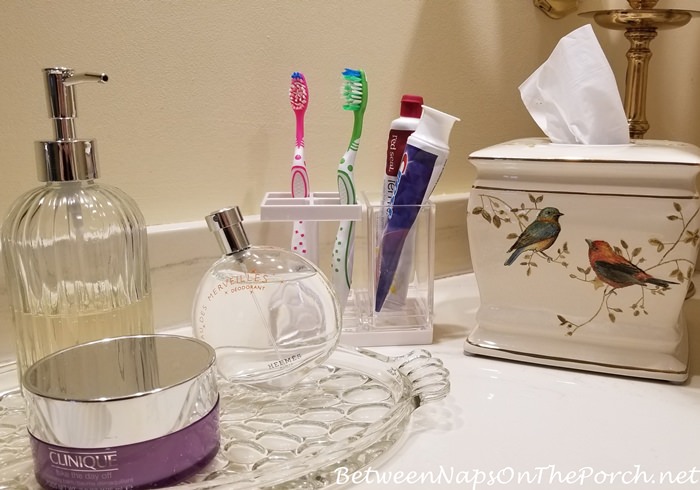 I had ordered this pretty toothbrush/toothpaste holder shown below (available HERE) and I do like it, but I just kept thinking how awesome it would be if I could make the toothbrushes and toothpaste just disappear. I really didn't want them to be visible at all. They were totally messing up my aesthetic in this room. Ha!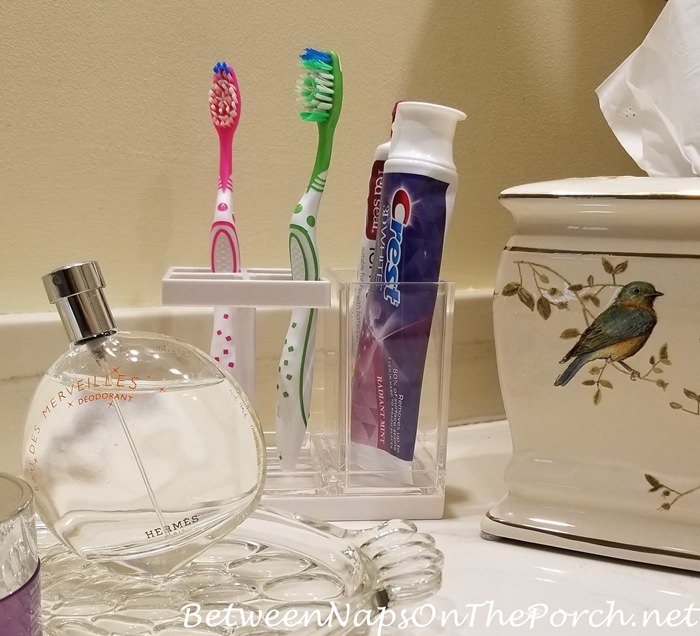 As I always do when I run into a little conundrum, I started searching online for a solution. I guess I'm not the only one who isn't overly thrilled about having their toothbrushes and toothpaste out on display because I found the perfect solution! It was as if someone had read my mind!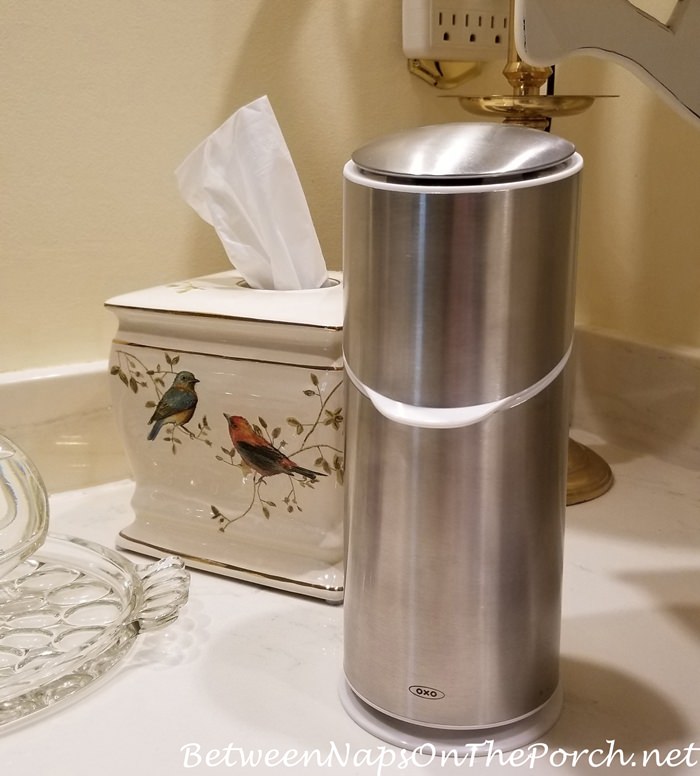 Here's how this area looks now–no more brightly colored toothbrushes and toothpaste messing up my pretty vignette here in the bathroom.
I am obsessed with this toothbrush/toothpaste holder! Obsessed! It's designed to hold up to 4 toothbrushes and a large (or small) tube of toothpaste. Since it holds so many toothbrushes, it would easily work in a bathroom that's being used by more than one person. The center compartment holds any standard size toothpaste tube. A large 6 oz tube of toothpaste fits comfortably, as will two smaller tubes.
I like to use a different toothpaste at night because sometimes mint (which is in almost all toothpaste) will cause my nose to block up, and there's nothing worse than trying to sleep with a blocked nose. In case you have this issue, this is the toothpaste I use at night: Non-mint Toothpaste.
So, it's possible to store both the 4.1 oz tube of Crest 3D White that I use in the morning, along with the 3.5 oz tube of non-mint toothpaste that I prefer to use at night in the center compartment. If you buy toothpaste in large tubes, those will fit, as well. I tried a large 6.0 oz Colgate Enamel Heath toothpaste inside and it fit just fine.
The container is designed with ventilation slots along the top and the bottom. I usually dry my toothbrush off before putting it away, but if you don't do that, it will dry anyway since this container is not airtight and allows for airflow.
This holder takes up very little counter space and I love how it hides the necessary, not-so-attractive stuff that I really don't want to see on my counter during the day. If you are spiffing up your bathroom and could use one of these, you'll find it where I purchased mine here: Toothbrush/Toothpaste Holder.
*If a post is sponsored or a product was provided at no charge, it will be stated in post. Some links may be affiliate links and as an Amazon Associate, I may earn from qualifying purchases. *