I haven't done any Black Friday shopping until this evening but I'm finding some awesome deals! Here's what I'm loving so far!
Noritake is offering 30-50% off sitewide! You'll find the sale here: Noritake: 30%-50% Off.
Tartan Bedding On Sale
I'm often asked about the tartan bedding in my master bedroom. It's currently on sale 50% off here: Tartan Bedding. That's the most I've ever seen it on sale! I'm not sure, but the code HOME at checkout may give you an additional 20% off the already awesome sale price. Great time to pick up this tartan bedding for fall and winter!
I just discovered there's a coordinating/matching cashmere throw and it's also on sale. Arggg, I love it! I need it! You'll find it here: Cashmere Throw.
This adorable Woody Car pillow is currently on sale almost half off! You'll find it available here: Woody Car Pillow.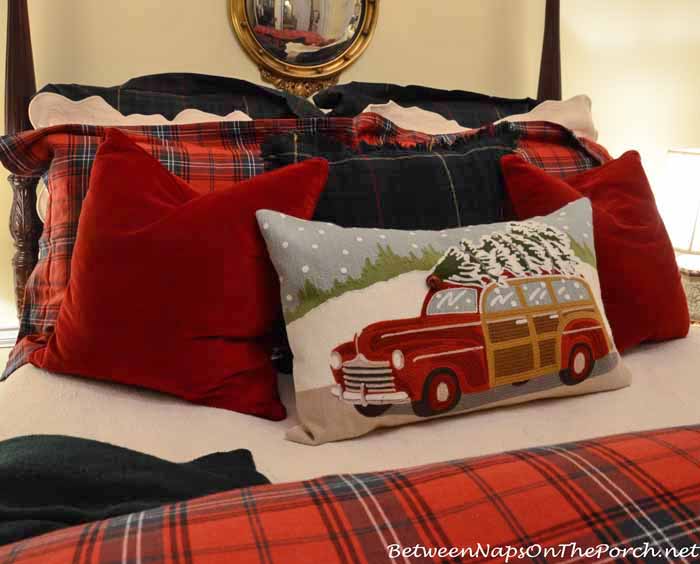 I love this one, too! It would go well with the new Better Homes and Garden Train plates I just purchased this year. You'll find it on sale here: Christmas Train Pillow.
The tartan chargers I often use this time of year are on sale 20% off!
They go with so many dish patterns! I like to use them all fall and winter…just love them! You'll find them on sale here: Tartan Chargers.
Gift Ideas for Kids, Adults Too!
One of my favorite places to shop for myself and for my grandsons is having a wonderful sale right now, everything is almost 50% off. The quality of the clothes is excellent! I'm always amazed at how well the clothes wash and how beautifully they maintain their vivid colors.
It's my favorite place to shop for clothes for my grandsons, but they also carry clothes for women, men and girls.
I always find the sizing to be very accurate. Also, the reviews are always helpful. My cart is full of goodies right now like these adorable tops for my grandsons. The only bad thing is when they have a sale, the sizes always sell out quickly. I wish they would stock more in each size.
Again, the quality is sooo good that I know anything I buy for my oldest grandson will easily be passed down to the youngest and it will still look brand new. The quality is that good! I guess that's why when they have a sale, everything goes so quickly!
Here are some quick links depending on who you're shopping for…
I love these Bee Boots for women! So cute! You'll find all women's shoes here: Women Boots and Shoes.
The other thing I love about shopping with this company is returns and exchanges are super easy, although I've rarely ever had to exchange anything since the sizing is usually perfect.
They carry a lot of traditional English style clothing. I have one of their coats and love it! You'll find everything that's on sale for Black Friday here: Black Friday Sale.
A Few More of My Faves
L.L. Bean is giving 20% off your entire order with the code THANKS20 at checkout. I love, love, love their sweaters and boots! You'll find the sale here: L.L. Bean Black Friday Sale.
Talbots is giving 40% off everything until midnight tonight, so jump on this sale this evening if you see something you love! You'll find the sale here: 40% off Black Friday Sale.
I love this black and red Buffalo Check Wool coat! It's also 40% off here: Buffalo Check Wool Jacket.
Happy Black Friday shopping!
Update: Just discovered these gorgeous House of Sillage lipstick cases are on sale! Each one contains over 300 Swarovski Crystals and they are absolutely gorgeous! I have a couple of these lipsticks and they are little works of art that you get to carry in your handbag and use every day! I love them! One would make a wonderful gift for someone special on your Christmas list. You'll find them on sale here: House of Sillage Lipstick Case.
*If a post is sponsored or a product was provided at no charge, it will be stated in post. Some links may be affiliate links and as an Amazon Associate, I may earn from qualifying purchases. *