Welcome to the 325th Metamorphosis Monday!
My Before and After this Monday involves this Waterfall Japanese Maple. It's a success story with a disturbing twist.
I planted the maple here about 15+ years ago when it was very, very small. It turned out to be a bad spot for it because it grew much more quickly than I expected and soon overshadowed the shrubs, which had to be removed. When I was having some work done in the yard this past winter, I paid to have it "professionally" transplanted.
BEFORE: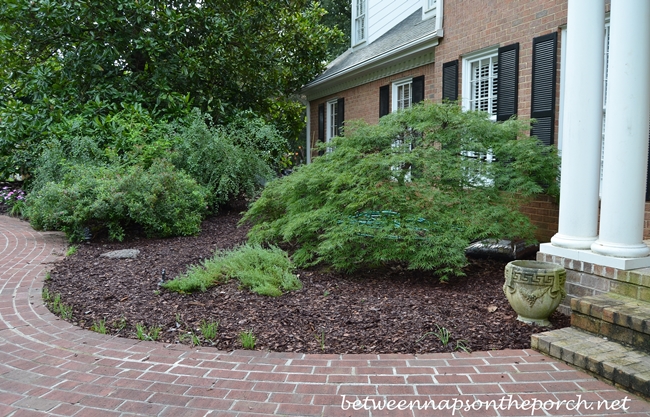 It was moved to an island where it would have space to grow. An azalea had been here but it was moved a few feet over.
Unfortunately, during the transplanting, this happened. I didn't notice it for a month or two because the workers who transplanted it had caked dirt into the hole to try and hide it. This side of the tree was already pretty bare before the transplanting because at some point over the years, someone had broken off a couple of small limbs on this side. I'm guessing it was either painters or pressure washing companies when they were trying to access the outdoor faucet that was located right behind it in its old spot near the house. But the tree never had a gaping hole like this. Instead, there had been a long skinny broken branch sticking out that was about 6-10 inches long.
I've thought about it and here's what I think happened. Since the skinny branch is now gone after the transplanting, and this gaping hole is here now instead, I think the men who moved the tree, attempted to use the skinny branch to pull the tree out of the ground after they had dug around it. Or, perhaps they used it to position the tree once they moved it to this spot, breaking it off and causing this gaping wound.
I removed all the dirt they had caked into the hole to take this picture. You can tell it's a fresh wound because the wood is orange in color, not gray like it would normally be if it had been there for a while.
I kept the tree watered on a daily or every other day basis all winter, then we started getting regular rains this spring which has been super helpful. Here's how it looked this morning. As you can see, it survived the transplanting well, except for the large wound it received at some point. So small Japanese Maples do transplant well, which is good to know.
AFTER:
This side of course is quite bare, just as it was when it was near the house.
The azalea survived the transplanting as well, but it's almost on top of the daffodils that are planted in this bed, so I need to move the daffodils.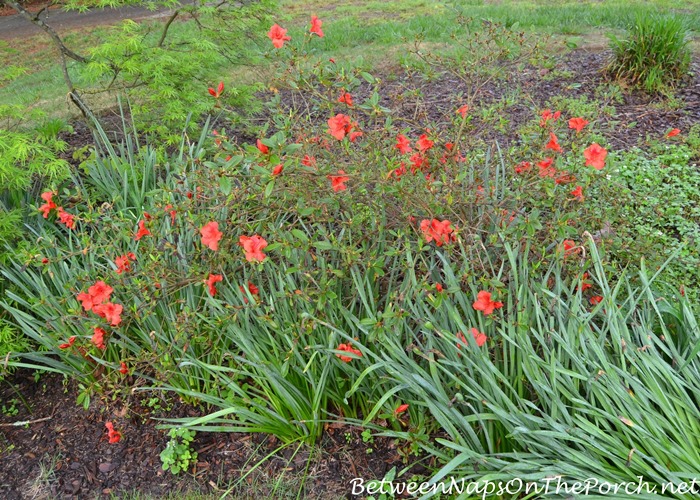 By the way, I contacted the landscape professional I hired to move the tree to ask why his men didn't tell me they had damaged the tree during the transplanting process. He said he would come by and look at the tree. Unfortunately, he came by without calling first so I wasn't here.
After talking with his men, who he had not supervised during the transplanting process, he left me a message saying they told him they didn't do it. No explanation for what happened to the now missing, small broken branch that was there before, and no mention of how it managed to get dirt caked all into the hole to hide it. Yeah.
So do you think it will live? I've heard that it's not good to spray that black paint-looking stuff (what's it called) when you cut off a branch or have one that's broken. Forgotten why now, I've just read it's not good for a tree. I should probably put something over the hole to protect it, but have no idea what. Appreciate your recommendations.
Take a tour of Arthur Blank's (co-founder of The Home Depot) garden in this post: A Rare Garden Tour
Love gardening and garden tours? You'll find many more garden posts here: In The Garden
Looking forward to all the fabulous Before and Afters for this Met Monday!
Metamorphosis Monday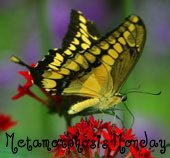 If you are participating in Metamorphosis Monday, you will need to link up the "permalink" to your MM post and not your general blog address. To get your permalink, click on your post name, then just copy and paste the address that shows up in the address bar at the top of your blog, into the "url" box for InLinkz.
In order to link up, you'll need to include a link in your MM post back to the party so the other participants will have an opportunity to receive visits from your wonderful blog readers.
Please observe these few rules:
Only link up Before and After posts that are home, gardening, crafting, painting, sewing, cooking, DIY related.
Do not link up if you're doing so to promote a website or product.
Do not link up a post that was just linked last week since a lot of readers will have already seen that post.
Please do not link up more than 3 Before and Afters each week. Thanks!

*If a post is sponsored or a product was provided at no charge, it will be stated in post. Some links may be affiliate links and as an Amazon Associate, I may earn from qualifying purchases. *