Welcome to the 750th Metamorphosis Monday! Two years ago, in June 2021, I shared a post where I mentioned I had noticed the roof on my home was looking kinda dirty. In this older 2012 photo, here's how the roof looked when it was still relatively new. It was around 5 years old at that time.
Looking back at older photos like the one below, I can see now that over the years a bit of staining was starting to appear here and there. It was so gradual, I didn't even notice back then.
When the staining hit this level two years ago, that's when it started to get my attention. I definitely did not like how this looked. I did a bunch of research at that time and learned that back in the day when my roof was installed, roofs were designed with something in the shingles that prohibited the growth of algae, but that protection was only warranted for 10 years. My roof was around 12 years old when I first started noticing the staining. From the research I did, I learned that how fast the streaking occurs depends on where you live. We get a fair amount of rain here in Georgia and the humidity is pretty high during the spring/summer months. So roofs here are more prone to this issue.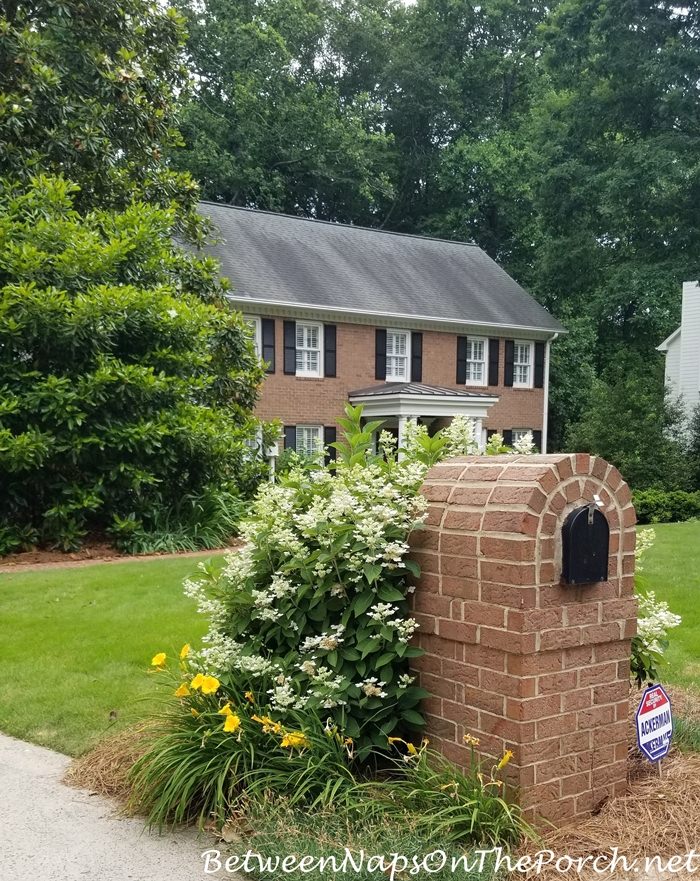 A couple of years ago when I first blogged about this issue, I got estimates for having the roof cleaned. It's pretty expensive, but the biggest thing that was holding me back was worrying if my updated landscaping would get damaged during the cleaning process which involves spraying chlorine onto the roof. They don't use any pressure, it's not pressure washing, it's just washing the roof with some mixture that has chlorine in it. The last few years have been a bit crazy, so roof cleaning wasn't a huge priority, but it was time to get serious and choose a company to clean it.
Recently, I got two estimates, one from a company I had contacted two years ago that still has a 5.0 rating after 329 Google reviews, and another company that has a 4.9 rating after 1,125 Google reviews. Both company's reviews looked great but the company with the 4.9 rating wanted to charge almost twice as much. Plus, I wasn't impressed with the sales representative who came out to give me an estimate. In the end, I went with the first company, the one I had contacted two years ago when I first noticed the staining.
Here's how it looked after the first cleaning. I was told that it sometimes takes more than one cleaning to fully get the whole roof clean. The owner of the company explained that the cleaning solution kills the algae, causing it to turn brown, so it's not unusual to see some brown-looking stains remaining on the roof after it's cleaned. He said the brown stains usually disappear after a couple of rains. but if there are still black areas visible, the roof will need a second cleaning.
I was definitely still seeing black areas so I texted photos to the company and they came back out again a few days later to do some additional cleaning. Once again I requested that they cover all my shrubs. The plants were only covered for about 20-30 minutes, so not long enough to do any damage.
Here's how my roof looks right now after its second cleaning–definitely much better, but I think it may need a touch-up here and there. I still see some staining down on the far right end. By the way, you don't pay for the additional follow-up cleanings, you only pay once and they will clean it as many times as it takes.
If the roof still looks like this in a day or two, I'll text these photos to them and ask them to come back out to hit the few remaining spots. The company I used charged $695 for cleaning both sides of the roof, front and back. From what I was told, a lot of people only do the front, which saves a bit on the cost. I want my roof to last for many more years, so I don't mind paying to keep it looking nice. I think I saw an article online somewhere that said the roofs that are being installed today are designed to stay cleaner even longer than 10 years, so if your house is coming due for a new roof, be sure to ask about that–about how long the roof is warranted against staining.
It definitely looks a lot better! Just another touch-up in a few spots and I think it will be done. I hope this lasts for a while. If you're interested, I will keep you posted on how long this cleaning does last. Georgia is a very humid state, so it will be interesting to see just how long it stays clean.
Looking forward to all the great Before and Afters linked for this week's Met Monday! Pssst: Did you know Between Naps On The Porch is on Instagram? You'll find me on Instagram here: Between Naps On The Porch. Like to know when a new blog post is up? Subscribe for email updates (it's free) and your e-mail will never be shared. Subscribe for free post updates here: Subscribe.
Metamorphosis Monday: Metamorphosis Monday is a party that's all about Before and Afters. Please link up your Before and After projects like DIY projects, room makeovers, craft projects even recipes. Please do not link up Table Settings, save those for our Tablescape Thursday party on Thursday. If you are participating in Met Monday, you'll need to link your post to the party using the "permalink" to your MM post and not your general blog address. To get your permalink, click on the name of your post, then copy and paste the address that shows in the address bar at the top of your blog, into the "url" box for InLinkz when prompted.
NOTE: Please do not link up more than 3 posts from your blog. In order to link up, you'll need to include a link in your post back to the party so your readers can find the other party participants. When linking up to the party, give the InLinkz system time to find the link in your post to avoid having your link held for moderation/approval. Thanks!
You are invited to the Inlinkz link party!
*If a post is sponsored or a product was provided at no charge, it will be stated in post. Some links may be affiliate links and as an Amazon Associate, I may earn from qualifying purchases. *