Welcome to the 594th Metamorphosis Monday!
It was a long drive back home, but it actually passed quickly as I listened to the book, My Friend, Anna: The True Story of a Fake Heiress, via Audible. I think the book is going to be made into a movie. Actually, it would probably make a better movie than it did a book–the book definitely drags at times where I think the movie would be pretty action-packed.
Every now and then during the drive back home, thoughts of what I might find when I arrived, crept in. I have never left my home for three solid months before. When my son and dil called in early March saying it appeared the schools there would be shutting down soon, I had very little time to prepare before leaving. A lot of states were starting to talk of blocking people from entering from other states. If I was going to help with my grandsons, I needed to leave for Ohio right away.
It was around 6:30 when I arrived home Thursday evening, so it was still light out. I glanced out at the porch but didn't have the nerve to go out and really look at it. I knew I had too much else to do. I needed to unpack the car, get some clothes washing and sort through the mail I found in the mailbox despite having put a hold on my mail. After 9-1/2 hours on the road, I wasn't mentally prepared for what I might find on the porch. I knew a good night's rest would better steel me for whatever awaited.
Normally after winter has passed, I vacuum the porch and give it a good wipe down, cleaning all the molding and dusting all the furniture. That usually takes around 1-2 hours.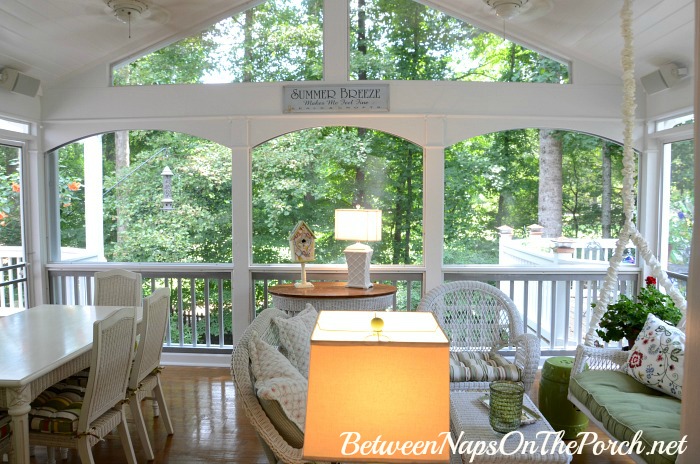 Midway through pollen season, I give the porch another vacuum and dusting. That usually goes much faster, taking about an hour.
Once pollen season has passed, the porch gets one more good cleaning, again taking about an hour. In many respects, the porch is a lot like the other rooms in my home, needing a general vacuuming and dusting about once a month.
The next morning I headed out to the porch. Here's how the floors looked. Ugh.
The table where I create so many tablescapes looked like this.
It was covered in three months worth of dirt and pollen.
The lamp that lives nearest the screens…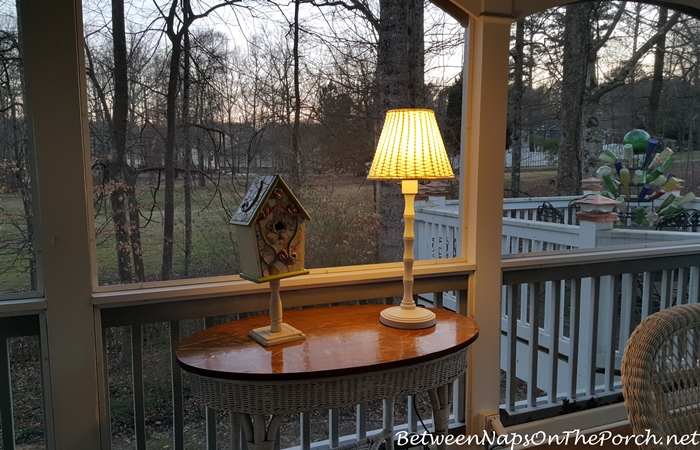 …looked like this. Ugh.
The cushions in the chairs looked dirty and dull…
…as did the cushions on the settee and swing.
I decided to ignore the filthy floor and work on the surfaces first. I got busy vacuuming the cushions, wiping down the molding, tables and hutch, and tossed the pillow covers into the wash.
I hadn't left pillows on the swing during the winter, but these shown below were the ones that were on the settee–and now very dirty.
When I unzipped them to remove the insert, I discovered the outer covering of the insert had completely disintegrated. Sooo strange! Most of the pillows I use on the porch have come from HomeGoods and they normally contain quality, down inserts, but apparently these did not. I just ordered new down inserts, they should be arriving this week.
So how are things looking now?
The pillows came out nice and clean. I'll be saving these to use again on the wicker settee in the fall.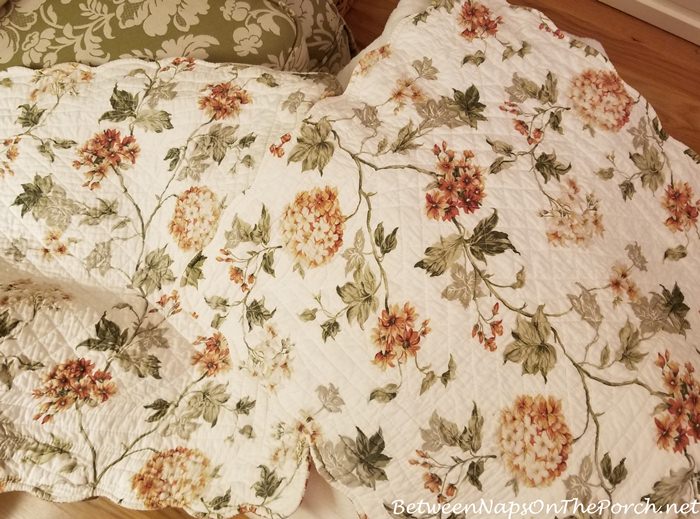 These are the ones that are normally on the settee during the summer months I've had them for many, many years and they've faded out beautifully to the softest colors. I love how faded they are, they speak to all the wonderful summers they've lived out on the porch.
Remember the lamp nearest the screened windows?
It cleaned up beautifully.
I took the shade off and gave it a good scrub, too. I still need to clean the shade on the floor-standing wicker lamp near the swing.
The table no longer looks like this.
It's clean and ready for a fresh tablescape, although I still need to vacuum and wipe down the chairs.
Hard to photograph, but the cushions are all looking great again. I gave them a good vacuuming, then using a rag, I lightly washed them with the Super Cleaner I'm always raving about.
I started to order some upholstery cleaner, then remembered this Super Cleaner will clean anything. I've used it on leather car seats to remove denim transfer stains and for so many more things. I used it to clean all the molding on the porch. Love this stuff! I just ordered another bottle, it should arrive today. You'll find it available here: Super Cleaner.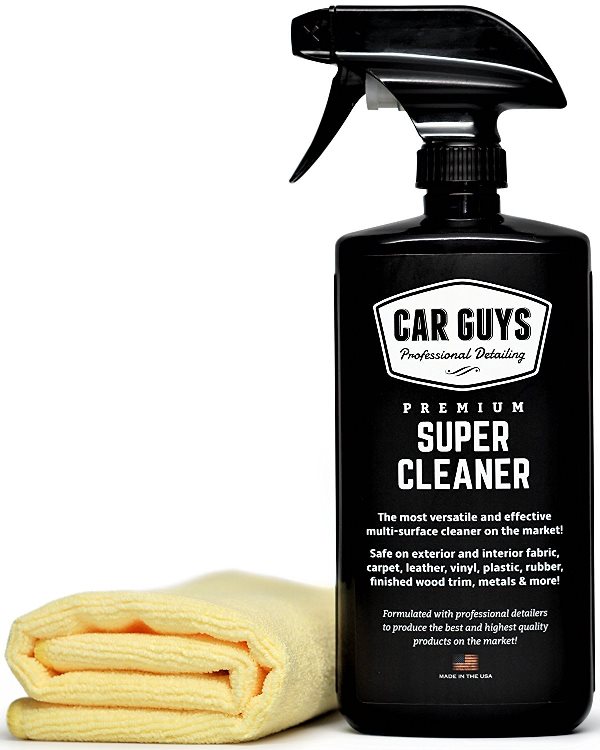 Remember those dirty chair cushions?
Here's how they looked after I vacuumed them and cleaned them with the Super Cleaner. And no, I didn't just flip the cushions over, this is the side that was so dirty and dull looking.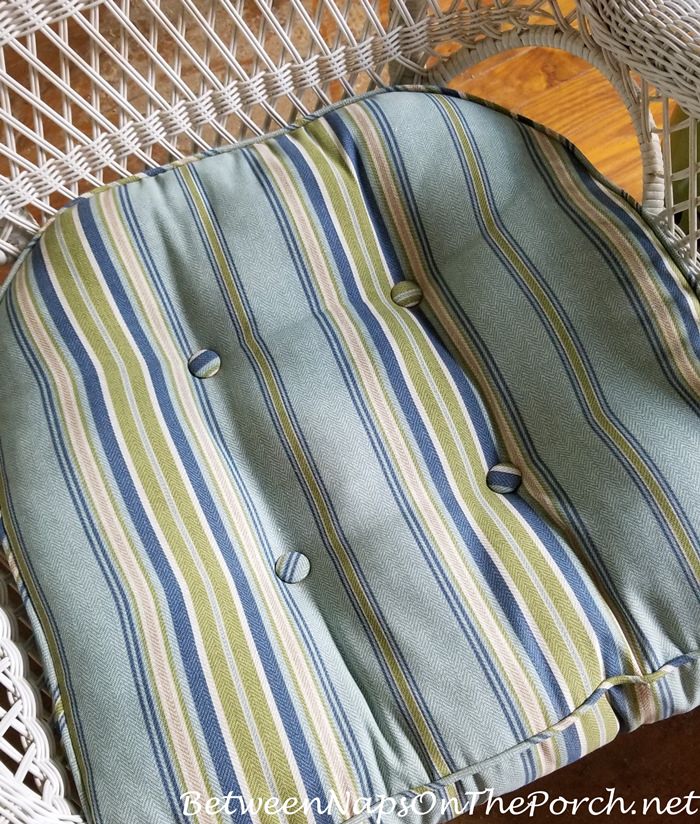 I've swept the porch floor and will be mopping it today. I still need to clean the other faux wicker shade, but after that, the porch should once again look like this.
Leyland Cypress Update
Remember the tiny Leyland Cypress trees I planted 5-1/2 years ago? (Read that post here: Leyland Cypress Trees Offer Screening and Privacy.)
They didn't grow quite as fast this time around as they did the first time I planted them here around 30 years ago. Back then, all the trees in the backyard were a lot smaller, thus the Cypress I planted then got a lot more sunlight.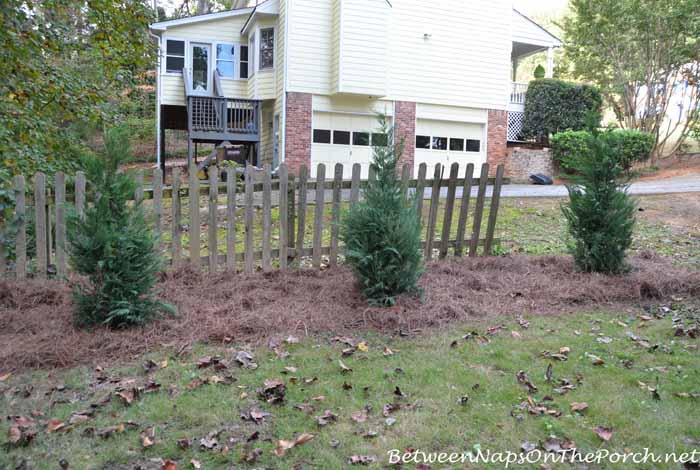 But they have grown and now look at them! They are giving my neighbors (and me) a bit more privacy. If the trees in the backyard had not been shading them so much, they would have reached this point a couple of years ago. They are like instant trees!
Can you believe these tiny little trees are now…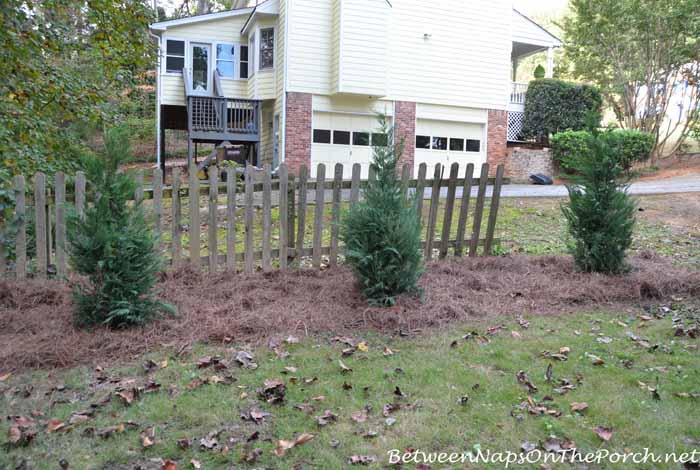 …almost two stories tall! Hopefully, they will last 20+ years as the last ones did. They look nice and healthy!
It's good to be back home but I sure do miss two rambunctious boys! My daughter-in-law, Nancy, takes them on a 2-mile walk every morning and this morning she shared a video of a neighbor kitty loving all over them. The youngest, Charlie, kept saying, "Let's take him home, let's take him home." lol The boys have the cat-loving gene, undoubtedly passed down from my son who got it from me and his dad.
Nancy's answer was, no, they already have two kitties at home. Besides this cute kitty belongs to someone in their neighborhood.
Happy Monday to you! I hope you have a wonderful week!
Looking forward to all the wonderful Before and Afters linked for this week's Met Monday!
Pssst: Did you know Between Naps On The Porch is on Instagram? You'll find me on Instagram here: Between Naps On The Porch.
Like to know when a new blog post is up and available to read? Subscribe for email updates, it's free and your email will never be shared.
Subscribe for free post updates via email here: Subscribe.
Metamorphosis Monday
Metamorphosis Monday is a party that's all about Before and Afters. If you are participating in Met Monday, please link up using the "permalink" to your MM post and not your general blog address. To get your permalink, click on your post name, then just copy and paste the address that shows up in the address bar at the top of your blog, into the "url" box for InLinkz when prompted.
In order to link up, you'll need to include a link in your MM post back to the party so the other participants will have an opportunity to receive visits from your wonderful blog readers.
This party has ended, click button below for the links to all who participated.
*If a post is sponsored or a product was provided at no charge, it will be stated in post. Some links may be affiliate links and as an Amazon Associate, I may earn from qualifying purchases. *