Welcome to the 569th Tablescape Thursday!
For my flight back home from England, I decided to try Delta's "Premium Select" choice since surprisingly, when I booked the flight, the cost was not that much more than Comfort Plus. I can tell you now, I will try to fly Premium any time it's offered and fits within my budget because the experience was wonderful! I kept thinking the entire time, "This is every bit as nice as flying First Class." I just noticed today, it appears to be listed higher than First Class in Delta's hierarchy of options, so maybe it is supposed to be a "fancier" option than First Class.
Here's how Delta describes Premium Select:
Experience Delta Premium Select – a new, superior Delta cabin available on select international routes. You'll find more space to stretch out and relax with a wider seat, and additional recline, and an adjustable footrest and leg rest on select widebody aircraft. Plus, with plated meals, you can cruise in complete comfort with an enhanced travel experience every time you fly Delta Premium Select.
Another First
There were so many "firsts" for this trip to England. In addition to my first time flying Premium Class on the trip back home, this was my first time flying via Delta's Partner airline, Virgin Atlantic. I've always heard great things about VA and it exceeded my expectations in every way.
I loved the bright red, stylish uniforms worn by the flight attendants. The Premium cabin was spacious and clean and the flight attendants were super nice. You know those flights where the flight attendants actually appear to enjoy their work and seem to be having fun? Yeah, it was one of those flights. Lots of smiles and terrific service throughout the long flight home. I would definitely fly Virgin Atlantic again and would love to fly Premium if it works out for my travel budget.
I'm glad I didn't take time to read about what it's like to fly Premium Class via Virgin Atlantic beforehand because I would have spoiled a delightful surprise. The flight home was a daytime flight and though I don't remember much about the other meals we had during the flight, I definitely remember when this delightful tray arrived.
It turns out when you fly Virgin Atlantic from the United Kingdom during the daytime, you are treated to what VA calls, the "Mile High Tea." It was truly a feast for all the senses!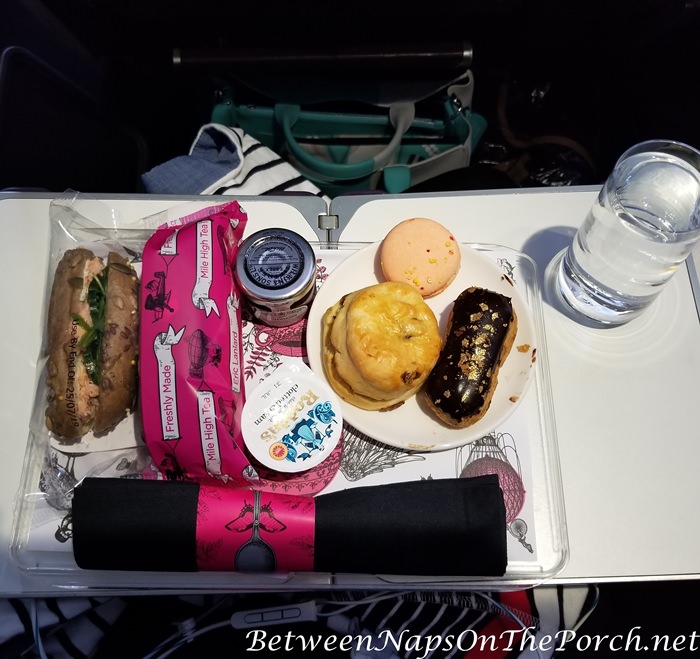 Virgin Atlantic has partnered with Master pâtissier and celebrity chef, Eric Lanlard, to create this delightful afternoon tea experience at 38,000 feet.
Virgin Atlantic describes it this way:
Afternoon tea. One of life's great pleasures. So sit back, relax and experience an Eric Lanlard masterpiece – the finest high tea in the sky. And don't forget the great unwritten rule of travel – diet rules don't apply when traveling. It's one we take very seriously here at Virgin Atlantic, especially where our delectable new Mile High Tea is concerned.es. Opulent, delicious and memorable. What happens if you combine the two and serve at 38,000 feet? You get our Mile High Tea, and it's amazing.
When flying Virgin Atlantic, the information at their website states that their Mile High Tea is "served in all classes and features freshly made rolls and scones." When flying Premium Class, your Mile High Tea also includes an eclair and macaron. Another good reason to fly Premium!
I've been trying to remember what was inside the red package. Just remembered, that's what the sandwich on the left was inside. So that's just the empty wrapper in the photo below.
The paper with which the tray was lined was so pretty, I actually rolled mine up and tucked it inside my carry-on bag. If I were at home right now, I'd take a photo of the whole picture to share. I'll have to do that once I'm back home and add it to this post. It was adorable!
Update:
Took a photo of the paper once I was home. Isn't it pretty!?
How to Shock a Virgin Atlantic Flight Attendant
I have to share this funny little story. I chatted for the first hour or so of the trip with a very nice, young guy who was sitting next to me. He was sharp, intelligent, the CEO of his own company and appeared to be super fit. I noticed that he only drank water throughout the flight and chose the most healthy option for every meal.
When the Mile High Tea was being served, the attendant asked me first how I would like my hot tea. I declined the tea and said I'd just like water. I wish I could have captured the look on the flight attendant's face for you. It was a mix of shock, tinged with horror and dismay. Apparently, no one ever turns down hot tea during Mile High Teatime.
He asked me again, verifying to make sure he had heard correctly. I said, "Yes, just water, I'm not a fan of hot drinks." If you've been reading BNOTP for very long, you may remember I don't care for any hot drinks other than the occasional hot chocolate in the wintertime. I don't even drink hot coffee, much less hot tea. Still looking somewhat stunned, he handed me my water.
Next, he asked my seatmate how he would like his tea and got the same answer–just water would be fine. Again, that look of shock and confusion crossed his face! He probably still hasn't recovered from those two weirdos in Premium Class asking for water with their Mile High Tea! We were probably the talk of the plane back in the kitchen galley that day. Ha!
Before diving into the food, I opened up the sandwich and snapped a quick photo for you. I can't remember what was inside now…may have been salmon. I'm memory-challenged when it comes to what I've eaten in the past. Does that look like salmon? Or, maybe it was turkey–can't remember now, just remember it was good!
I definitely recommend flying Virgin Atlantic from the UK whenever possible, especially via Premium Class!
Just try not to shock the flight attendants by ordering water with your afternoon tea service! 🙂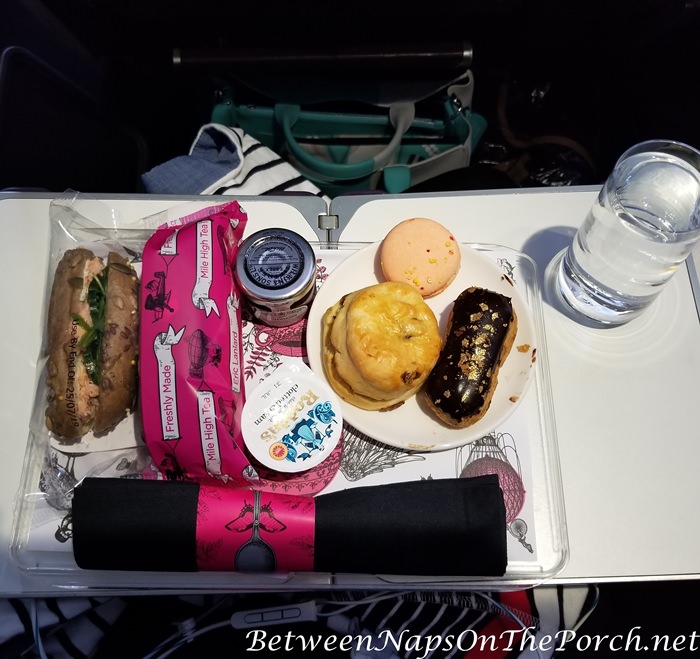 Looking forward to all the beautiful tables linked for this week's Tablescape Thursday!
Tablescape Thursday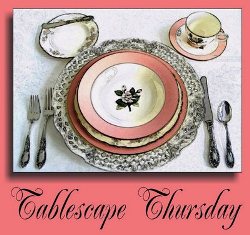 If you are participating in Tablescape Thursday, please be sure to add your permalink below, and not your general blog address. To get your permalink, click on your post name, then copy and paste the address showing in the address bar, into the "url" box when you link up.
You'll need to include a link in your post back to the party to link up and participate. That's so visitors to your blog will be able to find the party and the other Tablescape Thursday participants. Requiring a link back also prevents businesses and scammers from linking up to sell their products. Please let me know if you click on a link that isn't a tablescape or table related so I can remove it.
This party has ended, click button below for the links to all who participated.
*If a post is sponsored or a product was provided at no charge, it will be stated in post. Some links may be affiliate links and as an Amazon Associate, I may earn from qualifying purchases. *