Welcome to the 551st Metamorphosis Monday!
How do you pack your toiletries for travel? In the past, I've always used a combination of things. This bag below came as a gift when I purchased a cosmetic item–forgotten what now, it may have been a Clinique product. It has always been my catchall bag holding all the items that wouldn't fit in my smallish toiletry bag.
I purchased these leak-proof bottles a while back for shampoo, conditioner, and lotion. They work really well for that. (You'll find this set available here: Toiletry Bottles and Toothbrushes for Travel.)
In addition to the two bags above and a very old, small, hanging Tourister bag that I can't share a photo of since I accidentally walked off and left it in my bathroom, I also squirrel away a few items into the clear bag that came with my large suitcase. You can see that bag squished on the far right in the photo below in this post where I shared how I pack a hat when traveling. (You'll find that post here: How to Pack a Hat for Travel.)
This system hasn't worked that well because it's just too many places to look for all my toiletry items when traveling. It sometimes takes me forever to locate the various bags in my suitcase and the item I need seems to always be in the last place I check. It's frustrating having 3-4 locations to search when I need a particular item.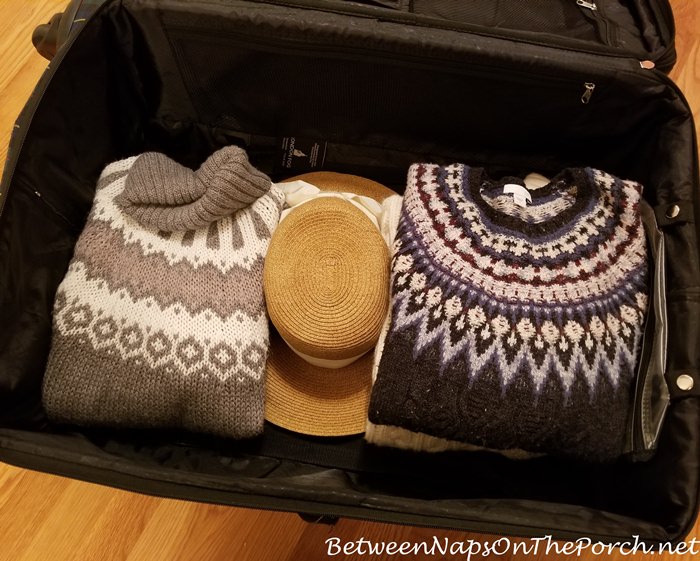 Recently I came across this toiletry bag online and decided to give it a try. It appeared to be a good bit larger than the small, hanging toiletry bag I left at home on this trip, so I was hoping it would work to consolidate all the various other bags I normally carry when traveling.
When I arrived for my recent visit with family, I ended up having to run out and purchase a few items that were in the small toiletry bag I accidentally left at home…mainly Qtips, mascara, eye make-up remover, deodorant, floss, etc… The hanging bag that I've purchased since I've been here holds so much! In order to give you an idea of how much it will hold, I actually went out to my car and pulled some additional items out of my glove box to fill it up more. It really holds a lot!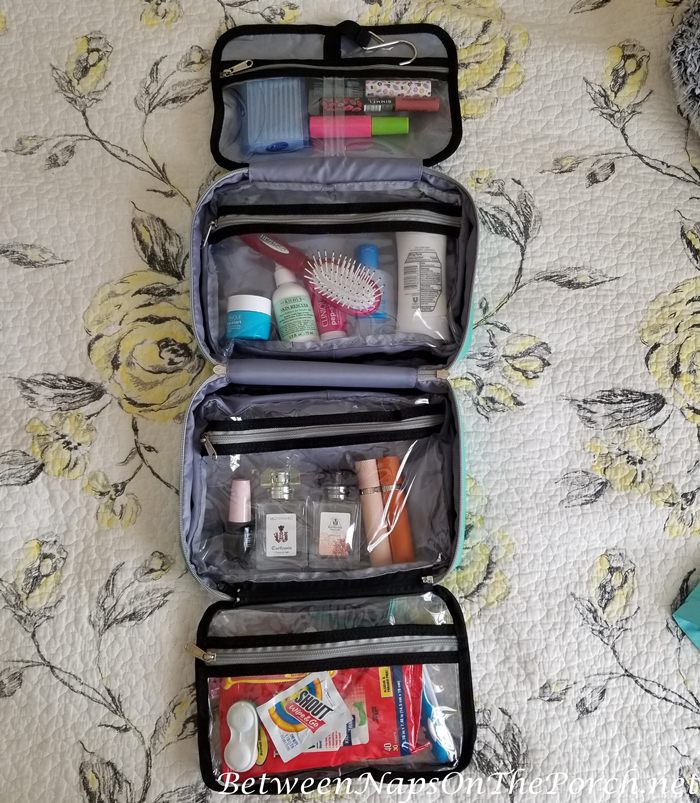 I had planned to use the top compartment to hold the small makeup items I normally use daily when traveling: mascara, lipstick, blush, etc… but then I discovered the bottom compartment will actually unzip from the rest of the bag. So that may end up being the one I use for those items…not sure yet.
I don't normally carry a brush in my toiletry kit, I usually pack a larger brush and stick it into the bag that's attached to the inside of my suitcase. I pulled the small, pink brush you see below from my car's glove box just to have a few more items to share how much this bag holds.
I didn't pack the bottles from the clear TSA-approved bag (seen earlier in this post) for this trip since I already have shampoo/conditioner here at my son's home, but as you can see, there's plenty of room to add those to any of the pockets in this toiletry bag. There is still so much space left in all the compartments, couldn't find enough around here to fill them all up!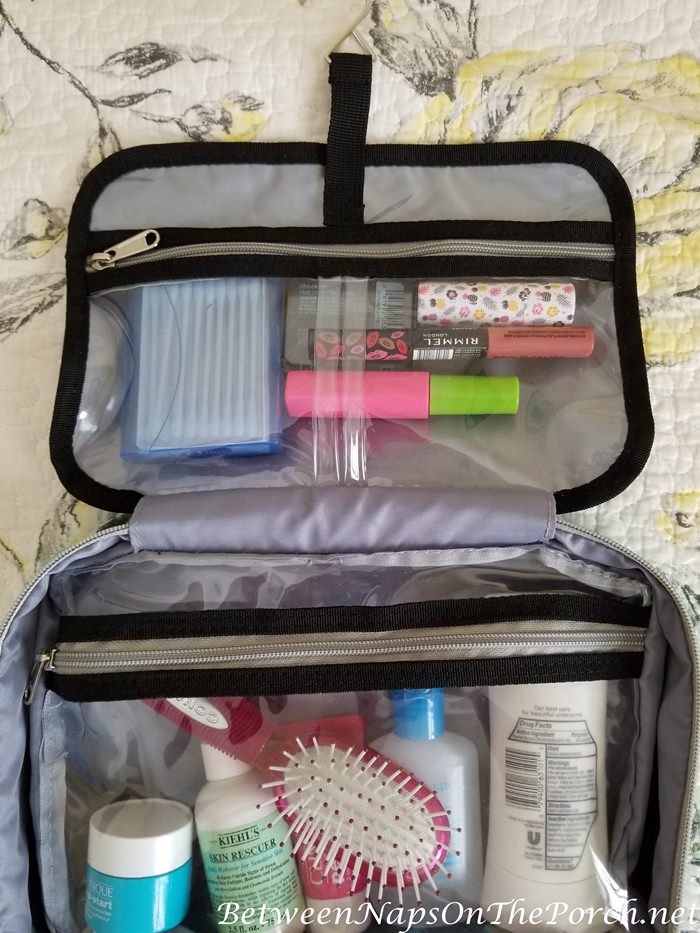 For this trip, I brought along two perfumes I purchased in Capri to share with my daughter-in-law who mentioned recently she would love to travel there one day. I don't normally travel with large bottles of perfume, but I went ahead and added those into the bag to show how much this bag will hold. That would be a good spot for the shampoo, conditioner and lotion bottles I normally carry.
The smaller pink and orange atomizers hold some of my fave perfumes. The atomizers are the perfect size for travel. (See that collection in this previous post: My Perfume Atomizer Collection and the Perfumes They Hold.)
Each of the pockets is quite deep so they hold a lot! I like that there are four pockets/sections because I'll be able to organize my items in a more efficient way. I love that you can see everything at a glance since the pockets are all see-through.
As mentioned, I just discovered last night that the bottom bag is actually removable, you just unzip it to remove it. That could come in handy if you were sharing a room with someone and wanted to take just a few items with you into the bathroom, or even in your handbag or carry-on bag. I also like that this bag is waterproof and leak-proof!
So far, this has been a great improvement for my current trip. It will replace 3 of the bags I've been carrying–my small hanging bag and the other two bags shared above in this post. No more looking through so many bags to find what I need!
You'll find this hanging toiletry bag where I purchased mine here: Toiletry Bag. Check out the great reviews at that link for additional information.
I like that it comes in three colors. I went with the "Tiffany Blue" color since it coordinates nicely with my travel jewelry box in a similar color.
I'm really looking forward to having just one bag to hold all my toiletries when traveling. Less frustration and much more space!
Looking forward to all the great Before and Afters for this week's Metamorphosis Monday!
Pssst: Did you know Between Naps On The Porch is on Instagram? Follow me on Instagram here: Between Naps On The Porch.
Like to know when a new blog post is up and available to read? Subscribe for email updates, it's free and your email will never be shared.
Subscribe here: Subscribe for free post updates via email here: Subscribe.
Metamorphosis Monday
Metamorphosis Monday is a party that's all about Before and Afters. If you are participating in Met Monday, please link up using the "permalink" to your MM post and not your general blog address. To get your permalink, click on your post name, then just copy and paste the address that shows up in the address bar at the top of your blog, into the "url" box for InLinkz when prompted.
In order to link up, you'll need to include a link in your MM post back to the party so the other participants will have an opportunity to receive visits from your wonderful blog readers.
Feel free to link up Before and After posts that are home, gardening, decorating, crafting, painting, sewing, cooking, fashion, travel or DIY related. Please do not link up to the party if you're only doing so to promote/sell a product.
To those linking up, if you notice a shop or online store linking up to sell products (yes, unfortunately, that happens) please let me know so I can remove their link and block them from participating in future parties.
This party has ended, click button below for the links to all who participated.
*If a post is sponsored or a product was provided at no charge, it will be stated in post. Some links may be affiliate links and as an Amazon Associate, I may earn from qualifying purchases. *