Welcome to the 643rd Tablescape Thursday, a blog party sharing beautiful table settings for all occasions!
Recently I was chatting with a lovely BNOTP reader about our mutual love of a wonderful, bird-themed Lenox pattern called, Winter Greetings. I realized during our email exchange that it's been years since I used that pattern in a table for Tablescape Thursday. I don't know why I never think to bring it out for TT because it is truly one of my absolute favorite patterns ever!
I couldn't wait to set a winter table with Winter Greetings because though it's beautiful in a Christmas setting, it really works great all winter, especially if you're a lover of birds. A bit off-topic, but WOW, have my feeders been staying covered up ever since I returned home earlier this month. I'm seeing so many Cardinals, Chickadees, Goldfinch, Phoebes, Nuthatches, Woodpeckers, Bluebirds, and House Finches.
After I filled both my seed and suet feeders and put out two dishes of dried mealworms, it only took the birds about an hour to realize I was back and that the feeders were full. I was afraid they would have abandoned me since I was gone so long! lol Fortunately, they forgave my long absence and are happily giving me hours of birdwatching joy each day. They bring so much life to the somewhat dreary, winter landscape.
I held off taking photos hoping for a little sunshine/natural lighting, thus the tardiness of posting Tablescape Thursday today. Unfortunately, the sunshine never arrived. So please know the snowflake centerpiece in this table is much prettier in person than these photos show on this rainy day. If the sun makes an appearance, I'll add more photos to this post later today.
I am really starting to garner a deep appreciation for what great tablecloths blankets make. lol I wanted a navy background for this setting but didn't have a navy tablecloth. Fortunately, I did have a navy blanket and it worked nicely as a tablecloth in this setting.
I first fell in love with Lenox, Winter Greetings during a Christmas Home Tour in Washington, Georgia…or was it Madison? Ummm, it's been so many years, it's hard to remember. Anyway, I had never seen this pattern before and the moment I laid eyes on it, I was completely smitten!
I purchased 12-place settings that very winter. Though it's a wonderful pattern to use at Christmastime, it really carries over beautifully all winter. The colors in this pattern are a bit different. The red is definitely a Christmasy red but the greens are a bit more muted. I love the dark blue in this pattern, as well. The more muted colors let the beautiful colors of the birds shine through.
The flatware is Towel, King Richard, a silver pattern I chose and started collecting back in 1978. Pierced chargers are from Horchow online, purchased back in 2008.
I love these snowflake glasses. I can't remember for sure but I may have found these one year in Dollar Tree. The sliverplate goblets seen in earlier photos were a wedding gift back in 1978.
Snowflake napkin rings work well in this wintery table setting. I think I found these in Bed, Bath, and Beyond. That was many years ago, so again–hard to remember.
Dark green, velvet-edged, linen napkins, along with cotton, eyelet napkins work well with the pierced chargers and the deep greens in the Winter Greetings china. Both napkins were a find in Pier 1 back in the day. Flatware is by Towle, the pattern is King Richard.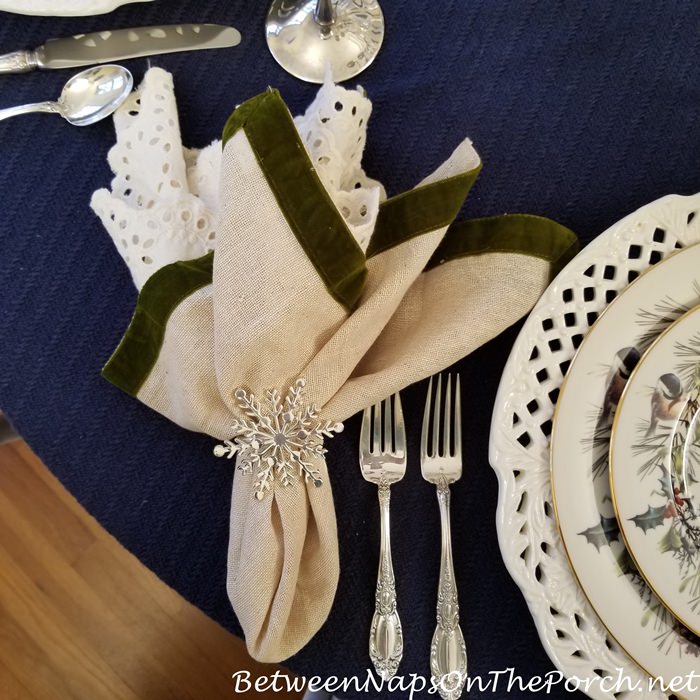 Have you ever purchased something not realizing it was to be part of an ongoing collection? The first Swarovski crystal ornament was purchased back in the winter of 1991. My son was eight years old. Now I have grandchildren that are almost that age! When a second crystal ornament came out the following year, it became apparent that this was going to be an ongoing collection.
It has been 30 years now with this year marking the addition of the 30th ornament. Both of my silverplate trees are completely filled now since each tree holds 15 ornaments. Amazingly, over the past 30 years, not a single ornament has been chipped or broken. I'm so terrified of breaking one, whenever I get them out to hang on these little silver trees, I always open them over a padded surface (this time a navy blanket/tablecloth) and very carefully place them on the trees.
I think I'll leave them out through March this year and really take time to enjoy them. I hope to pass this collection down to my son/daughter-in-law one day and hopefully, it will bring them as much joy as it has brought me over the years.
I'm always asked where I found the silver trees. They are from Ross-Simon online, purchased 20+ years ago. I keep hoping they will bring them back since so many BNOTP readers have asked about them.
Each year, Swarovski alternates between producing a crystal snowflake and a crystal star. It's always exciting to see what gorgeous design they will create for the holiday/winter season. When they first started creating these ornaments, the first two had red ribbons. Then they changed over to navy ribbons. I loved the navy ribbons but I did not like a mix of red and navy ribbons on my tree, so I changed out the red ribbons to navy ribbons so the ribbons would all be consistent. I've kept the original red ribbons though since these ornaments have become a collectible.
A few years ago, Swarovski changed the color of the ribbon once again, this time going to a cream/off-white ribbon. Surprisingly, I prefer the look of the navy. It just doesn't seem to stand out like the cream-colored ribbon does when the ornaments are hanging on the tree. I know that sounds the opposite of what you would expect.
I lucked out and found more navy ribbon that appeared to match the Swarovski navy ribbon perfectly, and that's what I use each year when a new ornament is released. Again, I've kept all the original ribbons.
I hope you are having a beautiful, peaceful winter. There really are so many things to enjoy and be thankful for even during the cold months of winter. I am looking forward to spring flowers and lots of warm, sunshiny days!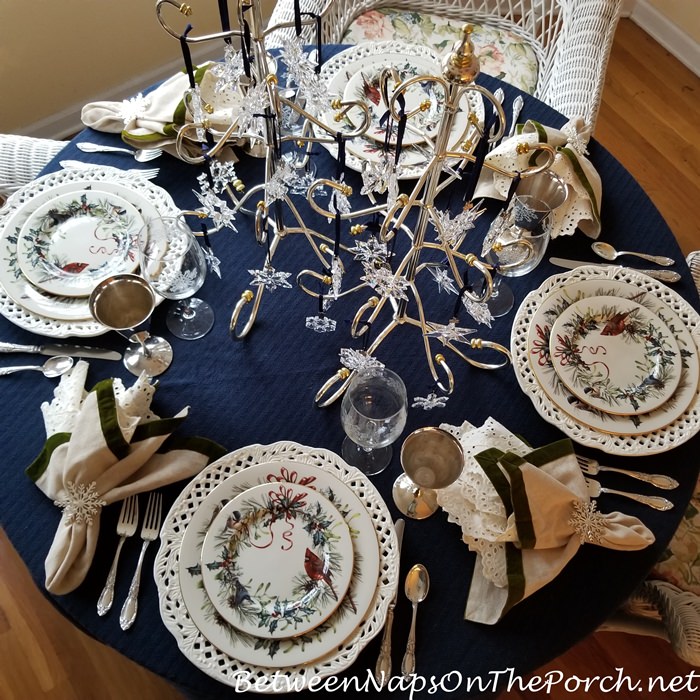 I think the sun is trying to come out now so I'll add some brighter photos to this post later today.
Update:
This photo taken in natural lighting coming in from the window, better shows the true colors in this beautiful pattern!
A few close-ups taken in brighter, natural lighting…
As I walk by the table during the day, they twinkle and sparkle in the sunlight coming through the bay window.
Looking forward to all the wonderful table settings linked for this week's Tablescape Thursday!
Did you know Between Naps On The Porch is on Instagram? You'll find me on Instagram here: Between Naps On The Porch.
Like to know when a new blog post is up and available to read? Subscribe for email updates, it's free and your email will never be shared. Subscribe for free post updates via email here: Subscribe for Post Updates.
Tablescape Thursday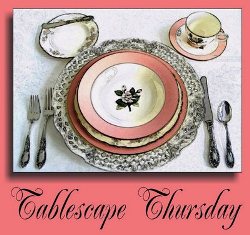 If you are participating in Tablescape Thursday, please be sure to add your permalink below, and not your general blog address. To get your permalink, click on your post name, then copy and paste the address showing in the address bar, into the "url" box when you link up. You'll need to include a link in your post back to the party to link up and participate.
That's so visitors to your blog will be able to find the party and the other Tablescape Thursday participants. Requiring a link back also prevents businesses and scammers from linking up to sell their products. (Yep, that really happens, unfortunately.) If you see a post that's not table setting related, let me know and I'll remove it.
Please, don't add your post name/blog name ALL IN CAPS…it tends to create big spaces between the rows of links.
This party has ended, click button below for the links to all who participated.
*If a post is sponsored or a product was provided at no charge, it will be stated in post. Some links may be affiliate links and as an Amazon Associate, I may earn from qualifying purchases. *