As usual, I'm a bit behind in sharing my July Favorites and I have quite a few! Before I left for my long trek north to Ohio, I downloaded several books from Audible to my phone. I've listened to a lot of books similar to this one and rarely buy new ones since they all tend to say the same thing. The reviews convinced me that this one was worth a listen and didn't just rehash the same old stuff. After listening to it for a few hours, I agree! Definitely recommend it! You'll find it available here: Atomic Habits.
Awesome Cat Toy
I follow several cat Instagram accounts and one in particular (sophielovestuna) always shows fun toys for your cat. I can't remember if she recommended this one or not, but I found it following another one of her links. My son's cats absolutely love it! They are always a bit cautious of anything new, but after watching it a while, they couldn't stand it any longer and had to play with it. It's also a great way to give your kitty some good exercise.
You can watch a quick video showing how it works where I purchased this one here: Cat Toy
Best Pet Hair Removal Tool I've Found
Recently my daughter in law and I gave the boy's bedroom a little makeover. We both love the navy blue color of their quilts but they do have a tendency to show kitty fur. The cats love sleeping with the boys or on their beds during the day, so what to do?
I looked online and ordered this little device because of the reviews and wow, does it work!
The first time I used it, I only pulled it in one direction and it did an okay job. The next time I used it, I pulled it back and forth, back and forth like you do when you're vacuuming a room and I was shocked how well it worked! I guess I missed that in the instructions because that's obviously how you use it. It's fast, too!
It picked up all the cat fur and tucked it into the little easy-to-empty reservoir that's built into the device. It's really like a pet fur vacuum, only without a noisy motor. Very pleased with how well it worked! I'm sure it would work just as well on dog fur, too. If you have pets, you'll love it!
You'll find it available here: Pet Hair Remover.
Last month I traveled to England for the very first time and my Away bag performed amazingly. On this trip I had to do something I've never had to do before and that's drag/pull my bags a block or so over rough ground, cobblestones, dirt, etc… several times. It handled it all beautifully! I definitely recommend this carry-on bag for anyone who loves to travel.
Away makes their suitcases in all sizes. Check out the reviews here: Away Bag with $20 Off. I think that link will also give you $20 off (their referral program) but if it doesn't work, email me at [email protected] and I'll try to send you a link directly from the Away website.
Very happy with how this bag performed under some pretty challenging conditions and I loved using the removal battery charger for charging my phone, especially in the hotel we stayed in one night where none of the electrical outlets worked in my room.
To see what this bag holds, check out this previous post: The Away Bigger Carry-on Bag: What Actually Fits Inside?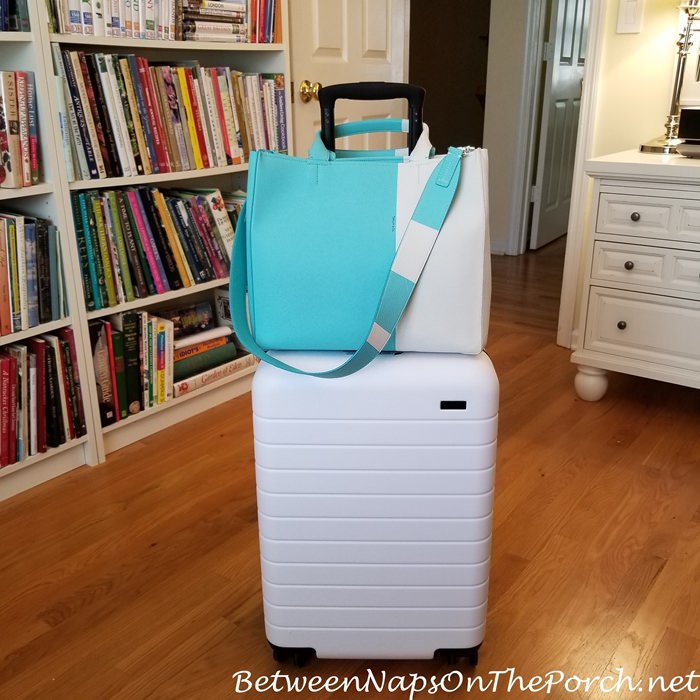 Remember this travel bag that kept my credit cards from being scanned in Egypt? (Read more about that here: How I Foiled a Pickpocket Thief in the Khan Al-Khalili Bazaar in Cairo.)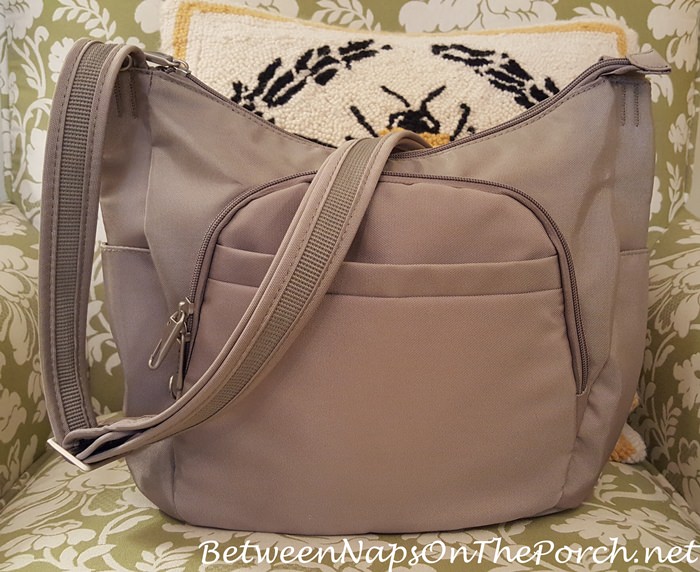 I love this bag and it always accompanies me on every trip. Its side pockets were a true blessing in Egypt and Morocco where I needed to carry bottled water with me at all times.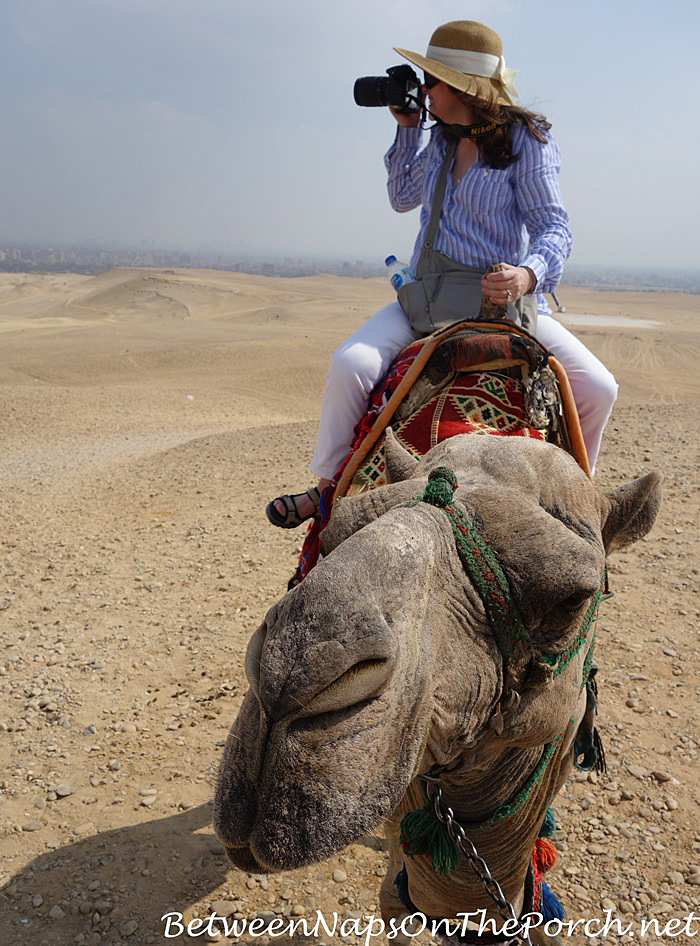 Even though we were in small, quaint towns/villages for much of the trip in England, I still took it along since you never know where or when you'll encounter a pickpocket or nefarious person attempting to scan your credit cards. It definitely came in handy in London as I walked to the nearby museums.
In the photo below, you can see how it looked when I wore it in London during my visit to the Victoria and Albert Museum to see the fabulous Christian Dior Exhibit. (Psst: If you missed the post where I shared all the amazing Dior fashions, you'll find it here: Christian Dior Exhibition, London 2019)
Since it can be worn crossbody, you forget you even have it on. Though it's lightweight, it's big enough that it will even hold my large Nikon camera. You'll find this travel bag available here for an extremely reasonable price: Anti-theft Travel Bag with RFID Protective Products.
I'm thinking about buying a second one in black. I saw someone wearing it in black in England and loved how it looked in that color, too. I currently have it in a neutral color that goes with everything. An awesome bag that gives you total peace of mind when traveling!
Best Travel Sandals
Of course, I took both pairs of my favorite travel sandals with me on the trip to England. You can literally walk for days and days in these sandals, they are so supportive and comfortable. Can't say enough good things about them. To see them on, scroll back up to the camel photo in this post.
I love wearing them when I'm traveling, especially when it's hot out. After wearing these on so many trips, I can't imagine wearing sneakers when traveling during hot weather. These babies were a lifesaver in Egypt.
I also wear them fulltime at home during the summer months unless I'm going out someplace where I am dressing up and need a dressier shoe. They are just so comfortable, they are my go-to sandal in spring and summer. They are worth every penny they cost and more. I would pay double to have them.
You'll find these available here: Supportive, Comfortable Sandals, Great for Travel or Everyday.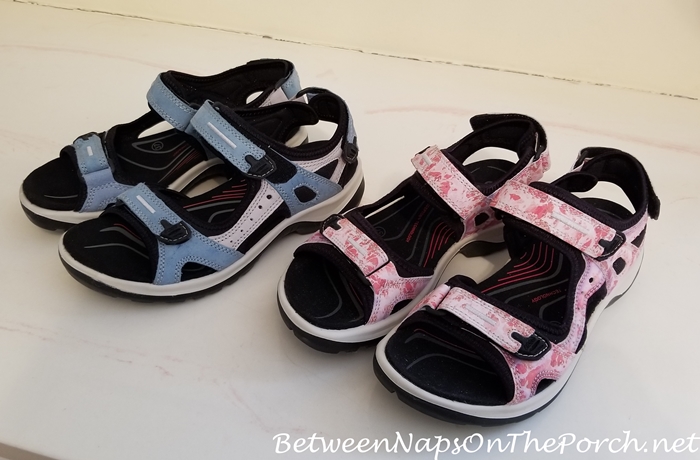 You may remember I've shared this hair styling tool a few times here at the blog. I first purchased it in the 1-1/2 inch barrel size a few years back when I had longer hair.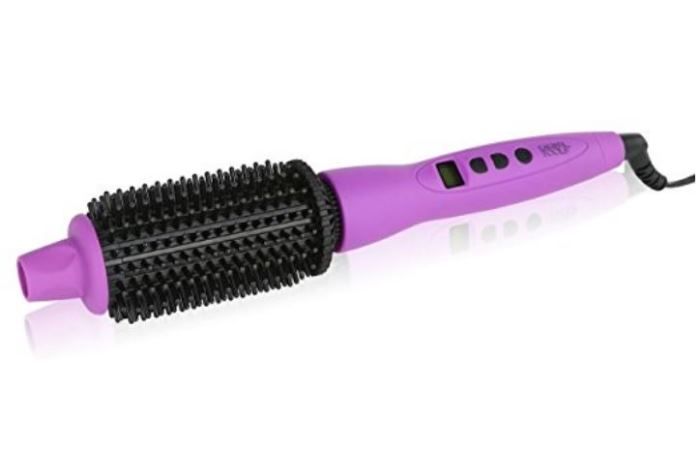 I loved it so much, I bought one for my daughter-in-law, too. She loved it as you can see in this text message I got the day it arrived.
Recently, I purchased it again in the 1-inch barrel size since my hair is much shorter now. I love this size, too! Other than my blowdryer, it's the only tool I need to style my hair. It is excellent and I have it here with me now in Ohio. I never travel without it since it's the only thing that will tame my unruly hair. lol
If you're looking for a fast way to either smooth or curl your hair without the risk of burning your fingers, I can't recommend it enough. You'll find it where I purchased mine here: Hair Curler and Smoother.
When I brought up my son's childhood twin beds to Ohio for my grandsons, I noticed a few scratches here and there. These worked beautifully to hide those. You'll find them available here: Wood Marker for Touching up Scratches on Furniture.
We are all still using and loving this awesome Mosquito/bug repellent. It's all-natural so you can wear it without having to worry, plus it smells great! I've already heard from several of you how much you like it. So glad you find it works, too! You'll find it available here: Mosquito Repellent.
Two Amazing Dinosaur Books
I purchased a bunch of new dinosaur books for my grandsons when we completed their dinosaur-themed room makeover.
Since then, I've purchased two more that were so awesome, I could not pass them up. These would make AMAZING gifts for the dinosaur loving kids in your family.
This was the first one I purchased. It has several ( I think 5 or 6) awesome pop-ups. My grandsons love it so much, I ended up buying a second copy so they wouldn't fight over who gets to hold it at night when we're reading it. lol
You'll find it available here: The Dinosaur Museum. The cover is very cool, has sort of a 3-D effect going on. Photos don't do this book justice…it's beautiful, in a dinosaur sorta way. 🙂
I thought I couldn't top The Dinosaur Museum book, but a couple of days later I spotted this one online.
The reviews were/are EPIC!!! I had to buy it after reading them. Now knowing one book will not work for two dino-book-obsessed boys when the books are awesome pop-up books, I purchased one for each of my grandsons. They were thrilled!
Every single page has some amazing pop-up in the center. In addition to that, every single corner of every page has a pop-up or 3, too. I've never seen a book like this! I honestly do not know how they can make it and sell it for such a low price. It's incredible!
This book would make an awesome birthday or Christmas gift for the dino-loving fan. I'd even buy it for the dino-loving adult in the family! You'll find it available for an unbelievably reasonable price here: Encyclopedia Prehistorica Dinosaurs.
Adorable Pants for Summer
Switching gears, I wore these adorable pants in England on one of the days we were touring along the coast. If I'm remembering correctly, I think it was the day we went to Lyme Regis. I wore them with a linen tunic in the gorgeous blue color seen in the pants and got so many compliments from my fellow travelers.
They are incredibly comfortable (have some stretch/give) and are absolutely adorable on. You'll find them currently on sale here: Cute Fish Pants for Summer.
I'm truly surprised they still have any left to put on sale. I would have expected them to all be sold out by now.
Love these! I don't normally buy chinos but these are such a good price and I love the color, I think I'm going to give them a try. You'll find them on sale here: Aqua Chino Pants for Summer
Two More Favorites from July
As previously shared, I love wearing these two dresses below during my trip to England. I've also been wearing them during my visit here in Ohio. They are beautiful dresses that make you feel you feel beautiful too. You'll find this one on sale here: Gingham Dress with Cut-out in Back.
This one is available here: Beautiful Summer Dress. Be sure and read the reviews for this one. The fit and cut are so flattering, it makes you feel like a princess!
I may do a second post once I'm back home because there are several more items I've purchased that I'd love to share with you. So look for that in the upcoming days.
See you tomorrow for Tablescape Thursday!
*If a post is sponsored or a product was provided at no charge, it will be stated in post. Some links may be affiliate links and as an Amazon Associate, I may earn from qualifying purchases. *