I'm in the planning stages of a trip I hope to take late next spring. I thought I'd share some of the details with you today in case it sounds like something you would be interested in. I've never traveled with this company but the comments I've seen online at TripAdvisor looked good. Of course, I highly recommend you do your own research before traveling with any company.
The tours I'm looking at are with a company called Back-Roads Touring. The main thing that attracted me to them is they only do tours of small groups (maximum of 18) they take the back roads everywhere to the most wonderful, off-the-beaten-path sites and you stay in charming places like country estates, castles or villas. Here's how they describe it below: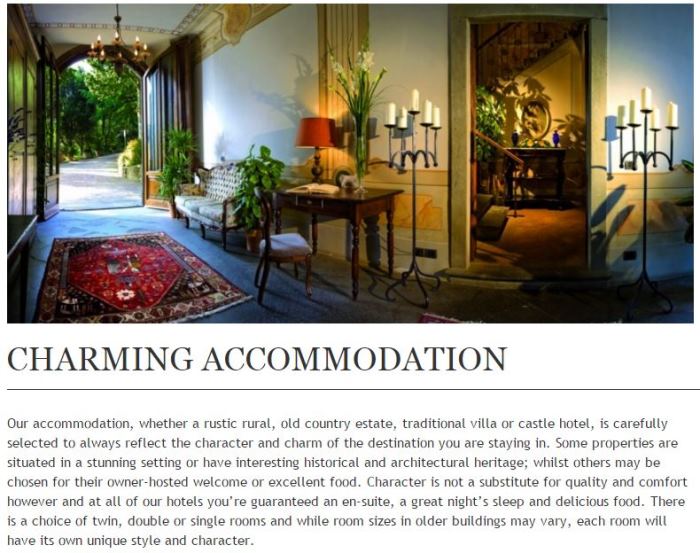 This is a sample of some of the places they show on their website where you might stay while on one of their tours.
The tour or tours I'm looking at are these two at Backroadstouring.com: Highlights of Britain and Corners of Cornwall. I usually don't plan trips this far out because I love to snag those last-minute travel deals when I can find them. But these are currently on sale and I noticed their pricing is lower this year than it was last year.
I think the lower pricing may be because they've increased their group size from a maximum of 15 to 18 on some of their trips. I initially found this company while searching for "small group" tours. Normal tour group sizes are around 40-45, so 18 sounds pretty good to me. Please note: The pricing below does not include airfare.
I'm looking at going in late May/early June because I want to see England when everything is blooming and it's lush and green. I'm not sure if crowds will be really bad during that time since this is a "back roads" type tour, but I figured late May/early June might work since I think folks tend to take their holidays in July and August there. Anyone know if that's true? I just don't want to go really early spring when it's still cold and there may not be a lot blooming, same reason I don't want to go in the fall.
A few things to note as you explore the Back-roads website, if you book more than one tour, I think they give you a little multi-trip discount. Don't quote me on that but I think I read it somewhere on their website, or maybe they told me. You'll find their FAQ here: FAQ
Also, when you are looking at a trip, usually on the left side of the page, it will show what trips combine easily together with each other. For some reason that feature doesn't seem to be working for the 2017 trips, not sure why. But here's an example of how it looks for the 2016 trips on the site.
When you look at the trip, Corners of Cornwall for 2016, notice how it says on the left side that it can combine with Highlights of Britain or Kent & Sussex. So even though it doesn't show that on the same exact trips for 2017, I'm pretty sure the two I want to take (Highlights of Britain and Corners of Cornwall) can be combined, meaning after you take one, you can start on the other one.
(You'll notice the price for Cornwall was higher last year, so glad the prices have come down a bit.)
The reason I'm interested in these trips is because Highlights of Britain goes to England, Wales and Scotland and includes Beatrix Potter's Hilltop Farm, Dove Cottage and the Bronte Parsonage. Of course it includes a lot of other places, too.
Here's the map showing the areas it covers.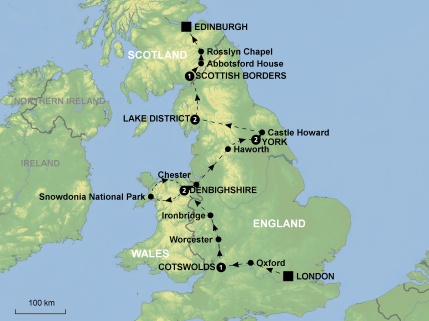 Corners of Cornwall goes to Dartmoor, Falmouth, St. Ives and Fowey. The second day of the tour goes to Port Isaac where Doc Martin was filmed and I've always wanted to visit there since seeing the show.
Here's the map showing what the Cornwall tour covers. So between the two tours, you get to see a lot of England with a little Scotland and Wales mixed in.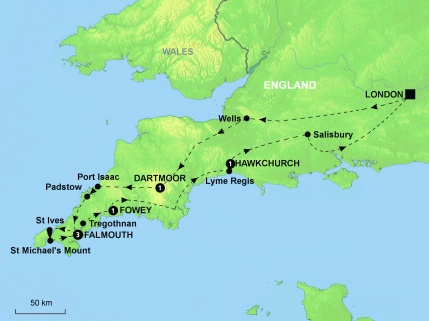 I'd also like to go on the Heart of England tour one day. It includes Anne Hathaway's Cottage, Shakespeare's Birthplace, Lacock Abbey, Roman Baths, No.1 Royal Crescent, Longleat House and Avebury Stone Circle.
Then there's "The Garden of England" that includes a bunch of castles and their gardens. ~SIGH~
The Iconic England tour is a new tour they've just added this year. It takes you behind the scenes of Downton Abbey with a tour of Highclere Castle and gardens. It also goes to other well-known places like the estate used while filming Jane Austen's Pride and Prejudice. It looks like it would be a good one to combine with another tour, since it's just a 3-day tour.
Corners of Southern Ireland looks amazing, too! They also have tours to Morocco, Spain, Portugal, France and Italy. So hard to choose which tours to take! You can see their Europe 2017 tours here: Europe 2017.
BTW, this isn't a sponsored post, I would have a little note at the end of this post if it was. I'm just sharing this with you because I am beyond excited to have found a tour company that is all about small groups and goes to all the places I've been dying to see instead of the typical touristy big cities.
*If a post is sponsored or a product was provided at no charge, it will be stated in post. Some links may be affiliate links and as an Amazon Associate, I may earn from qualifying purchases. *