You know how every now and then you come across a room that just stops you dead in your tracks. Recently, I came across this entry/foyer and was mesmerized. So many things to love in one room starting with the fan light and sidelights surrounding door, the beautiful arched doorways, that wonderful Dutch door, the antique door-knocker (is that a horse or a fox), the lovely brass hardware on the door itself, and finally, the beautiful wallpaper.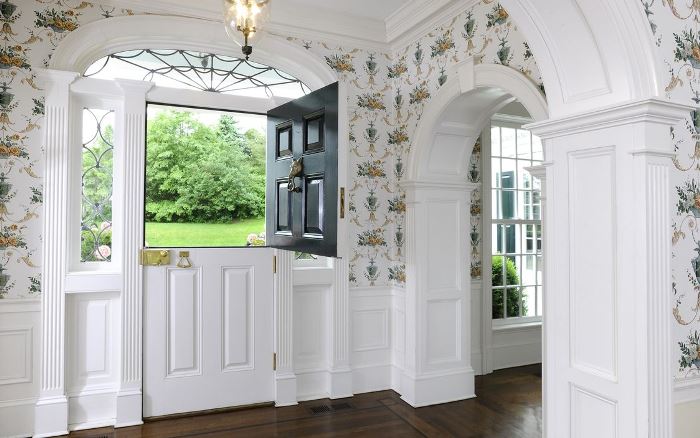 Source (click on "Images" at that link to see this room)
When I see beautiful foyers like this, it sends me down the path of wanting to wallpaper my entry. I've thought about it many times before but the problem is there's no good stopping point. If I wallpapered my entry, I'd probably have to take it all the way up the stairs and wallpaper the upstairs hallway, too. We're talking major can of worms!
In this older picture, you can see how there's not a clean break between the entry and the wall leading upstairs.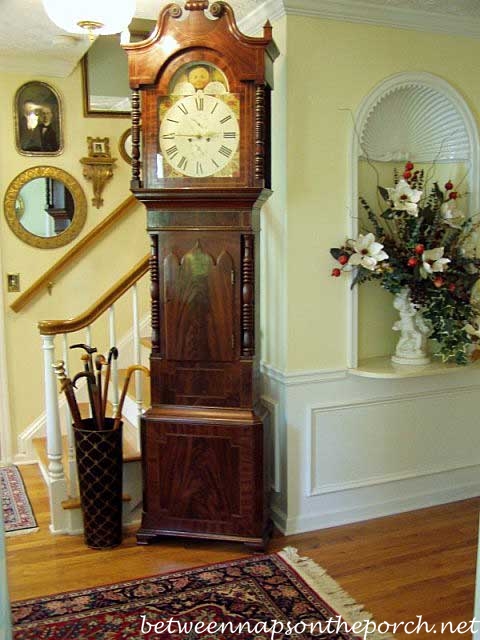 It just continues right on up.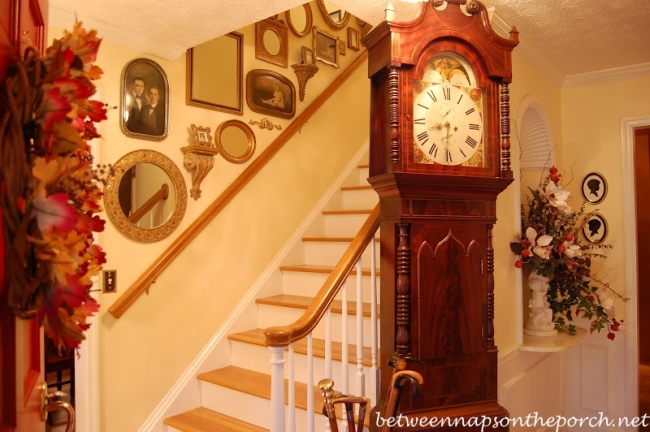 Looking back at this entry again, what would you call this style wallpaper? I was looking at the Thibaut wallpaper website today trying to determine what this style paper is called. I figured it must fall into a certain category because I've seen it a good bit over the years. All I could come up with was that it seems to have a "French" feel to it. What do you think?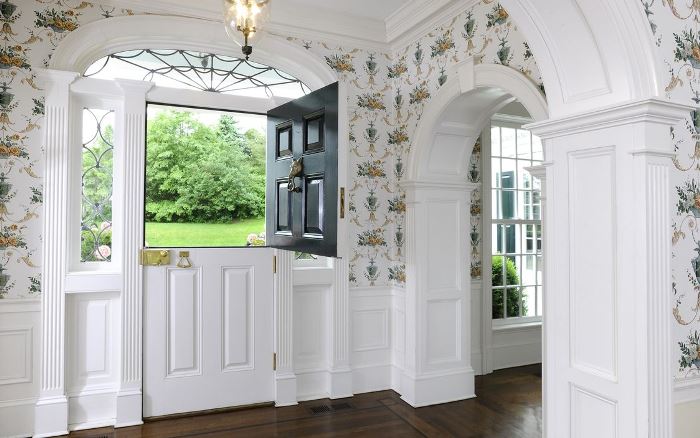 It reminds me a little of a wallpaper I used to have in my dining room many years ago. Sorry about the quality of the photo, it was taken B.B. (Before Blogging) with a not-so-great camera. This wallpaper was much prettier in person than in this photo. The background of the paper was a very light yellow and the colors (blue, rose, white, etc…) were crisp and elegant. I still have some of it left I think, the left over rolls were too pretty to throw away. I'm always drawn to wallpaper with this design for some reason.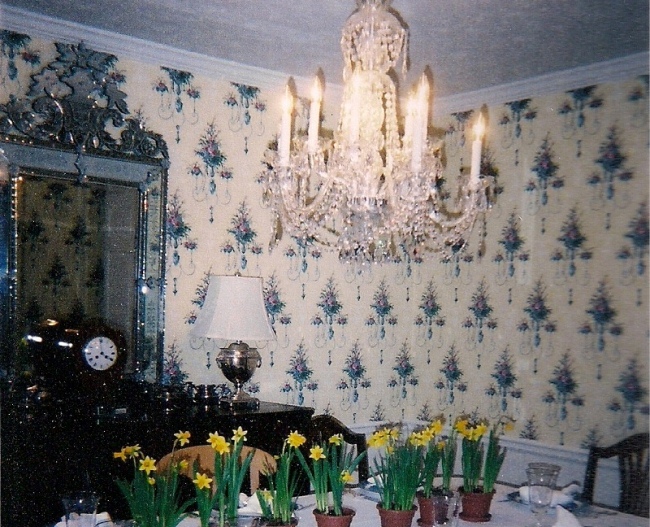 I eventually removed the paper because I felt like the Venetian glass mirror was completely lost in the room. The wallpaper was there first, the mirror found later. I remember how sad I was to remove the paper because I still loved it, but I knew the mirror and chandelier would look better against a solid wall color.
I think it was the right call for this room. That's the sneaky thing about wallpaper, it lures you in and then somewhere down the road you either tire of it or take your design for the room in a different direction. (Tablescape can be viewed here: Dashing Through the Snow)
Here's another entrance foyer I have long admired, again with a beautiful fan-light, sidelights and wonderful Dutch door. I think I prefer my Dutch doors in kitchens or in back entrances, but this one is really pretty here. Notice the mural with historic scenes…love that!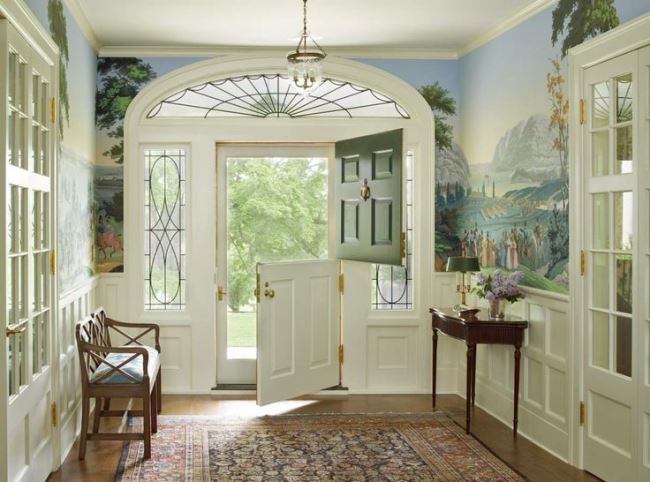 The mural in this entrance foyer continues right on up the stairs.
This entry is in an historic home. The neutral wallpaper looks great with the brass mirror and sconces.
Another entry with neutral-colored wallpaper and a beautiful curving stairway.
The entrance in the Whitlock Inn in Marietta is decorated with a blue damask paper. Colored wallpaper limits your decorating a bit more…
…but it can really make a huge design impact as seen in this more modern take on damask wallpaper.
Source
Damask wallpaper in a neutral tone gives you almost as much decorating freedom as painted walls.
In this entrance, the paper incorporates the look of a stripe with a damask. It also continues up the stairway.
A bold look for an entry way…
This wallpaper feels so whimsical. I really feel like the wallpaper in a home's entry sets the mood and one's expectations for the whole house.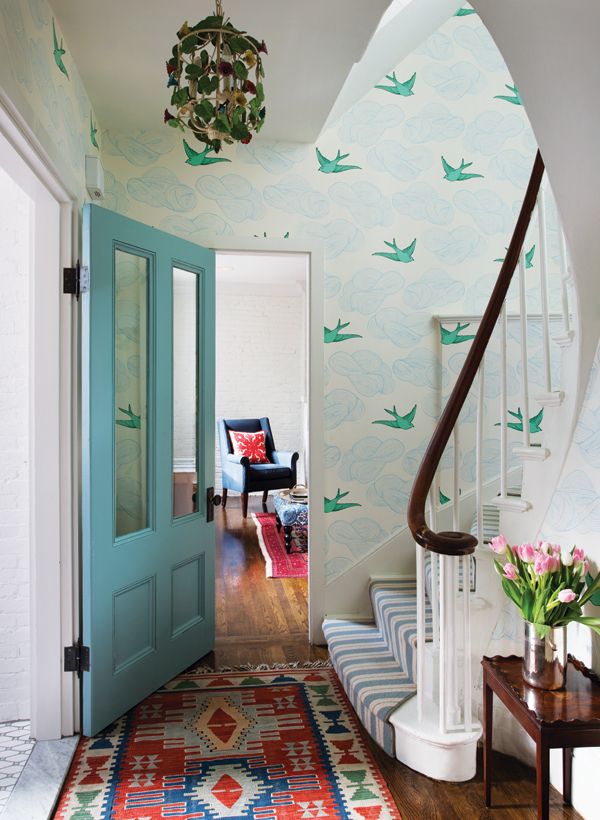 Thibaut has a delightful line of birding wallpaper. I just love it! Couldn't you see this bird wallpaper in the entrance of a cottage home?
Do you have wallpaper in your entry? Have you had it in an entrance and removed it? Would you ever consider using it in an entry/foyer?
*If a post is sponsored or a product was provided at no charge, it will be stated in post. Some links may be affiliate links and as an Amazon Associate, I may earn from qualifying purchases. *