When I was visiting friends in Texas recently, we stopped by their local Costco and look what I saw!
When I've shared my friend, Marie's Christmas decorations in the past, I always get a lot of questions about her huge lawn ornaments.
I think Marie purchased her ornaments from Frontgate or Grandin Road. When I've looked at those sites, the large lawn ornaments were always super expensive.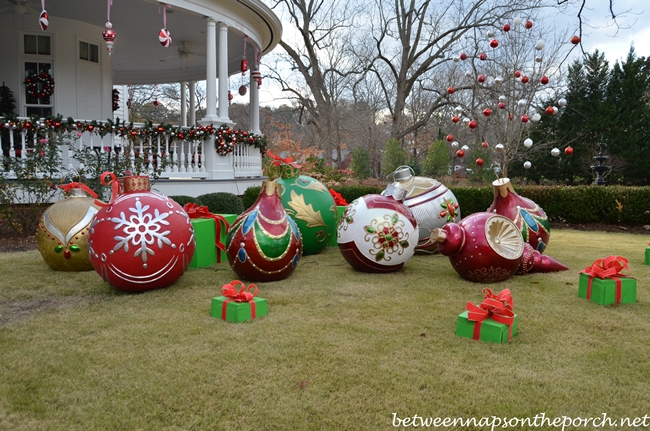 These were around $79 if I'm remembering correctly–so a lot less! I love the design of this one so much! If I could have figured out how to get it back home, I would have been super tempted to buy a couple to place on either side of my front door. Just wanted to share this in case you are a Costco member and have been hoping to find some of these gigantic lawn ornaments.
Also, saw this festive truck (is that a jeep?) while away. I love that HUGE wreath and how it completely covers the tire. It's almost as big as the vehicle! lol Don't you already know that you would just love the person who drives this truck if you were to meet them?!
Yesterday, I stopped by Talbots to return a pair of pants and ended up buying two items. I need to put on blinders when I enter Talbots, I saw sooo many things I loved. I ended up buying this cute, cute Christmas shirt. They are having a great sale right now with your first item 50% off and 40% off everything else. (Check out the sale here: Christmas Sale.)
I love how heavy/substantial the fabric is, it feels so high-end. I feel Talbots has really returned to their roots in the last few years, I love the quality of the pieces I've been buying there. They only had 1 of these tops left and I bought it right then. I just noticed they have a few left online here: Christmas Car Top.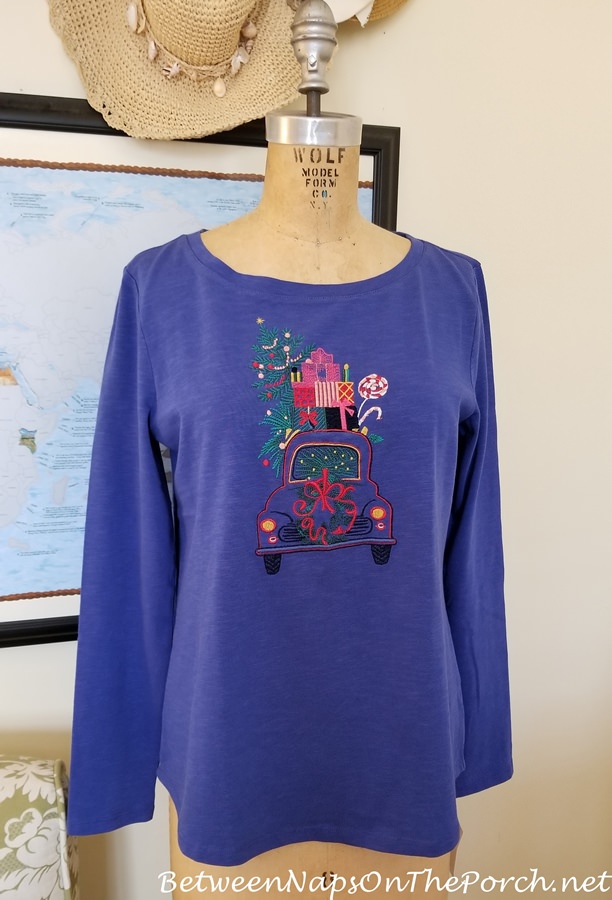 This was the other item I picked up, I loved the design! It goes great with any color jeans, cords or pants. I'm wearing it right now as I write this and it's cozy and warm! I sized up in this piece. Normally I would buy a medium knowing that I would wear a long sleeve t-shirt underneath, not that you would have to. But the medium looked a bit small on the rack so I tried on a large and loved how it fit. I think this piece runs a tad small, especially if you like layering with a shirt underneath.
Here's how it looks on in this photo from the website. Sooo cute! Okay, I just looked at the reviews and others are saying the same thing, that it runs small. So if you pick up this piece, you may want to buy it one size bigger than you normally would. My large fits me great over the cotton t-shirt I'm wearing underneath..and the sleeves aren't too long. So a size large really fits more like a medium. You'll find this cozy, fleece top on sale 50% here: Fleece Top.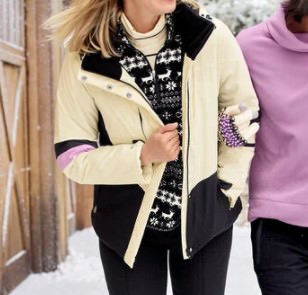 I've ordered these and can't wait to get them! They are denim jeggings with little flocked bows on them. Many years ago I bought Talbots jeans that had little umbrellas all of them and loved wearing them on rainy days. If you need some of these in your life, you'll find them on sale here: Denim Jeggings with Tiny Flocked Bows.
I tried these on in the store and loved them, they felt amazing–really great quality! Again, I love how substantial they felt, like they would last for many, many years. Unfortunately, they don't carry the curvy fit that I love in the stores. I checked online and if you wear Talbots jeans in their normal fit, you'll find these on sale here: Denim Jeans. They don't have my size left in the curvy fit online–disappointed about that. The few sizes they have left in the Curvy fit online can be found here: Denim Jeans Curvy Fit.
Okay, I'm off to decorate something! 🙂 Looking forward to sharing some new drapes I purchased for my bedroom with you real soon. Just waiting on the rods to arrive so I hang them. Happy holiday shopping!
*If a post is sponsored or a product was provided at no charge, it will be stated in post. Some links may be affiliate links and as an Amazon Associate, I may earn from qualifying purchases. *