Welcome to the 688th Tablescape Thursday!
I have a beautiful table setting to share today, one I couldn't wait to see as soon as Elinda, a lovely BNOTP reader whose tables I've shared before, first told me about it. Elinda and I both have a love for all things "equestrian." I've never had a horse but I just love the beautiful clothing, collections and accouterments normally associated with horses and the equestrian lifestyle. Elinda used to ride before she had a back injury so she has collected a lot of lovely equestrian lifestyle and equestrian-themed treasures over the years.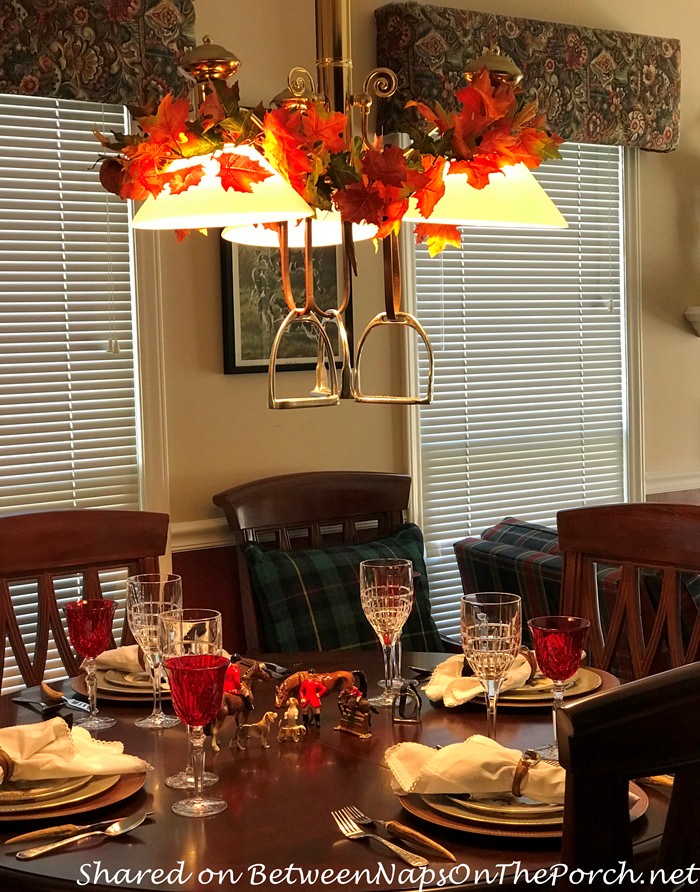 Elinda has been hoping to create an equestrian-themed or hunt-themed table for many years. Elinda said, "I love fox hunt themes and equestrian. I have always loved horses and had them. I had to give up riding a few years ago, due to back issues."
Love how she decorated the chandelier with real stirrups and leathers–so creative!
About her wonderful dinnerware, Elinda said, "I purchased Ralph Lauren, Wedgwood, Balmoral Hunt china online from an estate sale. I had been wanting this for a while. They had 10 or 12 dinner plates and only 4 salad plates but after a couple of years of searching on eBay, I finally have 8 salad plates. It has taken me 3 years to finally have enough."
I really love the houndstooth design of this Wedgwood Balmoral Hunt china. I asked Elinda what the wonderful leather-looking straps are that are going around the center image. Linda said, "They are called stirrup leathers–you can see both of the stirrup irons together near the bottom." Such a gorgeous pattern!
The leather-like chargers Elinda chose for this setting are perfect! I love how they pick up the leather in this Wedgwood pattern!
Elinda said, "I found some faux leather charger plates at Hobby Lobby a few months back. I wanted the Ralph Lauren leather charger plates but they were almost $200 each. When I saw these and they were on sale too, less than $40, I picked up 8 of them."
Leather chargers sound beautiful but I can't help but think the faux-leather chargers are more practical since they can easily be cleaned if something drips onto them.
The stirrup napkin rings are by Ralph Lauren and Elinda found those on ebay. Are they not perfect for this table?! I love all these wonderful details! The napkins are from Pier 1.
The beautiful red stemware is by Waterford and the clear stemware is from Ralph Lauren.
Elinda found the RL glasses in TJ Maxx. What a great find!
Elinda collected her antler flatware from eBay many years ago. I have some that's very similar, also from eBay. It's perfect for an autumn table setting.
The deer flatware is by Cabella.
Elinda said, "The figurines are by Foreign, according to the stamp. They were purchased from England through eBay around 15 years ago."
"The rider on horseback jumping over a fence with the figurines was a purchase from eBay as well."
Elinda has a lot of beautiful equestrian/hunt-style decor throughout her home.
She shared this photo below of some of the pieces she has collected over the years. In case you love this style of decor as I do, Elinda shared where a lot of her favorites are from below.
Real stirrups and leathers, English saddle, bridle, etc were purchased from a consignment store
Brown riding boots vintage-Talbots
Black quilted riding boots-Talbots
Black vintage riding boots by Charles David-eBay
Assorted plaid throws purchased-Pottery Barn and TJ Maxx
Plaid table cloth on table extension with fox hunt items-TJ Maxx
Fox hunt plate, biscuit jar-eBay years ago
Vintage riding crop-Etsy
Red riding jacket on chair-Ralph Lauren had for many years
Green jacket hanging with horse bits on pockets-Talbots several years ago
Other vintage items on the table and the binoculars were my parents
Pillows-some from T J Maxx and the wool pillows are Ralph Lauren
Did you notice the cute little dog on the plaid pillow in the lower right corner of the picture?
Elinda collected him many years ago, not knowing at the time that she would have a similar dog in real life one day. This is Elinda's sweet dog, Julep. She's a Lhasa Apso and just beautiful!
If you love Equestrian and Hunt-themed decor as much as Elinda and I do, two of my absolute favorite books are Hunt Country Style, available here: Hunt Country Style…
…and Equestrian Style available here: Equestrian Style. Truly love both of these books and you know I'll be pouring over them again today after seeing Elinda's beautiful equestrian-themed table!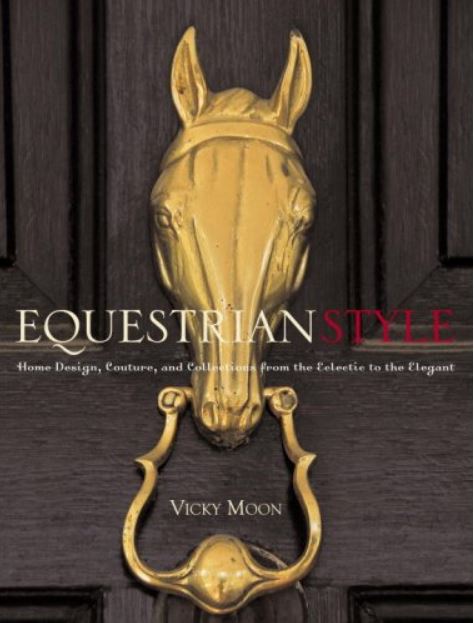 Thanks so much to Elinda for sharing this beautiful equestrian-hunt-themed table with us today! It's the perfect table for our beautiful autumn weather!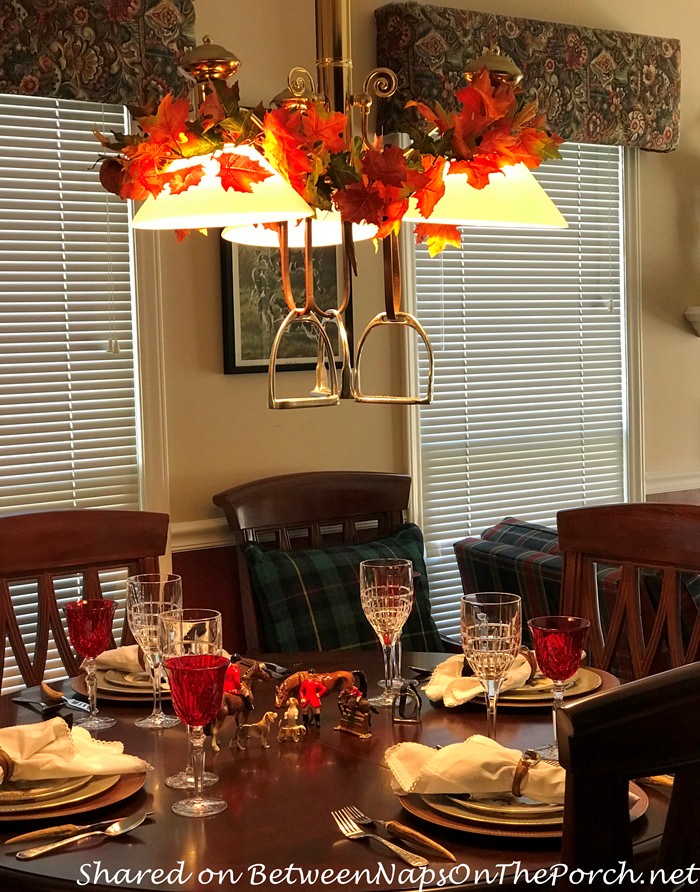 Looking forward to all the wonderful table settings linked for this week's Tablescape Thursday!
Did you know Between Naps On The Porch is on Instagram? You'll find me on Instagram here: Between Naps On The Porch.
Like to know when a new blog post is up and available to read? Subscribe for email updates, it's free and your email will never be shared. Subscribe for free post updates via email here: Subscribe for Post Updates.
Tablescape Thursday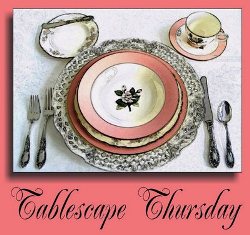 If you are participating in Tablescape Thursday, please be sure to add your permalink below, and not your general blog address. To get your permalink, click on your post name, then copy and paste the address showing in the address bar, into the "url" box when you link up. You'll need to include a link in your post back to the party to link up and participate.
That's so visitors to your blog will be able to find the party and the other Tablescape Thursday participants. Requiring a link back also prevents businesses and scammers from linking up to sell their products. (Yep, that really happens, unfortunately.) If you see a post that's not table-setting related, let me know and I'll remove it.
Please, don't add your post name/blog name ALL IN CAPS…it tends to create big spaces between the rows of links. Please link up table setting or table setting related posts only for Tablescape Thursday.
This party has ended, click button below for the links to all who participated.
*If a post is sponsored or a product was provided at no charge, it will be stated in post. Some links may be affiliate links and as an Amazon Associate, I may earn from qualifying purchases. *