I'm a big fan of blue and white, just find it so beautiful. I've used a lot of that color in my guest room.
Well, no one does blue and white better than the Dutch! When I was touring this outdoor village that I shared in this post: Zuiderzee Museum, I got a wonderful surprise when I walked into one of the buildings there.
The entrance of the building and this room were decorated wall-to-wall in blue and white. The murals have all been created in a Delft style design. I was literally surrounded on all sides in this beautiful blue and white art.
These blue and white designs are the work of the talented Dutch artist, Hugo Kaagman. (Photo below from his website here: Hugo Kaagman.)
His work is all done with stencils and he mixes traditional Delft designs with contemporary designs, even cartoon characters.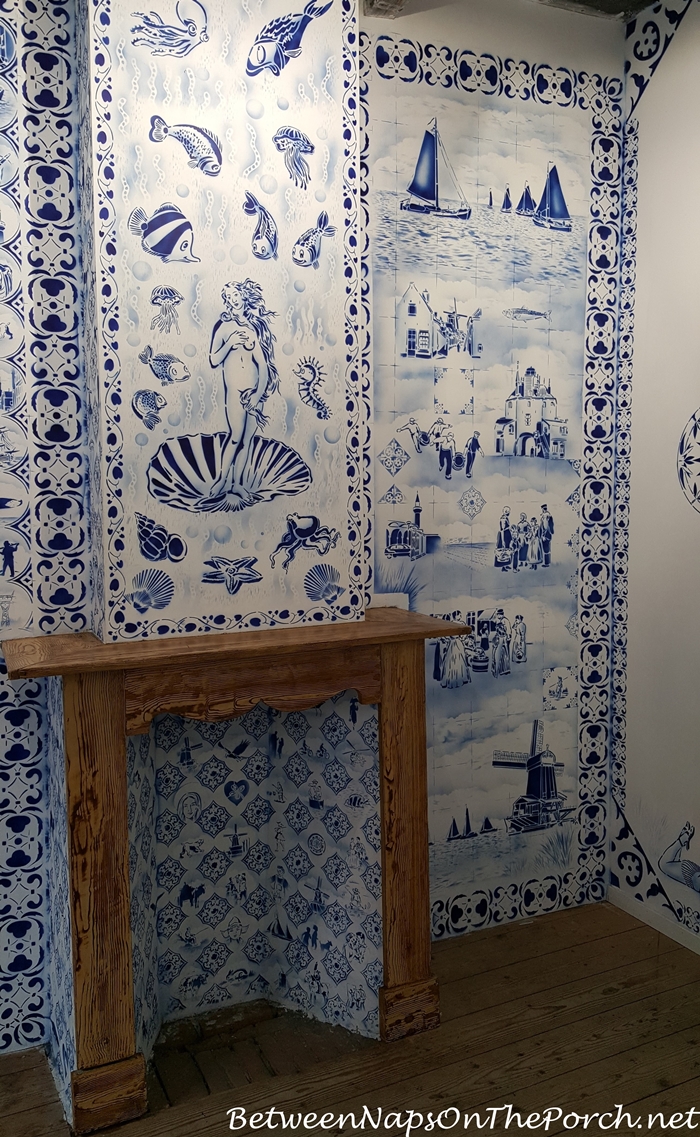 It really was amazing to be inside this room. I had trouble making myself leave and just wanted to stay and soak it all up.
In 1993 he painted a 65 meter long wall in the Schiphol Airport. Unfortunately, I missed seeing it while I was there awaiting my flight back home.
He's also created designs for 19 of British Airways airplanes, so the next time you fly on one of their planes, look at the tail area and see if it's decorated in blue and white.
I didn't realize it when I was there (had to take photos quickly to catch back up with our group) but his work in this room is signed. In this photo below I did catch the name he gave it: The Blue Fishvendor. His signature is just below the car design on the left where you see the words, Nederland.
Here's an image from his website showing the part I didn't quite capture in my photo. There's one of those British Airway planes with his work on the tail.
A small table in the room was also decorated in blue and white.
Isn't this beautiful!
So, you know how sometimes you see or hear something and then it seems to pop up everywhere. When I returned home from the Netherlands, I stopped by Talbots because they are currently have a sale that's 30% off everything. Online you get the discount with the code: Friends30.
What did I find in their store? Lots and lots of beautiful blue and white designs. I was in heaven! Of course, I wanted to buy everything, especially after having just returned from Holland and seeing blue and white Delft designs in so many places.
I'm linking to my favorite blue and white outfits below. Click on the titles to access those items at Talbots.
I especially love this dress, I think I'm going to order one. There are so many cute spring designs in right now, I'm having trouble choosing, but so far, I think this dress is my favorite.
This blazer reminded me of a blue and white linen suit I purchased in Talbots many years ago. It's a classic design and has never gone out of style. I love it even today. I love this scarf, too!
Aegean Stripe Blazer and Ornate Tile-Print Scarf
See what I mean, so many cute designs! Love this shirt! I saw it in Talbots and fabric is perfect for summer…very light weight.
Another pretty dress in blue and white. So pretty and feminine.
Love this top! I think this one is calling my name, too.
Blue, Aqua and White Tunisian Tile Top
Are you a blue and white fan, too?
*If a post is sponsored or a product was provided at no charge, it will be stated in post. Some links may be affiliate links and as an Amazon Associate, I may earn from qualifying purchases. *