Welcome to the 503rd Tablescape Thursday!
I've just returned from spending three weeks with my son, daughter-in-law, and grandsons. I had never planned to stay quite that long but due to various reasons involving a delayed refrigerator delivery, my return date kept getting pushed out.
When the day came that I had planned to leave, my son and dil pointed out Mother's Day was only 3 days away. I hadn't even realized that. I'm terrible at keeping up with holidays/dates, especially when I'm away from my desk calendar. So I stayed through Mother's Day with plans to leave on the following Monday.
After Mother's Day, I came down with the stomach flu that was slowly making its way through the family. It started with the little ones, then finally hit us all. Once that had passed, I made the 9-hour drive home on Tuesday, arriving late Tuesday evening. The drive went by quickly as I listened to two books I had downloaded on Audible. Amazing the difference a great book can make!
Yesterday was spent unpacking, washing clothes, going through mail and all the other stuff that needs to be done when you've been away for weeks. Still not fully caught up, but getting there. As I was thinking about what I'd post for this week's Tablescape Thursday, it dawned on me I had never shared an update on how the garage dish storage had worked out.
If you missed the initial post where I added these storage cabinets to the garage, you'll find that post here: Tablescaping Storage for Dishware, Flatware, Napkin Rings, Napkins and Glassware. The cabinets are still available here: Cabinets. The two styles I purchased for this storage project were the 36-inch wide with two drawers and the 36-inch wide without drawers.
When I first assembled all these cabinets and moved the majority of my dishware, napkin rings, chargers, napkins, centerpieces out here to the garage, several readers expressed concerns about dust/dirt getting into the cabinets. So how has that worked out?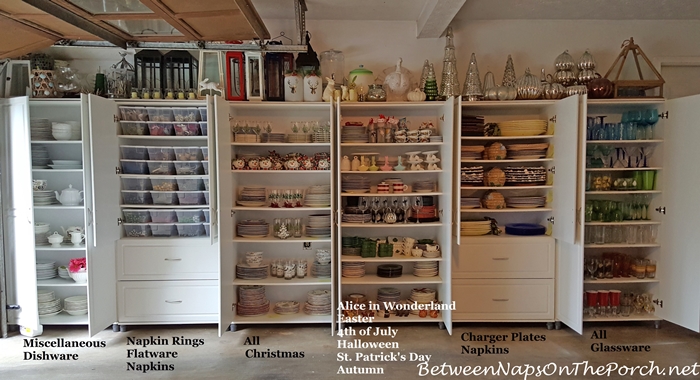 Here are a few close-ups I took yesterday afternoon.
The shelves are looking great! There may be the slightest bit of dust in a couple of spots, but I think that's from dragging out dishes and sitting them down on the floor of the garage in order to reach other dishes toward the back.
Even the bottom shelves where I thought I'd have more problems since I use a blower in the garage about once a week, still look great! I'm super pleased with how this has worked out, especially since the garage is directly off the kitchen/breakfast area, which is off the dining room in one direction and the screened porch in the other–all places where I regularly set a table for dining.
I would love to add two more cabinets eventually so I could have all my chargers in one cabinet by themselves, thus freeing up that cabinet to hold nothing but napkin rings. Right now I have my flatware and napkin rings in one cabinet and it's a bit tight since there's no room for any additions.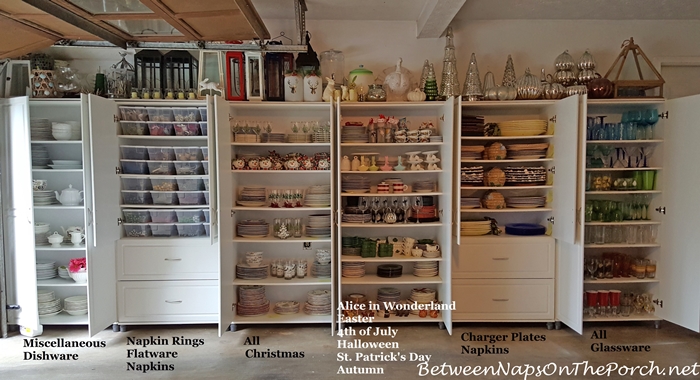 Remember that mystery glass issue? (If you missed that post, read about it here: The Mysterious Case of the Greasy Glass.) It still occurs here in the garage, too. As we've all seen with our glassware, some glasses seem to go foggy faster than others. It must be the chemical makeup of the glass because while some are looking foggy and feeling gross again, others are still just fine. I washed them all when I first moved them out here. So the mystery continues. lol
Things are still mostly stored where they were…I think I added some mugs to this end cabinet. Ignore the blower, had to use it to prop up the end door since the garage thingy gets in the way.
Next cabinet still houses all my flatware and napkin rings above, with napkins in the drawers below.
Next cabinet is still all Christmas dishware except a few more formal/dressy patterns that are still kept in a china cabinet inside in the dining room. I think I've added some Christmas glassware to this cabinet since I first set up this storage. It made sense to keep it with the Christmas dishes.
Next cabinet is filled with other holiday dishware (Halloween, Thanksgiving, Easter, St. Patrick's Day, Valentine's Day, etc…) as well as my whimsical Alice-in-Wonderland dinnerware.
This cabinet still houses the majority of my chargers. I have two sets I still keep in the dining room since they fit so well in the sideboard there. The drawers below house more napkins with acorn soup tureens in the bottom drawer.
I managed to squeeze a few more glasses into the glass cabinet. The bark-edged chargers I purchased last fall are stacked above on the left. See the chargers there on the right, underneath the little car?
After seeing how great the driftwood chargers looked in this outdoor table setting last week at my dil/son's home, I purchased a set of six for myself. Looking forward to using those in a future beach-themed table setting! You'll find them available here: Driftwood Chargers.
See this previous table setting here: Dining Outdoors for Summer.
I also shopped their Memorial Day sale and picked up 8 of these adorable bicycle napkin rings.
They are still available on sale here: Bicycle Napkin Rings. I love how detailed they are!
So what have you been up to the last three weeks? Any vacations planned? Doing some summer entertaining?
Pssst: I post almost daily to Instagram. Follow Between Naps on the Porch on Instagram here: Between Naps On The Porch. If you enjoyed this post, subscribe for free email updates when a new post is up here: Subscribe for post updates.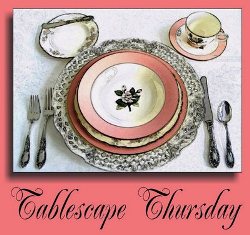 Tablescape Thursday
If you are participating in Tablescape Thursday, please be sure to add your permalink below, and not your general blog address.To get your permalink, click on your post name, then copy and paste the address showing in the address bar, into the "url" box when you link up.
You'll need to include a link in your post back to the party to link up and participate. That's so visitors to your blog will be able to find the party and the other Tablescape Thursday participants. Requiring a link back also prevents businesses and scammers from linking up to sell their products. (Yup, that really happens, unfortunately.)
*If a post is sponsored or a product was provided at no charge, it will be stated in post. Some links may be affiliate links and as an Amazon Associate, I may earn from qualifying purchases. *