Welcome to the 445th Metamorphosis Monday!
When I last left you in the saga of what I'm now dubbing CabinetGate, 😉 I had just two of six cabinets in place, the other four having been completely destroyed during delivery.
Little recap: After assembling the two cabinets that arrived in good shape (they were delivered by a different delivery company) I filled them with napkin rings, flatware, charger plates and napkins.
I've made some significant progress this past week. In order to avoid a repeat of receiving all broken cabinets again, (my UPS guy says they are being damaged in the UPS facility for lack of the proper equipment for moving them) I ordered the rest of the cabinets via Wal-Mart and had them delivered to the Wal-Mart Market that's very close to my home. If I had taken advantage of their free delivery (which I would have loved) and had them delivered to my home, they were going to use UPS. I couldn't go through that again!
Two cabinets arrived last week, the day before I left to go out-of-town to visit family. Once back, I got busy putting them together.
So here's where we are now: I've decided to go back to my original plan of adding six cabinets (not five) to this wall. More on why I changed my mind in just a sec.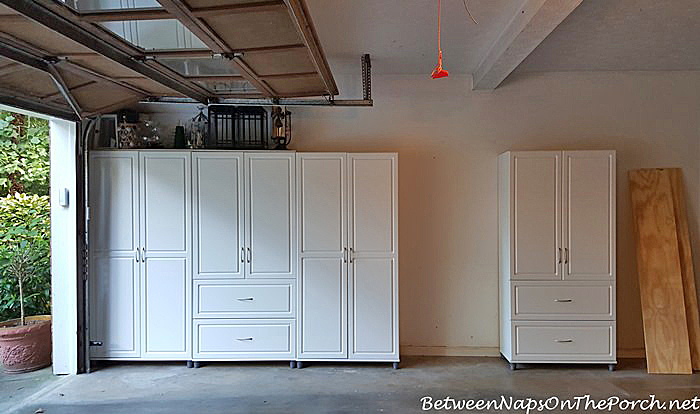 See those two gaps where the arrows are pointing? Those will be filled with two more of the non-drawer style, the cabinet style you see at the very end on the left. I decided to stay with that style for the other cabinets.
See the narrow, plywood panels leaning against the wall on the far right? Those will go across the top of cabinets (once the other two cabinets arrive) to provide shelving for lanterns and other decorative centerpieces that I like to use in table settings. I've already begun the process of adding those to the top of the cabinets.
Let's take a closer look at how I'm using these cabinets and how the above cabinet storage is going to work.
As mentioned, initially I wanted to place six cabinets on this wall since I knew I had the room, with just three inches left over to spare. I changed my mind and decided to go with five cabinets because I was worried about the garage door laser thingy that you can see down on the bottom left part in the picture below. I was concerned it would block the door of the cabinet at that end, making it a pain to access anything I stored there.
Once I had that cabinet assembled and in place, I was delighted to see I could still access the contents of that cabinet quite easily. So I decided to go back to my original plan of having six cabinets along this wall. The more storage, the better!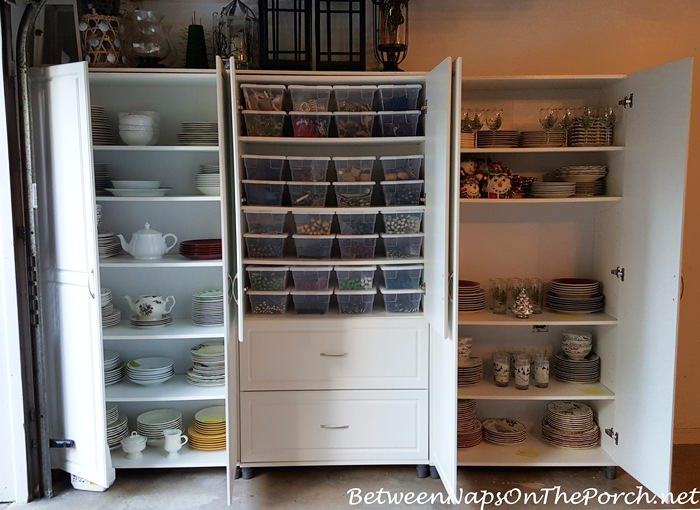 This is the cabinet that's partially blocked by the laser device, but it really doesn't impede access to the cabinet that much. Ignore the little stickers/papers on the dishes, that's where I've weighed each stack to make sure I'm not exceeding the weight limit for each shelf. I'll remove all those once this project is complete and everything is where it's going to live permanently.
The other new cabinet, when complete, will house all my Christmas dishware. The only thing that won't be stored here is my Lenox Holiday and Lenox Winter Greetings china. Those will remain in the china cabinet in my dining room.
I'm still waiting on an extra shelf that I've ordered from the manufacturer, Ameriwood. It supposed to arrive today and will go in the big gap below. I'm looking forward to drilling the holes for that shelf and finishing off the storage for this cabinet.
I know the second shelf appears to be bowing a bit, have no idea why since I'm not exceeding the weight limit for the shelf. I think I'll remove everything and turn the shelf over and see if that fixes it.
BTW, Home Depot has melamine shelves that are slightly bigger than these and they will cut them down to the size needed. They are only $7 each which is less than they cost when buying them from Ameriwood. I may buy one to see if they are sturdier, and if they match okay in color, I may replace any shelves that have a tendency to bow.
A few folks recommended in the comments that I anchor the cabinets to the wall. Don't worry, each cabinet comes with a little kit for that purpose. I had always planned on doing that, just had to wait until each cabinet was in its permanent spot. Since the three cabinets on the left are where they are going to stay…
…I've gone ahead and anchored all three of those to the wall, putting the screw right into a stud. During the assembly of these cabinets, the instructions have you attach the anchor bracket to the top center of the cabinet using a hole that's already there for that purpose. That is a complete waste of time to do during assembly because not a single time did it ever line up with a stud in the end.
The cabinets come with a little plastic wall anchor that you can use when a stud isn't available, but when I talked to one of the employees at Ameriwood, he said to not use it, that it probably wouldn't be enough to hold the cabinet in sheet rock if it started to tilt. I agree!
I used my stud finder that I've had for years, to locate the studs and made sure each cabinet was solidly attached to the wall. These cabinets aren't going anywhere!
By the way, if you don't have a Stud Finder, I definitely recommend getting one. I can't tell you how often I've used mine over the years! This one below is the same brand that I have, only this one is a bit fancier since it detects metal and wire, too. I think it's time I upgraded mine. This stud finder is available here: Stud Finder.
Tip: When using a stud finder, I recommend you run it over the wall at least 3-4 times before putting a hole in the wall. It's like the old adage of measuring twice and cutting once. I've found it works every time for me, as long as I take the time to run it over the wall several times to really verify that I've got it right.
Also, one more little trick that I do sometimes is once I am 99.9% sure I know where the stud is, I will hammer a long T-pin into the wall, to see if I hit the stud. That's just a final way to verify you have it before making a larger hole. It's very rare that the stud finder has let me down, though. I think it's more operator error when that happens. I've found it to be very accurate, but you do need to run it over the wall several times to double-check that you have it before making your hole.
The cabinet on the far right that I'm using to hold charger plates isn't anchored yet since I'll be sliding it down a bit to the left once the missing cabinet is in place. Right now that cabinet is empty; I took out all the chargers so it would be easier to move. The other two cabinets are supposed to arrive either today or tomorrow. I'll get busy assembling those this week.
I really like these cabinets but there are certain tricks that you need to know to make them come out just right. When I write that final post showing them all in place, I'll try to bullet point some of the key things I've learned that are important to know when putting them together.
Lantern Storage On Top
So, remember how I mentioned I'd like to store my lanterns and other large centerpiece items across the top of the cabinets? The instructions that came with the cabinets say to not place anything on top because that top shelf/panel isn't really designed to hold a lot of weight. Well, it was killing me–all that wasted space. I just couldn't deal with not using it somehow.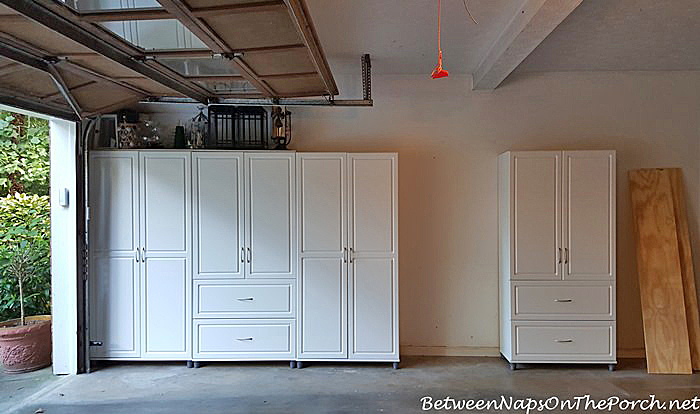 I sought the advice of a young associate late one night in Home Depot, showing him photos on my phone and asking what product I could use that would be sturdy enough to rest on the side walls of the cabinets without sagging. He recommended a product called Luon.
Womp, womp…total fail. He cut three long panels from one big sheet of Luon, and as you see in the photo below, it totally didn't do the job of supporting anything. Even my flashlight made it sink down and rest on the top of the cabinet.
I went back to Home Depot the next day and talked to an older, more experienced associate in the lumber department. We considered two options: 3/4 inch plywood and a melamine product that looked similar to the cabinets, themselves.
I ultimately decided to go with the plywood for two reasons: 1. It was drastically cheaper, $25 for a 4 x 8 panel vs $75 for the same size melamine panel. 2. It was much lighter, so easier for me to lift onto the top of the cabinets. Also, the sales associate acknowledged it would be easier to put a screw through, something I planned to do.
The Home Depot associate cut three long pieces from the 4 x 8 panel to the size I requested: 14 inches x 71 inches. I wanted each plywood piece to span the distance over the top of two cabinets. I thought that would offer even more support and stability than cutting individual panels to go atop each cabinet.
Once home, I laid one plywood strip across the top of two cabinets, then screwed it into the top of the cabinet side walls. I wanted the plywood shelf "fixed" into place so when I pull lanterns on and off, it won't budge. So not only are these cabinets anchored to the wall, they are anchored to their neighboring cabinet.
Tip: I pre-drilled the screw holes before attempting to attach the plywood to the top. That made this process go much easier since it can be difficult to put a screw into plywood when you're standing on a ladder and can't really position yourself properly above the screw to lean into it.
The 3/4 inch plywood worked great–no bending or sagging at all.
I painted the front edge of the plywood with my white exterior house paint just so it would blend in better with the cabinets. I think it needs one more coat.
Disclaimer: This technique for storing items atop the cabinets is working fine in my situation, but I can't promise you'll have the same results. Always use your best judgement, and if in doubt, don't follow what I've done to add additional storage to the top. I can't be responsible if your cabinets fail or collapse.
Once I have the rest of the cabinets assembled and anchored to the wall, I'll attach the other two plywood strips across the top. I've already moved all my lanterns to the garage in anticipation of doing that.
And so ends this episode of Cabinetgate. lol I must say, I've become a bit of an expert at assembling these cabinets. It's true, practice does make perfect. Ha! I still need to adjust a couple of doors downward, so don't look too closely. Adjusting the doors is my least favorite part of the assembly process, but it really does make everything look better.
What did you work (or play) at this weekend? Any major projects completed or are you mid-project like I am?
Pssst: I post almost daily to Instagram. Follow Between Naps on the Porch on Instagram here: Between Naps On The Porch.
Looking forward to all the great Before and Afters linked for this week's Metamorphosis Monday!
Metamorphosis Monday
Metamorphosis Monday is a party that's all about Before and Afters. If you are participating in Met Monday, please link up using the "permalink" to your MM post and not your general blog address.
To get your permalink, click on your post name, then just copy and paste the address that shows up in the address bar at the top of your blog, into the "url" box for InLinkz.
In order to link up, you'll need to include a link in your MM post back to the party so the other participants will have an opportunity to receive visits from your wonderful blog readers.
Please observe these few rules:
Please link up Before and After posts that are home, gardening, decorating, crafting, painting, sewing, cooking, fashion or DIY related.
Be sure to include a link back to the party in your post, so your readers will be able to find and visit the other bloggers who are participating.
Do not link up to the party if you're doing so to promote or sell a product.
To those who are linking up: If you notice a shop or store linking up to sell products (yes, unfortunately that does happen) please let me know so I can remove their link from the party. No one wants to click a link expecting a Before and After, only to find a spam link to an online business/store.
*If a post is sponsored or a product was provided at no charge, it will be stated in post. Some links may be affiliate links and as an Amazon Associate, I may earn from qualifying purchases. *