So I did something a little crazy today. See that white shelf on the right wall of the guest room? I ordered a new picture for that spot.
I also moved the trunk out of this room that had gotten shoved over onto that wall when I added cabinets down the opposite wall. I moved my vintage dress form from the office back to that spot, although it's not visible in this photo except for a small part of the stand.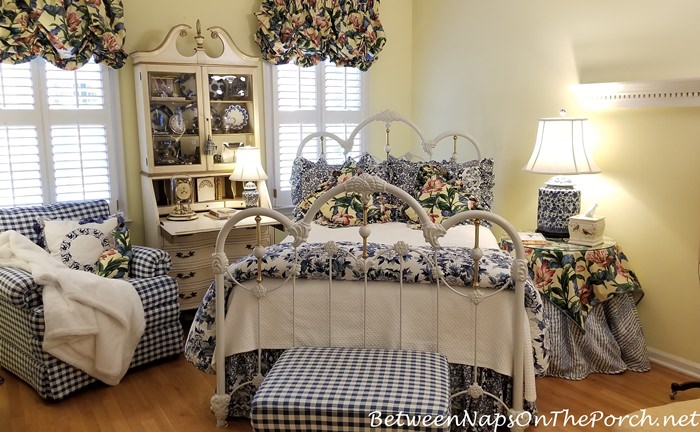 Since I've turned the guest room into a place to store/display my handbags (which I'm loving, btw) I thought it would be fun to add a bit of art to that shelf that gives a nod to the bag display.
The Hermes Birkin is often the "holy grail" bag for a lot of handbag lovers. It's handmade by Hermes artisans in France who apprentice for many years before they are allowed to make the bag, thus Birkin bags are not readily available in most Hermes boutiques. It seemed like the perfect image for this room that's doing double duty as my little handbag haven.
This painting is so different from anything I would normally buy. I'm not normally a fan of abstract (or whatever you would call this) art. I normally go for art that's more straightforward/realistic, but I decided to go with this piece so it would have more of an artsy, fun feel and less of a serious "I'm-a-Birkin-Bag" feel. I purchased this painting here: Blue Birkin Art. I used the promo code PRESDAY that I found online at a coupon site to get 20% off.
Here's the more straightforward/serious version of the painting above. I like it, too. Hopefully, I won't regret going for the "fun" version! (This version below is available here: Blue Birkin/Handbag Art.)
I hope it will add a bit of whimsy to the room but if it's too much or I don't like it in this space, I have another place I can hang it. Hopefully, I ordered the right size. I went with the 24 x 24 size since the shelf is around 36 inches long. When it arrives, if it looks too big or just totally wrong for this room, forget this post ever existed. Ha! 😉 If it looks cute, I'll be sure to share how it looks.
Have you ever gone way outside your comfort zone when purchasing art? How did it work out?
*If a post is sponsored or a product was provided at no charge, it will be stated in post. Some links may be affiliate links and as an Amazon Associate, I may earn from qualifying purchases. *